Due to a State of Emergency at our Texas headquarters, there may be a 24-hour delay in processing orders and our customer service support is limited today.
We appreciate your understanding as we work through the extreme flooding in the area.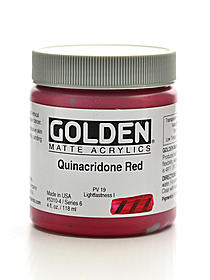 Zoom Image
Golden Matte Acrylics provide a uniform flat finish in a variety of concentrated colors. Adding Matte Medium to acrylic paint will produce a matte surface but this combination always decreases the color strength. To avoid this loss of color strength, Matte Acrylics are formulated with a matting agent and a level of pigment comparable to Golden Heavy Body Acrylics.

Matte Acrylics are produced with 100% Acrylic Polymer Emulsion. This produces a film with excellent flexibility, and chemical, water and UV resistance. The milky emulsion dries transparent, allowing the pigments to show their full color. Pigments are chosen for the greatest purity and permanency within each chemical class.





Ask a question about Matte Acrylics Ask a question about this product
Terri R. from santa fe, NM says:
this is a great product- acrylic matte Golden paint is unique. no other paint company makes a matte paint like it. and many art supply companies don't carry it. But MisterArt.com carries it and ships...[more]

Keep paints fresh and wet

by Dover

200 boldly rendered silhouettes

Terms of Service
Your email will not be shared. We will only use your email address to respond to your question. When asking your question, please be as descriptive as possible, it will allow us to give you the most accurate answer possible.