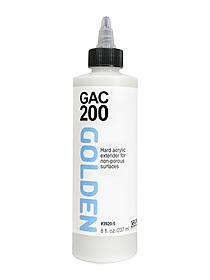 Zoom Image
GAC 200 is a liquid acrylic polymer emulsion that is the hardest and least flexible of Golden acrylics. Useful for increasing film hardness and reducing tack. Increases adhesion to non-porous surfaces, such as glass. Used in its pure form, it is limited to applications on non-flexible supports. Generally, GAC-200 should make up a maximum of 33% of the entire paint mixture. Dries with high gloss and excellent film clarity.





Ask a question about GAC 200 Acrylic Medium Ask a question about this product
Darlene W. from F'burg, VA says:
This is a great product! I have only used it for collage and assemblage so far. Mix it with a bit of paint and you are able to paint non-porous items such as tin foil, plastic, and much more. It worked...[more]

by Cousin

Great for cutting flush and in tight spaces

by Cousin

Great for looping, crimping, cutting, and more

Excellent tools smooth, shape, sculpt polymer clay

Terms of Service
Your email will not be shared. We will only use your email address to respond to your question. When asking your question, please be as descriptive as possible, it will allow us to give you the most accurate answer possible.