Due to a State of Emergency at our Texas headquarters, there may be a 24-hour delay in processing orders and our customer service support is limited today.
We appreciate your understanding as we work through the extreme flooding in the area.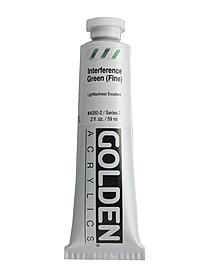 Zoom Image
Golden Iridescent Acrylics may be used alone or with other colors, gels and mediums. Iridescent Pearl is extremely useful for mixing with other colors for pearl-like qualities. The Iridescent colors are very resistant to fading and will not oxidize or tarnish. Most Iridescent Acrylics are available in fine and coarse. Coarse Iridescents offer a range of highly reflective pigments including stainless steel and gold mica flakes. Fine Iridescent Colors offer a smooth velvety finish and blend well with other colors.

Golden Interference Acrylic Colors offer a unique "interference flip" when viewed from different perspectives. Interference Colors flip between a bright opalescent color and its opalescent complement. When applied over white or lighter surfaces, the Interference Color is less obvious and the "flip" effect is more obvious. When applied over black or darker surfaces, the Interference Color is more obvious and the "flip" effect is less obvious. Adding a very small amount of black to Interference Colors produces deeper opalescent effects. Combine Interference Colors with Golden Gels (Gloss) and Golden Fluid Acrylic colors to produce an endless variety of colors and effects. Most Interference Colors are available in fine or coarse.

These Golden Heavy Body Acrylics are produced with 100% Acrylic Polymer Emulsion. This produces a film with excellent flexibility, and chemical, water and UV resistance. The milky emulsion dries transparent, allowing the pigments to show their full color. Pigments are chosen for the greatest purity and permanency within each chemical class.



Ask a question about Iridescent and Interference Acrylics Ask a question about this product
Joan M. from Arvada, CO says:
Without these paints, I could not achieve the diversity in my work that regular acrylic paints and mediums provide. The effects are tremendous and Golden is the only brand I prefer over all others for...[more]

by ProEdge

Spring loaded soft grip for easy, comfortable use

Terms of Service
Your email will not be shared. We will only use your email address to respond to your question. When asking your question, please be as descriptive as possible, it will allow us to give you the most accurate answer possible.