I've been buying my materials here for over a year and I am still 100% happy with MisterArt.com. Great prices, fast shipping and wonderful customer service! Thank you!
Sandee
North Lawrence, OH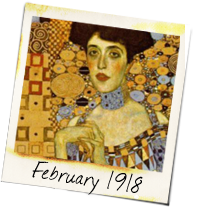 This Month in Art History
February, 1918 - The Spanish Flu pandemic claimed the life of Gustav Klimt, celebrated artist, founder, and central figure of the Vienna Secession. The disease would kill Klimt's protégé, Egon Schiele, by October of the same year.
The soul thrives on art, and MisterArt.com is here to help your soul experience as much as possible! Whether you want to brush up on famous artists, explore the styles and periods of art, consult the glossary, or arm yourself with product knowledge from comprehensive purchase guides, MisterArt.com has collected all of the resources you need to plunge head-first into the dizzying world of visual arts.
The soul cannot thrive in the absence of art. If you don't want the pleasure of art, you are not human; and if you are not human, you don't have a soul.

- Thomas Moore
More masters than a Shaolin temple

Every great artist has a story to tell. MisterArt.com's comprehensive listing of famous artists contains detailed information on these legends' life stories, historical settings, creative styles, and prized masterpieces. Discover how ordinary men and women struggled to bring forth unforgettable art and movements!

View Artists »
The evolution of visual art

Can't tell the difference between Fauvism and Futurism? MisterArt.com can help. Our guide to the great movements and trends throughout the history of Western art includes famous examples of each style as well as details on the movers and shakers that popularized new ideas.

View Styles & Periods »
Because you didn't take notes in art class

There are hundreds of terms tossed around in the art world-- impasto, mastaba, frieze-- that you won't find in any dictionary. After all, they're not even English! MisterArt.com has collected hundreds of art terms and their definitions for easy browsing, including terms in French, Latin, Japanese, and other languages.

View Glossary »
Time-out doesn't have to be time wasted

Just like the professionals, sometimes younger artists need a little direction, and MisterArt.com wants to help. Get the little ones involved with free Coloring Book Pages, taken from our huge selection of coloring books. If you're seeking more of a challenge, MisterArt.com offers several easy-to-follow Project Sheets, to help get those creative juices flowing.

View Projects »
Leading you through the art supply wilderness

Our detailed purchase guides will walk you through all of the considerations necessary to find the perfect art and craft supplies for your latest project. Can't quite tell the difference between a flat brush and a filbert? Not entirely sure what makes for a good frisket? Educate yourself at MisterArt.com!

View Purchase Guides »
Latest Product Reviews
I've had these brushes for awhile and can say they are the best brushes I have ever owned. I have been painting for a long time and have had brushes considered top of the line. I've tried a lot of them, and most have been a so-so feeling. Nothing really stood out. When I got these, the first thing I noticed was the balance. There is a feeling of great balance on these. The brush stands up to a lot, and is a real workhorse. They are go to brushes for straight lines and precision. The Dakotas are brushes that just don't disappoint.
- d.lake in rockford, illinois
The order was sent out on a timley basis, and we were very satisfied with the customer service.
- Merryl Gaitan in Centerport, New York
Lanaquarelle cold press is a beautiful paper for watercolor and gouache. It does not hold up to drafting tape as a masking method, but can take masking fluids. The paint continues to slowly and evenly disperse across a wet surface, applied even after the wet sheen subsides, so be careful not to over-paint during wet on wet or dispersion will go too far. It is a great paper for very surprising subtle and delicate effects, as well as bold and saturated washes, which apply easily and evenly. I am glad I tried this paper and I would definitely use it again and again.
- Reed-Deemer Art Studio in New Mexico
Free Download for Kids

Download FREE
coloring book
pages to color at
home or school.
View Pages »