I've been ordering from MisterArt for my classes and for my own work for 7 years. I search all kinds of sites, check in local stores for good sales. MisterArt has EVERYTHING at the best price. Plus they are quick. I have been extra pleased every time I've ordered from them.
Dolores
Saint Marys, KS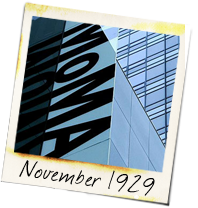 This Month in Art History
November, 1929 - The Museum of Modern Art, in New York City, opened its doors to the public. The museum introduced America to the work of European Modernists such as Picasso and Van Gogh, and would move four times before finding its eventual home in the Time-Life Bulding in Rockefeller Center.
The soul thrives on art, and MisterArt.com is here to help your soul experience as much as possible! Whether you want to brush up on famous artists, explore the styles and periods of art, consult the glossary, or arm yourself with product knowledge from comprehensive purchase guides, MisterArt.com has collected all of the resources you need to plunge head-first into the dizzying world of visual arts.
The soul cannot thrive in the absence of art. If you don't want the pleasure of art, you are not human; and if you are not human, you don't have a soul.

- Thomas Moore
More masters than a Shaolin temple

Every great artist has a story to tell. MisterArt.com's comprehensive listing of famous artists contains detailed information on these legends' life stories, historical settings, creative styles, and prized masterpieces. Discover how ordinary men and women struggled to bring forth unforgettable art and movements!

View Artists »
The evolution of visual art

Can't tell the difference between Fauvism and Futurism? MisterArt.com can help. Our guide to the great movements and trends throughout the history of Western art includes famous examples of each style as well as details on the movers and shakers that popularized new ideas.

View Styles & Periods »
Because you didn't take notes in art class

There are hundreds of terms tossed around in the art world-- impasto, mastaba, frieze-- that you won't find in any dictionary. After all, they're not even English! MisterArt.com has collected hundreds of art terms and their definitions for easy browsing, including terms in French, Latin, Japanese, and other languages.

View Glossary »
Time-out doesn't have to be time wasted

Just like the professionals, sometimes younger artists need a little direction, and MisterArt.com wants to help. Get the little ones involved with free Coloring Book Pages, taken from our huge selection of coloring books. If you're seeking more of a challenge, MisterArt.com offers several easy-to-follow Project Sheets, to help get those creative juices flowing.

View Projects »
Leading you through the art supply wilderness

Our detailed purchase guides will walk you through all of the considerations necessary to find the perfect art and craft supplies for your latest project. Can't quite tell the difference between a flat brush and a filbert? Not entirely sure what makes for a good frisket? Educate yourself at MisterArt.com!

View Purchase Guides »
Latest Product Reviews
This product is perfect for storing the Ranger Mini Misters! Saves money and hold 25 of the misters.
- J Skeeters in Fort Wayne, IN
I have been using grumbacher gesso for years, I have tried many other brands, but absolutely nothing compares to Grumbacher's. Give it a try; I think you will be hooked.
- Practical in NW
Tulip does it again with a new face painting kit. While I can't get my favourite paints (Palmer) in the supplies I need, we, The Balloonatics will test this new kit and see how kid friendly it will be. We will test toxicity, staining, melding of colours, creating special effects, and just how many faces we can paint with one kit. Tulip is wonderful in its other many many products and I highly recommend them. We will post our findings as soon as we test them out.
- Sue Hutchinson, Head Loonatic "The Balloonatics" in Toronto, Ontario
Free Download for Kids

Download FREE
coloring book
pages to color at
home or school.
View Pages »