I just wanted to say that I was impressed by your packaging and shipping. I found you when I was searching for papers I just couldn't get locally and thought it was worth trying an order. I'd been resigned to the idea that small paper orders would end up rolled and in a tube, but I was pleasantly surprised to find my order shipped flat and well protected. Thank you. I will be ordering from you again.
Alida
Springfield, MA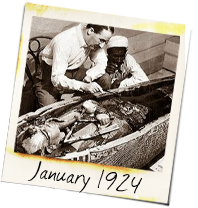 This Month in Art History
January, 1924 - Howard Carter's excavation of Egyptian King Tutankhamin's tomb reached the interior gold shrines surrounding the mummified king. The sarcophagi and burial mask would take their place among the most recognizable examples of ancient Egyptian art.
The soul thrives on art, and MisterArt.com is here to help your soul experience as much as possible! Whether you want to brush up on famous artists, explore the styles and periods of art, consult the glossary, or arm yourself with product knowledge from comprehensive purchase guides, MisterArt.com has collected all of the resources you need to plunge head-first into the dizzying world of visual arts.
The soul cannot thrive in the absence of art. If you don't want the pleasure of art, you are not human; and if you are not human, you don't have a soul.

- Thomas Moore
More masters than a Shaolin temple

Every great artist has a story to tell. MisterArt.com's comprehensive listing of famous artists contains detailed information on these legends' life stories, historical settings, creative styles, and prized masterpieces. Discover how ordinary men and women struggled to bring forth unforgettable art and movements!

View Artists »
The evolution of visual art

Can't tell the difference between Fauvism and Futurism? MisterArt.com can help. Our guide to the great movements and trends throughout the history of Western art includes famous examples of each style as well as details on the movers and shakers that popularized new ideas.

View Styles & Periods »
Because you didn't take notes in art class

There are hundreds of terms tossed around in the art world-- impasto, mastaba, frieze-- that you won't find in any dictionary. After all, they're not even English! MisterArt.com has collected hundreds of art terms and their definitions for easy browsing, including terms in French, Latin, Japanese, and other languages.

View Glossary »
Time-out doesn't have to be time wasted

Just like the professionals, sometimes younger artists need a little direction, and MisterArt.com wants to help. Get the little ones involved with free Coloring Book Pages, taken from our huge selection of coloring books. If you're seeking more of a challenge, MisterArt.com offers several easy-to-follow Project Sheets, to help get those creative juices flowing.

View Projects »
Leading you through the art supply wilderness

Our detailed purchase guides will walk you through all of the considerations necessary to find the perfect art and craft supplies for your latest project. Can't quite tell the difference between a flat brush and a filbert? Not entirely sure what makes for a good frisket? Educate yourself at MisterArt.com!

View Purchase Guides »
Latest Product Reviews
MisterArt.com has the absolute lowest price on the 20x26 size! I use them to protect my sample artwork on gallery wrapped canvas (18x24) and these help in transport to protect from scratching/marring. Plus, when it impresses the client when they see the canvas arrives protected in one of these. I'm waiting for them to get back in stock to order more. They are VERY popular for the reason I stated.
- Photos Into Artwork, LLC in Kansas City, Missouri USA
I'm not a stencil artist but a silversmith. I have several of the 1" brushes, and they are perfect for sweeping my bench. I use the brushes to sweep the silver and gold filings off my bench, and they do a superb job of cleaning loose metal bits off my projects. I don't like to use any other brushes. I use the smaller ones ( the 1/2" and 3/8") for gently cleaning wax models and jewelry in progress. These brushes have greater control, stiffness and yet pliable bristles that does the job very well. I'm sticking with these brushes for a very long time.
- Joy in Concord, NH
This is by far the best ink I have used for my comics! Consistency is perfect. Pigment has the tendency to settle at the bottom of the bottle but I just stir it with a brush and it dissolves quickly. I buy this product in batches,because I am terrified that it will be discontinued. Joe Kubert's school recommended this ink.
- Francesco S. in New York
Free Download for Kids

Download FREE
coloring book
pages to color at
home or school.
View Pages »