I wanted to let you guys know how happy I was with my last order. I ordered over 30 frames and they were all wrapped up and shipped safely with no breaks or problems. The order came exactly when you said and when I needed it. I was very happy with my whole experience. Thank you.
Shannon
San Jose, CA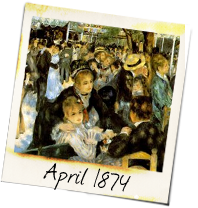 The soul thrives on art, and MisterArt.com is here to help your soul experience as much as possible! Whether you want to brush up on famous artists, explore the styles and periods of art, consult the glossary, or arm yourself with product knowledge from comprehensive purchase guides, MisterArt.com has collected all of the resources you need to plunge head-first into the dizzying world of visual arts.
The soul cannot thrive in the absence of art. If you don't want the pleasure of art, you are not human; and if you are not human, you don't have a soul.

- Thomas Moore
More masters than a Shaolin temple

Every great artist has a story to tell. MisterArt.com's comprehensive listing of famous artists contains detailed information on these legends' life stories, historical settings, creative styles, and prized masterpieces. Discover how ordinary men and women struggled to bring forth unforgettable art and movements!

View Artists »
The evolution of visual art

Can't tell the difference between Fauvism and Futurism? MisterArt.com can help. Our guide to the great movements and trends throughout the history of Western art includes famous examples of each style as well as details on the movers and shakers that popularized new ideas.

View Styles & Periods »
Because you didn't take notes in art class

There are hundreds of terms tossed around in the art world-- impasto, mastaba, frieze-- that you won't find in any dictionary. After all, they're not even English! MisterArt.com has collected hundreds of art terms and their definitions for easy browsing, including terms in French, Latin, Japanese, and other languages.

View Glossary »
Time-out doesn't have to be time wasted

Just like the professionals, sometimes younger artists need a little direction, and MisterArt.com wants to help. Get the little ones involved with free Coloring Book Pages, taken from our huge selection of coloring books. If you're seeking more of a challenge, MisterArt.com offers several easy-to-follow Project Sheets, to help get those creative juices flowing.

View Projects »
Leading you through the art supply wilderness

Our detailed purchase guides will walk you through all of the considerations necessary to find the perfect art and craft supplies for your latest project. Can't quite tell the difference between a flat brush and a filbert? Not entirely sure what makes for a good frisket? Educate yourself at MisterArt.com!

View Purchase Guides »
Latest Product Reviews
As a professinal artist, I have the highest opinion of Liquitex acrylic colors. I have been painting with them for more than forty years, on both canvas and illustration board, and they are always a pleasure to work with. After so many years, even my earliest paintings still look as though they were painted yesterday. I especially love the versatility of Liquitex colors. They have a consistent, buttery quality that makes them perfect for a range of techniques, from impasto "oil painting" to watercolor washes. I periodically place large orders to Mister Art and highly recommend them for their value and service. They are a great source for many hard to find supplies, and, in all the years that I have ordered from them, they never disappoint. Also, the VIP Savings Club is a great value. I save a lot on discounted VIP prices. Thank you, Mister Art!
- John Sloane in Cherry Valley, Illinois
Thank you for the quick delivery of this wonderful drawing tool. I like to have yellow and blue on hand for transferring line work from tracing paper onto a canvas. I paint solid backgrounds shades and either one or thee other color will show up on any background, dark or light.
- Karen in Brook Park-Cleveland, Ohio
I work as a free-lance architect/Designer.I discovered KISS OFF some 30(OR MORE?)years ago.And as an artist I have thousands of opportunities to get very pertinent color or other stains.But KISS OFF was always there to help.Quickly and simply stains are gone,forever.For me,KISS OFF is the best.In all these years I never looked for another.Try it!
- Mirko J.Stojnic in Palic Lake,Serbia,Europe
Free Download for Kids

Download FREE
coloring book
pages to color at
home or school.
View Pages »