I just got the package, on time, and wanted to thank you for getting it here when I needed it!
Joanie
Morrisville, PA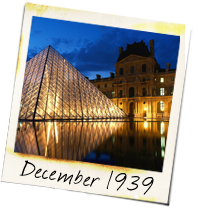 This Month in Art History
December, 1939 - Just months before the Nazi invasion of France, the last truck pulled away from The Louvre Museum, laden with valuable works of art. The effort to relocate The Louvre's masterpieces for safekeeping lasted four months. It wasn't until the liberation of France, in 1945, that the art began to make its way back to the museum.
The soul thrives on art, and MisterArt.com is here to help your soul experience as much as possible! Whether you want to brush up on famous artists, explore the styles and periods of art, consult the glossary, or arm yourself with product knowledge from comprehensive purchase guides, MisterArt.com has collected all of the resources you need to plunge head-first into the dizzying world of visual arts.
The soul cannot thrive in the absence of art. If you don't want the pleasure of art, you are not human; and if you are not human, you don't have a soul.

- Thomas Moore
More masters than a Shaolin temple

Every great artist has a story to tell. MisterArt.com's comprehensive listing of famous artists contains detailed information on these legends' life stories, historical settings, creative styles, and prized masterpieces. Discover how ordinary men and women struggled to bring forth unforgettable art and movements!

View Artists »
The evolution of visual art

Can't tell the difference between Fauvism and Futurism? MisterArt.com can help. Our guide to the great movements and trends throughout the history of Western art includes famous examples of each style as well as details on the movers and shakers that popularized new ideas.

View Styles & Periods »
Because you didn't take notes in art class

There are hundreds of terms tossed around in the art world-- impasto, mastaba, frieze-- that you won't find in any dictionary. After all, they're not even English! MisterArt.com has collected hundreds of art terms and their definitions for easy browsing, including terms in French, Latin, Japanese, and other languages.

View Glossary »
Time-out doesn't have to be time wasted

Just like the professionals, sometimes younger artists need a little direction, and MisterArt.com wants to help. Get the little ones involved with free Coloring Book Pages, taken from our huge selection of coloring books. If you're seeking more of a challenge, MisterArt.com offers several easy-to-follow Project Sheets, to help get those creative juices flowing.

View Projects »
Leading you through the art supply wilderness

Our detailed purchase guides will walk you through all of the considerations necessary to find the perfect art and craft supplies for your latest project. Can't quite tell the difference between a flat brush and a filbert? Not entirely sure what makes for a good frisket? Educate yourself at MisterArt.com!

View Purchase Guides »
Latest Product Reviews
i have used it before on metal art projects and really like the translucent properties. it enhances the grinding i do, which is a big part of my work. excellent product…just need to find it "Locally".
- Daniel in Des Moines Washington 98198
I have never had a pencil last this long... It has been 10 months and still haven't used the other two. I am a full time student and constantly lose/break pencils. The grip, weight and smoothness is outstanding. Whenever I forget this pencil at home, I want to kick myself. Best purchase in a very long time.
- Ajay in Canada
Be very sure you have selected the colors/ pattern you will be using. Have found push molds are not very tolerant. I have read in numerous places that a thin coating of cornstarch for easy clay removal will help. This doesn't work for me(tried different molds). The result is film on piece that I need to then use thin paint brush to remove. Anxious for suggestion, as I find this very time consuming.
- Sue M. in Long Island NY
Free Download for Kids

Download FREE
coloring book
pages to color at
home or school.
View Pages »