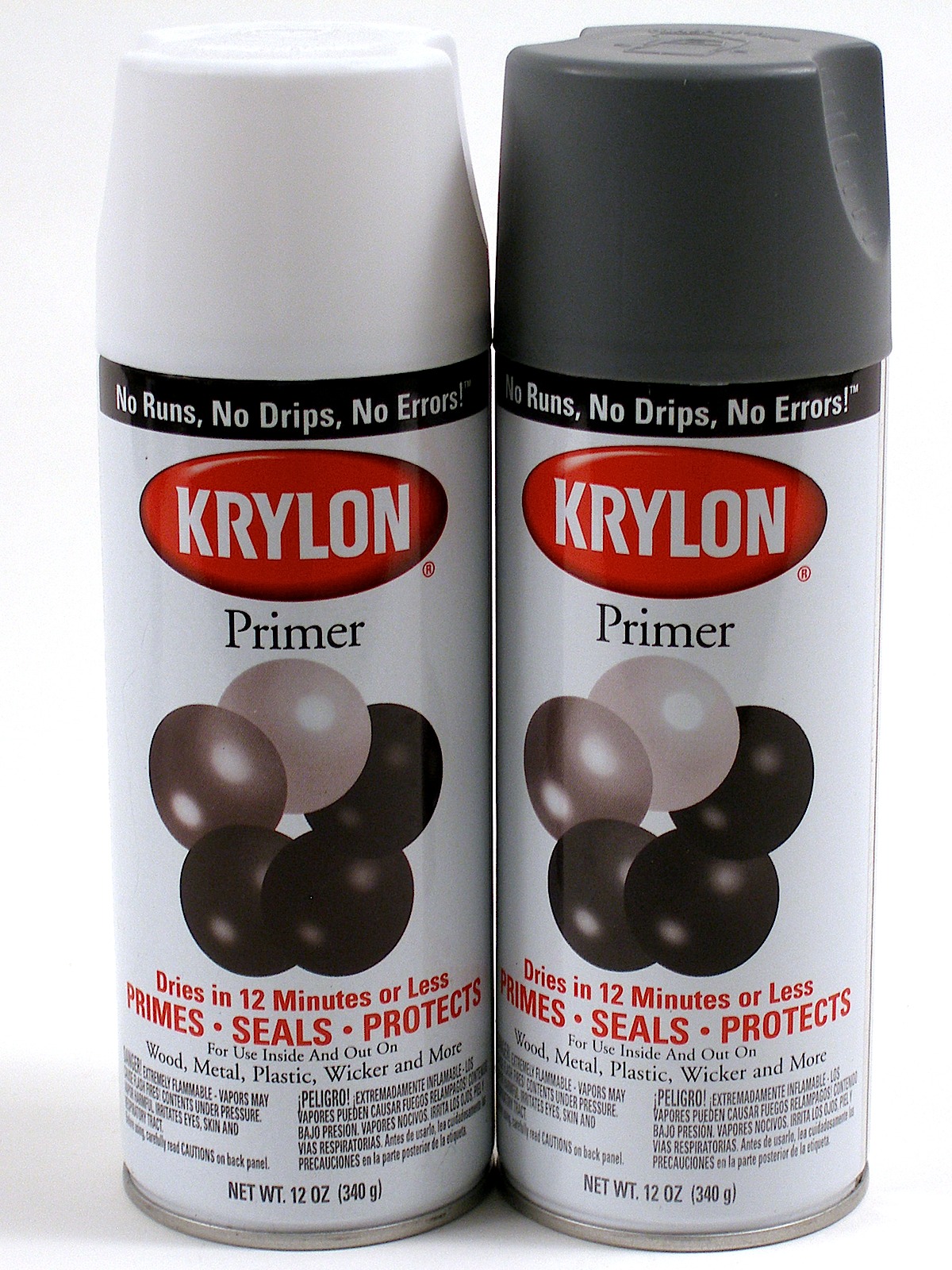 Zoom Image

Excellent primer coat for auto bodies and other sheet metal and cast iron surfaces, stops the formation of rust. Sprays on evenly to hard smooth finish. Provides better adhesion and opacity of finish paint. Helps to create a very smooth, professional looking finish. Lacquer resistant and can be topcoated with almost any paint finish. 12 oz.


?
Ask a question about this product
Ron J. from Redwood City, CA says:
Great primer for use in my metal and assemblage projects. Adheres well and leaves a smooth even opaque coat with minimal effort. Nice spray head is easy to direct and seems to stay clean and resist...[more]
Share this Product
Enter Quantity & Click 'Add to Cart'
Please wait...
You May Also Like...
struct
EVENTNAME
[empty string]
EXCEPTION

struct
Cause

struct
ErrorCode
1205
Message
[Macromedia][SQLServer JDBC Driver][SQLServer]Transaction (Process ID 255) was deadlocked on lock | communication buffer resources with another process and has been chosen as the deadlock victim. Rerun the transaction.
SQLState
40001
StackTrace
java.sql.SQLTransactionRollbackException: [Macromedia][SQLServer JDBC Driver][SQLServer]Transaction (Process ID 255) was deadlocked on lock | communication buffer resources with another process and has been chosen as the deadlock victim. Rerun the transaction. at macromedia.jdbc.sqlserverbase.ddcw.b(Unknown Source) at macromedia.jdbc.sqlserverbase.ddcw.a(Unknown Source) at macromedia.jdbc.sqlserverbase.ddcv.b(Unknown Source) at macromedia.jdbc.sqlserverbase.ddcv.a(Unknown Source) at macromedia.jdbc.sqlserver.tds.ddr.v(Unknown Source) at macromedia.jdbc.sqlserver.tds.ddr.a(Unknown Source) at macromedia.jdbc.sqlserver.tds.ddr.c(Unknown Source) at macromedia.jdbc.sqlserver.dda4.m(Unknown Source) at macromedia.jdbc.sqlserverbase.dde7.e(Unknown Source) at macromedia.jdbc.sqlserverbase.dde7.a(Unknown Source) at macromedia.jdbc.sqlserverbase.dde7.x(Unknown Source) at macromedia.jdbc.sqlserverbase.dde7.t(Unknown Source) at macromedia.jdbc.sqlserverbase.dde7.execute(Unknown Source) at coldfusion.server.j2ee.sql.JRunStatement.execute(JRunStatement.java:359) at coldfusion.sql.Executive.executeQuery(Executive.java:1567) at coldfusion.sql.Executive.executeQuery(Executive.java:1317) at coldfusion.sql.Executive.executeQuery(Executive.java:1247) at coldfusion.sql.SqlImpl.execute(SqlImpl.java:427) at coldfusion.tagext.sql.QueryTag.executeQuery(QueryTag.java:1211) at coldfusion.tagext.sql.QueryTag.startQueryExecution(QueryTag.java:841) at coldfusion.tagext.sql.QueryTag.doEndTag(QueryTag.java:794) at cf1row3items2ecfm679456892.runPage(/var/www/html/misterart.com/views/components/1row3items.cfm:29) at coldfusion.runtime.CfJspPage.invoke(CfJspPage.java:262) at coldfusion.tagext.lang.IncludeTag.handlePageInvoke(IncludeTag.java:729) at coldfusion.tagext.lang.IncludeTag.doStartTag(IncludeTag.java:565) at coldfusion.runtime.CfJspPage._emptyTcfTag(CfJspPage.java:4082) at cfgroupdetails2ecfm1794534649._factor15(/var/www/html/misterart.com/views/category/groupdetails.cfm:711) at cfgroupdetails2ecfm1794534649._factor20(/var/www/html/misterart.com/views/category/groupdetails.cfm:175) at cfgroupdetails2ecfm1794534649._factor21(/var/www/html/misterart.com/views/category/groupdetails.cfm:8) at cfgroupdetails2ecfm1794534649.runPage(/var/www/html/misterart.com/views/category/groupdetails.cfm:1) at coldfusion.runtime.CfJspPage.invoke(CfJspPage.java:262) at coldfusion.tagext.lang.IncludeTag.handlePageInvoke(IncludeTag.java:729) at coldfusion.tagext.lang.IncludeTag.doStartTag(IncludeTag.java:565) at coldfusion.runtime.CfJspPage._emptyTcfTag(CfJspPage.java:4082) at cflayout32ecfm1035591831.runPage(/var/www/html/misterart.com/views/layout/layout3.cfm:13) at coldfusion.runtime.CfJspPage.invoke(CfJspPage.java:262) at coldfusion.tagext.lang.IncludeTag.handlePageInvoke(IncludeTag.java:729) at coldfusion.tagext.lang.IncludeTag.doStartTag(IncludeTag.java:565) at coldfusion.runtime.CfJspPage._emptyTcfTag(CfJspPage.java:4082) at cfindex2ecfm158854119.runPage(/var/www/html/misterart.com/index.cfm:407) at coldfusion.runtime.CfJspPage.invoke(CfJspPage.java:262) at coldfusion.tagext.lang.IncludeTag.handlePageInvoke(IncludeTag.java:729) at coldfusion.tagext.lang.IncludeTag.doStartTag(IncludeTag.java:565) at coldfusion.filter.CfincludeFilter.invoke(CfincludeFilter.java:65) at coldfusion.filter.ApplicationFilter.invoke(ApplicationFilter.java:557) at coldfusion.filter.RequestMonitorFilter.invoke(RequestMonitorFilter.java:43) at coldfusion.filter.MonitoringFilter.invoke(MonitoringFilter.java:40) at coldfusion.filter.PathFilter.invoke(PathFilter.java:162) at coldfusion.filter.IpFilter.invoke(IpFilter.java:45) at coldfusion.filter.ExceptionFilter.invoke(ExceptionFilter.java:96) at coldfusion.filter.BrowserDebugFilter.invoke(BrowserDebugFilter.java:78) at coldfusion.filter.ClientScopePersistenceFilter.invoke(ClientScopePersistenceFilter.java:28) at coldfusion.filter.BrowserFilter.invoke(BrowserFilter.java:38) at coldfusion.filter.NoCacheFilter.invoke(NoCacheFilter.java:60) at coldfusion.filter.GlobalsFilter.invoke(GlobalsFilter.java:38) at coldfusion.filter.DatasourceFilter.invoke(DatasourceFilter.java:22) at coldfusion.filter.CachingFilter.invoke(CachingFilter.java:62) at coldfusion.CfmServlet.service(CfmServlet.java:226) at coldfusion.bootstrap.BootstrapServlet.service(BootstrapServlet.java:311) at org.apache.catalina.core.ApplicationFilterChain.internalDoFilter(ApplicationFilterChain.java:231) at org.apache.catalina.core.ApplicationFilterChain.doFilter(ApplicationFilterChain.java:166) at coldfusion.monitor.event.MonitoringServletFilter.doFilter(MonitoringServletFilter.java:46) at coldfusion.bootstrap.BootstrapFilter.doFilter(BootstrapFilter.java:47) at org.apache.catalina.core.ApplicationFilterChain.internalDoFilter(ApplicationFilterChain.java:193) at org.apache.catalina.core.ApplicationFilterChain.doFilter(ApplicationFilterChain.java:166) at org.apache.tomcat.websocket.server.WsFilter.doFilter(WsFilter.java:53) at org.apache.catalina.core.ApplicationFilterChain.internalDoFilter(ApplicationFilterChain.java:193) at org.apache.catalina.core.ApplicationFilterChain.doFilter(ApplicationFilterChain.java:166) at org.apache.catalina.core.StandardWrapperValve.invoke(StandardWrapperValve.java:199) at org.apache.catalina.core.StandardContextValve.invoke(StandardContextValve.java:96) at org.apache.catalina.authenticator.AuthenticatorBase.invoke(AuthenticatorBase.java:491) at org.apache.catalina.core.StandardHostValve.invoke(StandardHostValve.java:139) at org.apache.catalina.valves.ErrorReportValve.invoke(ErrorReportValve.java:92) at org.apache.catalina.valves.RemoteIpValve.invoke(RemoteIpValve.java:685) at org.apache.catalina.core.StandardEngineValve.invoke(StandardEngineValve.java:87) at org.apache.catalina.connector.CoyoteAdapter.service(CoyoteAdapter.java:357) at org.apache.coyote.ajp.AjpProcessor.service(AjpProcessor.java:422) at org.apache.coyote.AbstractProcessorLight.process(AbstractProcessorLight.java:66) at org.apache.coyote.AbstractProtocol$ConnectionHandler.process(AbstractProtocol.java:764) at org.apache.tomcat.util.net.NioEndpoint$SocketProcessor.doRun(NioEndpoint.java:1388) at org.apache.tomcat.util.net.SocketProcessorBase.run(SocketProcessorBase.java:49) at java.base/java.util.concurrent.ThreadPoolExecutor.runWorker(ThreadPoolExecutor.java:1128) at java.base/java.util.concurrent.ThreadPoolExecutor$Worker.run(ThreadPoolExecutor.java:628) at org.apache.tomcat.util.threads.TaskThread$WrappingRunnable.run(TaskThread.java:61) at java.base/java.lang.Thread.run(Thread.java:834)
Suppressed
TagContext

array
1

struct
COLUMN
0
ID
CFQUERY
LINE
29
RAW_TRACE
at cf1row3items2ecfm679456892.runPage(/var/www/html/misterart.com/views/components/1row3items.cfm:29)
TEMPLATE
/var/www/html/misterart.com/views/components/1row3items.cfm
TYPE
CFML

2

struct
COLUMN
0
ID
CFINCLUDE
LINE
711
RAW_TRACE
at cfgroupdetails2ecfm1794534649._factor15(/var/www/html/misterart.com/views/category/groupdetails.cfm:711)
TEMPLATE
/var/www/html/misterart.com/views/category/groupdetails.cfm
TYPE
CFML

3

struct
COLUMN
0
ID
CF_GROUPDETAILS
LINE
175
RAW_TRACE
at cfgroupdetails2ecfm1794534649._factor20(/var/www/html/misterart.com/views/category/groupdetails.cfm:175)
TEMPLATE
/var/www/html/misterart.com/views/category/groupdetails.cfm
TYPE
CFML

4

struct
COLUMN
0
ID
CF_GROUPDETAILS
LINE
8
RAW_TRACE
at cfgroupdetails2ecfm1794534649._factor21(/var/www/html/misterart.com/views/category/groupdetails.cfm:8)
TEMPLATE
/var/www/html/misterart.com/views/category/groupdetails.cfm
TYPE
CFML

5

struct
COLUMN
0
ID
CF_GROUPDETAILS
LINE
1
RAW_TRACE
at cfgroupdetails2ecfm1794534649.runPage(/var/www/html/misterart.com/views/category/groupdetails.cfm:1)
TEMPLATE
/var/www/html/misterart.com/views/category/groupdetails.cfm
TYPE
CFML

6

struct
COLUMN
0
ID
CFINCLUDE
LINE
13
RAW_TRACE
at cflayout32ecfm1035591831.runPage(/var/www/html/misterart.com/views/layout/layout3.cfm:13)
TEMPLATE
/var/www/html/misterart.com/views/layout/layout3.cfm
TYPE
CFML

7

struct
COLUMN
0
ID
CFINCLUDE
LINE
407
RAW_TRACE
at cfindex2ecfm158854119.runPage(/var/www/html/misterart.com/index.cfm:407)
TEMPLATE
/var/www/html/misterart.com/index.cfm
TYPE
CFML

Type
java.sql.SQLTransactionRollbackException

DataSource
MA3
Detail
[Macromedia][SQLServer JDBC Driver][SQLServer]Transaction (Process ID 255) was deadlocked on lock | communication buffer resources with another process and has been chosen as the deadlock victim. Rerun the transaction.
ErrorCode
40001
Exceptions

array
1

struct
class
java.sql.SQLTransactionRollbackException
message
[Macromedia][SQLServer JDBC Driver][SQLServer]Transaction (Process ID 255) was deadlocked on lock | communication buffer resources with another process and has been chosen as the deadlock victim. Rerun the transaction.

Message
Error Executing Database Query.
NativeErrorCode
1205
RootCause

struct
ErrorCode
1205
Message
[Macromedia][SQLServer JDBC Driver][SQLServer]Transaction (Process ID 255) was deadlocked on lock | communication buffer resources with another process and has been chosen as the deadlock victim. Rerun the transaction.
SQLState
40001
StackTrace
java.sql.SQLTransactionRollbackException: [Macromedia][SQLServer JDBC Driver][SQLServer]Transaction (Process ID 255) was deadlocked on lock | communication buffer resources with another process and has been chosen as the deadlock victim. Rerun the transaction. at macromedia.jdbc.sqlserverbase.ddcw.b(Unknown Source) at macromedia.jdbc.sqlserverbase.ddcw.a(Unknown Source) at macromedia.jdbc.sqlserverbase.ddcv.b(Unknown Source) at macromedia.jdbc.sqlserverbase.ddcv.a(Unknown Source) at macromedia.jdbc.sqlserver.tds.ddr.v(Unknown Source) at macromedia.jdbc.sqlserver.tds.ddr.a(Unknown Source) at macromedia.jdbc.sqlserver.tds.ddr.c(Unknown Source) at macromedia.jdbc.sqlserver.dda4.m(Unknown Source) at macromedia.jdbc.sqlserverbase.dde7.e(Unknown Source) at macromedia.jdbc.sqlserverbase.dde7.a(Unknown Source) at macromedia.jdbc.sqlserverbase.dde7.x(Unknown Source) at macromedia.jdbc.sqlserverbase.dde7.t(Unknown Source) at macromedia.jdbc.sqlserverbase.dde7.execute(Unknown Source) at coldfusion.server.j2ee.sql.JRunStatement.execute(JRunStatement.java:359) at coldfusion.sql.Executive.executeQuery(Executive.java:1567) at coldfusion.sql.Executive.executeQuery(Executive.java:1317) at coldfusion.sql.Executive.executeQuery(Executive.java:1247) at coldfusion.sql.SqlImpl.execute(SqlImpl.java:427) at coldfusion.tagext.sql.QueryTag.executeQuery(QueryTag.java:1211) at coldfusion.tagext.sql.QueryTag.startQueryExecution(QueryTag.java:841) at coldfusion.tagext.sql.QueryTag.doEndTag(QueryTag.java:794) at cf1row3items2ecfm679456892.runPage(/var/www/html/misterart.com/views/components/1row3items.cfm:29) at coldfusion.runtime.CfJspPage.invoke(CfJspPage.java:262) at coldfusion.tagext.lang.IncludeTag.handlePageInvoke(IncludeTag.java:729) at coldfusion.tagext.lang.IncludeTag.doStartTag(IncludeTag.java:565) at coldfusion.runtime.CfJspPage._emptyTcfTag(CfJspPage.java:4082) at cfgroupdetails2ecfm1794534649._factor15(/var/www/html/misterart.com/views/category/groupdetails.cfm:711) at cfgroupdetails2ecfm1794534649._factor20(/var/www/html/misterart.com/views/category/groupdetails.cfm:175) at cfgroupdetails2ecfm1794534649._factor21(/var/www/html/misterart.com/views/category/groupdetails.cfm:8) at cfgroupdetails2ecfm1794534649.runPage(/var/www/html/misterart.com/views/category/groupdetails.cfm:1) at coldfusion.runtime.CfJspPage.invoke(CfJspPage.java:262) at coldfusion.tagext.lang.IncludeTag.handlePageInvoke(IncludeTag.java:729) at coldfusion.tagext.lang.IncludeTag.doStartTag(IncludeTag.java:565) at coldfusion.runtime.CfJspPage._emptyTcfTag(CfJspPage.java:4082) at cflayout32ecfm1035591831.runPage(/var/www/html/misterart.com/views/layout/layout3.cfm:13) at coldfusion.runtime.CfJspPage.invoke(CfJspPage.java:262) at coldfusion.tagext.lang.IncludeTag.handlePageInvoke(IncludeTag.java:729) at coldfusion.tagext.lang.IncludeTag.doStartTag(IncludeTag.java:565) at coldfusion.runtime.CfJspPage._emptyTcfTag(CfJspPage.java:4082) at cfindex2ecfm158854119.runPage(/var/www/html/misterart.com/index.cfm:407) at coldfusion.runtime.CfJspPage.invoke(CfJspPage.java:262) at coldfusion.tagext.lang.IncludeTag.handlePageInvoke(IncludeTag.java:729) at coldfusion.tagext.lang.IncludeTag.doStartTag(IncludeTag.java:565) at coldfusion.filter.CfincludeFilter.invoke(CfincludeFilter.java:65) at coldfusion.filter.ApplicationFilter.invoke(ApplicationFilter.java:557) at coldfusion.filter.RequestMonitorFilter.invoke(RequestMonitorFilter.java:43) at coldfusion.filter.MonitoringFilter.invoke(MonitoringFilter.java:40) at coldfusion.filter.PathFilter.invoke(PathFilter.java:162) at coldfusion.filter.IpFilter.invoke(IpFilter.java:45) at coldfusion.filter.ExceptionFilter.invoke(ExceptionFilter.java:96) at coldfusion.filter.BrowserDebugFilter.invoke(BrowserDebugFilter.java:78) at coldfusion.filter.ClientScopePersistenceFilter.invoke(ClientScopePersistenceFilter.java:28) at coldfusion.filter.BrowserFilter.invoke(BrowserFilter.java:38) at coldfusion.filter.NoCacheFilter.invoke(NoCacheFilter.java:60) at coldfusion.filter.GlobalsFilter.invoke(GlobalsFilter.java:38) at coldfusion.filter.DatasourceFilter.invoke(DatasourceFilter.java:22) at coldfusion.filter.CachingFilter.invoke(CachingFilter.java:62) at coldfusion.CfmServlet.service(CfmServlet.java:226) at coldfusion.bootstrap.BootstrapServlet.service(BootstrapServlet.java:311) at org.apache.catalina.core.ApplicationFilterChain.internalDoFilter(ApplicationFilterChain.java:231) at org.apache.catalina.core.ApplicationFilterChain.doFilter(ApplicationFilterChain.java:166) at coldfusion.monitor.event.MonitoringServletFilter.doFilter(MonitoringServletFilter.java:46) at coldfusion.bootstrap.BootstrapFilter.doFilter(BootstrapFilter.java:47) at org.apache.catalina.core.ApplicationFilterChain.internalDoFilter(ApplicationFilterChain.java:193) at org.apache.catalina.core.ApplicationFilterChain.doFilter(ApplicationFilterChain.java:166) at org.apache.tomcat.websocket.server.WsFilter.doFilter(WsFilter.java:53) at org.apache.catalina.core.ApplicationFilterChain.internalDoFilter(ApplicationFilterChain.java:193) at org.apache.catalina.core.ApplicationFilterChain.doFilter(ApplicationFilterChain.java:166) at org.apache.catalina.core.StandardWrapperValve.invoke(StandardWrapperValve.java:199) at org.apache.catalina.core.StandardContextValve.invoke(StandardContextValve.java:96) at org.apache.catalina.authenticator.AuthenticatorBase.invoke(AuthenticatorBase.java:491) at org.apache.catalina.core.StandardHostValve.invoke(StandardHostValve.java:139) at org.apache.catalina.valves.ErrorReportValve.invoke(ErrorReportValve.java:92) at org.apache.catalina.valves.RemoteIpValve.invoke(RemoteIpValve.java:685) at org.apache.catalina.core.StandardEngineValve.invoke(StandardEngineValve.java:87) at org.apache.catalina.connector.CoyoteAdapter.service(CoyoteAdapter.java:357) at org.apache.coyote.ajp.AjpProcessor.service(AjpProcessor.java:422) at org.apache.coyote.AbstractProcessorLight.process(AbstractProcessorLight.java:66) at org.apache.coyote.AbstractProtocol$ConnectionHandler.process(AbstractProtocol.java:764) at org.apache.tomcat.util.net.NioEndpoint$SocketProcessor.doRun(NioEndpoint.java:1388) at org.apache.tomcat.util.net.SocketProcessorBase.run(SocketProcessorBase.java:49) at java.base/java.util.concurrent.ThreadPoolExecutor.runWorker(ThreadPoolExecutor.java:1128) at java.base/java.util.concurrent.ThreadPoolExecutor$Worker.run(ThreadPoolExecutor.java:628) at org.apache.tomcat.util.threads.TaskThread$WrappingRunnable.run(TaskThread.java:61) at java.base/java.lang.Thread.run(Thread.java:834)
Suppressed
TagContext

array
1

struct
COLUMN
0
ID
CFQUERY
LINE
29
RAW_TRACE
at cf1row3items2ecfm679456892.runPage(/var/www/html/misterart.com/views/components/1row3items.cfm:29)
TEMPLATE
/var/www/html/misterart.com/views/components/1row3items.cfm
TYPE
CFML

2

struct
COLUMN
0
ID
CFINCLUDE
LINE
711
RAW_TRACE
at cfgroupdetails2ecfm1794534649._factor15(/var/www/html/misterart.com/views/category/groupdetails.cfm:711)
TEMPLATE
/var/www/html/misterart.com/views/category/groupdetails.cfm
TYPE
CFML

3

struct
COLUMN
0
ID
CF_GROUPDETAILS
LINE
175
RAW_TRACE
at cfgroupdetails2ecfm1794534649._factor20(/var/www/html/misterart.com/views/category/groupdetails.cfm:175)
TEMPLATE
/var/www/html/misterart.com/views/category/groupdetails.cfm
TYPE
CFML

4

struct
COLUMN
0
ID
CF_GROUPDETAILS
LINE
8
RAW_TRACE
at cfgroupdetails2ecfm1794534649._factor21(/var/www/html/misterart.com/views/category/groupdetails.cfm:8)
TEMPLATE
/var/www/html/misterart.com/views/category/groupdetails.cfm
TYPE
CFML

5

struct
COLUMN
0
ID
CF_GROUPDETAILS
LINE
1
RAW_TRACE
at cfgroupdetails2ecfm1794534649.runPage(/var/www/html/misterart.com/views/category/groupdetails.cfm:1)
TEMPLATE
/var/www/html/misterart.com/views/category/groupdetails.cfm
TYPE
CFML

6

struct
COLUMN
0
ID
CFINCLUDE
LINE
13
RAW_TRACE
at cflayout32ecfm1035591831.runPage(/var/www/html/misterart.com/views/layout/layout3.cfm:13)
TEMPLATE
/var/www/html/misterart.com/views/layout/layout3.cfm
TYPE
CFML

7

struct
COLUMN
0
ID
CFINCLUDE
LINE
407
RAW_TRACE
at cfindex2ecfm158854119.runPage(/var/www/html/misterart.com/index.cfm:407)
TEMPLATE
/var/www/html/misterart.com/index.cfm
TYPE
CFML

Type
java.sql.SQLTransactionRollbackException

SQLState
40001
Sql
UPDATE group_2_group_new set counter = counter + 1 WHERE group_id = 1447 AND related_group_id = 279
StackTrace
coldfusion.tagext.sql.QueryTag$DatabaseQueryException: Error Executing Database Query. at coldfusion.tagext.sql.QueryTag.startQueryExecution(QueryTag.java:894) at coldfusion.tagext.sql.QueryTag.doEndTag(QueryTag.java:794) at cf1row3items2ecfm679456892.runPage(/var/www/html/misterart.com/views/components/1row3items.cfm:29) at coldfusion.runtime.CfJspPage.invoke(CfJspPage.java:262) at coldfusion.tagext.lang.IncludeTag.handlePageInvoke(IncludeTag.java:729) at coldfusion.tagext.lang.IncludeTag.doStartTag(IncludeTag.java:565) at coldfusion.runtime.CfJspPage._emptyTcfTag(CfJspPage.java:4082) at cfgroupdetails2ecfm1794534649._factor15(/var/www/html/misterart.com/views/category/groupdetails.cfm:711) at cfgroupdetails2ecfm1794534649._factor20(/var/www/html/misterart.com/views/category/groupdetails.cfm:175) at cfgroupdetails2ecfm1794534649._factor21(/var/www/html/misterart.com/views/category/groupdetails.cfm:8) at cfgroupdetails2ecfm1794534649.runPage(/var/www/html/misterart.com/views/category/groupdetails.cfm:1) at coldfusion.runtime.CfJspPage.invoke(CfJspPage.java:262) at coldfusion.tagext.lang.IncludeTag.handlePageInvoke(IncludeTag.java:729) at coldfusion.tagext.lang.IncludeTag.doStartTag(IncludeTag.java:565) at coldfusion.runtime.CfJspPage._emptyTcfTag(CfJspPage.java:4082) at cflayout32ecfm1035591831.runPage(/var/www/html/misterart.com/views/layout/layout3.cfm:13) at coldfusion.runtime.CfJspPage.invoke(CfJspPage.java:262) at coldfusion.tagext.lang.IncludeTag.handlePageInvoke(IncludeTag.java:729) at coldfusion.tagext.lang.IncludeTag.doStartTag(IncludeTag.java:565) at coldfusion.runtime.CfJspPage._emptyTcfTag(CfJspPage.java:4082) at cfindex2ecfm158854119.runPage(/var/www/html/misterart.com/index.cfm:407) at coldfusion.runtime.CfJspPage.invoke(CfJspPage.java:262) at coldfusion.tagext.lang.IncludeTag.handlePageInvoke(IncludeTag.java:729) at coldfusion.tagext.lang.IncludeTag.doStartTag(IncludeTag.java:565) at coldfusion.filter.CfincludeFilter.invoke(CfincludeFilter.java:65) at coldfusion.filter.ApplicationFilter.invoke(ApplicationFilter.java:557) at coldfusion.filter.RequestMonitorFilter.invoke(RequestMonitorFilter.java:43) at coldfusion.filter.MonitoringFilter.invoke(MonitoringFilter.java:40) at coldfusion.filter.PathFilter.invoke(PathFilter.java:162) at coldfusion.filter.IpFilter.invoke(IpFilter.java:45) at coldfusion.filter.ExceptionFilter.invoke(ExceptionFilter.java:96) at coldfusion.filter.BrowserDebugFilter.invoke(BrowserDebugFilter.java:78) at coldfusion.filter.ClientScopePersistenceFilter.invoke(ClientScopePersistenceFilter.java:28) at coldfusion.filter.BrowserFilter.invoke(BrowserFilter.java:38) at coldfusion.filter.NoCacheFilter.invoke(NoCacheFilter.java:60) at coldfusion.filter.GlobalsFilter.invoke(GlobalsFilter.java:38) at coldfusion.filter.DatasourceFilter.invoke(DatasourceFilter.java:22) at coldfusion.filter.CachingFilter.invoke(CachingFilter.java:62) at coldfusion.CfmServlet.service(CfmServlet.java:226) at coldfusion.bootstrap.BootstrapServlet.service(BootstrapServlet.java:311) at org.apache.catalina.core.ApplicationFilterChain.internalDoFilter(ApplicationFilterChain.java:231) at org.apache.catalina.core.ApplicationFilterChain.doFilter(ApplicationFilterChain.java:166) at coldfusion.monitor.event.MonitoringServletFilter.doFilter(MonitoringServletFilter.java:46) at coldfusion.bootstrap.BootstrapFilter.doFilter(BootstrapFilter.java:47) at org.apache.catalina.core.ApplicationFilterChain.internalDoFilter(ApplicationFilterChain.java:193) at org.apache.catalina.core.ApplicationFilterChain.doFilter(ApplicationFilterChain.java:166) at org.apache.tomcat.websocket.server.WsFilter.doFilter(WsFilter.java:53) at org.apache.catalina.core.ApplicationFilterChain.internalDoFilter(ApplicationFilterChain.java:193) at org.apache.catalina.core.ApplicationFilterChain.doFilter(ApplicationFilterChain.java:166) at org.apache.catalina.core.StandardWrapperValve.invoke(StandardWrapperValve.java:199) at org.apache.catalina.core.StandardContextValve.invoke(StandardContextValve.java:96) at org.apache.catalina.authenticator.AuthenticatorBase.invoke(AuthenticatorBase.java:491) at org.apache.catalina.core.StandardHostValve.invoke(StandardHostValve.java:139) at org.apache.catalina.valves.ErrorReportValve.invoke(ErrorReportValve.java:92) at org.apache.catalina.valves.RemoteIpValve.invoke(RemoteIpValve.java:685) at org.apache.catalina.core.StandardEngineValve.invoke(StandardEngineValve.java:87) at org.apache.catalina.connector.CoyoteAdapter.service(CoyoteAdapter.java:357) at org.apache.coyote.ajp.AjpProcessor.service(AjpProcessor.java:422) at org.apache.coyote.AbstractProcessorLight.process(AbstractProcessorLight.java:66) at org.apache.coyote.AbstractProtocol$ConnectionHandler.process(AbstractProtocol.java:764) at org.apache.tomcat.util.net.NioEndpoint$SocketProcessor.doRun(NioEndpoint.java:1388) at org.apache.tomcat.util.net.SocketProcessorBase.run(SocketProcessorBase.java:49) at java.base/java.util.concurrent.ThreadPoolExecutor.runWorker(ThreadPoolExecutor.java:1128) at java.base/java.util.concurrent.ThreadPoolExecutor$Worker.run(ThreadPoolExecutor.java:628) at org.apache.tomcat.util.threads.TaskThread$WrappingRunnable.run(TaskThread.java:61) at java.base/java.lang.Thread.run(Thread.java:834) Caused by: java.sql.SQLTransactionRollbackException: [Macromedia][SQLServer JDBC Driver][SQLServer]Transaction (Process ID 255) was deadlocked on lock | communication buffer resources with another process and has been chosen as the deadlock victim. Rerun the transaction. at macromedia.jdbc.sqlserverbase.ddcw.b(Unknown Source) at macromedia.jdbc.sqlserverbase.ddcw.a(Unknown Source) at macromedia.jdbc.sqlserverbase.ddcv.b(Unknown Source) at macromedia.jdbc.sqlserverbase.ddcv.a(Unknown Source) at macromedia.jdbc.sqlserver.tds.ddr.v(Unknown Source) at macromedia.jdbc.sqlserver.tds.ddr.a(Unknown Source) at macromedia.jdbc.sqlserver.tds.ddr.c(Unknown Source) at macromedia.jdbc.sqlserver.dda4.m(Unknown Source) at macromedia.jdbc.sqlserverbase.dde7.e(Unknown Source) at macromedia.jdbc.sqlserverbase.dde7.a(Unknown Source) at macromedia.jdbc.sqlserverbase.dde7.x(Unknown Source) at macromedia.jdbc.sqlserverbase.dde7.t(Unknown Source) at macromedia.jdbc.sqlserverbase.dde7.execute(Unknown Source) at coldfusion.server.j2ee.sql.JRunStatement.execute(JRunStatement.java:359) at coldfusion.sql.Executive.executeQuery(Executive.java:1567) at coldfusion.sql.Executive.executeQuery(Executive.java:1317) at coldfusion.sql.Executive.executeQuery(Executive.java:1247) at coldfusion.sql.SqlImpl.execute(SqlImpl.java:427) at coldfusion.tagext.sql.QueryTag.executeQuery(QueryTag.java:1211) at coldfusion.tagext.sql.QueryTag.startQueryExecution(QueryTag.java:841) ... 65 more
Suppressed
TagContext

array
1

struct
COLUMN
0
ID
CFQUERY
LINE
29
RAW_TRACE
at cf1row3items2ecfm679456892.runPage(/var/www/html/misterart.com/views/components/1row3items.cfm:29)
TEMPLATE
/var/www/html/misterart.com/views/components/1row3items.cfm
TYPE
CFML

2

struct
COLUMN
0
ID
CFINCLUDE
LINE
711
RAW_TRACE
at cfgroupdetails2ecfm1794534649._factor15(/var/www/html/misterart.com/views/category/groupdetails.cfm:711)
TEMPLATE
/var/www/html/misterart.com/views/category/groupdetails.cfm
TYPE
CFML

3

struct
COLUMN
0
ID
CF_GROUPDETAILS
LINE
175
RAW_TRACE
at cfgroupdetails2ecfm1794534649._factor20(/var/www/html/misterart.com/views/category/groupdetails.cfm:175)
TEMPLATE
/var/www/html/misterart.com/views/category/groupdetails.cfm
TYPE
CFML

4

struct
COLUMN
0
ID
CF_GROUPDETAILS
LINE
8
RAW_TRACE
at cfgroupdetails2ecfm1794534649._factor21(/var/www/html/misterart.com/views/category/groupdetails.cfm:8)
TEMPLATE
/var/www/html/misterart.com/views/category/groupdetails.cfm
TYPE
CFML

5

struct
COLUMN
0
ID
CF_GROUPDETAILS
LINE
1
RAW_TRACE
at cfgroupdetails2ecfm1794534649.runPage(/var/www/html/misterart.com/views/category/groupdetails.cfm:1)
TEMPLATE
/var/www/html/misterart.com/views/category/groupdetails.cfm
TYPE
CFML

6

struct
COLUMN
0
ID
CFINCLUDE
LINE
13
RAW_TRACE
at cflayout32ecfm1035591831.runPage(/var/www/html/misterart.com/views/layout/layout3.cfm:13)
TEMPLATE
/var/www/html/misterart.com/views/layout/layout3.cfm
TYPE
CFML

7

struct
COLUMN
0
ID
CFINCLUDE
LINE
407
RAW_TRACE
at cfindex2ecfm158854119.runPage(/var/www/html/misterart.com/index.cfm:407)
TEMPLATE
/var/www/html/misterart.com/index.cfm
TYPE
CFML

Type
Database
queryError
[Macromedia][SQLServer JDBC Driver][SQLServer]Transaction (Process ID 255) was deadlocked on lock | communication buffer resources with another process and has been chosen as the deadlock victim. Rerun the transaction.
where
[empty string]