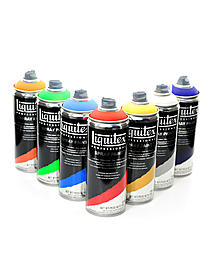 Zoom Image
Liquitex Professional Spray Paint is a stunning innovation developed for professional artists. Combining artist grade pigments with revolutionary water-based technology, this spray paint offers color brilliance, lightfastness and durability in a unique low odor formulation. Provides the same vibrancy, permanence and performance that Liquitex is known for, and delivers the high coverage and opacity demanded of spray paint. Versatile enough for use on almost any substrate, including canvas, wood, masonry and even glass, Liquitex Professional Spray Paint is fully intermixable with other Liquitex ranges. Sold in 400 ml (12 oz) spray cans. Features and Benefits include:
LOW ODOR -ideal for indoors or within an educational environment
WATER-BASED TECHNOLOGY - can be cleaned up with water when wet, permanent when dry
MATCHES LIQUITEX COLOR SPECTRUM
VERSATILE - fully intermixable with other Liquitex products including Heavy Body and Soft Bdy
COLOR BRILLIANCE - 100 color spectrum includes iridescents, fluorescents and transparents
MORE VOLUME - each can contains almost 13% more color by volume than the competition
PROFESSIONAL QUALITY - formulated using fine art pigments with higher pigment levels than the competition
LIGHTFAST - rated to ASTM I or II except for fluorescents
DURABLE and PERMANENT - suitable for both interior and exterior use



Ask a question about Professional Spray Paint Ask a question about this product
Claudia B. from Lafayette, CA says:
I ordered 8 cans of spray acrylic paint. The paint is fine. The packing was terrible. The paint came in 2 separate plastic bags. In one bag, the tops had come off the paint and there was paint...[more]
Why is the VIP Price not displayed for this product? MisterArt.com's goal is to provide our customers the lowest prices on all products we sell. Some manufacturers restrict retailers from displaying or promoting certain products at any price lower than a Minimum Advertised Price (MAP). It is MisterArt.com's policy to offer these products at their MAP price as our Non-Member Price. VIP Members will see the VIP Price after adding the product to the cart without any purchase obligation.