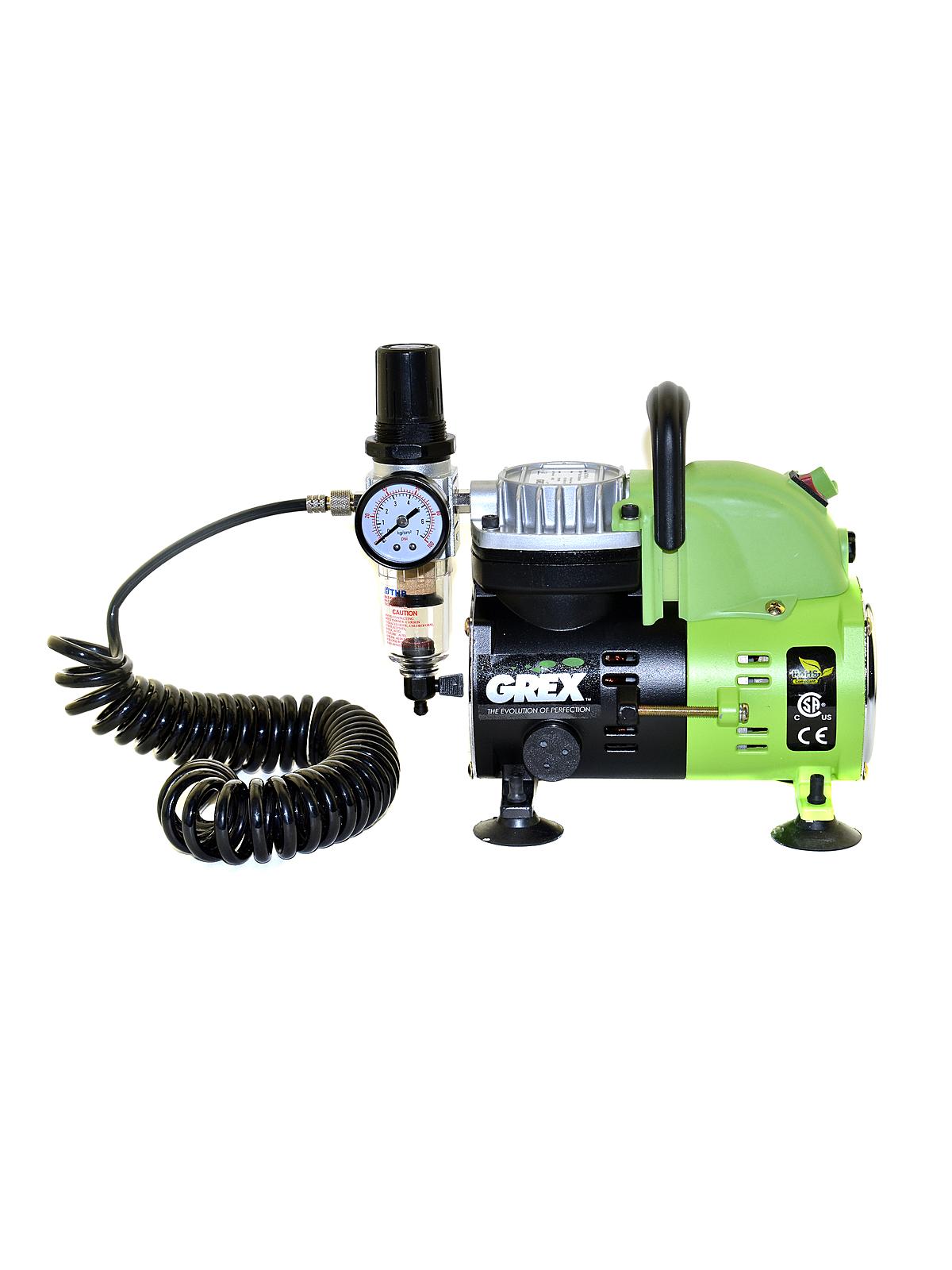 Zoom Image

The Grex AC1810 is a stylish, feature-rich, lightweight compressor ideal for the artist on the go. The oil-less piston design provides high performance with low maintainance. Includes an integrated pressure gauge, moisture trap, retractable handle, airbrush holder, and 12' coiled plastic air hose. The automatic shut-off turns off the compressor when not in use, while the manual shut-off switch allows for complete shut-off.
Specifications: 1/8 HP; 0.7 cfm (20 L/min) displacement; 1700 rpm; 60 psi (4.1 bar) max. pressure; 120V / 0.96 A / 60 Hz power; 55db noise level; 11 lbs. weight; CE, CSA, and RoHS compliant certified.
?
Ask a question about this product
Be the first to write a review on this product!
Share this Product
Why is the VIP Price not displayed for this product? MisterArt.com's goal is to provide our customers the lowest prices on all products we sell. Some manufacturers restrict retailers from displaying or promoting certain products at any price lower than a Minimum Advertised Price (MAP). It is MisterArt.com's policy to offer these products at their MAP price as our Non-Member Price. VIP Members will see the VIP Price after adding the product to the cart without any purchase obligation.
Enter Quantity & Click 'Add to Cart'
Please wait...
You May Also Like...
struct
EVENTNAME
[empty string]
EXCEPTION

struct
Cause

struct
ErrorCode
1205
Message
[Macromedia][SQLServer JDBC Driver][SQLServer]Transaction (Process ID 108) was deadlocked on lock | communication buffer resources with another process and has been chosen as the deadlock victim. Rerun the transaction.
SQLState
40001
StackTrace
java.sql.SQLTransactionRollbackException: [Macromedia][SQLServer JDBC Driver][SQLServer]Transaction (Process ID 108) was deadlocked on lock | communication buffer resources with another process and has been chosen as the deadlock victim. Rerun the transaction. at macromedia.jdbc.sqlserverbase.ddcw.b(Unknown Source) at macromedia.jdbc.sqlserverbase.ddcw.a(Unknown Source) at macromedia.jdbc.sqlserverbase.ddcv.b(Unknown Source) at macromedia.jdbc.sqlserverbase.ddcv.a(Unknown Source) at macromedia.jdbc.sqlserver.tds.ddr.v(Unknown Source) at macromedia.jdbc.sqlserver.tds.ddr.a(Unknown Source) at macromedia.jdbc.sqlserver.tds.ddr.c(Unknown Source) at macromedia.jdbc.sqlserver.dda4.m(Unknown Source) at macromedia.jdbc.sqlserverbase.dde7.e(Unknown Source) at macromedia.jdbc.sqlserverbase.dde7.a(Unknown Source) at macromedia.jdbc.sqlserverbase.dde7.x(Unknown Source) at macromedia.jdbc.sqlserverbase.dde7.t(Unknown Source) at macromedia.jdbc.sqlserverbase.dde7.execute(Unknown Source) at coldfusion.server.j2ee.sql.JRunStatement.execute(JRunStatement.java:359) at coldfusion.sql.Executive.executeQuery(Executive.java:1567) at coldfusion.sql.Executive.executeQuery(Executive.java:1317) at coldfusion.sql.Executive.executeQuery(Executive.java:1247) at coldfusion.sql.SqlImpl.execute(SqlImpl.java:427) at coldfusion.tagext.sql.QueryTag.executeQuery(QueryTag.java:1211) at coldfusion.tagext.sql.QueryTag.startQueryExecution(QueryTag.java:841) at coldfusion.tagext.sql.QueryTag.doEndTag(QueryTag.java:794) at cf1row3items2ecfm679456892.runPage(/var/www/html/misterart.com/views/components/1row3items.cfm:29) at coldfusion.runtime.CfJspPage.invoke(CfJspPage.java:262) at coldfusion.tagext.lang.IncludeTag.handlePageInvoke(IncludeTag.java:729) at coldfusion.tagext.lang.IncludeTag.doStartTag(IncludeTag.java:565) at coldfusion.runtime.CfJspPage._emptyTcfTag(CfJspPage.java:4082) at cfgroupdetails2ecfm1794534649._factor15(/var/www/html/misterart.com/views/category/groupdetails.cfm:711) at cfgroupdetails2ecfm1794534649._factor20(/var/www/html/misterart.com/views/category/groupdetails.cfm:175) at cfgroupdetails2ecfm1794534649._factor21(/var/www/html/misterart.com/views/category/groupdetails.cfm:8) at cfgroupdetails2ecfm1794534649.runPage(/var/www/html/misterart.com/views/category/groupdetails.cfm:1) at coldfusion.runtime.CfJspPage.invoke(CfJspPage.java:262) at coldfusion.tagext.lang.IncludeTag.handlePageInvoke(IncludeTag.java:729) at coldfusion.tagext.lang.IncludeTag.doStartTag(IncludeTag.java:565) at coldfusion.runtime.CfJspPage._emptyTcfTag(CfJspPage.java:4082) at cflayout32ecfm1035591831.runPage(/var/www/html/misterart.com/views/layout/layout3.cfm:13) at coldfusion.runtime.CfJspPage.invoke(CfJspPage.java:262) at coldfusion.tagext.lang.IncludeTag.handlePageInvoke(IncludeTag.java:729) at coldfusion.tagext.lang.IncludeTag.doStartTag(IncludeTag.java:565) at coldfusion.runtime.CfJspPage._emptyTcfTag(CfJspPage.java:4082) at cfindex2ecfm158854119.runPage(/var/www/html/misterart.com/index.cfm:407) at coldfusion.runtime.CfJspPage.invoke(CfJspPage.java:262) at coldfusion.tagext.lang.IncludeTag.handlePageInvoke(IncludeTag.java:729) at coldfusion.tagext.lang.IncludeTag.doStartTag(IncludeTag.java:565) at coldfusion.filter.CfincludeFilter.invoke(CfincludeFilter.java:65) at coldfusion.filter.ApplicationFilter.invoke(ApplicationFilter.java:557) at coldfusion.filter.RequestMonitorFilter.invoke(RequestMonitorFilter.java:43) at coldfusion.filter.MonitoringFilter.invoke(MonitoringFilter.java:40) at coldfusion.filter.PathFilter.invoke(PathFilter.java:162) at coldfusion.filter.IpFilter.invoke(IpFilter.java:45) at coldfusion.filter.ExceptionFilter.invoke(ExceptionFilter.java:96) at coldfusion.filter.BrowserDebugFilter.invoke(BrowserDebugFilter.java:78) at coldfusion.filter.ClientScopePersistenceFilter.invoke(ClientScopePersistenceFilter.java:28) at coldfusion.filter.BrowserFilter.invoke(BrowserFilter.java:38) at coldfusion.filter.NoCacheFilter.invoke(NoCacheFilter.java:60) at coldfusion.filter.GlobalsFilter.invoke(GlobalsFilter.java:38) at coldfusion.filter.DatasourceFilter.invoke(DatasourceFilter.java:22) at coldfusion.filter.CachingFilter.invoke(CachingFilter.java:62) at coldfusion.CfmServlet.service(CfmServlet.java:226) at coldfusion.bootstrap.BootstrapServlet.service(BootstrapServlet.java:311) at org.apache.catalina.core.ApplicationFilterChain.internalDoFilter(ApplicationFilterChain.java:231) at org.apache.catalina.core.ApplicationFilterChain.doFilter(ApplicationFilterChain.java:166) at coldfusion.monitor.event.MonitoringServletFilter.doFilter(MonitoringServletFilter.java:46) at coldfusion.bootstrap.BootstrapFilter.doFilter(BootstrapFilter.java:47) at org.apache.catalina.core.ApplicationFilterChain.internalDoFilter(ApplicationFilterChain.java:193) at org.apache.catalina.core.ApplicationFilterChain.doFilter(ApplicationFilterChain.java:166) at org.apache.tomcat.websocket.server.WsFilter.doFilter(WsFilter.java:53) at org.apache.catalina.core.ApplicationFilterChain.internalDoFilter(ApplicationFilterChain.java:193) at org.apache.catalina.core.ApplicationFilterChain.doFilter(ApplicationFilterChain.java:166) at org.apache.catalina.core.StandardWrapperValve.invoke(StandardWrapperValve.java:199) at org.apache.catalina.core.StandardContextValve.invoke(StandardContextValve.java:96) at org.apache.catalina.authenticator.AuthenticatorBase.invoke(AuthenticatorBase.java:491) at org.apache.catalina.core.StandardHostValve.invoke(StandardHostValve.java:139) at org.apache.catalina.valves.ErrorReportValve.invoke(ErrorReportValve.java:92) at org.apache.catalina.valves.RemoteIpValve.invoke(RemoteIpValve.java:685) at org.apache.catalina.core.StandardEngineValve.invoke(StandardEngineValve.java:87) at org.apache.catalina.connector.CoyoteAdapter.service(CoyoteAdapter.java:357) at org.apache.coyote.ajp.AjpProcessor.service(AjpProcessor.java:422) at org.apache.coyote.AbstractProcessorLight.process(AbstractProcessorLight.java:66) at org.apache.coyote.AbstractProtocol$ConnectionHandler.process(AbstractProtocol.java:764) at org.apache.tomcat.util.net.NioEndpoint$SocketProcessor.doRun(NioEndpoint.java:1388) at org.apache.tomcat.util.net.SocketProcessorBase.run(SocketProcessorBase.java:49) at java.base/java.util.concurrent.ThreadPoolExecutor.runWorker(ThreadPoolExecutor.java:1128) at java.base/java.util.concurrent.ThreadPoolExecutor$Worker.run(ThreadPoolExecutor.java:628) at org.apache.tomcat.util.threads.TaskThread$WrappingRunnable.run(TaskThread.java:61) at java.base/java.lang.Thread.run(Thread.java:834)
Suppressed
TagContext

array
1

struct
COLUMN
0
ID
CFQUERY
LINE
29
RAW_TRACE
at cf1row3items2ecfm679456892.runPage(/var/www/html/misterart.com/views/components/1row3items.cfm:29)
TEMPLATE
/var/www/html/misterart.com/views/components/1row3items.cfm
TYPE
CFML

2

struct
COLUMN
0
ID
CFINCLUDE
LINE
711
RAW_TRACE
at cfgroupdetails2ecfm1794534649._factor15(/var/www/html/misterart.com/views/category/groupdetails.cfm:711)
TEMPLATE
/var/www/html/misterart.com/views/category/groupdetails.cfm
TYPE
CFML

3

struct
COLUMN
0
ID
CF_GROUPDETAILS
LINE
175
RAW_TRACE
at cfgroupdetails2ecfm1794534649._factor20(/var/www/html/misterart.com/views/category/groupdetails.cfm:175)
TEMPLATE
/var/www/html/misterart.com/views/category/groupdetails.cfm
TYPE
CFML

4

struct
COLUMN
0
ID
CF_GROUPDETAILS
LINE
8
RAW_TRACE
at cfgroupdetails2ecfm1794534649._factor21(/var/www/html/misterart.com/views/category/groupdetails.cfm:8)
TEMPLATE
/var/www/html/misterart.com/views/category/groupdetails.cfm
TYPE
CFML

5

struct
COLUMN
0
ID
CF_GROUPDETAILS
LINE
1
RAW_TRACE
at cfgroupdetails2ecfm1794534649.runPage(/var/www/html/misterart.com/views/category/groupdetails.cfm:1)
TEMPLATE
/var/www/html/misterart.com/views/category/groupdetails.cfm
TYPE
CFML

6

struct
COLUMN
0
ID
CFINCLUDE
LINE
13
RAW_TRACE
at cflayout32ecfm1035591831.runPage(/var/www/html/misterart.com/views/layout/layout3.cfm:13)
TEMPLATE
/var/www/html/misterart.com/views/layout/layout3.cfm
TYPE
CFML

7

struct
COLUMN
0
ID
CFINCLUDE
LINE
407
RAW_TRACE
at cfindex2ecfm158854119.runPage(/var/www/html/misterart.com/index.cfm:407)
TEMPLATE
/var/www/html/misterart.com/index.cfm
TYPE
CFML

Type
java.sql.SQLTransactionRollbackException

DataSource
MA3
Detail
[Macromedia][SQLServer JDBC Driver][SQLServer]Transaction (Process ID 108) was deadlocked on lock | communication buffer resources with another process and has been chosen as the deadlock victim. Rerun the transaction.
ErrorCode
40001
Exceptions

array
1

struct
class
java.sql.SQLTransactionRollbackException
message
[Macromedia][SQLServer JDBC Driver][SQLServer]Transaction (Process ID 108) was deadlocked on lock | communication buffer resources with another process and has been chosen as the deadlock victim. Rerun the transaction.

Message
Error Executing Database Query.
NativeErrorCode
1205
RootCause

struct
ErrorCode
1205
Message
[Macromedia][SQLServer JDBC Driver][SQLServer]Transaction (Process ID 108) was deadlocked on lock | communication buffer resources with another process and has been chosen as the deadlock victim. Rerun the transaction.
SQLState
40001
StackTrace
java.sql.SQLTransactionRollbackException: [Macromedia][SQLServer JDBC Driver][SQLServer]Transaction (Process ID 108) was deadlocked on lock | communication buffer resources with another process and has been chosen as the deadlock victim. Rerun the transaction. at macromedia.jdbc.sqlserverbase.ddcw.b(Unknown Source) at macromedia.jdbc.sqlserverbase.ddcw.a(Unknown Source) at macromedia.jdbc.sqlserverbase.ddcv.b(Unknown Source) at macromedia.jdbc.sqlserverbase.ddcv.a(Unknown Source) at macromedia.jdbc.sqlserver.tds.ddr.v(Unknown Source) at macromedia.jdbc.sqlserver.tds.ddr.a(Unknown Source) at macromedia.jdbc.sqlserver.tds.ddr.c(Unknown Source) at macromedia.jdbc.sqlserver.dda4.m(Unknown Source) at macromedia.jdbc.sqlserverbase.dde7.e(Unknown Source) at macromedia.jdbc.sqlserverbase.dde7.a(Unknown Source) at macromedia.jdbc.sqlserverbase.dde7.x(Unknown Source) at macromedia.jdbc.sqlserverbase.dde7.t(Unknown Source) at macromedia.jdbc.sqlserverbase.dde7.execute(Unknown Source) at coldfusion.server.j2ee.sql.JRunStatement.execute(JRunStatement.java:359) at coldfusion.sql.Executive.executeQuery(Executive.java:1567) at coldfusion.sql.Executive.executeQuery(Executive.java:1317) at coldfusion.sql.Executive.executeQuery(Executive.java:1247) at coldfusion.sql.SqlImpl.execute(SqlImpl.java:427) at coldfusion.tagext.sql.QueryTag.executeQuery(QueryTag.java:1211) at coldfusion.tagext.sql.QueryTag.startQueryExecution(QueryTag.java:841) at coldfusion.tagext.sql.QueryTag.doEndTag(QueryTag.java:794) at cf1row3items2ecfm679456892.runPage(/var/www/html/misterart.com/views/components/1row3items.cfm:29) at coldfusion.runtime.CfJspPage.invoke(CfJspPage.java:262) at coldfusion.tagext.lang.IncludeTag.handlePageInvoke(IncludeTag.java:729) at coldfusion.tagext.lang.IncludeTag.doStartTag(IncludeTag.java:565) at coldfusion.runtime.CfJspPage._emptyTcfTag(CfJspPage.java:4082) at cfgroupdetails2ecfm1794534649._factor15(/var/www/html/misterart.com/views/category/groupdetails.cfm:711) at cfgroupdetails2ecfm1794534649._factor20(/var/www/html/misterart.com/views/category/groupdetails.cfm:175) at cfgroupdetails2ecfm1794534649._factor21(/var/www/html/misterart.com/views/category/groupdetails.cfm:8) at cfgroupdetails2ecfm1794534649.runPage(/var/www/html/misterart.com/views/category/groupdetails.cfm:1) at coldfusion.runtime.CfJspPage.invoke(CfJspPage.java:262) at coldfusion.tagext.lang.IncludeTag.handlePageInvoke(IncludeTag.java:729) at coldfusion.tagext.lang.IncludeTag.doStartTag(IncludeTag.java:565) at coldfusion.runtime.CfJspPage._emptyTcfTag(CfJspPage.java:4082) at cflayout32ecfm1035591831.runPage(/var/www/html/misterart.com/views/layout/layout3.cfm:13) at coldfusion.runtime.CfJspPage.invoke(CfJspPage.java:262) at coldfusion.tagext.lang.IncludeTag.handlePageInvoke(IncludeTag.java:729) at coldfusion.tagext.lang.IncludeTag.doStartTag(IncludeTag.java:565) at coldfusion.runtime.CfJspPage._emptyTcfTag(CfJspPage.java:4082) at cfindex2ecfm158854119.runPage(/var/www/html/misterart.com/index.cfm:407) at coldfusion.runtime.CfJspPage.invoke(CfJspPage.java:262) at coldfusion.tagext.lang.IncludeTag.handlePageInvoke(IncludeTag.java:729) at coldfusion.tagext.lang.IncludeTag.doStartTag(IncludeTag.java:565) at coldfusion.filter.CfincludeFilter.invoke(CfincludeFilter.java:65) at coldfusion.filter.ApplicationFilter.invoke(ApplicationFilter.java:557) at coldfusion.filter.RequestMonitorFilter.invoke(RequestMonitorFilter.java:43) at coldfusion.filter.MonitoringFilter.invoke(MonitoringFilter.java:40) at coldfusion.filter.PathFilter.invoke(PathFilter.java:162) at coldfusion.filter.IpFilter.invoke(IpFilter.java:45) at coldfusion.filter.ExceptionFilter.invoke(ExceptionFilter.java:96) at coldfusion.filter.BrowserDebugFilter.invoke(BrowserDebugFilter.java:78) at coldfusion.filter.ClientScopePersistenceFilter.invoke(ClientScopePersistenceFilter.java:28) at coldfusion.filter.BrowserFilter.invoke(BrowserFilter.java:38) at coldfusion.filter.NoCacheFilter.invoke(NoCacheFilter.java:60) at coldfusion.filter.GlobalsFilter.invoke(GlobalsFilter.java:38) at coldfusion.filter.DatasourceFilter.invoke(DatasourceFilter.java:22) at coldfusion.filter.CachingFilter.invoke(CachingFilter.java:62) at coldfusion.CfmServlet.service(CfmServlet.java:226) at coldfusion.bootstrap.BootstrapServlet.service(BootstrapServlet.java:311) at org.apache.catalina.core.ApplicationFilterChain.internalDoFilter(ApplicationFilterChain.java:231) at org.apache.catalina.core.ApplicationFilterChain.doFilter(ApplicationFilterChain.java:166) at coldfusion.monitor.event.MonitoringServletFilter.doFilter(MonitoringServletFilter.java:46) at coldfusion.bootstrap.BootstrapFilter.doFilter(BootstrapFilter.java:47) at org.apache.catalina.core.ApplicationFilterChain.internalDoFilter(ApplicationFilterChain.java:193) at org.apache.catalina.core.ApplicationFilterChain.doFilter(ApplicationFilterChain.java:166) at org.apache.tomcat.websocket.server.WsFilter.doFilter(WsFilter.java:53) at org.apache.catalina.core.ApplicationFilterChain.internalDoFilter(ApplicationFilterChain.java:193) at org.apache.catalina.core.ApplicationFilterChain.doFilter(ApplicationFilterChain.java:166) at org.apache.catalina.core.StandardWrapperValve.invoke(StandardWrapperValve.java:199) at org.apache.catalina.core.StandardContextValve.invoke(StandardContextValve.java:96) at org.apache.catalina.authenticator.AuthenticatorBase.invoke(AuthenticatorBase.java:491) at org.apache.catalina.core.StandardHostValve.invoke(StandardHostValve.java:139) at org.apache.catalina.valves.ErrorReportValve.invoke(ErrorReportValve.java:92) at org.apache.catalina.valves.RemoteIpValve.invoke(RemoteIpValve.java:685) at org.apache.catalina.core.StandardEngineValve.invoke(StandardEngineValve.java:87) at org.apache.catalina.connector.CoyoteAdapter.service(CoyoteAdapter.java:357) at org.apache.coyote.ajp.AjpProcessor.service(AjpProcessor.java:422) at org.apache.coyote.AbstractProcessorLight.process(AbstractProcessorLight.java:66) at org.apache.coyote.AbstractProtocol$ConnectionHandler.process(AbstractProtocol.java:764) at org.apache.tomcat.util.net.NioEndpoint$SocketProcessor.doRun(NioEndpoint.java:1388) at org.apache.tomcat.util.net.SocketProcessorBase.run(SocketProcessorBase.java:49) at java.base/java.util.concurrent.ThreadPoolExecutor.runWorker(ThreadPoolExecutor.java:1128) at java.base/java.util.concurrent.ThreadPoolExecutor$Worker.run(ThreadPoolExecutor.java:628) at org.apache.tomcat.util.threads.TaskThread$WrappingRunnable.run(TaskThread.java:61) at java.base/java.lang.Thread.run(Thread.java:834)
Suppressed
TagContext

array
1

struct
COLUMN
0
ID
CFQUERY
LINE
29
RAW_TRACE
at cf1row3items2ecfm679456892.runPage(/var/www/html/misterart.com/views/components/1row3items.cfm:29)
TEMPLATE
/var/www/html/misterart.com/views/components/1row3items.cfm
TYPE
CFML

2

struct
COLUMN
0
ID
CFINCLUDE
LINE
711
RAW_TRACE
at cfgroupdetails2ecfm1794534649._factor15(/var/www/html/misterart.com/views/category/groupdetails.cfm:711)
TEMPLATE
/var/www/html/misterart.com/views/category/groupdetails.cfm
TYPE
CFML

3

struct
COLUMN
0
ID
CF_GROUPDETAILS
LINE
175
RAW_TRACE
at cfgroupdetails2ecfm1794534649._factor20(/var/www/html/misterart.com/views/category/groupdetails.cfm:175)
TEMPLATE
/var/www/html/misterart.com/views/category/groupdetails.cfm
TYPE
CFML

4

struct
COLUMN
0
ID
CF_GROUPDETAILS
LINE
8
RAW_TRACE
at cfgroupdetails2ecfm1794534649._factor21(/var/www/html/misterart.com/views/category/groupdetails.cfm:8)
TEMPLATE
/var/www/html/misterart.com/views/category/groupdetails.cfm
TYPE
CFML

5

struct
COLUMN
0
ID
CF_GROUPDETAILS
LINE
1
RAW_TRACE
at cfgroupdetails2ecfm1794534649.runPage(/var/www/html/misterart.com/views/category/groupdetails.cfm:1)
TEMPLATE
/var/www/html/misterart.com/views/category/groupdetails.cfm
TYPE
CFML

6

struct
COLUMN
0
ID
CFINCLUDE
LINE
13
RAW_TRACE
at cflayout32ecfm1035591831.runPage(/var/www/html/misterart.com/views/layout/layout3.cfm:13)
TEMPLATE
/var/www/html/misterart.com/views/layout/layout3.cfm
TYPE
CFML

7

struct
COLUMN
0
ID
CFINCLUDE
LINE
407
RAW_TRACE
at cfindex2ecfm158854119.runPage(/var/www/html/misterart.com/index.cfm:407)
TEMPLATE
/var/www/html/misterart.com/index.cfm
TYPE
CFML

Type
java.sql.SQLTransactionRollbackException

SQLState
40001
Sql
UPDATE group_2_group_new set counter = counter + 1 WHERE group_id = 19286 AND related_group_id = 7807
StackTrace
coldfusion.tagext.sql.QueryTag$DatabaseQueryException: Error Executing Database Query. at coldfusion.tagext.sql.QueryTag.startQueryExecution(QueryTag.java:894) at coldfusion.tagext.sql.QueryTag.doEndTag(QueryTag.java:794) at cf1row3items2ecfm679456892.runPage(/var/www/html/misterart.com/views/components/1row3items.cfm:29) at coldfusion.runtime.CfJspPage.invoke(CfJspPage.java:262) at coldfusion.tagext.lang.IncludeTag.handlePageInvoke(IncludeTag.java:729) at coldfusion.tagext.lang.IncludeTag.doStartTag(IncludeTag.java:565) at coldfusion.runtime.CfJspPage._emptyTcfTag(CfJspPage.java:4082) at cfgroupdetails2ecfm1794534649._factor15(/var/www/html/misterart.com/views/category/groupdetails.cfm:711) at cfgroupdetails2ecfm1794534649._factor20(/var/www/html/misterart.com/views/category/groupdetails.cfm:175) at cfgroupdetails2ecfm1794534649._factor21(/var/www/html/misterart.com/views/category/groupdetails.cfm:8) at cfgroupdetails2ecfm1794534649.runPage(/var/www/html/misterart.com/views/category/groupdetails.cfm:1) at coldfusion.runtime.CfJspPage.invoke(CfJspPage.java:262) at coldfusion.tagext.lang.IncludeTag.handlePageInvoke(IncludeTag.java:729) at coldfusion.tagext.lang.IncludeTag.doStartTag(IncludeTag.java:565) at coldfusion.runtime.CfJspPage._emptyTcfTag(CfJspPage.java:4082) at cflayout32ecfm1035591831.runPage(/var/www/html/misterart.com/views/layout/layout3.cfm:13) at coldfusion.runtime.CfJspPage.invoke(CfJspPage.java:262) at coldfusion.tagext.lang.IncludeTag.handlePageInvoke(IncludeTag.java:729) at coldfusion.tagext.lang.IncludeTag.doStartTag(IncludeTag.java:565) at coldfusion.runtime.CfJspPage._emptyTcfTag(CfJspPage.java:4082) at cfindex2ecfm158854119.runPage(/var/www/html/misterart.com/index.cfm:407) at coldfusion.runtime.CfJspPage.invoke(CfJspPage.java:262) at coldfusion.tagext.lang.IncludeTag.handlePageInvoke(IncludeTag.java:729) at coldfusion.tagext.lang.IncludeTag.doStartTag(IncludeTag.java:565) at coldfusion.filter.CfincludeFilter.invoke(CfincludeFilter.java:65) at coldfusion.filter.ApplicationFilter.invoke(ApplicationFilter.java:557) at coldfusion.filter.RequestMonitorFilter.invoke(RequestMonitorFilter.java:43) at coldfusion.filter.MonitoringFilter.invoke(MonitoringFilter.java:40) at coldfusion.filter.PathFilter.invoke(PathFilter.java:162) at coldfusion.filter.IpFilter.invoke(IpFilter.java:45) at coldfusion.filter.ExceptionFilter.invoke(ExceptionFilter.java:96) at coldfusion.filter.BrowserDebugFilter.invoke(BrowserDebugFilter.java:78) at coldfusion.filter.ClientScopePersistenceFilter.invoke(ClientScopePersistenceFilter.java:28) at coldfusion.filter.BrowserFilter.invoke(BrowserFilter.java:38) at coldfusion.filter.NoCacheFilter.invoke(NoCacheFilter.java:60) at coldfusion.filter.GlobalsFilter.invoke(GlobalsFilter.java:38) at coldfusion.filter.DatasourceFilter.invoke(DatasourceFilter.java:22) at coldfusion.filter.CachingFilter.invoke(CachingFilter.java:62) at coldfusion.CfmServlet.service(CfmServlet.java:226) at coldfusion.bootstrap.BootstrapServlet.service(BootstrapServlet.java:311) at org.apache.catalina.core.ApplicationFilterChain.internalDoFilter(ApplicationFilterChain.java:231) at org.apache.catalina.core.ApplicationFilterChain.doFilter(ApplicationFilterChain.java:166) at coldfusion.monitor.event.MonitoringServletFilter.doFilter(MonitoringServletFilter.java:46) at coldfusion.bootstrap.BootstrapFilter.doFilter(BootstrapFilter.java:47) at org.apache.catalina.core.ApplicationFilterChain.internalDoFilter(ApplicationFilterChain.java:193) at org.apache.catalina.core.ApplicationFilterChain.doFilter(ApplicationFilterChain.java:166) at org.apache.tomcat.websocket.server.WsFilter.doFilter(WsFilter.java:53) at org.apache.catalina.core.ApplicationFilterChain.internalDoFilter(ApplicationFilterChain.java:193) at org.apache.catalina.core.ApplicationFilterChain.doFilter(ApplicationFilterChain.java:166) at org.apache.catalina.core.StandardWrapperValve.invoke(StandardWrapperValve.java:199) at org.apache.catalina.core.StandardContextValve.invoke(StandardContextValve.java:96) at org.apache.catalina.authenticator.AuthenticatorBase.invoke(AuthenticatorBase.java:491) at org.apache.catalina.core.StandardHostValve.invoke(StandardHostValve.java:139) at org.apache.catalina.valves.ErrorReportValve.invoke(ErrorReportValve.java:92) at org.apache.catalina.valves.RemoteIpValve.invoke(RemoteIpValve.java:685) at org.apache.catalina.core.StandardEngineValve.invoke(StandardEngineValve.java:87) at org.apache.catalina.connector.CoyoteAdapter.service(CoyoteAdapter.java:357) at org.apache.coyote.ajp.AjpProcessor.service(AjpProcessor.java:422) at org.apache.coyote.AbstractProcessorLight.process(AbstractProcessorLight.java:66) at org.apache.coyote.AbstractProtocol$ConnectionHandler.process(AbstractProtocol.java:764) at org.apache.tomcat.util.net.NioEndpoint$SocketProcessor.doRun(NioEndpoint.java:1388) at org.apache.tomcat.util.net.SocketProcessorBase.run(SocketProcessorBase.java:49) at java.base/java.util.concurrent.ThreadPoolExecutor.runWorker(ThreadPoolExecutor.java:1128) at java.base/java.util.concurrent.ThreadPoolExecutor$Worker.run(ThreadPoolExecutor.java:628) at org.apache.tomcat.util.threads.TaskThread$WrappingRunnable.run(TaskThread.java:61) at java.base/java.lang.Thread.run(Thread.java:834) Caused by: java.sql.SQLTransactionRollbackException: [Macromedia][SQLServer JDBC Driver][SQLServer]Transaction (Process ID 108) was deadlocked on lock | communication buffer resources with another process and has been chosen as the deadlock victim. Rerun the transaction. at macromedia.jdbc.sqlserverbase.ddcw.b(Unknown Source) at macromedia.jdbc.sqlserverbase.ddcw.a(Unknown Source) at macromedia.jdbc.sqlserverbase.ddcv.b(Unknown Source) at macromedia.jdbc.sqlserverbase.ddcv.a(Unknown Source) at macromedia.jdbc.sqlserver.tds.ddr.v(Unknown Source) at macromedia.jdbc.sqlserver.tds.ddr.a(Unknown Source) at macromedia.jdbc.sqlserver.tds.ddr.c(Unknown Source) at macromedia.jdbc.sqlserver.dda4.m(Unknown Source) at macromedia.jdbc.sqlserverbase.dde7.e(Unknown Source) at macromedia.jdbc.sqlserverbase.dde7.a(Unknown Source) at macromedia.jdbc.sqlserverbase.dde7.x(Unknown Source) at macromedia.jdbc.sqlserverbase.dde7.t(Unknown Source) at macromedia.jdbc.sqlserverbase.dde7.execute(Unknown Source) at coldfusion.server.j2ee.sql.JRunStatement.execute(JRunStatement.java:359) at coldfusion.sql.Executive.executeQuery(Executive.java:1567) at coldfusion.sql.Executive.executeQuery(Executive.java:1317) at coldfusion.sql.Executive.executeQuery(Executive.java:1247) at coldfusion.sql.SqlImpl.execute(SqlImpl.java:427) at coldfusion.tagext.sql.QueryTag.executeQuery(QueryTag.java:1211) at coldfusion.tagext.sql.QueryTag.startQueryExecution(QueryTag.java:841) ... 65 more
Suppressed
TagContext

array
1

struct
COLUMN
0
ID
CFQUERY
LINE
29
RAW_TRACE
at cf1row3items2ecfm679456892.runPage(/var/www/html/misterart.com/views/components/1row3items.cfm:29)
TEMPLATE
/var/www/html/misterart.com/views/components/1row3items.cfm
TYPE
CFML

2

struct
COLUMN
0
ID
CFINCLUDE
LINE
711
RAW_TRACE
at cfgroupdetails2ecfm1794534649._factor15(/var/www/html/misterart.com/views/category/groupdetails.cfm:711)
TEMPLATE
/var/www/html/misterart.com/views/category/groupdetails.cfm
TYPE
CFML

3

struct
COLUMN
0
ID
CF_GROUPDETAILS
LINE
175
RAW_TRACE
at cfgroupdetails2ecfm1794534649._factor20(/var/www/html/misterart.com/views/category/groupdetails.cfm:175)
TEMPLATE
/var/www/html/misterart.com/views/category/groupdetails.cfm
TYPE
CFML

4

struct
COLUMN
0
ID
CF_GROUPDETAILS
LINE
8
RAW_TRACE
at cfgroupdetails2ecfm1794534649._factor21(/var/www/html/misterart.com/views/category/groupdetails.cfm:8)
TEMPLATE
/var/www/html/misterart.com/views/category/groupdetails.cfm
TYPE
CFML

5

struct
COLUMN
0
ID
CF_GROUPDETAILS
LINE
1
RAW_TRACE
at cfgroupdetails2ecfm1794534649.runPage(/var/www/html/misterart.com/views/category/groupdetails.cfm:1)
TEMPLATE
/var/www/html/misterart.com/views/category/groupdetails.cfm
TYPE
CFML

6

struct
COLUMN
0
ID
CFINCLUDE
LINE
13
RAW_TRACE
at cflayout32ecfm1035591831.runPage(/var/www/html/misterart.com/views/layout/layout3.cfm:13)
TEMPLATE
/var/www/html/misterart.com/views/layout/layout3.cfm
TYPE
CFML

7

struct
COLUMN
0
ID
CFINCLUDE
LINE
407
RAW_TRACE
at cfindex2ecfm158854119.runPage(/var/www/html/misterart.com/index.cfm:407)
TEMPLATE
/var/www/html/misterart.com/index.cfm
TYPE
CFML

Type
Database
queryError
[Macromedia][SQLServer JDBC Driver][SQLServer]Transaction (Process ID 108) was deadlocked on lock | communication buffer resources with another process and has been chosen as the deadlock victim. Rerun the transaction.
where
[empty string]