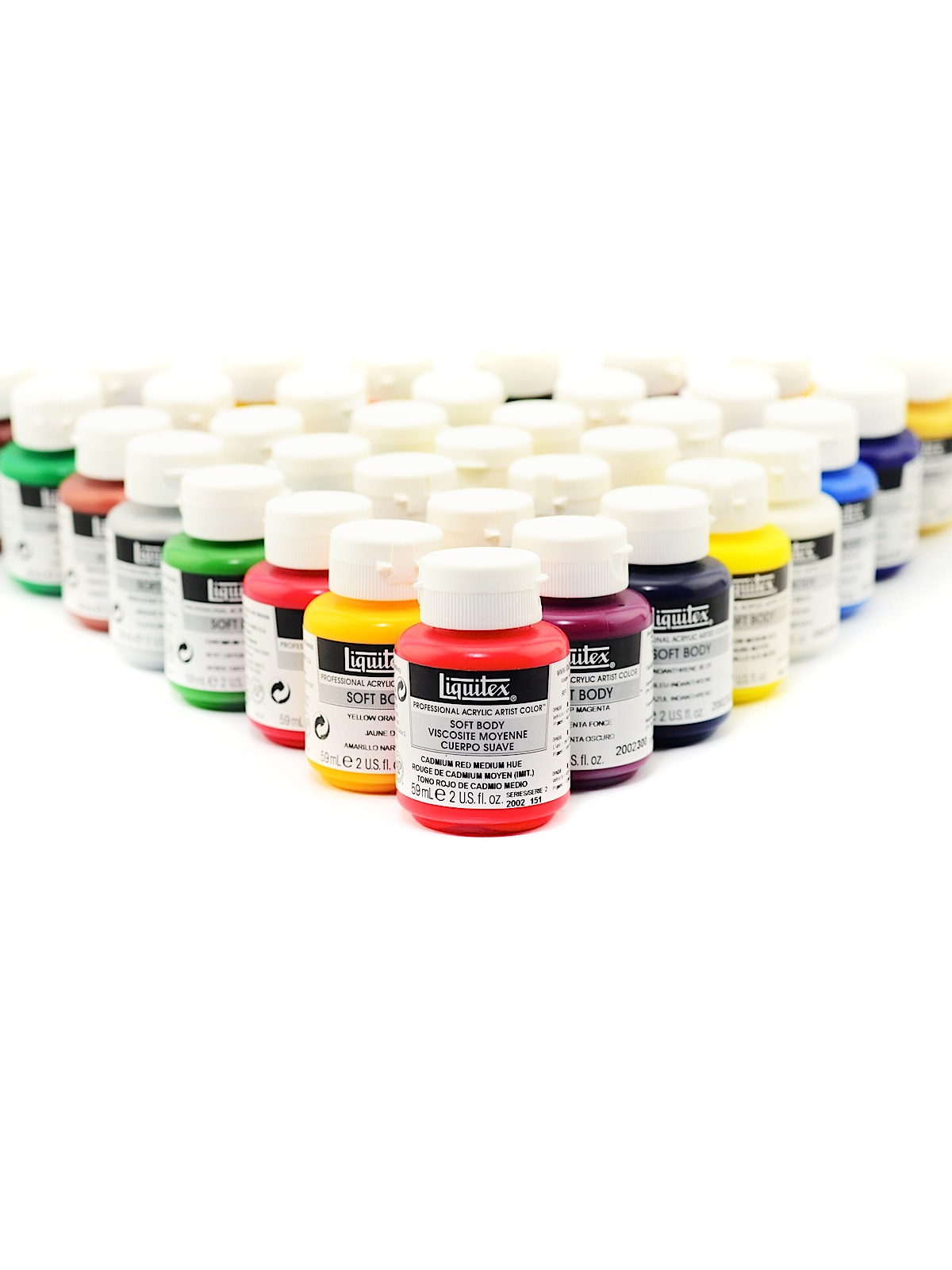 Zoom Image
Soft Body Professional Artist Acrylic Colors
by Liquitex

Soft Body Professional Artist Acrylic Color, previously referred to as Medium Viscosity Acrylic Color, is the original Liquitex acrylic formulation first made in 1956. Extremely versatile, Soft Body Acrylics have a creamy smooth consistency that makes them ideal for both large area coverage and fine line detail.
These permanent acrylics are highly pigmented and have intense, pure color that won't shift from wet to dry. They dry to a smooth, even surface with good leveling and show little or no brush strokes.
Soft Body Acrylics are perfect for most fine art and decorative art techniques. They dry quickly, won't yellow with age, and can be applied to just about any non-oily surface, including canvas, paper, fabric, board, film, glass, ceramic, masonry, and wood.
Liquitex Soft Body Professional Artist Acrylic Colors come in a wide variety of jar sizes, from 2 oz. up to 1 gal.


?
Ask a question about this product | See all questions & answers (3)
Deb D. from Port Orchard, WA says:
These paints are the best! I have used them for years. It's become harder to find them locally so hats off to MisterArt for providing this product and in so many colors and sizes. I look forward to...[more]
Share this Product
Why is the VIP Price not displayed for this product? MisterArt.com's goal is to provide our customers the lowest prices on all products we sell. Some manufacturers restrict retailers from displaying or promoting certain products at any price lower than a Minimum Advertised Price (MAP). It is MisterArt.com's policy to offer these products at their MAP price as our Non-Member Price. VIP Members will see the VIP Price after adding the product to the cart without any purchase obligation.
Enter Quantity & Click 'Add to Cart'
Please wait...
How to get VIP Club Prices
Anyone can be a VIP Member with:
Additional savings on all products
Express order handling
Exclusive promotions
Priority customer service
Product Questions and Answers
I have seen some interesting fabric projects using Soft Body acrylics diluted with water. Do I need to buy the Soft Body paints, or can my current Heavy Body paints be diluted with medium and/or water for the same results?
- Asked by Beth on 14-Feb-14
Answer
Thinning them with water may take away the brilliance of color. Slow-dri Fluid Retarder medium by Liquitex may help, but for more consistent results, we recommend investing in the Soft Body acrylics.
- Answered by MisterArt on 14-Feb-14
---
I'm a rosary maker and I was wondering if I could use Soft Body Acrylic Paint to paint nickel, medals, and crucifixes with this paint and then seal it with something like Krylon Crystal clear spray.
- Asked by Coco on 19-May-13
Answer
Perhaps Crystal Clear would work, but the acrylic gloss medium and varnish is made for acrylic paint, and may be more durable. It is a brush-on, so that you would not have to breath fumes of spray. Another product is by Minwax called polycrylic, sold in most hardware stores.
- Answered by MisterArt on 21-May-13
---
Can it be used in an airbrush gun?
- Asked by jessie h on 22-Mar-13
Answer
These paints can be sprayed by an airbrush. You can search for it using the search box at the top.
- Answered by MisterArt on 25-Mar-13
---
Ask a Question About Soft Body Professional Artist Acrylic Colors

Your email will not be shared. We will only use your email address to respond to your question. When asking your question, please be as descriptive as possible, it will allow us to give you the most accurate answer possible.


Customer Product Reviews
Rated by: Deb D. in Port Orchard, WA

These paints are the best! I have used them for years. It's become harder to find them locally so hats off to MisterArt for providing this product and in so many colors and sizes. I look forward to ordering more as the need comes up!

Rated by: Ida W. in Baltimore, MD

thanks for subscription....

Rated by: Tanya M. in Walden, VT

Love the paint. Mixing the colors together is a charm.

Rated by: Richard G. in Far Rockaway, NY

I use Liquitex acrylic white sometimes in place of regular white watercolor pigment like Chinese white. I mix the Liquitex with the watercolor colors especially for backgrounds for still lifes like florals. The Liquitex sets the colors in place for the background and I have greater felxibility when painting the rest of the still life in full watercolor paints. The Liquitex quality is very good and I like the choice of transparent or opaque white which varies the effect of the background. The service of MisterArt.com is excellent and also the prices. I will continue order from them.

Rated by: Justin D. in Nashville, TN

Amazing product! I had never tried soft body acrylics, but now it's the only thing I'll use. I can't believe how smooth the paint is and how it flows so easily on the canvas. MisterArt.com was very fast on shipping and they packaged the paint perfectly. Thanks!

Rated by: Karyl L. in Oberlin, OH

I've been using this paint line all my life. Durability, easy application, brilliant colors--all are hallmarks of Liquitex. I am very happy with the soft body line.

Rated by: P W. in Wethersfield, CT

These acrylics are top of the line, providing lovely intense color and a creamy consistency that is both reliable and appealing. Liquitex artist paints can be used on almost anything - I have painted glass, porcelain and papier mâché without any loss of color or texture. Even clothing has inadvertently been "painted" - permanently and vividly. Used with water or gloss medium colors thin out to a glaze; right out of the jar coverage is usually perfectly opaque with one coat. I highly recommend Liquitex Soft Body acrylics. I won't use any other paints. Great value and here the best price anywhere.

Rated by: Victoria L. in Ben Lomond, CA

As a beginner painter I find these very easy to work with.

Rated by: Mary D. in Kinder, LA

Intense color! One coat is all you need. The consistency is very creamy, and dries to a very smooth finish. These are the only acrylics that I use!

Rated by: Dana C. in Snohomish, WA

Wow - they are smooth and cover well, Great for basic painting and when needing more than just painting a picture... they work well for posters and more. Thank you.

Rated by: John A. in Rhinebeck, NY

Still the best of the lot. Easy to use, available, affordable, and very consistent color formulation. Airbrushes well with thinning, brush paints the full range between watercolor washes and heavy impasto. A constant part of my palette on any project.

Rated by: Grace B. in Prescott, AZ

I really love this stuff, it has the right consistency, flow & the color is amazing, Liquitex Soft Body acrylics has definitely become one of favorites & the one I now use the most, it works great for everything, even airbrushing. Love it.

Rated by: Benjamin W. in Provo, UT

I bought the Liquitex paints for my wife's art class. They work great, and Mr.Art was the best deal I could find for such high-quality paints. They mix well, dry fast, and last forever.

Rated by: Loretta P. in Orlando, FL

I really like Liquitex products but have had a difficult time finding them in the Art stores in my area and can never find them in the colors or larger sizes that I found on your website..Thanks Misterart

Rated by: Bryan H. in Brighton, CO

For me, the soft body paint works just as well as the tube, but I can control the amount I use better, so I use less therefore saving money.

Rated by: Mark M. in Santa Fe, NM

Theses paints are great to work with, they have a good consistency that allows you to work with them in a variety of ways. My most recent use was for marbling papers - the colors came out vibrant.

Rated by: Pat H. in Rossville, TN

I have used liquitex for years. It's versatility is one of the reasons for choosing it. You can accomplish a watercolor effect, glazing and many other techniques with it. There is a large range of colors, it dries quickly and is easily cleaned up with water. It's my opinion thatLiquitex makes a great product that you can trust to be consistent.

Rated by: Sandra S. in Roseville, CA

Liquitex Soft Body is great paint. MisterArt is a great place to get paint, especially when you can't find the color you want anywhere else. Thanks for your quick service also.

Rated by: Amanda G. in New Bern, NC

I love these paints! They mix well with other painting mediums, can be thinned to extend the paint life without changing the color much, and also paint well over most surfaces. I reccomend these paints to anyone that asks about acrylics. Even if you're on a budget it is worth investing in a few of the basic colors.

Rated by: Clemmie K. in Monroe, NC

Great paint for thinning and using as a watercolor. Nice for collagework. Great coverage for painting the "sides" of white oil painting canvases.

Rated by: Cynthia C. in San Luis Obispo, CA

Had the colors I needed that were sold out elsewhere. Got them in a timely manner as well. Price isn't bad either. Will come back for more supplies if needed.

Rated by: Richard R. in Rayville, LA

LIQUITEX has been and still is top-of-the-line quality acrylic paint. Like butter application. Reliability unsurpassed.

Rated by: Blanche F. in Richmond, VA

I find the medium viscosity acrylic colors in the handy 2oz. containers perfect for painting detail or masses of color. You can put the tinest drop or more on the palette, wasting little, with no tubes with stuck-on tops to annoy. These small containers are not so readily available in most local shops, but it seems every hue is available at MisterArt. The colors are so true, brilliant and lasting. I couldn't be more pleased.

Rated by: Celeste S. in Philadelphia, PA

I loved this paint. The color is richer than any tube acrylic paint I've used in the past. I am using it for painting vinyl doll faces, and I am extremely happy with the results.

Rated by: Jackie P. in Boca Raton, FL

High quality paints that never let you down.

Rated by: John A. in Brooklyn, NY

I've been using Liquitex acrylics for many years. They have never let me down and they are usually always my first choice when purchasing supplies.

Rated by: Mary D. in Kinder, LA

The higest quality paints for the money. Perfect for Mural painting. Colors stay intense even after drying. I love the large containers.

Rated by: Joyce M. in Lawrenceville, PA

I've only been painting since 2002. My sister gave me Plaid Folk Art paints to get me started. As a beginner I've found LIQUITEX paints to be easy to use & blending is a breeze. I would HIGHLY recommend anyone to start with this TERRIFIC line of paint. It's allowed me to expand my own visions and abilities through paint. THANK YOU LIQUITEX

Rated by: Anna W. in Fairbanks, AK

I've used this paint for over ten years on furniture, canvases and boxes. The wide range of excellent colors has saved me a great deal of mixing time, and its viscosity is perfect for building up, blending with texture gels or spreading in a smooth surface. This paint is versatile and dependable, and with the right varnish it is very durable on active surfaces like chair seats and cabinet doors. It is by far my medium of choice, since it dries really quickly and it is a snap to clean up. It adheres to primed and unfinished surfaces like glue, but it peels off of plastic pallettes with ease for repeated use. Again, the color selection is fantastic, and you can cover a lot of surface with a little bit of paint. You can get great texture with it as well, especially when layered or dotted. I get great effects mixing it with other media. In all, an excellent, dependable product. A must-have for any artist's studio.

Rated by: Renee . in Holly Springs, MS

a medium vicosity paint with good pigment load..worked beautifully for the layering technique it was purchased for

Rated by: Thomas D. S. in Austin, TX

Everything you could want in a medium viscosity acrylic!

Rated by: L G. in Port Charlotte, FL

Perfect paint - I love Liquitex! I am new at acrylic painting and was uncertain what to buy, with no idea what differences there could be in paints. My first finished piece is a dog on a glass Christmas ornament and WOW did it turn out nicely. These paints are smooth with good coverage even when diluted with a clear retarder for longer drying time. Easy to mix as well; and gives texture to your piece the more layers you add.

Rated by: laura w. in pikeville, TN

i LOVE these paints--liquitex medium viscosity! They are the only paint i use and i paint everyday!! the texture is just yummy and perfect for pouring and swirling around! people always ask how i got my texture in my paintings--but it isn't me, it's the wonderful paint! wahoo!

Rated by: Tracie T. in Ft. Myers, FL

I paint murals for a living and my paint kit is stocked almost exclusively in Liquitex Medium Viscosity. I like the large (8oz and up) jars. Other paints in these large sizes either require a lot of thinning; have a chalkier texture making them harder to work with; or don't have the clear, saturated color of Liquitex. For my job the Liquitex jars are the best value I've found.

Rated by: Joan K. in Pacific Grove, CA

Liquitex paints are the smoothest flowing paints and the smoothest drying paints I have used...they are great for opaque and transparent uses. Highly recommend them!

Rated by: Crystal M. in Berkeley, CA

Great product! Quite easy to blend, great coverage!

Rated by: Monica M. in Dallas, TX

I'm a long-time user of Liquitex high viscosity acrylics. Recent projects are small in nature, with lots of detail work, so I thought I'd give the medium viscosity paint a try - especially because of the convenient size of the smaller bottles. As usual with Liquitex products, the quality of the paint and ease of use exceeded my expectations. I've used these on canvas and wood so far, with brilliant results.

Rated by: brenda c. in walterboro, SC

I recommend this paint to all my students, and it is my personal preference in acrylic paint.

Rated by: sarah k. in dallas, TX

Colors are beautiful. They were packaged just as described. Thanks!

Rated by: Guillaume C. in Huntington, NY

Very good paints, but the interference paints are difficult to use.

Rated by: Kelly W. in saugus, CA

Great color selections and wonderful texture. Many of the colors still need to be applied at least twice for maximum coverage, but it's better than many other paint brands. I would definitely get these again.

Rated by: Leslie N. in Kailua, HI

The smooth consistency thins very well with water, perfect for airbrushing.

Rated by: Rachel B. in Astoria, OR

This paint is a must for miniatures, or Tiny paintings. It is smooth, and doesn't have to be mixed to apply like many brands.

Rated by: laura w. in pikeville, TN

wahoo! i love liquitex medium viscosity! i have been painting with it for 9 years and use no other paint. it has a great thickness to it and is creamy and bright!

Rated by: Leslie N. in Kailua, HI

Liquitex concentrated artist color is the best pigment for airbrushing to mix down with water to the right consistency for spraying.

Rated by: Tori S. in Seattle, WA

If you are looking for extremely opaque colors that lay flat, then this is the paint for you. It is smooth as can be and the range of colors is to die for. The medium viscosity also works very well with the high viscosity paints.

Rated by: Steven L. in San Francisco, CA

This line offers a great range in colors and affects. Colors are vivid and apply well. They will reconstitue prior layers if you use to many strokes to apply the next layer and this is tricky. But all in all, taking cost into account, they are excellent paints.
Add Your Review
Tell us what you think. We appreciate you taking the time to share your opinion with other artists and crafters. Please keep your review detailed and specific.
Tips on Writing Reviews
Rating Scale
(5-Star) Excellent
(4-Star) Good
(3-Star) Average
(2-Star) Fair
(1-Star) Poor
Do:
Give your perspective on how you used the product and why you liked or disliked it.
Keep your reviews short enough to hold the audience's attention.
Be honest and mindful of others when providing editorial commentary.
Don't:
Include phone numbers, addresses, URLs, or HTML tags.
Write profanity, obscenities, vulgarities, or spiteful comments.
Make defamatory comments.