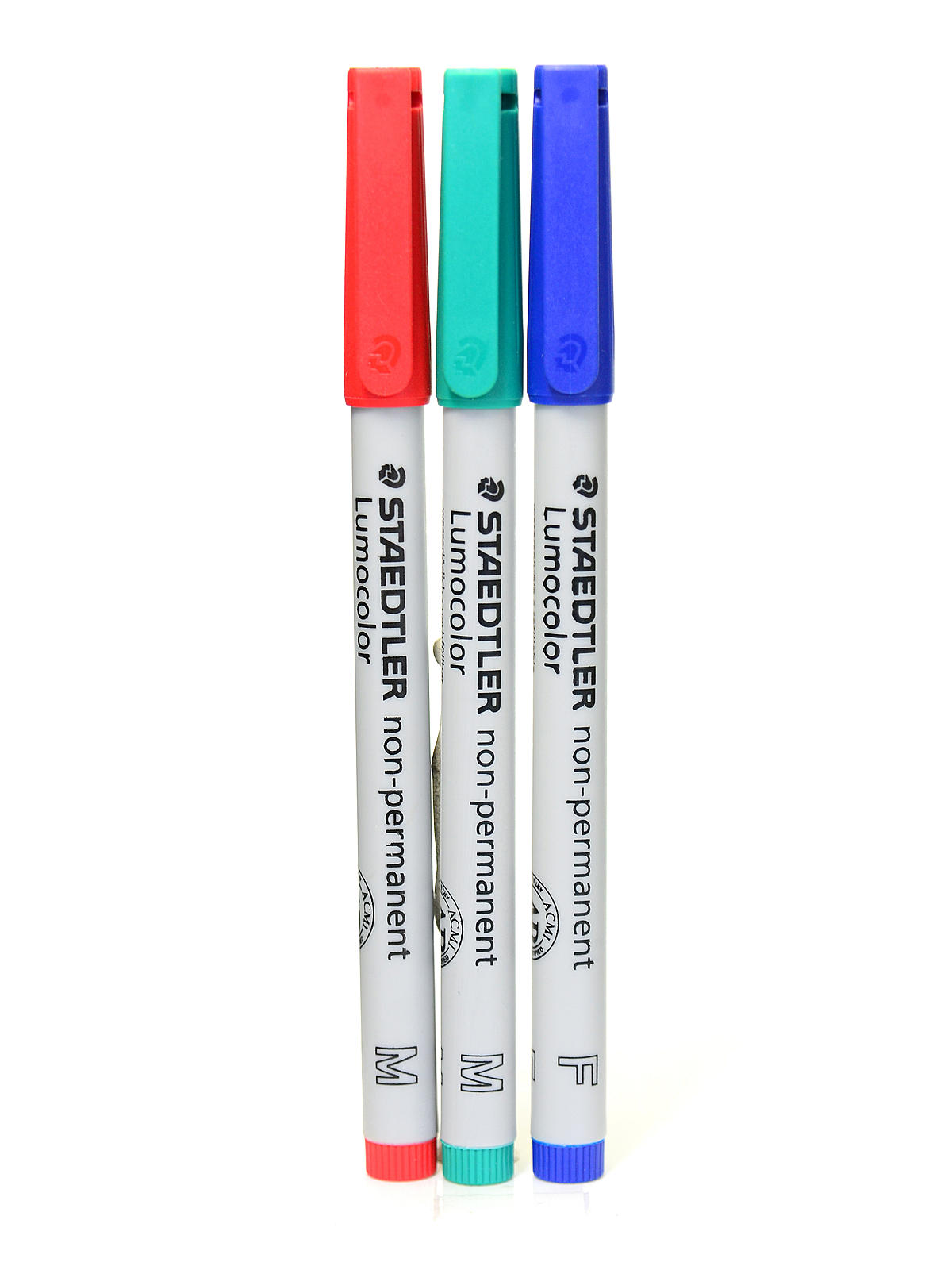 Zoom Image
Lumocolor Non-Permanent Overhead Projection Markers
by Staedtler

Staedtler offers a specially designed range of overhead projection pens. They resist fading no matter how long - or how often - you use the transparencies. Lumocolor pens write on all smooth surfaces such as film, paper, glass, plastic, ceramic or metal. Great for crafts, graphic arts and photography. Perfect for use in the lab or print shop. Available individually or in sets of four and six.
Set of four contains red, blue, green, and black. Set of six contains orange, red, green, blue, brown, and black.


?
Ask a question about this product | See all questions & answers (1)
Tiffany from Los Angeles, CA says:
Needed these pens to practice for the GMAT and MisterArt.com had the best prices and fastest shipping out of anyone else, hands down. Pens arrived in perfect condition and are extremely easy to use. Two...[more]
Share this Product
Enter Quantity & Click 'Add to Cart'
Please wait...
You May Also Like...
by Pilot

Comfortable grip
How to get VIP Club Prices
Anyone can be a VIP Member with:
Additional savings on all products
Express order handling
Exclusive promotions
Priority customer service
Product Questions and Answers
How do you clean the marks made by the markers?
- Asked by Kim on 18-Oct-12
Answer
With a soft cloth slightly dampened with water.
- Answered by MisterArt on 26-Oct-12
---
Ask a Question About Lumocolor Non-Permanent Overhead Projection Markers

Your email will not be shared. We will only use your email address to respond to your question. When asking your question, please be as descriptive as possible, it will allow us to give you the most accurate answer possible.


Customer Product Reviews
Rated by: Tiffany in Los Angeles, CA

Needed these pens to practice for the GMAT and MisterArt.com had the best prices and fastest shipping out of anyone else, hands down. Pens arrived in perfect condition and are extremely easy to use. Two thumbs up!!

Rated by: Karin in Harrisburg

Absolutely love these markers. I'm using them for a monthly wipe off calendar to keep track of my busy schedule but I used to use these when I taught math and there is just nothing like them. They r the thinnest markers out there and I like that they r wet erase. Can erase what you want and leave what you want. I also got my eye doctors office using them on laminated copies of consent to treat and HIPPA forms. Love them.

Rated by: Judy K. in Orange, TX

Once you use these on your overhead you will never want any others. I also was able to order a box of purple which is my theme color in my classroom.

Rated by: Cindi D. in Ketchikan, AK

I received my pens in a timely manner and they seem to work well.

Rated by: Kim S. in New Baltimore, MI

By far the BEST overhead markers out there!!

Rated by: Adrian J. in Charlotte, NC

STAEDTLER Overhead Markers were once available in university bookstore everywhere because the fine tips are so good for technical writing (subscripts, superscripts, exponents, etc). Now for some reason, I can't find them anywhere... except MisterArt.com. Thanks MisterArt for giving me the tools to teach physics effectively.

Rated by: Peggy R. in Edmond, OK

These are absolutely the best overhead pens made. They last longer than any others and the tips do not mash. I will never use any others.

Rated by: Claudia W. in Schenectady, NY

These markers maintain their point and the ink lasts for more than a year! I teach geometry and the colors are also helpful. They may appear to be pricey, but they are well worth it.

Rated by: Claudia W. in Albany, NY

These pens are so good, one pack lasts the entire year keeping the point!

Rated by: Jessica R. in Grosse Pointe, MI

These markers are the best! They write so clearly on the overheads that kids can see even the fine point ones from the back of the room. They don't get smooshed down like other markers and they last forver. MUCH better than the Vis-avis markers!

Rated by: deb k. in Toledo, OH

Fantastic! Will not buy other overhead markers. Love the different points...superfine, fine, and medium. Would like to have thick markers for coloring on the overhead.

Rated by: Laura H. in Morocco, IN

Try writing exponents with any other overhead marker and you will see why I love these super fine pens! Nobody makes a pen so fine as these.

Rated by: cathy k. in Quad Cities, IA

For anyone who still uses an overhead, throw away the vis-a-vis and get yourself a case of these! The points are fine and stay fine and sharp through the life of the pen. They clean up well and are vastly superior to their competitors. I write hard, it seems, and I have smushed every overhead pen tip I ever had except for these. Love them so much I asked for them for Christmas!

Rated by: Peggy R. in Edmond, OK

If you use an overhead on a regular basis, buy these pens! I have not find any others that write as well or last as long. We're talking LONG. And the tips do not get mushy. I have used this brand for years. You won't be sorry.

Rated by: Diane M. in Cedar Rapids, IA

Another teacher I know showed me these overhead markers and I never use any other kind now. They are SO much easier to write with, keep their tips much longer - but they are hard to find in retail stores. MisterArt.com was quick & the price was good. I've got several other teachers at my school hooked on these OH markers, too.

Rated by: Jan H. in Sunriver, OR

These are my favorite pens for everyday use! They're very comfortable to hold, and write better than any other pen I've ever had.

Rated by: Kristina J. in Gurnee, IL

I love these markers! They are worth every penny! They last so much longer than any other overhead markers and the tip stays nice and thin!

Rated by: Angie S. in Naperville, IL

I love the Staedtler markers! They easily wipe off with water or a little rubbing alcohol, and they do not leave the "ghost marks" that other markers do. Having a fine point is easier for students to read; however, I found that the tips on the superfine markers don't work as well on overheads from the coating on the overheads. I'd definitely recommend the medium tip for most writing.

Rated by: Angie S. in Chicago, IL

I purchased these for use on overheads for my middle school students. The superfine are pretty thin - a little hard to read when projected right over the bulbs. I'll be purchasing fine tips next time for this purpose. Nice firm tips don't spread, though!

Rated by: Michele B. in San Antonio, TX

These pens write so nicely on the overhead. I like very fine tip pens and these do the job. They don't flare out after a lot of use and become thick.

Rated by: R A. in Redmond, WA

Best overhead marker out there!

Rated by: Marcia C. in Midlothian, VA

Best overhead markers I ever used. Left the cap off overnight and the marker was just fine. The point does not get "mushy" like others I have used.

Rated by: Lydia G. in Atlanta, GA

All the 5-star reviews of this product are true. I teach algebra and use rolling acetate on my overhead projector. I've been unable to find the old-style Vis-a-Vis that I used years ago that were pretty good. China markers are too hard to clean off, and the Expo overhead markers? Forget those. The fine point markers smush down within minutes of first use. The more annoying thing, however, is that when I roll the acetate to a clean section, the Expo ink is still wet so it smears onto the BACK of the roll as I move forward. It's enough of a pain to clean the front, let alone having to clean the back, as well. I use the fine-point Lumocolor pens and they are great. No smushing means crisper images projected AND less ink to clean up. I spent my own money for these and it was truly a worthwhile investment. If you write on an overhead projector or transparencies, you cannot afford to be without these wonderful pens. They uphold the quality I have come to expect from Staedtler.

Rated by: Elizabeth S. in Gila Bend, AZ

I absolutely love these overhead markers. They have the finest point so it is easier for my students to read. The markers also last so much longer than the softer tipped markers. Thanks!

Rated by: Connie H. in San Diego, CA

Buy these markers! These are the BEST markers on the market for use on overhead projectors, acetates, and other non-porous surfaces. The images erase cleanly with just water. The ink supply is generous and long lasting. As a teacher, I find that the tips stay sharp and the intensity of the ink make images easy to read. I can even let the students use them on the overhead without worrying about the tips getting mushy. They are a wonderful value because the quality is superb. Buy them, use them, and then tell your friends.

Rated by: Tien V. in San Jose, CA

Ship products within hours. Received products in couple days. Very satisfied with the order.

Rated by: Beverly D. in Watkinsville, GA

These pens are great for overhead use. The tips are firm and the fine tips are perfect for using on transparencies or directly on the overhead glass. My colleagues and I order together. They are very long-lasting and this site gives good prices. They are not easy to find even in art stores.

Rated by: Rene S. in Midlothian, VA

These are the best overhead pens on the market. They write smoothly, don't smudge, and last a long time. I have used them for years and won't use any other brand.

Rated by: Marc C. in Rochester, NY

I started using these pens while in the Army - both permanent (alcohol-based) and non-permanent (water-based) - to write on map and document overlays with confidence that they would not smudge nor erase, esp. the permanent markers! Now as a math teacher, I look for a bold, strong line that I can't get using Vis-a-Vis 'fine point' overhead markers as they blunt too quickly. I haven't really had problems with them drying out, as long as you cap them (they are supposed to be engineered to be anti-drying anyways). I suggest the F (Fine) point markers for general overhead writing and if you need to mark up diagrams, pick up a set of the S (Superfine). My only 'ding' on them is lack of colors which are important to a teacher. Some new, fun colors would add more interest to B/W overheads.

Rated by: April D. in Houston, TX

I have been a math teacher for 13 years and these are the best pens for overhead writing I've ever used. They are hard to find locally and Misterart was the only place I could find them. The price isn't bad and the shipping is really fast. Thanks!

Rated by: Shannon D. in NY, NY

As a teacher, I use these pens on a daily basis on overheads. These are the only pens I will use because they write so well, last so long and come in so many colors. Misterart.com is the only place I could find these pens!

Rated by: S T. in Los Angeles, CA

Love these pens! - nice crisp lines, no bleeding, vivid colors, last a long time. I buy with my own money as they are so much better than the ones available at school - definitely worth it!

Rated by: Linda G. in San Diego, CA

These are the best! The blue and black are especially good, for they can be seen easily. The best part is the point never dulls. They often last more than a year with everyday use!

Rated by: Deborah G. in Pontiac, MI

I've been teaching math for 25 yrs., using overheads for 10. I always found the pens the were provided by my school, never wrot very clearly. Even the so-called fine point weren't fine enough. But these pens were just the ticket they make the writing and reading of my examples much more clear and concise. I've recommended these pens to everyone!!!

Rated by: Deborah G. in Pontiac, MI

EXCELLENT!!!!!!!! These pens write so very well. They make writing and reading easy. and make my teaching go much easier because these pens write like a sharpened pencil.

Rated by: Maureen L. in Chicago, IL

These are the best pens for overhead projector work. The tips hold up to heavy pressure and stay sharp and precise. The ink lasts a long time and they don't dry out too fast if you leave the cap off. I use them on the dry erase board to draw semipermanent grids and tables. I can write and erase with dry erase over and over and just wash the grid off when I'm done.

Rated by: Mauro P. in Towson, MD

I like how the pens hold their points so that fine writing can be shown on the overhead transparencies.

Rated by: Bryan B. in Syracuse, NY

These pens write so very well, and last longer than any other overhead marker I have ever used. I would suggest that everyone should try these first.

Rated by: Beverly D. in Watkinsville, GA

These are the very best pens for overheads. They are very hard to find, especially in the colors I prefer (blue and violet). The service was very prompt and the packaging excellent. Colleagues ordered with me and we are all well-satisfied. Thanks! I also like the permanent marker collection for overhead transparencies I want to keep.

Rated by: Ann H. in High, NC

I have been teaching math for 31 years. These pens were available at one school at taught at. When I moved and changed schools, these pens were not available. The "other" pens spread out and are even hard to erase. Locating them at this site is a great find. I gave them to my coworkers at Christmas and some of them have asked me for my source. I highly recomend them even if the others are free!

Rated by: Dennis N. in Abilene, TX

Staedtler makes the most incredible markers out there. Even the non-permanent markers are pretty much smudgeproof within minutes. You can't go wrong here.

Rated by: Masako T. in Los Angeles, CA

I love these projection markers. Originally, I discovered them at a major university campus when I was a teaching assistant in graduate school. Now that I live away from that campus, I tried to find these pens everywhere, but no retailers around my house sell them. So when I discovered that this site carries them, I was very happy! What I love about them is the tip is very hard, ink never leaks, and colors are beautiful. These are must-haves for teachers!

Rated by: Mary-Stephany H. in Vero Beach, FL

I am beginning my ninth year as a mathematics teacher. I am currently teaching Pre-Calculus and Algebra II at a local high school. Using the overhead is an everyday occurence for me. I recently discovered Staedtler Non-Permanent Overhead Markers at the beginning of last year. They are absolutely great and last a long time. The tips do not become large and never have leaked. These markers are truly the best.

Rated by: Marcus P. in los angeles, CA

For all you teachers and others that write a bunch on an overhead, you need these markers! I finally got tired of others that wrote to large, or the tip wearing down, and these lumocolors are great, i like the fine one, you can put more on the overhead and tips never smash, and all you letter will look like they should, i would strongly recommend these overhead markers!
Add Your Review
Tell us what you think. We appreciate you taking the time to share your opinion with other artists and crafters. Please keep your review detailed and specific.
Tips on Writing Reviews
Rating Scale
(5-Star) Excellent
(4-Star) Good
(3-Star) Average
(2-Star) Fair
(1-Star) Poor
Do:
Give your perspective on how you used the product and why you liked or disliked it.
Keep your reviews short enough to hold the audience's attention.
Be honest and mindful of others when providing editorial commentary.
Don't:
Include phone numbers, addresses, URLs, or HTML tags.
Write profanity, obscenities, vulgarities, or spiteful comments.
Make defamatory comments.