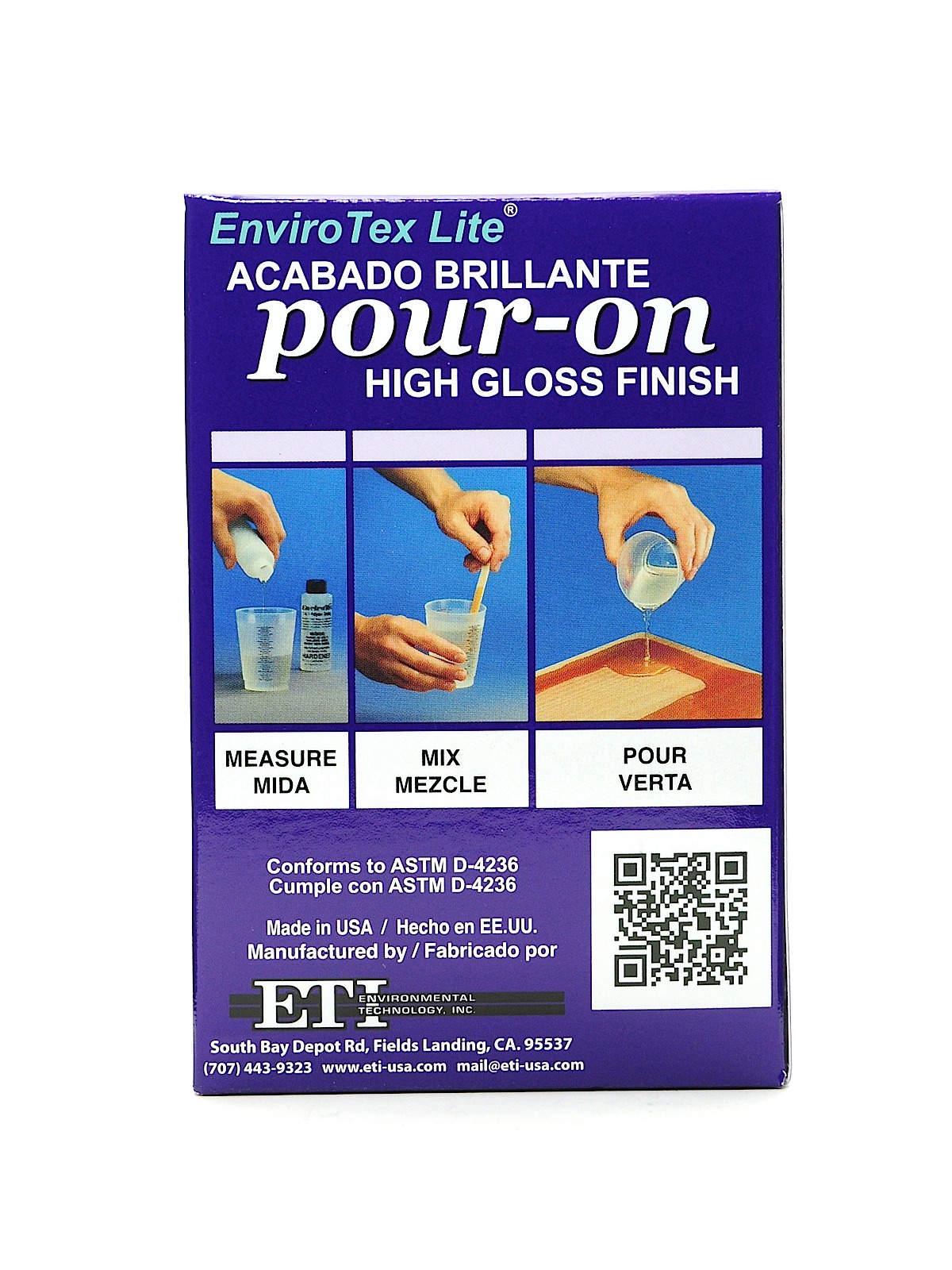 Zoom Image

EnviroTex Lite is a pour-on plastic finish that preserves and beautifies. It cures to a thick, glossy coating in about 8 hours at 70°F, and reaches full strength and toughness in about 48 hours. This durable, resilient material requires no polishing to produce a high gloss.
One coat is all that is usually required for a deep attractive finish. However, two or more coats may be applied one over the other by simply wiping the surface with alcohol and a clean cloth prior to recoating.
EnviroTex Lite can be used on photos, ink, plaster, paint, wood, and table tops. One coat equals up to 50 coats of varnish.
Coverage areas may vary according to the surface and method of application. It is recommended that too much be mixed for a project rather than not enough.
8 oz. Kit can cover 2 square feet.
The Pint Kit can cover 4 square feet.
The Quart Kit can cover 8 square feet.
The Half Gallon Kit can cover 16 square feet.
The Gallon Kit can cover 32 square feet.
?
Ask a question about this product | See all questions & answers (31)
Bernie S. from Paulding County, OH says:
This is awesome stuff! I've used it often, especially for Graduation gifts on wooden plaques, with the grads, picture, name cards, invitations, awards etc. Makes a super yet inexpensive gift. Getting...[more]
Share this Product
Enter Quantity & Click 'Add to Cart'
Please wait...
You May Also Like...
struct
EVENTNAME
[empty string]
EXCEPTION

struct
Cause

struct
ErrorCode
1205
Message
[Macromedia][SQLServer JDBC Driver][SQLServer]Transaction (Process ID 160) was deadlocked on lock | communication buffer resources with another process and has been chosen as the deadlock victim. Rerun the transaction.
SQLState
40001
StackTrace
java.sql.SQLTransactionRollbackException: [Macromedia][SQLServer JDBC Driver][SQLServer]Transaction (Process ID 160) was deadlocked on lock | communication buffer resources with another process and has been chosen as the deadlock victim. Rerun the transaction. at macromedia.jdbc.sqlserverbase.ddcw.b(Unknown Source) at macromedia.jdbc.sqlserverbase.ddcw.a(Unknown Source) at macromedia.jdbc.sqlserverbase.ddcv.b(Unknown Source) at macromedia.jdbc.sqlserverbase.ddcv.a(Unknown Source) at macromedia.jdbc.sqlserver.tds.ddr.v(Unknown Source) at macromedia.jdbc.sqlserver.tds.ddr.a(Unknown Source) at macromedia.jdbc.sqlserver.tds.ddr.c(Unknown Source) at macromedia.jdbc.sqlserver.dda4.m(Unknown Source) at macromedia.jdbc.sqlserverbase.dde7.e(Unknown Source) at macromedia.jdbc.sqlserverbase.dde7.a(Unknown Source) at macromedia.jdbc.sqlserverbase.dde7.x(Unknown Source) at macromedia.jdbc.sqlserverbase.dde7.t(Unknown Source) at macromedia.jdbc.sqlserverbase.dde7.execute(Unknown Source) at coldfusion.server.j2ee.sql.JRunStatement.execute(JRunStatement.java:359) at coldfusion.sql.Executive.executeQuery(Executive.java:1567) at coldfusion.sql.Executive.executeQuery(Executive.java:1317) at coldfusion.sql.Executive.executeQuery(Executive.java:1247) at coldfusion.sql.SqlImpl.execute(SqlImpl.java:427) at coldfusion.tagext.sql.QueryTag.executeQuery(QueryTag.java:1211) at coldfusion.tagext.sql.QueryTag.startQueryExecution(QueryTag.java:841) at coldfusion.tagext.sql.QueryTag.doEndTag(QueryTag.java:794) at cf1row3items2ecfm679456892.runPage(/var/www/html/misterart.com/views/components/1row3items.cfm:29) at coldfusion.runtime.CfJspPage.invoke(CfJspPage.java:262) at coldfusion.tagext.lang.IncludeTag.handlePageInvoke(IncludeTag.java:729) at coldfusion.tagext.lang.IncludeTag.doStartTag(IncludeTag.java:565) at coldfusion.runtime.CfJspPage._emptyTcfTag(CfJspPage.java:4082) at cfgroupdetails2ecfm1794534649._factor15(/var/www/html/misterart.com/views/category/groupdetails.cfm:711) at cfgroupdetails2ecfm1794534649._factor20(/var/www/html/misterart.com/views/category/groupdetails.cfm:175) at cfgroupdetails2ecfm1794534649._factor21(/var/www/html/misterart.com/views/category/groupdetails.cfm:8) at cfgroupdetails2ecfm1794534649.runPage(/var/www/html/misterart.com/views/category/groupdetails.cfm:1) at coldfusion.runtime.CfJspPage.invoke(CfJspPage.java:262) at coldfusion.tagext.lang.IncludeTag.handlePageInvoke(IncludeTag.java:729) at coldfusion.tagext.lang.IncludeTag.doStartTag(IncludeTag.java:565) at coldfusion.runtime.CfJspPage._emptyTcfTag(CfJspPage.java:4082) at cflayout32ecfm1035591831.runPage(/var/www/html/misterart.com/views/layout/layout3.cfm:13) at coldfusion.runtime.CfJspPage.invoke(CfJspPage.java:262) at coldfusion.tagext.lang.IncludeTag.handlePageInvoke(IncludeTag.java:729) at coldfusion.tagext.lang.IncludeTag.doStartTag(IncludeTag.java:565) at coldfusion.runtime.CfJspPage._emptyTcfTag(CfJspPage.java:4082) at cfindex2ecfm158854119.runPage(/var/www/html/misterart.com/index.cfm:407) at coldfusion.runtime.CfJspPage.invoke(CfJspPage.java:262) at coldfusion.tagext.lang.IncludeTag.handlePageInvoke(IncludeTag.java:729) at coldfusion.tagext.lang.IncludeTag.doStartTag(IncludeTag.java:565) at coldfusion.filter.CfincludeFilter.invoke(CfincludeFilter.java:65) at coldfusion.filter.ApplicationFilter.invoke(ApplicationFilter.java:557) at coldfusion.filter.RequestMonitorFilter.invoke(RequestMonitorFilter.java:43) at coldfusion.filter.MonitoringFilter.invoke(MonitoringFilter.java:40) at coldfusion.filter.PathFilter.invoke(PathFilter.java:162) at coldfusion.filter.IpFilter.invoke(IpFilter.java:45) at coldfusion.filter.ExceptionFilter.invoke(ExceptionFilter.java:96) at coldfusion.filter.BrowserDebugFilter.invoke(BrowserDebugFilter.java:78) at coldfusion.filter.ClientScopePersistenceFilter.invoke(ClientScopePersistenceFilter.java:28) at coldfusion.filter.BrowserFilter.invoke(BrowserFilter.java:38) at coldfusion.filter.NoCacheFilter.invoke(NoCacheFilter.java:60) at coldfusion.filter.GlobalsFilter.invoke(GlobalsFilter.java:38) at coldfusion.filter.DatasourceFilter.invoke(DatasourceFilter.java:22) at coldfusion.filter.CachingFilter.invoke(CachingFilter.java:62) at coldfusion.CfmServlet.service(CfmServlet.java:226) at coldfusion.bootstrap.BootstrapServlet.service(BootstrapServlet.java:311) at org.apache.catalina.core.ApplicationFilterChain.internalDoFilter(ApplicationFilterChain.java:231) at org.apache.catalina.core.ApplicationFilterChain.doFilter(ApplicationFilterChain.java:166) at coldfusion.monitor.event.MonitoringServletFilter.doFilter(MonitoringServletFilter.java:46) at coldfusion.bootstrap.BootstrapFilter.doFilter(BootstrapFilter.java:47) at org.apache.catalina.core.ApplicationFilterChain.internalDoFilter(ApplicationFilterChain.java:193) at org.apache.catalina.core.ApplicationFilterChain.doFilter(ApplicationFilterChain.java:166) at org.apache.tomcat.websocket.server.WsFilter.doFilter(WsFilter.java:53) at org.apache.catalina.core.ApplicationFilterChain.internalDoFilter(ApplicationFilterChain.java:193) at org.apache.catalina.core.ApplicationFilterChain.doFilter(ApplicationFilterChain.java:166) at org.apache.catalina.core.StandardWrapperValve.invoke(StandardWrapperValve.java:199) at org.apache.catalina.core.StandardContextValve.invoke(StandardContextValve.java:96) at org.apache.catalina.authenticator.AuthenticatorBase.invoke(AuthenticatorBase.java:491) at org.apache.catalina.core.StandardHostValve.invoke(StandardHostValve.java:139) at org.apache.catalina.valves.ErrorReportValve.invoke(ErrorReportValve.java:92) at org.apache.catalina.valves.RemoteIpValve.invoke(RemoteIpValve.java:685) at org.apache.catalina.core.StandardEngineValve.invoke(StandardEngineValve.java:87) at org.apache.catalina.connector.CoyoteAdapter.service(CoyoteAdapter.java:357) at org.apache.coyote.ajp.AjpProcessor.service(AjpProcessor.java:422) at org.apache.coyote.AbstractProcessorLight.process(AbstractProcessorLight.java:66) at org.apache.coyote.AbstractProtocol$ConnectionHandler.process(AbstractProtocol.java:764) at org.apache.tomcat.util.net.NioEndpoint$SocketProcessor.doRun(NioEndpoint.java:1388) at org.apache.tomcat.util.net.SocketProcessorBase.run(SocketProcessorBase.java:49) at java.base/java.util.concurrent.ThreadPoolExecutor.runWorker(ThreadPoolExecutor.java:1128) at java.base/java.util.concurrent.ThreadPoolExecutor$Worker.run(ThreadPoolExecutor.java:628) at org.apache.tomcat.util.threads.TaskThread$WrappingRunnable.run(TaskThread.java:61) at java.base/java.lang.Thread.run(Thread.java:834)
Suppressed
TagContext

array
1

struct
COLUMN
0
ID
CFQUERY
LINE
29
RAW_TRACE
at cf1row3items2ecfm679456892.runPage(/var/www/html/misterart.com/views/components/1row3items.cfm:29)
TEMPLATE
/var/www/html/misterart.com/views/components/1row3items.cfm
TYPE
CFML

2

struct
COLUMN
0
ID
CFINCLUDE
LINE
711
RAW_TRACE
at cfgroupdetails2ecfm1794534649._factor15(/var/www/html/misterart.com/views/category/groupdetails.cfm:711)
TEMPLATE
/var/www/html/misterart.com/views/category/groupdetails.cfm
TYPE
CFML

3

struct
COLUMN
0
ID
CF_GROUPDETAILS
LINE
175
RAW_TRACE
at cfgroupdetails2ecfm1794534649._factor20(/var/www/html/misterart.com/views/category/groupdetails.cfm:175)
TEMPLATE
/var/www/html/misterart.com/views/category/groupdetails.cfm
TYPE
CFML

4

struct
COLUMN
0
ID
CF_GROUPDETAILS
LINE
8
RAW_TRACE
at cfgroupdetails2ecfm1794534649._factor21(/var/www/html/misterart.com/views/category/groupdetails.cfm:8)
TEMPLATE
/var/www/html/misterart.com/views/category/groupdetails.cfm
TYPE
CFML

5

struct
COLUMN
0
ID
CF_GROUPDETAILS
LINE
1
RAW_TRACE
at cfgroupdetails2ecfm1794534649.runPage(/var/www/html/misterart.com/views/category/groupdetails.cfm:1)
TEMPLATE
/var/www/html/misterart.com/views/category/groupdetails.cfm
TYPE
CFML

6

struct
COLUMN
0
ID
CFINCLUDE
LINE
13
RAW_TRACE
at cflayout32ecfm1035591831.runPage(/var/www/html/misterart.com/views/layout/layout3.cfm:13)
TEMPLATE
/var/www/html/misterart.com/views/layout/layout3.cfm
TYPE
CFML

7

struct
COLUMN
0
ID
CFINCLUDE
LINE
407
RAW_TRACE
at cfindex2ecfm158854119.runPage(/var/www/html/misterart.com/index.cfm:407)
TEMPLATE
/var/www/html/misterart.com/index.cfm
TYPE
CFML

Type
java.sql.SQLTransactionRollbackException

DataSource
MA3
Detail
[Macromedia][SQLServer JDBC Driver][SQLServer]Transaction (Process ID 160) was deadlocked on lock | communication buffer resources with another process and has been chosen as the deadlock victim. Rerun the transaction.
ErrorCode
40001
Exceptions

array
1

struct
class
java.sql.SQLTransactionRollbackException
message
[Macromedia][SQLServer JDBC Driver][SQLServer]Transaction (Process ID 160) was deadlocked on lock | communication buffer resources with another process and has been chosen as the deadlock victim. Rerun the transaction.

Message
Error Executing Database Query.
NativeErrorCode
1205
RootCause

struct
ErrorCode
1205
Message
[Macromedia][SQLServer JDBC Driver][SQLServer]Transaction (Process ID 160) was deadlocked on lock | communication buffer resources with another process and has been chosen as the deadlock victim. Rerun the transaction.
SQLState
40001
StackTrace
java.sql.SQLTransactionRollbackException: [Macromedia][SQLServer JDBC Driver][SQLServer]Transaction (Process ID 160) was deadlocked on lock | communication buffer resources with another process and has been chosen as the deadlock victim. Rerun the transaction. at macromedia.jdbc.sqlserverbase.ddcw.b(Unknown Source) at macromedia.jdbc.sqlserverbase.ddcw.a(Unknown Source) at macromedia.jdbc.sqlserverbase.ddcv.b(Unknown Source) at macromedia.jdbc.sqlserverbase.ddcv.a(Unknown Source) at macromedia.jdbc.sqlserver.tds.ddr.v(Unknown Source) at macromedia.jdbc.sqlserver.tds.ddr.a(Unknown Source) at macromedia.jdbc.sqlserver.tds.ddr.c(Unknown Source) at macromedia.jdbc.sqlserver.dda4.m(Unknown Source) at macromedia.jdbc.sqlserverbase.dde7.e(Unknown Source) at macromedia.jdbc.sqlserverbase.dde7.a(Unknown Source) at macromedia.jdbc.sqlserverbase.dde7.x(Unknown Source) at macromedia.jdbc.sqlserverbase.dde7.t(Unknown Source) at macromedia.jdbc.sqlserverbase.dde7.execute(Unknown Source) at coldfusion.server.j2ee.sql.JRunStatement.execute(JRunStatement.java:359) at coldfusion.sql.Executive.executeQuery(Executive.java:1567) at coldfusion.sql.Executive.executeQuery(Executive.java:1317) at coldfusion.sql.Executive.executeQuery(Executive.java:1247) at coldfusion.sql.SqlImpl.execute(SqlImpl.java:427) at coldfusion.tagext.sql.QueryTag.executeQuery(QueryTag.java:1211) at coldfusion.tagext.sql.QueryTag.startQueryExecution(QueryTag.java:841) at coldfusion.tagext.sql.QueryTag.doEndTag(QueryTag.java:794) at cf1row3items2ecfm679456892.runPage(/var/www/html/misterart.com/views/components/1row3items.cfm:29) at coldfusion.runtime.CfJspPage.invoke(CfJspPage.java:262) at coldfusion.tagext.lang.IncludeTag.handlePageInvoke(IncludeTag.java:729) at coldfusion.tagext.lang.IncludeTag.doStartTag(IncludeTag.java:565) at coldfusion.runtime.CfJspPage._emptyTcfTag(CfJspPage.java:4082) at cfgroupdetails2ecfm1794534649._factor15(/var/www/html/misterart.com/views/category/groupdetails.cfm:711) at cfgroupdetails2ecfm1794534649._factor20(/var/www/html/misterart.com/views/category/groupdetails.cfm:175) at cfgroupdetails2ecfm1794534649._factor21(/var/www/html/misterart.com/views/category/groupdetails.cfm:8) at cfgroupdetails2ecfm1794534649.runPage(/var/www/html/misterart.com/views/category/groupdetails.cfm:1) at coldfusion.runtime.CfJspPage.invoke(CfJspPage.java:262) at coldfusion.tagext.lang.IncludeTag.handlePageInvoke(IncludeTag.java:729) at coldfusion.tagext.lang.IncludeTag.doStartTag(IncludeTag.java:565) at coldfusion.runtime.CfJspPage._emptyTcfTag(CfJspPage.java:4082) at cflayout32ecfm1035591831.runPage(/var/www/html/misterart.com/views/layout/layout3.cfm:13) at coldfusion.runtime.CfJspPage.invoke(CfJspPage.java:262) at coldfusion.tagext.lang.IncludeTag.handlePageInvoke(IncludeTag.java:729) at coldfusion.tagext.lang.IncludeTag.doStartTag(IncludeTag.java:565) at coldfusion.runtime.CfJspPage._emptyTcfTag(CfJspPage.java:4082) at cfindex2ecfm158854119.runPage(/var/www/html/misterart.com/index.cfm:407) at coldfusion.runtime.CfJspPage.invoke(CfJspPage.java:262) at coldfusion.tagext.lang.IncludeTag.handlePageInvoke(IncludeTag.java:729) at coldfusion.tagext.lang.IncludeTag.doStartTag(IncludeTag.java:565) at coldfusion.filter.CfincludeFilter.invoke(CfincludeFilter.java:65) at coldfusion.filter.ApplicationFilter.invoke(ApplicationFilter.java:557) at coldfusion.filter.RequestMonitorFilter.invoke(RequestMonitorFilter.java:43) at coldfusion.filter.MonitoringFilter.invoke(MonitoringFilter.java:40) at coldfusion.filter.PathFilter.invoke(PathFilter.java:162) at coldfusion.filter.IpFilter.invoke(IpFilter.java:45) at coldfusion.filter.ExceptionFilter.invoke(ExceptionFilter.java:96) at coldfusion.filter.BrowserDebugFilter.invoke(BrowserDebugFilter.java:78) at coldfusion.filter.ClientScopePersistenceFilter.invoke(ClientScopePersistenceFilter.java:28) at coldfusion.filter.BrowserFilter.invoke(BrowserFilter.java:38) at coldfusion.filter.NoCacheFilter.invoke(NoCacheFilter.java:60) at coldfusion.filter.GlobalsFilter.invoke(GlobalsFilter.java:38) at coldfusion.filter.DatasourceFilter.invoke(DatasourceFilter.java:22) at coldfusion.filter.CachingFilter.invoke(CachingFilter.java:62) at coldfusion.CfmServlet.service(CfmServlet.java:226) at coldfusion.bootstrap.BootstrapServlet.service(BootstrapServlet.java:311) at org.apache.catalina.core.ApplicationFilterChain.internalDoFilter(ApplicationFilterChain.java:231) at org.apache.catalina.core.ApplicationFilterChain.doFilter(ApplicationFilterChain.java:166) at coldfusion.monitor.event.MonitoringServletFilter.doFilter(MonitoringServletFilter.java:46) at coldfusion.bootstrap.BootstrapFilter.doFilter(BootstrapFilter.java:47) at org.apache.catalina.core.ApplicationFilterChain.internalDoFilter(ApplicationFilterChain.java:193) at org.apache.catalina.core.ApplicationFilterChain.doFilter(ApplicationFilterChain.java:166) at org.apache.tomcat.websocket.server.WsFilter.doFilter(WsFilter.java:53) at org.apache.catalina.core.ApplicationFilterChain.internalDoFilter(ApplicationFilterChain.java:193) at org.apache.catalina.core.ApplicationFilterChain.doFilter(ApplicationFilterChain.java:166) at org.apache.catalina.core.StandardWrapperValve.invoke(StandardWrapperValve.java:199) at org.apache.catalina.core.StandardContextValve.invoke(StandardContextValve.java:96) at org.apache.catalina.authenticator.AuthenticatorBase.invoke(AuthenticatorBase.java:491) at org.apache.catalina.core.StandardHostValve.invoke(StandardHostValve.java:139) at org.apache.catalina.valves.ErrorReportValve.invoke(ErrorReportValve.java:92) at org.apache.catalina.valves.RemoteIpValve.invoke(RemoteIpValve.java:685) at org.apache.catalina.core.StandardEngineValve.invoke(StandardEngineValve.java:87) at org.apache.catalina.connector.CoyoteAdapter.service(CoyoteAdapter.java:357) at org.apache.coyote.ajp.AjpProcessor.service(AjpProcessor.java:422) at org.apache.coyote.AbstractProcessorLight.process(AbstractProcessorLight.java:66) at org.apache.coyote.AbstractProtocol$ConnectionHandler.process(AbstractProtocol.java:764) at org.apache.tomcat.util.net.NioEndpoint$SocketProcessor.doRun(NioEndpoint.java:1388) at org.apache.tomcat.util.net.SocketProcessorBase.run(SocketProcessorBase.java:49) at java.base/java.util.concurrent.ThreadPoolExecutor.runWorker(ThreadPoolExecutor.java:1128) at java.base/java.util.concurrent.ThreadPoolExecutor$Worker.run(ThreadPoolExecutor.java:628) at org.apache.tomcat.util.threads.TaskThread$WrappingRunnable.run(TaskThread.java:61) at java.base/java.lang.Thread.run(Thread.java:834)
Suppressed
TagContext

array
1

struct
COLUMN
0
ID
CFQUERY
LINE
29
RAW_TRACE
at cf1row3items2ecfm679456892.runPage(/var/www/html/misterart.com/views/components/1row3items.cfm:29)
TEMPLATE
/var/www/html/misterart.com/views/components/1row3items.cfm
TYPE
CFML

2

struct
COLUMN
0
ID
CFINCLUDE
LINE
711
RAW_TRACE
at cfgroupdetails2ecfm1794534649._factor15(/var/www/html/misterart.com/views/category/groupdetails.cfm:711)
TEMPLATE
/var/www/html/misterart.com/views/category/groupdetails.cfm
TYPE
CFML

3

struct
COLUMN
0
ID
CF_GROUPDETAILS
LINE
175
RAW_TRACE
at cfgroupdetails2ecfm1794534649._factor20(/var/www/html/misterart.com/views/category/groupdetails.cfm:175)
TEMPLATE
/var/www/html/misterart.com/views/category/groupdetails.cfm
TYPE
CFML

4

struct
COLUMN
0
ID
CF_GROUPDETAILS
LINE
8
RAW_TRACE
at cfgroupdetails2ecfm1794534649._factor21(/var/www/html/misterart.com/views/category/groupdetails.cfm:8)
TEMPLATE
/var/www/html/misterart.com/views/category/groupdetails.cfm
TYPE
CFML

5

struct
COLUMN
0
ID
CF_GROUPDETAILS
LINE
1
RAW_TRACE
at cfgroupdetails2ecfm1794534649.runPage(/var/www/html/misterart.com/views/category/groupdetails.cfm:1)
TEMPLATE
/var/www/html/misterart.com/views/category/groupdetails.cfm
TYPE
CFML

6

struct
COLUMN
0
ID
CFINCLUDE
LINE
13
RAW_TRACE
at cflayout32ecfm1035591831.runPage(/var/www/html/misterart.com/views/layout/layout3.cfm:13)
TEMPLATE
/var/www/html/misterart.com/views/layout/layout3.cfm
TYPE
CFML

7

struct
COLUMN
0
ID
CFINCLUDE
LINE
407
RAW_TRACE
at cfindex2ecfm158854119.runPage(/var/www/html/misterart.com/index.cfm:407)
TEMPLATE
/var/www/html/misterart.com/index.cfm
TYPE
CFML

Type
java.sql.SQLTransactionRollbackException

SQLState
40001
Sql
UPDATE group_2_group_new set counter = counter + 1 WHERE group_id = 1118 AND related_group_id = 178
StackTrace
coldfusion.tagext.sql.QueryTag$DatabaseQueryException: Error Executing Database Query. at coldfusion.tagext.sql.QueryTag.startQueryExecution(QueryTag.java:894) at coldfusion.tagext.sql.QueryTag.doEndTag(QueryTag.java:794) at cf1row3items2ecfm679456892.runPage(/var/www/html/misterart.com/views/components/1row3items.cfm:29) at coldfusion.runtime.CfJspPage.invoke(CfJspPage.java:262) at coldfusion.tagext.lang.IncludeTag.handlePageInvoke(IncludeTag.java:729) at coldfusion.tagext.lang.IncludeTag.doStartTag(IncludeTag.java:565) at coldfusion.runtime.CfJspPage._emptyTcfTag(CfJspPage.java:4082) at cfgroupdetails2ecfm1794534649._factor15(/var/www/html/misterart.com/views/category/groupdetails.cfm:711) at cfgroupdetails2ecfm1794534649._factor20(/var/www/html/misterart.com/views/category/groupdetails.cfm:175) at cfgroupdetails2ecfm1794534649._factor21(/var/www/html/misterart.com/views/category/groupdetails.cfm:8) at cfgroupdetails2ecfm1794534649.runPage(/var/www/html/misterart.com/views/category/groupdetails.cfm:1) at coldfusion.runtime.CfJspPage.invoke(CfJspPage.java:262) at coldfusion.tagext.lang.IncludeTag.handlePageInvoke(IncludeTag.java:729) at coldfusion.tagext.lang.IncludeTag.doStartTag(IncludeTag.java:565) at coldfusion.runtime.CfJspPage._emptyTcfTag(CfJspPage.java:4082) at cflayout32ecfm1035591831.runPage(/var/www/html/misterart.com/views/layout/layout3.cfm:13) at coldfusion.runtime.CfJspPage.invoke(CfJspPage.java:262) at coldfusion.tagext.lang.IncludeTag.handlePageInvoke(IncludeTag.java:729) at coldfusion.tagext.lang.IncludeTag.doStartTag(IncludeTag.java:565) at coldfusion.runtime.CfJspPage._emptyTcfTag(CfJspPage.java:4082) at cfindex2ecfm158854119.runPage(/var/www/html/misterart.com/index.cfm:407) at coldfusion.runtime.CfJspPage.invoke(CfJspPage.java:262) at coldfusion.tagext.lang.IncludeTag.handlePageInvoke(IncludeTag.java:729) at coldfusion.tagext.lang.IncludeTag.doStartTag(IncludeTag.java:565) at coldfusion.filter.CfincludeFilter.invoke(CfincludeFilter.java:65) at coldfusion.filter.ApplicationFilter.invoke(ApplicationFilter.java:557) at coldfusion.filter.RequestMonitorFilter.invoke(RequestMonitorFilter.java:43) at coldfusion.filter.MonitoringFilter.invoke(MonitoringFilter.java:40) at coldfusion.filter.PathFilter.invoke(PathFilter.java:162) at coldfusion.filter.IpFilter.invoke(IpFilter.java:45) at coldfusion.filter.ExceptionFilter.invoke(ExceptionFilter.java:96) at coldfusion.filter.BrowserDebugFilter.invoke(BrowserDebugFilter.java:78) at coldfusion.filter.ClientScopePersistenceFilter.invoke(ClientScopePersistenceFilter.java:28) at coldfusion.filter.BrowserFilter.invoke(BrowserFilter.java:38) at coldfusion.filter.NoCacheFilter.invoke(NoCacheFilter.java:60) at coldfusion.filter.GlobalsFilter.invoke(GlobalsFilter.java:38) at coldfusion.filter.DatasourceFilter.invoke(DatasourceFilter.java:22) at coldfusion.filter.CachingFilter.invoke(CachingFilter.java:62) at coldfusion.CfmServlet.service(CfmServlet.java:226) at coldfusion.bootstrap.BootstrapServlet.service(BootstrapServlet.java:311) at org.apache.catalina.core.ApplicationFilterChain.internalDoFilter(ApplicationFilterChain.java:231) at org.apache.catalina.core.ApplicationFilterChain.doFilter(ApplicationFilterChain.java:166) at coldfusion.monitor.event.MonitoringServletFilter.doFilter(MonitoringServletFilter.java:46) at coldfusion.bootstrap.BootstrapFilter.doFilter(BootstrapFilter.java:47) at org.apache.catalina.core.ApplicationFilterChain.internalDoFilter(ApplicationFilterChain.java:193) at org.apache.catalina.core.ApplicationFilterChain.doFilter(ApplicationFilterChain.java:166) at org.apache.tomcat.websocket.server.WsFilter.doFilter(WsFilter.java:53) at org.apache.catalina.core.ApplicationFilterChain.internalDoFilter(ApplicationFilterChain.java:193) at org.apache.catalina.core.ApplicationFilterChain.doFilter(ApplicationFilterChain.java:166) at org.apache.catalina.core.StandardWrapperValve.invoke(StandardWrapperValve.java:199) at org.apache.catalina.core.StandardContextValve.invoke(StandardContextValve.java:96) at org.apache.catalina.authenticator.AuthenticatorBase.invoke(AuthenticatorBase.java:491) at org.apache.catalina.core.StandardHostValve.invoke(StandardHostValve.java:139) at org.apache.catalina.valves.ErrorReportValve.invoke(ErrorReportValve.java:92) at org.apache.catalina.valves.RemoteIpValve.invoke(RemoteIpValve.java:685) at org.apache.catalina.core.StandardEngineValve.invoke(StandardEngineValve.java:87) at org.apache.catalina.connector.CoyoteAdapter.service(CoyoteAdapter.java:357) at org.apache.coyote.ajp.AjpProcessor.service(AjpProcessor.java:422) at org.apache.coyote.AbstractProcessorLight.process(AbstractProcessorLight.java:66) at org.apache.coyote.AbstractProtocol$ConnectionHandler.process(AbstractProtocol.java:764) at org.apache.tomcat.util.net.NioEndpoint$SocketProcessor.doRun(NioEndpoint.java:1388) at org.apache.tomcat.util.net.SocketProcessorBase.run(SocketProcessorBase.java:49) at java.base/java.util.concurrent.ThreadPoolExecutor.runWorker(ThreadPoolExecutor.java:1128) at java.base/java.util.concurrent.ThreadPoolExecutor$Worker.run(ThreadPoolExecutor.java:628) at org.apache.tomcat.util.threads.TaskThread$WrappingRunnable.run(TaskThread.java:61) at java.base/java.lang.Thread.run(Thread.java:834) Caused by: java.sql.SQLTransactionRollbackException: [Macromedia][SQLServer JDBC Driver][SQLServer]Transaction (Process ID 160) was deadlocked on lock | communication buffer resources with another process and has been chosen as the deadlock victim. Rerun the transaction. at macromedia.jdbc.sqlserverbase.ddcw.b(Unknown Source) at macromedia.jdbc.sqlserverbase.ddcw.a(Unknown Source) at macromedia.jdbc.sqlserverbase.ddcv.b(Unknown Source) at macromedia.jdbc.sqlserverbase.ddcv.a(Unknown Source) at macromedia.jdbc.sqlserver.tds.ddr.v(Unknown Source) at macromedia.jdbc.sqlserver.tds.ddr.a(Unknown Source) at macromedia.jdbc.sqlserver.tds.ddr.c(Unknown Source) at macromedia.jdbc.sqlserver.dda4.m(Unknown Source) at macromedia.jdbc.sqlserverbase.dde7.e(Unknown Source) at macromedia.jdbc.sqlserverbase.dde7.a(Unknown Source) at macromedia.jdbc.sqlserverbase.dde7.x(Unknown Source) at macromedia.jdbc.sqlserverbase.dde7.t(Unknown Source) at macromedia.jdbc.sqlserverbase.dde7.execute(Unknown Source) at coldfusion.server.j2ee.sql.JRunStatement.execute(JRunStatement.java:359) at coldfusion.sql.Executive.executeQuery(Executive.java:1567) at coldfusion.sql.Executive.executeQuery(Executive.java:1317) at coldfusion.sql.Executive.executeQuery(Executive.java:1247) at coldfusion.sql.SqlImpl.execute(SqlImpl.java:427) at coldfusion.tagext.sql.QueryTag.executeQuery(QueryTag.java:1211) at coldfusion.tagext.sql.QueryTag.startQueryExecution(QueryTag.java:841) ... 65 more
Suppressed
TagContext

array
1

struct
COLUMN
0
ID
CFQUERY
LINE
29
RAW_TRACE
at cf1row3items2ecfm679456892.runPage(/var/www/html/misterart.com/views/components/1row3items.cfm:29)
TEMPLATE
/var/www/html/misterart.com/views/components/1row3items.cfm
TYPE
CFML

2

struct
COLUMN
0
ID
CFINCLUDE
LINE
711
RAW_TRACE
at cfgroupdetails2ecfm1794534649._factor15(/var/www/html/misterart.com/views/category/groupdetails.cfm:711)
TEMPLATE
/var/www/html/misterart.com/views/category/groupdetails.cfm
TYPE
CFML

3

struct
COLUMN
0
ID
CF_GROUPDETAILS
LINE
175
RAW_TRACE
at cfgroupdetails2ecfm1794534649._factor20(/var/www/html/misterart.com/views/category/groupdetails.cfm:175)
TEMPLATE
/var/www/html/misterart.com/views/category/groupdetails.cfm
TYPE
CFML

4

struct
COLUMN
0
ID
CF_GROUPDETAILS
LINE
8
RAW_TRACE
at cfgroupdetails2ecfm1794534649._factor21(/var/www/html/misterart.com/views/category/groupdetails.cfm:8)
TEMPLATE
/var/www/html/misterart.com/views/category/groupdetails.cfm
TYPE
CFML

5

struct
COLUMN
0
ID
CF_GROUPDETAILS
LINE
1
RAW_TRACE
at cfgroupdetails2ecfm1794534649.runPage(/var/www/html/misterart.com/views/category/groupdetails.cfm:1)
TEMPLATE
/var/www/html/misterart.com/views/category/groupdetails.cfm
TYPE
CFML

6

struct
COLUMN
0
ID
CFINCLUDE
LINE
13
RAW_TRACE
at cflayout32ecfm1035591831.runPage(/var/www/html/misterart.com/views/layout/layout3.cfm:13)
TEMPLATE
/var/www/html/misterart.com/views/layout/layout3.cfm
TYPE
CFML

7

struct
COLUMN
0
ID
CFINCLUDE
LINE
407
RAW_TRACE
at cfindex2ecfm158854119.runPage(/var/www/html/misterart.com/index.cfm:407)
TEMPLATE
/var/www/html/misterart.com/index.cfm
TYPE
CFML

Type
Database
queryError
[Macromedia][SQLServer JDBC Driver][SQLServer]Transaction (Process ID 160) was deadlocked on lock | communication buffer resources with another process and has been chosen as the deadlock victim. Rerun the transaction.
where
[empty string]