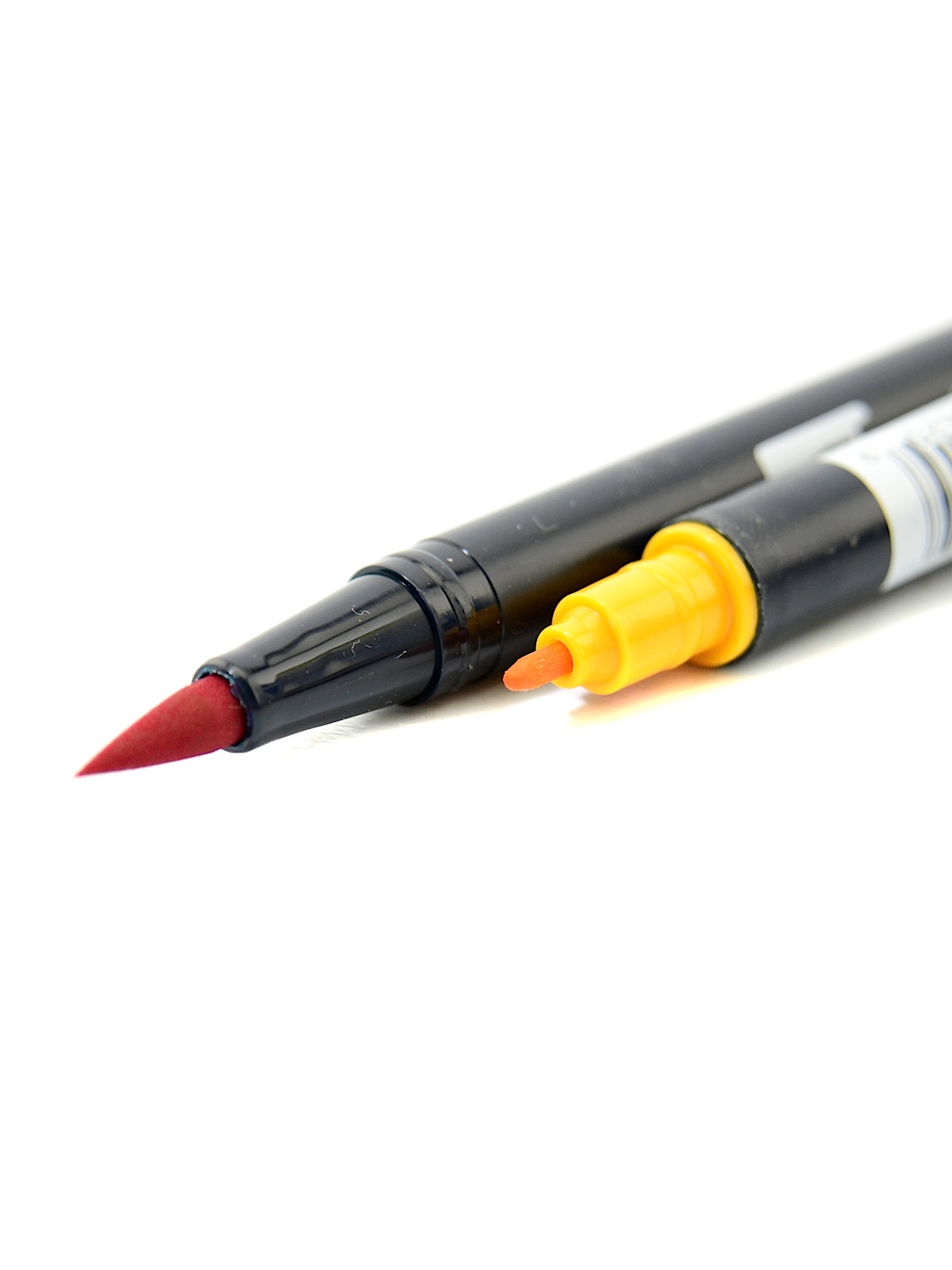 Zoom Image

The Dual Brush Pen combines a flexible brush tip and a fine tip in one marker. The brush tip works like a paintbrush to create fine, medium, or bold strokes, while the fine tip gives consistent lines. Whether your business is graphic art, illustration, textile design or just making office graphs and charts, you'll appreciate the full, brilliant colors of the Dual Brush Pen.
The Dual Brush Pen uses a water-based, non-toxic, acid-free, and odorless ink. It also contains a colorless blender that softens and blends colors, creating a watercolor effect. The pen is a full 7 3 /4 inches long, providing a copious ink supply and long life. Each pen cap is color coded for easy determination of color.


?
Ask a question about this product
Kristin from Seattle says:
I bought these for a homeschool scrapbooking/journaling class I'm teaching to 2-5th grade kids. They absolutely love these pens and have made many beautiful and creative journal entries and pictures...[more]
Share this Product
Enter Quantity & Click 'Add to Cart'
Please wait...
You May Also Like...
by Beadalon

Strong cement for fine detail work

by Sheaffer

More convenient and easier to use than nibs and dipping ink
How to get VIP Club Prices
Anyone can be a VIP Member with:
Additional savings on all products
Express order handling
Exclusive promotions
Priority customer service
Your email will not be shared. We will only use your email address to respond to your question. When asking your question, please be as descriptive as possible, it will allow us to give you the most accurate answer possible.


Customer Product Reviews
Rated by: Kristin in Seattle

I bought these for a homeschool scrapbooking/journaling class I'm teaching to 2-5th grade kids. They absolutely love these pens and have made many beautiful and creative journal entries and pictures with them. I also use them for making cards and many assorted projects - LOVE them!! Very high quality and last a really long time.

Rated by: Michael S. in Palatine, IL

It's really not fair of me to rate this pen as having less than 5 stars, as the description states it is water-based. I just wish they'd make a WATERPROOF BLACK pen. As a cartoonist, this is the only color I need, and if it were waterproof I can honestly say that it would be my 99% of the time pen. Because inking with it is great.

Rated by: darlene a. in lomira, WI

Excellent pens, beautiful colors. MisterArt.com provides excellent service/quick shipment!

Rated by: Cheri M. in Beaverton, OR

Tombow Dual Pens are just the best. Bright vivid colors, easy to blend and keep working for at least 10 years. Worth their weight in gold. Great for rubber stamping, card making, memory albums and art work. I even designed wedding invitations and colored them in and no one knew they were home made. The fine point brush can do very small details.

Rated by: Joan D. in La Crescenta, CA

These are the only markers I use. I have using them for years. The colors are beautiful.

Rated by: H L. in Annapolis, MD

Simply the best pen of its kind! My friends and I have tried literally every brand of similar pen, and no other can compare to Tombow's quality or color selection. They are worth every penny.

Rated by: Karen L. in Warren, MN

Since retireing , I make all my own greeting cards, for all occasions, & send out hundreds all over the world. The Tombow pens come i so many different colors, with no odor, so I can work for hours making beautiful, colorful cards. The people I give them to always tell me how colorful & beautiful they are. Thanks to Tombow, & the pens last for a longer period of time, & I can address the envelopes to match.

Rated by: Lynn Ellen G. in Willis, TX

Tombow makes a great product. I have tried other brush pens, but Tombow is my #1 choice. MisterArt.com provides great selections and fast service.

Rated by: Kathryn B. in Columbus, OH

These pens are the best! The last a long time, don't dry out and come in beautiful colors. I use them for my prayer mandalas that have a lot of detail in them. These brush tips can get into the tiniest corners.

Rated by: Nettie D. in Mountain View, CA

I continue to use the Tombow dual tip markers because they are the best, with a long lasting supply of ink, nice handling, no odor, and a good variety of very vibrant colors. MisterArt has been a first-rate supplier, with good communication, quick delivery and great prices. Thank you, MisterArt, for worry-free hours of rewarding hobby time and creativity.

Rated by: Kat B. in Columbus, OH

I have been buying these Tombow Brush pens for several years now. I've always picked them up locally at a hobby shop. They were good. However, your pens are so much better-- the flow is better. I would have never suspected there would be that much difference in quality. I guess it is the "freshness."

Rated by: Anita B. in Riverside, CA

Excellent pens. I do a lot of scrapbooking and have recently started using the interactive stamping technique I saw on DIY. These pens are perfect and the price and service with MisterArt.com is the best on the web.

Rated by: Beka S. in Waxhaw, NC

With a wide array of colors and thee dual tips, this marker gives great control and lays down a smooth, vibrant color...

Rated by: vicky w. in lodi, CA

I love the color selection and versatile nature of these pens for scrapbooking. Everything from coloring to lettering.

Rated by: Deborah S. in Troy, NY

For the price they are, they are wonderful markers, they do not bleed and have wonderful colours that average markers do not have. Streaking is minimal, if none. Their colourless blender leaves a bit to be desired, however.

Rated by: Gloria F. in Mendocino, CA

Great product. Good selection of black to white values. Very useful for quick thumbnail notan value studies when working out a design. The dual brush allows a painterly study and dries quickly. Couldn't work without them.

Rated by: Margaret C. in Red oak, TX

Had never seen these pens before and they are great. Going to enjoy using them for many things.

Rated by: holly d. in chicago, IL

AWESOME markers!!!! NOW, if I could only remember to put the tops back on, they'd last a lot longer. I do most everything with them......invitations, signs, cards, lettering, posterboards. They're so fluid and with enough practice, it's quite easy to control for a consistant movement. Totally recommend!!! Mister Art is also the best price out there too!! And, wow, what a incredible delivery service. Thanks.

Rated by: Jayne R. in San Diego, CA

I love the Tombow duel end brushe pens and won't use any other brand. I've tried others and none work as well. They are very versitile, you can blend them or use them alone. The color selection is huge. I wish I could afford to buy every color. They also last quite a long time. They're magnificent!

Rated by: Nettie D. in Mountain View, CA

I use the Tombow pens for coloring illustrations with some very fine detail. I require a wide range of hues and I really appreciate your choice of colors. The Tombow pens have more ink and denser pigmentation than other brands, plus a fine point that really works (not dry and scratchy like some brands). MisterArt's service is great, with fast delivery and accurate ordering. Thanks!

Rated by: Lisa J. in Marana, AZ

These pens are the best markers I have ever used, I ordered one in every color and I love the dual ends they work perfect for rubberstamping and just about any other craft you can think of. ANd the value is tremendous.

Rated by: Susan L. in Rolla, MO

WOW!! I love this website store!!! I searched all over the web trying to find these markers. Finally found Mister Art thank goodness!! I even searched different craft stores for these markers. I wanted just a few of the colors I really, really needed but didn't want to pay an arm and leg for them. Mister Art has the best prices of any website I have found. I definately will order more later. These are the greatest and true to color markers and I love them. Thank you for being out here and making me Very Happy!!! Mister Art is also very fast in shipping too, and that in itself is an A++++++ with me and my friends. Again Thank you so much!

Rated by: Jeanie S. in Inyokern, CA

I have been a fan of Tombow Dual End Brush Pens since I worked several years ago for a stationer who carried them. The pens come in a wide variety of colors--I have all 96--for broad brush strokes on one end and a medium-sized tip for detail or hand printing on the other. Coordinating with or complimenting other colors in my projects are simple with all the vivid hues. I love them all!

Rated by: MARY M. in BABYLON, NY

AWESOME PRICE ,GREAT PRODUCT,FAST DELIVERY

Rated by: Sharon P. in Pasadena, MD

I`m so glad that I finally found these pens and at a good price too! They are great for coloring stamps as well as adding color to any scrapbook page or altered art piece.

Rated by: B P. in Murrieta, CA

I use these in grays and black for small sketches and also value studies in preparation for painting. I'm delighted I found them. I like to do value studies in the planning stage before beginning a painting, and I have tried many modes, like pencil or pen, or gouache and transparent watercolor and even colored pencil. What I like most is markers because they give you a clean mini-painting with clearly depicted values areas, but the ink in markers bleeds through the paper I'm using, ruining the other side. So these brush-pens are what I have been looking for. The waterbased ink doesn't leak through any reasonably thick paper (say 50 lb or thicker, like a high-quality sketchbook or drawing pad). Furthermore, the dual end is helpful: the pen end is good for precision like small areas or writing notes, and the brush end is great for working as if with a paint brush and for covering areas quickly. To anyone who can use this type of product, I would urge you to try a few.

Rated by: Bill P. in Murrieta, CA

Years ago I used a Tombow pen that had the best feel in writing I could find, and was waterproof too--important since I do field pen-and-ink sketches that I color with watercolor. Briefly, I would "second" all the other comments and add this: These brush pens don't leak through any decently thick paper. This is important to me because I use a watercolor sketchbook (Canson Al-media) that is paintable on both sides of each page; and when, before, I used regular markers, they always leaked through to the other side, ruining it for painting!

Rated by: Austine M. in Boston, MA

Very nice. The colors are bright and vibrant, and I love the brush tip. The only thing is that while coloring large areas, I often have to either keep my leading edges wet (which sometimes leads to abusing my paper) or end up with visible brush strokes at the ends of my current coloring area that simply won't leave regardless of how many times I color over them. Solution: Color very fast. They are very good markers, though, especially for the price. The brush end caps also come off sometimes, but it's not really a problem for me.

Rated by: Susan R. in San Antonio, TX

I saw Tombows at a scrapbooking convention and bought a couple to try. Once back at home I wished I had bought more! So, I looked to see if Misterart.com had them and YES! I bought a huge amount of them because the price was too good to pass up. I love the Tombows wide variety of colors and the smoothness of application. One of a kind. Truly the best!

Rated by: Molly M. in Chantilly, VA

This is a great pen that offers versatility in that it has a fine tipped end as well as abrush end. This can probably be used for a great deal of projects: cartooning, industrial design, drawing and even painting.

Rated by: silvia g. in Fairfax, VA

Excellent product!!!....I use it all the time...it made starting my painting much much easier. Thank you.

Rated by: Kelly C. in Camden, NC

Love these markers. They last a long while, and the colors are true. Wonderful product, thank you! (Great price too!)

Rated by: sandy l. in fort myers, FL

A wonderful product that is easy to use on trips for sketching and getting just the essence/basics down. One can interpret a multitude of painterly works later in the studio.

Rated by: Roseann W. in Baltimore, MD

The dual edge markers are very conventient. This was my first experience with the brush type marker. the end result was very impressive.

Rated by: Serena S. in Las Vegas, NV

Love Tombow markers, awesome colors and the brush tip is a job to us.

Rated by: Donna A. in Charlotte, TN

I love the Tombow Markers. I use them for all my projects whether school related or my personal scrapbooks. I created Christmas cards this year using rubber stamps and Tombow Markers.

Rated by: Robert N. in Norwalk, CT

I LOVE these pens. Great for sketching, drawing, illustration---excellent, rich color. They last a long time as well.

Rated by: Danelle B. in Racine, WI

I love that you can do sooo much with the Tombow markers that you can't with other comprable markers. The colors are brilliant and precise. Overall they are just very fun to work with!!

Rated by: Kathleen M. in Atlanta, GA

These are the most versatile pens you will ever purchase. Not only do I use them constantly, but they last forever. MisterArt has the absolute best price I have ever found anywhere on these pens. When I saw the price I thought it was a misprint...Good Going Guys!!!

Rated by: Robin C. in Anchorage, AK

The Tombow markers are by far the best I have ever used. I can even use them outside in very cold weather. I appreciate the discounted price offered by MisterArt.com as well.

Rated by: Serena S. in Las Vegas, NV

Loved the magenta and the brushlike ends very smooth. Thumbs up.

Rated by: William H. in Merrill, WI

I started using these pens in a class I took about 2 months ago. I was amazed at their flexibility. From narrow to think, what a pen!

Rated by: Billie G. in Spring, TX

This is one of the better brush marker I have used,it doesn't seem to strak as bad as others

Rated by: david e. in holland, PA

These pens ROCK! Bright colors and terrific blending. I'd been hooked on Dr. Martin's for years as I loved their brilliance. These pens are better and a lot less messy. Highly Recomended!!

Rated by: Joanne B. in Sherman Oaks, CA

Speedy delivery of my first-time order. Pens were high quality, fully inked and problem free. Will order again.

Rated by: Laurie E. in Davis, CA

I received my order promptly, in good condition. I greatly appreciate your discounted prices as I frequently need to replenish my supplies. The Tombow markers I use for my costume illustrations are first rate. I have found them to be of a higher quality from other dual end brands. They make the illustration process much easier, and a lot more fun. The quality of the finished illustration is better as a result. As long as you offer these markers at a price below the local art supply stores I will continue to order from you.

Rated by: Eve M. in Pittsburgh, PA

I purchased these markers for my marker rendering class, but I had to go out and get a set of Prismacolor dualend markers (chiseled edge and fine point) for more control. These markers are good (aside from the one marker that poured out copious amounts of ink as compared to the other markers and caused a great deal of bleeding and smearing). They just weren't what I needed at the time, which was more precision and control as a marker rendering beginner. A good marker overall, but not for beginners.

Rated by: Heidi I. in West Chester, PA

I am a huge fan of Tombow pens! They are excellent for signs, posters, custom color work... I now have almost all 144 colors - it is the ultimate selection of colors I have ever come across in art markers. Their colors on paper are true, and they are long lasting, even with heavy use, the brush end is the best. I just love these pens!

Rated by: Marilyn R. in Charlotte, NC

Tombow markers offer the best selection of colors...a must for "rubber stamp addicts"...MisterArt.com offered the best price I have found yet..agreed, the tips do wear a little too quickly...still they are the best.

Rated by: Victoria B. in Bordentown, NJ

These markers have a beautiful range of colors. Great for coloring rubber stamped images. They blend well. Tips do wear a little too easily.

Rated by: Robert B. in Baton Rouge, LA

The best brush pen that I've come across. The non-brush tip works fairly well, and is good enough for thick line work, but the brush end is what sells this pen. The only drawback is that the brush tip can wear down if too much pressure is used. All in all, a great pen to have in your artbin.

Rated by: Jane A. in East Earl, PA

Boy Tombow brush pen are get. They go on just like a paint brush. Gotto get some more

Rated by: Laura S. in alexandria, VA

Tombow markers fit the bill for my caricature work. I absolutely love them!
Add Your Review
Tell us what you think. We appreciate you taking the time to share your opinion with other artists and crafters. Please keep your review detailed and specific.
Tips on Writing Reviews
Rating Scale
(5-Star) Excellent
(4-Star) Good
(3-Star) Average
(2-Star) Fair
(1-Star) Poor
Do:
Give your perspective on how you used the product and why you liked or disliked it.
Keep your reviews short enough to hold the audience's attention.
Be honest and mindful of others when providing editorial commentary.
Don't:
Include phone numbers, addresses, URLs, or HTML tags.
Write profanity, obscenities, vulgarities, or spiteful comments.
Make defamatory comments.