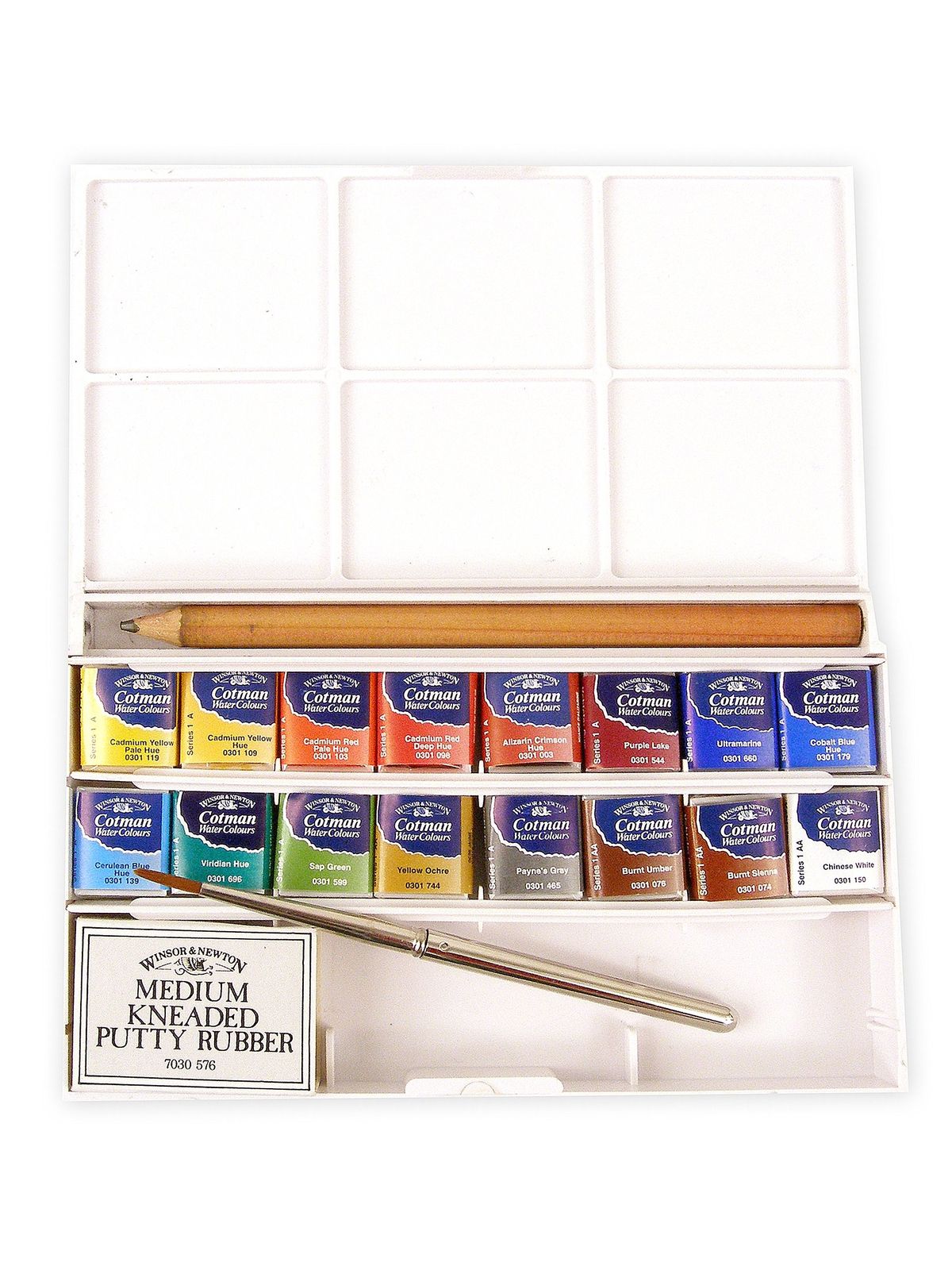 Zoom Image
Cotman Water Colour Deluxe Sketchers' Pocket Box

Pocket sized and lightweight, this comprehensive set contains a wider selection of 16 Cotman Watercolor half pans. It also comes with pocket brush, putty rubber, pencil, and handy instructional leaflet, and comes in a sturdy plastic box that features a six well mixing palette in the lid and a thumb ring in the base.
Colors included are Cadmium Yellow Pale Hue, Cadmium Yellow Hue, Cadmium Red Pale Hue, Cadmium Red Deep Hue, Alizarin Crimson Hue, Purple Lake, Ultramarine, Cobalt Blue Hue, Cerulean Blue Hue, Sap Green, Viridian Hue, Yellow Ochre, Burnt Sienna, Burnt Umber, Payne's Gray, and Chinese White.


?
Ask a question about this product
Average User Rating: Based on (1 Review)
Vicky W. from El Dorado, KS says:
I've tried several travel palettes and this has the most room without taking up too much room in a plein air kit. There is room for adding extra half-pans of paint or additional travel brushes as needed.
Share this Product
Enter Quantity & Click 'Add to Cart'
Please wait...
You May Also Like...
struct
EVENTNAME
[empty string]
EXCEPTION

struct
Cause

struct
ErrorCode
1205
Message
[Macromedia][SQLServer JDBC Driver][SQLServer]Transaction (Process ID 411) was deadlocked on lock | communication buffer resources with another process and has been chosen as the deadlock victim. Rerun the transaction.
SQLState
40001
StackTrace
java.sql.SQLTransactionRollbackException: [Macromedia][SQLServer JDBC Driver][SQLServer]Transaction (Process ID 411) was deadlocked on lock | communication buffer resources with another process and has been chosen as the deadlock victim. Rerun the transaction. at macromedia.jdbc.sqlserverbase.ddcw.b(Unknown Source) at macromedia.jdbc.sqlserverbase.ddcw.a(Unknown Source) at macromedia.jdbc.sqlserverbase.ddcv.b(Unknown Source) at macromedia.jdbc.sqlserverbase.ddcv.a(Unknown Source) at macromedia.jdbc.sqlserver.tds.ddr.v(Unknown Source) at macromedia.jdbc.sqlserver.tds.ddr.a(Unknown Source) at macromedia.jdbc.sqlserver.tds.ddr.c(Unknown Source) at macromedia.jdbc.sqlserver.dda4.m(Unknown Source) at macromedia.jdbc.sqlserverbase.dde7.e(Unknown Source) at macromedia.jdbc.sqlserverbase.dde7.a(Unknown Source) at macromedia.jdbc.sqlserverbase.dde7.x(Unknown Source) at macromedia.jdbc.sqlserverbase.dde7.t(Unknown Source) at macromedia.jdbc.sqlserverbase.dde7.execute(Unknown Source) at coldfusion.server.j2ee.sql.JRunStatement.execute(JRunStatement.java:359) at coldfusion.sql.Executive.executeQuery(Executive.java:1567) at coldfusion.sql.Executive.executeQuery(Executive.java:1317) at coldfusion.sql.Executive.executeQuery(Executive.java:1247) at coldfusion.sql.SqlImpl.execute(SqlImpl.java:427) at coldfusion.tagext.sql.QueryTag.executeQuery(QueryTag.java:1211) at coldfusion.tagext.sql.QueryTag.startQueryExecution(QueryTag.java:841) at coldfusion.tagext.sql.QueryTag.doEndTag(QueryTag.java:794) at cf1row3items2ecfm679456892.runPage(/var/www/html/misterart.com/views/components/1row3items.cfm:29) at coldfusion.runtime.CfJspPage.invoke(CfJspPage.java:262) at coldfusion.tagext.lang.IncludeTag.handlePageInvoke(IncludeTag.java:729) at coldfusion.tagext.lang.IncludeTag.doStartTag(IncludeTag.java:565) at coldfusion.runtime.CfJspPage._emptyTcfTag(CfJspPage.java:4082) at cfgroupdetails2ecfm1794534649._factor15(/var/www/html/misterart.com/views/category/groupdetails.cfm:711) at cfgroupdetails2ecfm1794534649._factor20(/var/www/html/misterart.com/views/category/groupdetails.cfm:175) at cfgroupdetails2ecfm1794534649._factor21(/var/www/html/misterart.com/views/category/groupdetails.cfm:8) at cfgroupdetails2ecfm1794534649.runPage(/var/www/html/misterart.com/views/category/groupdetails.cfm:1) at coldfusion.runtime.CfJspPage.invoke(CfJspPage.java:262) at coldfusion.tagext.lang.IncludeTag.handlePageInvoke(IncludeTag.java:729) at coldfusion.tagext.lang.IncludeTag.doStartTag(IncludeTag.java:565) at coldfusion.runtime.CfJspPage._emptyTcfTag(CfJspPage.java:4082) at cflayout32ecfm1035591831.runPage(/var/www/html/misterart.com/views/layout/layout3.cfm:13) at coldfusion.runtime.CfJspPage.invoke(CfJspPage.java:262) at coldfusion.tagext.lang.IncludeTag.handlePageInvoke(IncludeTag.java:729) at coldfusion.tagext.lang.IncludeTag.doStartTag(IncludeTag.java:565) at coldfusion.runtime.CfJspPage._emptyTcfTag(CfJspPage.java:4082) at cfindex2ecfm158854119.runPage(/var/www/html/misterart.com/index.cfm:407) at coldfusion.runtime.CfJspPage.invoke(CfJspPage.java:262) at coldfusion.tagext.lang.IncludeTag.handlePageInvoke(IncludeTag.java:729) at coldfusion.tagext.lang.IncludeTag.doStartTag(IncludeTag.java:565) at coldfusion.filter.CfincludeFilter.invoke(CfincludeFilter.java:65) at coldfusion.filter.ApplicationFilter.invoke(ApplicationFilter.java:557) at coldfusion.filter.RequestMonitorFilter.invoke(RequestMonitorFilter.java:43) at coldfusion.filter.MonitoringFilter.invoke(MonitoringFilter.java:40) at coldfusion.filter.PathFilter.invoke(PathFilter.java:162) at coldfusion.filter.IpFilter.invoke(IpFilter.java:45) at coldfusion.filter.ExceptionFilter.invoke(ExceptionFilter.java:96) at coldfusion.filter.BrowserDebugFilter.invoke(BrowserDebugFilter.java:78) at coldfusion.filter.ClientScopePersistenceFilter.invoke(ClientScopePersistenceFilter.java:28) at coldfusion.filter.BrowserFilter.invoke(BrowserFilter.java:38) at coldfusion.filter.NoCacheFilter.invoke(NoCacheFilter.java:60) at coldfusion.filter.GlobalsFilter.invoke(GlobalsFilter.java:38) at coldfusion.filter.DatasourceFilter.invoke(DatasourceFilter.java:22) at coldfusion.filter.CachingFilter.invoke(CachingFilter.java:62) at coldfusion.CfmServlet.service(CfmServlet.java:226) at coldfusion.bootstrap.BootstrapServlet.service(BootstrapServlet.java:311) at org.apache.catalina.core.ApplicationFilterChain.internalDoFilter(ApplicationFilterChain.java:231) at org.apache.catalina.core.ApplicationFilterChain.doFilter(ApplicationFilterChain.java:166) at coldfusion.monitor.event.MonitoringServletFilter.doFilter(MonitoringServletFilter.java:46) at coldfusion.bootstrap.BootstrapFilter.doFilter(BootstrapFilter.java:47) at org.apache.catalina.core.ApplicationFilterChain.internalDoFilter(ApplicationFilterChain.java:193) at org.apache.catalina.core.ApplicationFilterChain.doFilter(ApplicationFilterChain.java:166) at org.apache.tomcat.websocket.server.WsFilter.doFilter(WsFilter.java:53) at org.apache.catalina.core.ApplicationFilterChain.internalDoFilter(ApplicationFilterChain.java:193) at org.apache.catalina.core.ApplicationFilterChain.doFilter(ApplicationFilterChain.java:166) at org.apache.catalina.core.StandardWrapperValve.invoke(StandardWrapperValve.java:199) at org.apache.catalina.core.StandardContextValve.invoke(StandardContextValve.java:96) at org.apache.catalina.authenticator.AuthenticatorBase.invoke(AuthenticatorBase.java:491) at org.apache.catalina.core.StandardHostValve.invoke(StandardHostValve.java:139) at org.apache.catalina.valves.ErrorReportValve.invoke(ErrorReportValve.java:92) at org.apache.catalina.valves.RemoteIpValve.invoke(RemoteIpValve.java:685) at org.apache.catalina.core.StandardEngineValve.invoke(StandardEngineValve.java:87) at org.apache.catalina.connector.CoyoteAdapter.service(CoyoteAdapter.java:357) at org.apache.coyote.ajp.AjpProcessor.service(AjpProcessor.java:422) at org.apache.coyote.AbstractProcessorLight.process(AbstractProcessorLight.java:66) at org.apache.coyote.AbstractProtocol$ConnectionHandler.process(AbstractProtocol.java:764) at org.apache.tomcat.util.net.NioEndpoint$SocketProcessor.doRun(NioEndpoint.java:1388) at org.apache.tomcat.util.net.SocketProcessorBase.run(SocketProcessorBase.java:49) at java.base/java.util.concurrent.ThreadPoolExecutor.runWorker(ThreadPoolExecutor.java:1128) at java.base/java.util.concurrent.ThreadPoolExecutor$Worker.run(ThreadPoolExecutor.java:628) at org.apache.tomcat.util.threads.TaskThread$WrappingRunnable.run(TaskThread.java:61) at java.base/java.lang.Thread.run(Thread.java:834)
Suppressed
TagContext

array
1

struct
COLUMN
0
ID
CFQUERY
LINE
29
RAW_TRACE
at cf1row3items2ecfm679456892.runPage(/var/www/html/misterart.com/views/components/1row3items.cfm:29)
TEMPLATE
/var/www/html/misterart.com/views/components/1row3items.cfm
TYPE
CFML

2

struct
COLUMN
0
ID
CFINCLUDE
LINE
711
RAW_TRACE
at cfgroupdetails2ecfm1794534649._factor15(/var/www/html/misterart.com/views/category/groupdetails.cfm:711)
TEMPLATE
/var/www/html/misterart.com/views/category/groupdetails.cfm
TYPE
CFML

3

struct
COLUMN
0
ID
CF_GROUPDETAILS
LINE
175
RAW_TRACE
at cfgroupdetails2ecfm1794534649._factor20(/var/www/html/misterart.com/views/category/groupdetails.cfm:175)
TEMPLATE
/var/www/html/misterart.com/views/category/groupdetails.cfm
TYPE
CFML

4

struct
COLUMN
0
ID
CF_GROUPDETAILS
LINE
8
RAW_TRACE
at cfgroupdetails2ecfm1794534649._factor21(/var/www/html/misterart.com/views/category/groupdetails.cfm:8)
TEMPLATE
/var/www/html/misterart.com/views/category/groupdetails.cfm
TYPE
CFML

5

struct
COLUMN
0
ID
CF_GROUPDETAILS
LINE
1
RAW_TRACE
at cfgroupdetails2ecfm1794534649.runPage(/var/www/html/misterart.com/views/category/groupdetails.cfm:1)
TEMPLATE
/var/www/html/misterart.com/views/category/groupdetails.cfm
TYPE
CFML

6

struct
COLUMN
0
ID
CFINCLUDE
LINE
13
RAW_TRACE
at cflayout32ecfm1035591831.runPage(/var/www/html/misterart.com/views/layout/layout3.cfm:13)
TEMPLATE
/var/www/html/misterart.com/views/layout/layout3.cfm
TYPE
CFML

7

struct
COLUMN
0
ID
CFINCLUDE
LINE
407
RAW_TRACE
at cfindex2ecfm158854119.runPage(/var/www/html/misterart.com/index.cfm:407)
TEMPLATE
/var/www/html/misterart.com/index.cfm
TYPE
CFML

Type
java.sql.SQLTransactionRollbackException

DataSource
MA3
Detail
[Macromedia][SQLServer JDBC Driver][SQLServer]Transaction (Process ID 411) was deadlocked on lock | communication buffer resources with another process and has been chosen as the deadlock victim. Rerun the transaction.
ErrorCode
40001
Exceptions

array
1

struct
class
java.sql.SQLTransactionRollbackException
message
[Macromedia][SQLServer JDBC Driver][SQLServer]Transaction (Process ID 411) was deadlocked on lock | communication buffer resources with another process and has been chosen as the deadlock victim. Rerun the transaction.

Message
Error Executing Database Query.
NativeErrorCode
1205
RootCause

struct
ErrorCode
1205
Message
[Macromedia][SQLServer JDBC Driver][SQLServer]Transaction (Process ID 411) was deadlocked on lock | communication buffer resources with another process and has been chosen as the deadlock victim. Rerun the transaction.
SQLState
40001
StackTrace
java.sql.SQLTransactionRollbackException: [Macromedia][SQLServer JDBC Driver][SQLServer]Transaction (Process ID 411) was deadlocked on lock | communication buffer resources with another process and has been chosen as the deadlock victim. Rerun the transaction. at macromedia.jdbc.sqlserverbase.ddcw.b(Unknown Source) at macromedia.jdbc.sqlserverbase.ddcw.a(Unknown Source) at macromedia.jdbc.sqlserverbase.ddcv.b(Unknown Source) at macromedia.jdbc.sqlserverbase.ddcv.a(Unknown Source) at macromedia.jdbc.sqlserver.tds.ddr.v(Unknown Source) at macromedia.jdbc.sqlserver.tds.ddr.a(Unknown Source) at macromedia.jdbc.sqlserver.tds.ddr.c(Unknown Source) at macromedia.jdbc.sqlserver.dda4.m(Unknown Source) at macromedia.jdbc.sqlserverbase.dde7.e(Unknown Source) at macromedia.jdbc.sqlserverbase.dde7.a(Unknown Source) at macromedia.jdbc.sqlserverbase.dde7.x(Unknown Source) at macromedia.jdbc.sqlserverbase.dde7.t(Unknown Source) at macromedia.jdbc.sqlserverbase.dde7.execute(Unknown Source) at coldfusion.server.j2ee.sql.JRunStatement.execute(JRunStatement.java:359) at coldfusion.sql.Executive.executeQuery(Executive.java:1567) at coldfusion.sql.Executive.executeQuery(Executive.java:1317) at coldfusion.sql.Executive.executeQuery(Executive.java:1247) at coldfusion.sql.SqlImpl.execute(SqlImpl.java:427) at coldfusion.tagext.sql.QueryTag.executeQuery(QueryTag.java:1211) at coldfusion.tagext.sql.QueryTag.startQueryExecution(QueryTag.java:841) at coldfusion.tagext.sql.QueryTag.doEndTag(QueryTag.java:794) at cf1row3items2ecfm679456892.runPage(/var/www/html/misterart.com/views/components/1row3items.cfm:29) at coldfusion.runtime.CfJspPage.invoke(CfJspPage.java:262) at coldfusion.tagext.lang.IncludeTag.handlePageInvoke(IncludeTag.java:729) at coldfusion.tagext.lang.IncludeTag.doStartTag(IncludeTag.java:565) at coldfusion.runtime.CfJspPage._emptyTcfTag(CfJspPage.java:4082) at cfgroupdetails2ecfm1794534649._factor15(/var/www/html/misterart.com/views/category/groupdetails.cfm:711) at cfgroupdetails2ecfm1794534649._factor20(/var/www/html/misterart.com/views/category/groupdetails.cfm:175) at cfgroupdetails2ecfm1794534649._factor21(/var/www/html/misterart.com/views/category/groupdetails.cfm:8) at cfgroupdetails2ecfm1794534649.runPage(/var/www/html/misterart.com/views/category/groupdetails.cfm:1) at coldfusion.runtime.CfJspPage.invoke(CfJspPage.java:262) at coldfusion.tagext.lang.IncludeTag.handlePageInvoke(IncludeTag.java:729) at coldfusion.tagext.lang.IncludeTag.doStartTag(IncludeTag.java:565) at coldfusion.runtime.CfJspPage._emptyTcfTag(CfJspPage.java:4082) at cflayout32ecfm1035591831.runPage(/var/www/html/misterart.com/views/layout/layout3.cfm:13) at coldfusion.runtime.CfJspPage.invoke(CfJspPage.java:262) at coldfusion.tagext.lang.IncludeTag.handlePageInvoke(IncludeTag.java:729) at coldfusion.tagext.lang.IncludeTag.doStartTag(IncludeTag.java:565) at coldfusion.runtime.CfJspPage._emptyTcfTag(CfJspPage.java:4082) at cfindex2ecfm158854119.runPage(/var/www/html/misterart.com/index.cfm:407) at coldfusion.runtime.CfJspPage.invoke(CfJspPage.java:262) at coldfusion.tagext.lang.IncludeTag.handlePageInvoke(IncludeTag.java:729) at coldfusion.tagext.lang.IncludeTag.doStartTag(IncludeTag.java:565) at coldfusion.filter.CfincludeFilter.invoke(CfincludeFilter.java:65) at coldfusion.filter.ApplicationFilter.invoke(ApplicationFilter.java:557) at coldfusion.filter.RequestMonitorFilter.invoke(RequestMonitorFilter.java:43) at coldfusion.filter.MonitoringFilter.invoke(MonitoringFilter.java:40) at coldfusion.filter.PathFilter.invoke(PathFilter.java:162) at coldfusion.filter.IpFilter.invoke(IpFilter.java:45) at coldfusion.filter.ExceptionFilter.invoke(ExceptionFilter.java:96) at coldfusion.filter.BrowserDebugFilter.invoke(BrowserDebugFilter.java:78) at coldfusion.filter.ClientScopePersistenceFilter.invoke(ClientScopePersistenceFilter.java:28) at coldfusion.filter.BrowserFilter.invoke(BrowserFilter.java:38) at coldfusion.filter.NoCacheFilter.invoke(NoCacheFilter.java:60) at coldfusion.filter.GlobalsFilter.invoke(GlobalsFilter.java:38) at coldfusion.filter.DatasourceFilter.invoke(DatasourceFilter.java:22) at coldfusion.filter.CachingFilter.invoke(CachingFilter.java:62) at coldfusion.CfmServlet.service(CfmServlet.java:226) at coldfusion.bootstrap.BootstrapServlet.service(BootstrapServlet.java:311) at org.apache.catalina.core.ApplicationFilterChain.internalDoFilter(ApplicationFilterChain.java:231) at org.apache.catalina.core.ApplicationFilterChain.doFilter(ApplicationFilterChain.java:166) at coldfusion.monitor.event.MonitoringServletFilter.doFilter(MonitoringServletFilter.java:46) at coldfusion.bootstrap.BootstrapFilter.doFilter(BootstrapFilter.java:47) at org.apache.catalina.core.ApplicationFilterChain.internalDoFilter(ApplicationFilterChain.java:193) at org.apache.catalina.core.ApplicationFilterChain.doFilter(ApplicationFilterChain.java:166) at org.apache.tomcat.websocket.server.WsFilter.doFilter(WsFilter.java:53) at org.apache.catalina.core.ApplicationFilterChain.internalDoFilter(ApplicationFilterChain.java:193) at org.apache.catalina.core.ApplicationFilterChain.doFilter(ApplicationFilterChain.java:166) at org.apache.catalina.core.StandardWrapperValve.invoke(StandardWrapperValve.java:199) at org.apache.catalina.core.StandardContextValve.invoke(StandardContextValve.java:96) at org.apache.catalina.authenticator.AuthenticatorBase.invoke(AuthenticatorBase.java:491) at org.apache.catalina.core.StandardHostValve.invoke(StandardHostValve.java:139) at org.apache.catalina.valves.ErrorReportValve.invoke(ErrorReportValve.java:92) at org.apache.catalina.valves.RemoteIpValve.invoke(RemoteIpValve.java:685) at org.apache.catalina.core.StandardEngineValve.invoke(StandardEngineValve.java:87) at org.apache.catalina.connector.CoyoteAdapter.service(CoyoteAdapter.java:357) at org.apache.coyote.ajp.AjpProcessor.service(AjpProcessor.java:422) at org.apache.coyote.AbstractProcessorLight.process(AbstractProcessorLight.java:66) at org.apache.coyote.AbstractProtocol$ConnectionHandler.process(AbstractProtocol.java:764) at org.apache.tomcat.util.net.NioEndpoint$SocketProcessor.doRun(NioEndpoint.java:1388) at org.apache.tomcat.util.net.SocketProcessorBase.run(SocketProcessorBase.java:49) at java.base/java.util.concurrent.ThreadPoolExecutor.runWorker(ThreadPoolExecutor.java:1128) at java.base/java.util.concurrent.ThreadPoolExecutor$Worker.run(ThreadPoolExecutor.java:628) at org.apache.tomcat.util.threads.TaskThread$WrappingRunnable.run(TaskThread.java:61) at java.base/java.lang.Thread.run(Thread.java:834)
Suppressed
TagContext

array
1

struct
COLUMN
0
ID
CFQUERY
LINE
29
RAW_TRACE
at cf1row3items2ecfm679456892.runPage(/var/www/html/misterart.com/views/components/1row3items.cfm:29)
TEMPLATE
/var/www/html/misterart.com/views/components/1row3items.cfm
TYPE
CFML

2

struct
COLUMN
0
ID
CFINCLUDE
LINE
711
RAW_TRACE
at cfgroupdetails2ecfm1794534649._factor15(/var/www/html/misterart.com/views/category/groupdetails.cfm:711)
TEMPLATE
/var/www/html/misterart.com/views/category/groupdetails.cfm
TYPE
CFML

3

struct
COLUMN
0
ID
CF_GROUPDETAILS
LINE
175
RAW_TRACE
at cfgroupdetails2ecfm1794534649._factor20(/var/www/html/misterart.com/views/category/groupdetails.cfm:175)
TEMPLATE
/var/www/html/misterart.com/views/category/groupdetails.cfm
TYPE
CFML

4

struct
COLUMN
0
ID
CF_GROUPDETAILS
LINE
8
RAW_TRACE
at cfgroupdetails2ecfm1794534649._factor21(/var/www/html/misterart.com/views/category/groupdetails.cfm:8)
TEMPLATE
/var/www/html/misterart.com/views/category/groupdetails.cfm
TYPE
CFML

5

struct
COLUMN
0
ID
CF_GROUPDETAILS
LINE
1
RAW_TRACE
at cfgroupdetails2ecfm1794534649.runPage(/var/www/html/misterart.com/views/category/groupdetails.cfm:1)
TEMPLATE
/var/www/html/misterart.com/views/category/groupdetails.cfm
TYPE
CFML

6

struct
COLUMN
0
ID
CFINCLUDE
LINE
13
RAW_TRACE
at cflayout32ecfm1035591831.runPage(/var/www/html/misterart.com/views/layout/layout3.cfm:13)
TEMPLATE
/var/www/html/misterart.com/views/layout/layout3.cfm
TYPE
CFML

7

struct
COLUMN
0
ID
CFINCLUDE
LINE
407
RAW_TRACE
at cfindex2ecfm158854119.runPage(/var/www/html/misterart.com/index.cfm:407)
TEMPLATE
/var/www/html/misterart.com/index.cfm
TYPE
CFML

Type
java.sql.SQLTransactionRollbackException

SQLState
40001
Sql
UPDATE group_2_group_new set counter = counter + 1 WHERE group_id = 2010 AND related_group_id = 7783
StackTrace
coldfusion.tagext.sql.QueryTag$DatabaseQueryException: Error Executing Database Query. at coldfusion.tagext.sql.QueryTag.startQueryExecution(QueryTag.java:894) at coldfusion.tagext.sql.QueryTag.doEndTag(QueryTag.java:794) at cf1row3items2ecfm679456892.runPage(/var/www/html/misterart.com/views/components/1row3items.cfm:29) at coldfusion.runtime.CfJspPage.invoke(CfJspPage.java:262) at coldfusion.tagext.lang.IncludeTag.handlePageInvoke(IncludeTag.java:729) at coldfusion.tagext.lang.IncludeTag.doStartTag(IncludeTag.java:565) at coldfusion.runtime.CfJspPage._emptyTcfTag(CfJspPage.java:4082) at cfgroupdetails2ecfm1794534649._factor15(/var/www/html/misterart.com/views/category/groupdetails.cfm:711) at cfgroupdetails2ecfm1794534649._factor20(/var/www/html/misterart.com/views/category/groupdetails.cfm:175) at cfgroupdetails2ecfm1794534649._factor21(/var/www/html/misterart.com/views/category/groupdetails.cfm:8) at cfgroupdetails2ecfm1794534649.runPage(/var/www/html/misterart.com/views/category/groupdetails.cfm:1) at coldfusion.runtime.CfJspPage.invoke(CfJspPage.java:262) at coldfusion.tagext.lang.IncludeTag.handlePageInvoke(IncludeTag.java:729) at coldfusion.tagext.lang.IncludeTag.doStartTag(IncludeTag.java:565) at coldfusion.runtime.CfJspPage._emptyTcfTag(CfJspPage.java:4082) at cflayout32ecfm1035591831.runPage(/var/www/html/misterart.com/views/layout/layout3.cfm:13) at coldfusion.runtime.CfJspPage.invoke(CfJspPage.java:262) at coldfusion.tagext.lang.IncludeTag.handlePageInvoke(IncludeTag.java:729) at coldfusion.tagext.lang.IncludeTag.doStartTag(IncludeTag.java:565) at coldfusion.runtime.CfJspPage._emptyTcfTag(CfJspPage.java:4082) at cfindex2ecfm158854119.runPage(/var/www/html/misterart.com/index.cfm:407) at coldfusion.runtime.CfJspPage.invoke(CfJspPage.java:262) at coldfusion.tagext.lang.IncludeTag.handlePageInvoke(IncludeTag.java:729) at coldfusion.tagext.lang.IncludeTag.doStartTag(IncludeTag.java:565) at coldfusion.filter.CfincludeFilter.invoke(CfincludeFilter.java:65) at coldfusion.filter.ApplicationFilter.invoke(ApplicationFilter.java:557) at coldfusion.filter.RequestMonitorFilter.invoke(RequestMonitorFilter.java:43) at coldfusion.filter.MonitoringFilter.invoke(MonitoringFilter.java:40) at coldfusion.filter.PathFilter.invoke(PathFilter.java:162) at coldfusion.filter.IpFilter.invoke(IpFilter.java:45) at coldfusion.filter.ExceptionFilter.invoke(ExceptionFilter.java:96) at coldfusion.filter.BrowserDebugFilter.invoke(BrowserDebugFilter.java:78) at coldfusion.filter.ClientScopePersistenceFilter.invoke(ClientScopePersistenceFilter.java:28) at coldfusion.filter.BrowserFilter.invoke(BrowserFilter.java:38) at coldfusion.filter.NoCacheFilter.invoke(NoCacheFilter.java:60) at coldfusion.filter.GlobalsFilter.invoke(GlobalsFilter.java:38) at coldfusion.filter.DatasourceFilter.invoke(DatasourceFilter.java:22) at coldfusion.filter.CachingFilter.invoke(CachingFilter.java:62) at coldfusion.CfmServlet.service(CfmServlet.java:226) at coldfusion.bootstrap.BootstrapServlet.service(BootstrapServlet.java:311) at org.apache.catalina.core.ApplicationFilterChain.internalDoFilter(ApplicationFilterChain.java:231) at org.apache.catalina.core.ApplicationFilterChain.doFilter(ApplicationFilterChain.java:166) at coldfusion.monitor.event.MonitoringServletFilter.doFilter(MonitoringServletFilter.java:46) at coldfusion.bootstrap.BootstrapFilter.doFilter(BootstrapFilter.java:47) at org.apache.catalina.core.ApplicationFilterChain.internalDoFilter(ApplicationFilterChain.java:193) at org.apache.catalina.core.ApplicationFilterChain.doFilter(ApplicationFilterChain.java:166) at org.apache.tomcat.websocket.server.WsFilter.doFilter(WsFilter.java:53) at org.apache.catalina.core.ApplicationFilterChain.internalDoFilter(ApplicationFilterChain.java:193) at org.apache.catalina.core.ApplicationFilterChain.doFilter(ApplicationFilterChain.java:166) at org.apache.catalina.core.StandardWrapperValve.invoke(StandardWrapperValve.java:199) at org.apache.catalina.core.StandardContextValve.invoke(StandardContextValve.java:96) at org.apache.catalina.authenticator.AuthenticatorBase.invoke(AuthenticatorBase.java:491) at org.apache.catalina.core.StandardHostValve.invoke(StandardHostValve.java:139) at org.apache.catalina.valves.ErrorReportValve.invoke(ErrorReportValve.java:92) at org.apache.catalina.valves.RemoteIpValve.invoke(RemoteIpValve.java:685) at org.apache.catalina.core.StandardEngineValve.invoke(StandardEngineValve.java:87) at org.apache.catalina.connector.CoyoteAdapter.service(CoyoteAdapter.java:357) at org.apache.coyote.ajp.AjpProcessor.service(AjpProcessor.java:422) at org.apache.coyote.AbstractProcessorLight.process(AbstractProcessorLight.java:66) at org.apache.coyote.AbstractProtocol$ConnectionHandler.process(AbstractProtocol.java:764) at org.apache.tomcat.util.net.NioEndpoint$SocketProcessor.doRun(NioEndpoint.java:1388) at org.apache.tomcat.util.net.SocketProcessorBase.run(SocketProcessorBase.java:49) at java.base/java.util.concurrent.ThreadPoolExecutor.runWorker(ThreadPoolExecutor.java:1128) at java.base/java.util.concurrent.ThreadPoolExecutor$Worker.run(ThreadPoolExecutor.java:628) at org.apache.tomcat.util.threads.TaskThread$WrappingRunnable.run(TaskThread.java:61) at java.base/java.lang.Thread.run(Thread.java:834) Caused by: java.sql.SQLTransactionRollbackException: [Macromedia][SQLServer JDBC Driver][SQLServer]Transaction (Process ID 411) was deadlocked on lock | communication buffer resources with another process and has been chosen as the deadlock victim. Rerun the transaction. at macromedia.jdbc.sqlserverbase.ddcw.b(Unknown Source) at macromedia.jdbc.sqlserverbase.ddcw.a(Unknown Source) at macromedia.jdbc.sqlserverbase.ddcv.b(Unknown Source) at macromedia.jdbc.sqlserverbase.ddcv.a(Unknown Source) at macromedia.jdbc.sqlserver.tds.ddr.v(Unknown Source) at macromedia.jdbc.sqlserver.tds.ddr.a(Unknown Source) at macromedia.jdbc.sqlserver.tds.ddr.c(Unknown Source) at macromedia.jdbc.sqlserver.dda4.m(Unknown Source) at macromedia.jdbc.sqlserverbase.dde7.e(Unknown Source) at macromedia.jdbc.sqlserverbase.dde7.a(Unknown Source) at macromedia.jdbc.sqlserverbase.dde7.x(Unknown Source) at macromedia.jdbc.sqlserverbase.dde7.t(Unknown Source) at macromedia.jdbc.sqlserverbase.dde7.execute(Unknown Source) at coldfusion.server.j2ee.sql.JRunStatement.execute(JRunStatement.java:359) at coldfusion.sql.Executive.executeQuery(Executive.java:1567) at coldfusion.sql.Executive.executeQuery(Executive.java:1317) at coldfusion.sql.Executive.executeQuery(Executive.java:1247) at coldfusion.sql.SqlImpl.execute(SqlImpl.java:427) at coldfusion.tagext.sql.QueryTag.executeQuery(QueryTag.java:1211) at coldfusion.tagext.sql.QueryTag.startQueryExecution(QueryTag.java:841) ... 65 more
Suppressed
TagContext

array
1

struct
COLUMN
0
ID
CFQUERY
LINE
29
RAW_TRACE
at cf1row3items2ecfm679456892.runPage(/var/www/html/misterart.com/views/components/1row3items.cfm:29)
TEMPLATE
/var/www/html/misterart.com/views/components/1row3items.cfm
TYPE
CFML

2

struct
COLUMN
0
ID
CFINCLUDE
LINE
711
RAW_TRACE
at cfgroupdetails2ecfm1794534649._factor15(/var/www/html/misterart.com/views/category/groupdetails.cfm:711)
TEMPLATE
/var/www/html/misterart.com/views/category/groupdetails.cfm
TYPE
CFML

3

struct
COLUMN
0
ID
CF_GROUPDETAILS
LINE
175
RAW_TRACE
at cfgroupdetails2ecfm1794534649._factor20(/var/www/html/misterart.com/views/category/groupdetails.cfm:175)
TEMPLATE
/var/www/html/misterart.com/views/category/groupdetails.cfm
TYPE
CFML

4

struct
COLUMN
0
ID
CF_GROUPDETAILS
LINE
8
RAW_TRACE
at cfgroupdetails2ecfm1794534649._factor21(/var/www/html/misterart.com/views/category/groupdetails.cfm:8)
TEMPLATE
/var/www/html/misterart.com/views/category/groupdetails.cfm
TYPE
CFML

5

struct
COLUMN
0
ID
CF_GROUPDETAILS
LINE
1
RAW_TRACE
at cfgroupdetails2ecfm1794534649.runPage(/var/www/html/misterart.com/views/category/groupdetails.cfm:1)
TEMPLATE
/var/www/html/misterart.com/views/category/groupdetails.cfm
TYPE
CFML

6

struct
COLUMN
0
ID
CFINCLUDE
LINE
13
RAW_TRACE
at cflayout32ecfm1035591831.runPage(/var/www/html/misterart.com/views/layout/layout3.cfm:13)
TEMPLATE
/var/www/html/misterart.com/views/layout/layout3.cfm
TYPE
CFML

7

struct
COLUMN
0
ID
CFINCLUDE
LINE
407
RAW_TRACE
at cfindex2ecfm158854119.runPage(/var/www/html/misterart.com/index.cfm:407)
TEMPLATE
/var/www/html/misterart.com/index.cfm
TYPE
CFML

Type
Database
queryError
[Macromedia][SQLServer JDBC Driver][SQLServer]Transaction (Process ID 411) was deadlocked on lock | communication buffer resources with another process and has been chosen as the deadlock victim. Rerun the transaction.
where
[empty string]