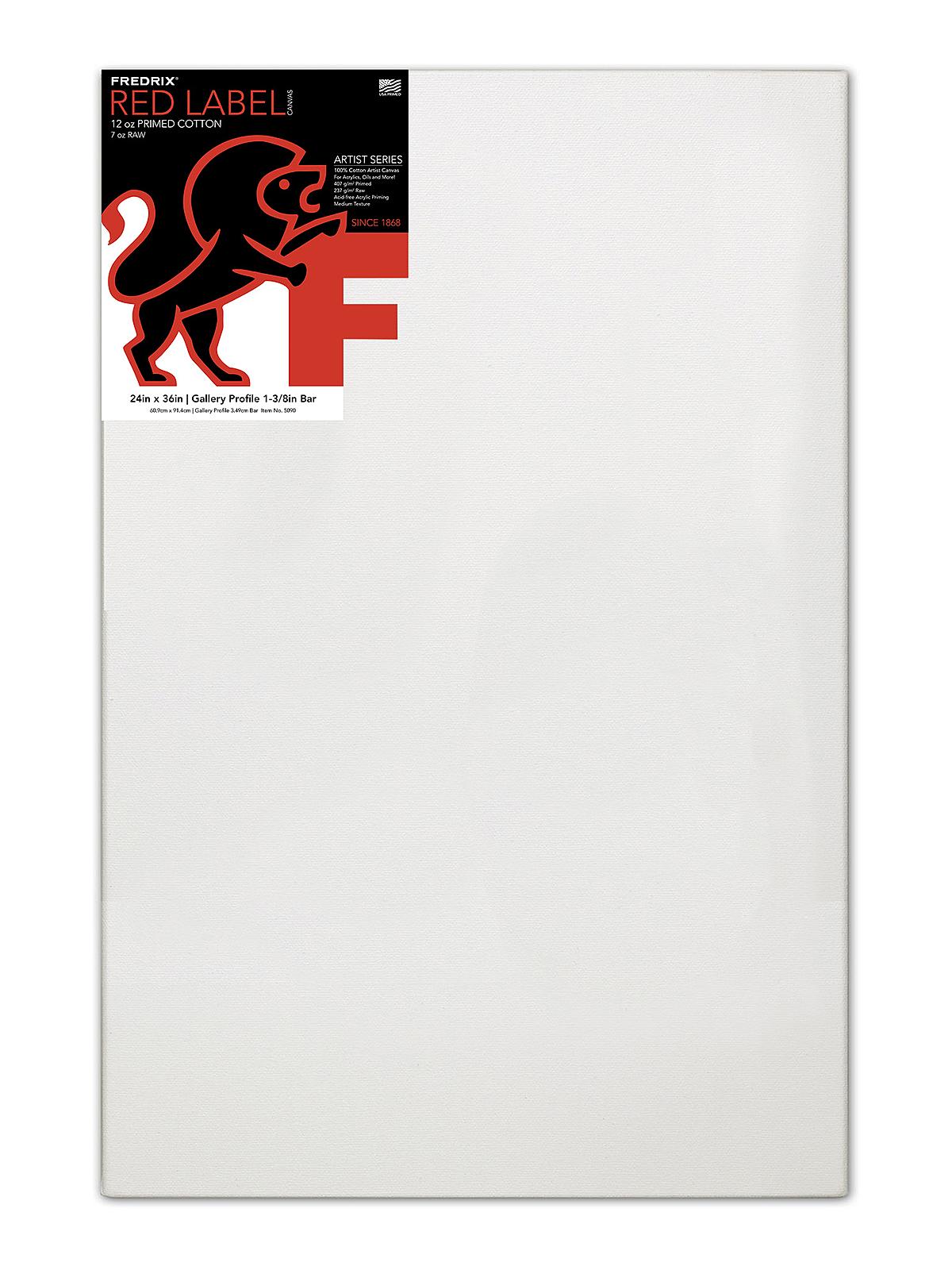 Zoom Image
Red Label Gallerywrap Stretched Canvas
by Fredrix

Because Red Label Gallerywrap Stretched Canvases are stapled on the back rather than on the edges, you can paint all four sides and hang them with or without a picture frame. Every canvas is made from acid free, medium weight cotton duck with a medium texture – not too rough and not too smooth.
Red Label Gallerywrap Stretched Canvases are double primed and provide an excellent support for both oil and acrylic paints. They are mounted on heavy duty, gallery style stretcher frames and are 1 1/2 in. deep.
Sizes that include cross bracing: 24 in. x 48 in., 30 in. x 40 in., 36 in. x 48 in., 36 in. x 60 in., and 48 in. x 60 in.
Sizes that include double bracing: 48 in. x 48 in.


?
Ask a question about this product
Suzie M. from Toledo, OH says:
The quality and service at Misterart.com is fantastic! the canvases I ordered look great and were packed beautifully. GREAT customer service and quality. I would recommend any artist to purchase from...[more]
Share this Product
Enter Quantity & Click 'Add to Cart'
Please wait...
You May Also Like...
The practical, economical, and durable alternative
How to get VIP Club Prices
Anyone can be a VIP Member with:
Additional savings on all products
Express order handling
Exclusive promotions
Priority customer service
Your email will not be shared. We will only use your email address to respond to your question. When asking your question, please be as descriptive as possible, it will allow us to give you the most accurate answer possible.


Customer Product Reviews
Rated by: Suzie M. in Toledo, OH

The quality and service at Misterart.com is fantastic! the canvases I ordered look great and were packed beautifully. GREAT customer service and quality. I would recommend any artist to purchase from you. Thank you again and keep up the excellent work!

Rated by: Deb in Oregon

I've always had good results with Fredrix gallery wrapped canvas. Top quality at a good price.

Rated by: RON BURTON in SPEEDWAY,IN 46224

I paint quite a few paintings on your canvases and am quite pleased with the great quality of them and your service is always very punctual!!! Thank you, Ron Burton

Rated by: ron b. in speedway, in

I like the Gallery Wrap canvas as I like to paint around the edges and saves the price of framing the painting when displaying them to sell... It lets the purchaser decide whether to frame or not. The unframed look is more and more popular. I have painted on Fredrix canvas for years and is my canvas of choice...

Rated by: Barbara R. in Fort LAuderdale, FL

Best prestretched deal anywhere! Constant quality and superior surface.

Rated by: James C. in La Quinta, CA

I am very happy with the product. I wish the canvases were packed facing inward as I've received two packages with severe damage to the canvas face.

Rated by: Sheila G. in Ashland, OH

Fredrix Gallerywrap are tightly stretched and has a nice even texture.

Rated by: Diane E. in New York, NY

Don't like these canvases at all, the sides have the canvas folded over in such a way that when you paint the sides the ridges of canvas are emphasized in their bumpiness. I ended up donating them all to a children's art program, and will not buy Fredrix Gallery canvases again. Also, they are much heavier than other brands.

Rated by: normie g. in st. teresa, FL

great product and price!

Rated by: Chasity H. in JONESBORO, AR

Great Product!! I looked everywhere for a canvas this large and this is the only website that I could find that carried it.

Rated by: Judith C. in Laveen, AZ

Very high quality, great price. Glad I shopped MisterArt.com for this canvas! The delivery by Fed.Ex. was prompt and efficient. Already recommended MisterArt.com to a friend and will continue to shop MisterArt.com for my professional needs!!

Rated by: Rosemary H. in Flagstaff, AZ

I love the heavy duty quality of this canvas and the price is the best I have found anywhere.

Rated by: J.D. F. in St. Louis, MO

This was the first gallerywrap stretched canvas I've ever bought and I have to say I was very impressed with the quality. I got a great product considering how little I paid!

Rated by: Vincent L. in Williamsville, NY

great value, excellent service, great workmanship on the product. I will order more.

Rated by: Eleanor G. in New York, NY

I love these because I could never do as good a job at stretching canvas. Those corners are wonderful. What keeps me from 5 stars is two quirky annoyances, which I hope MisterArt will convey to Fredrix. First, they supply only 4 keys. Now every artist knows that it takes 2 keys per corner, so 8 keys would be needed! Second, They staple the manufacturer's paper label to the frame. That is really disgusting, since the staples leave holes and are hard to take out!

Rated by: P B. in Moses Lake, WA

This was my first order from MisterArt.com and I was delighted when it came and was just exactly what I wanted. The quality is superb. I couldn't believe the price for such quality canvas. I'll definitely be ordering all my supplies on this site.

Rated by: Ivana M. in Wellington, FL

I couldn't find 30"x 30" x 1 1/2" gallery wrap anywhere else but here. The quality is very good and delivery was much earlier than I have expected.

Rated by: Chandra B. in Pipersville, PA

This is the second time I've ordered this brand. I love the quality and the availability of different sizes.

Rated by: Aaron N. in brooklyn, NY

Good quality canvas. The bonus is the 1 1/2in deep frames, I can't paint on any prestretched canvas thinner and the fact that it comes in some awkward dimensions that you can't get from some of the competitors.

Rated by: Kara G. in Collierville, TN

If your looking for a canvas that is tight yet smooth to paint on ~ this is it! It is the right canvas for me at the right price.

Rated by: Robert L B. in Fort Worth, TX

I love this canvas. The bounce you get from painting with a knife is fun. I like painting the edges. This is the only gallery wrap canvas that I will buy.

Rated by: Shannon H. in Kaaawa, HI

I try to use Fredrick gallery wrap with all my art. I like how they finish off when the picture is finished. They hold the paint well, and I like the fact they are stapled on the back. slh

Rated by: D B. in Houston, TX

Very nice quality and price. Will definitely order again!

Rated by: kuzana o. in Los Alamos, NM

a great product: canvas was tightly stretched, corners neatly wrapped, and stretcher bars were a good weight

Rated by: nicole b. in buffalo, NY

I am glad I ordered these canvases here. The price was right and delivery was quick!

Rated by: Carole B. in Jackson, MS

Gallery wrapped canvas' are great! Yours are the best I've ever painted with and I plan to use them again. Thanks for a wonderful product!

Rated by: lee g. in Vienna, VA

I haven't painted anything but walls and woodwork for years but with an empty nest I can be me again. I had a couple of canvases from a national arts and crafts chain which are sad indeed compaired to your canvases. I feel I will get professional looking work with these.

Rated by: Douglas B. in Memphis, TN

I love the depth of the frame, which allows hanging without a molded frame and the ability to add an additional color element(s) as desired. The canvas is very tight and gives me a better feel for my brush strokes. Great product!!!

Rated by: Janet B. in Wise, VA

I was thrilled when I received my canvases. The quality is supberb. I have never painted on such a nice canves.

Rated by: brittany z. in gainesville, GA

this canvas is great. very durable and well put togather.

Rated by: jim j. in ornge bch, AL

Everything came in on time and in super packaging. Quality was excellent. Thanks.

Rated by: C. T. in Atoka, TN

I needed a specific size canvas that was hard to find. Misterart was the only place I found online that had this size canvas in stock. And the price was great too!

Rated by: hope h. in dallas, GA

love love love gallerywrap canvas!

Rated by: Lisa G. in Charleston, SC

Great quality, great price!

Rated by: mitzi a. in destin, FL

Great quality, always consistent

Rated by: Rebecca M. in Centerville, MA

THIS ARE MY FAVORITE CANVAS.I love the fact that they don't need framing which is a savings for the artist. They look great, feel great to paint on and with Mister Art they are truly affordable.

Rated by: Melissa C. in Lafayette, LA

This canvas has a nice quality surface for acrylic painting.

Rated by: Ginny B. in Hailey, ID

I know you really don't need another review of the Fredrix Gallerywrap canvases, but I wanted to write one anyway. I had written previously that I liked the Winsor & Newton which was fine when I was painting smaller (16 x 20). I found myself painting larger and larger and needed to find a different canvas after the Winsor & Newton 24 x 30 canvas warped on me after I had sold it and it was hanging in someone's house. I ordered some extra-duty stretcher bars and when I traveled to that city, restretched the canvas for the buyer. I was not happy about it. These Fedrix Gallerywrap canvases are great; strong enough to handle quite a bit of paint, and as far as I can tell would be nearly impossible to warp. I buy them by cases of three and then I get about four cases at a time as it costs a lot for oversized shipping and it was the same price if I bought several cases more. Overall, I bought 4 cases in several sizes from 30 x 40 to 48 x 48 and when I figured it out (even with the oversized truck shipping) I was spending around $52 per canvas. I am thrilled with the quality and price.

Rated by: Tracy J. in athens, GA

Used to buy these by Tara canvas' in all sizes under the Utecht label at Atlanta store till Untrect went w/a Chinese maker. Wasn't as good and lots more$. Found out Tara/Fredix was the maker and they are based in Lawrenceville, GA, near me. They make a quality product and Mr. Art'sprice beats anyone's. Got shippment overnight for commissions needed fast. A++++++++to both

Rated by: Linda H. in Lincoln, NE

I just started painting on Fredrix Gallerywrap canvas. I am so impressed with the stability and quality of the canvas. I am using a 48x48, and 48x60, they were shipped so well packed and arrived in great condition! I will continue to order this canvas. Great qualityand price.

Rated by: richard s. in Houston, TX

After 30 years of being a perfectionist and demanding the quality of a personally stretched canvas and materials control, one company has delivered a cost effectived high quality product that saves great effort with perfect results. Why work so hard on the non-creative elements of creation when others provide an excellent and dependable outcome!

Rated by: Joanne L. in San Miguel, CA

Sonetimes Fredrix canvas has flaws in the surface that is hard to see until it has been painted. Other than that it is good.

Rated by: angele m. in fayetteville, AR

GREAT price on these!! great product...very expensive usually... good value!

Rated by: jessica w. in seymour, CT

great quality, fantasic pricing & packing.

Rated by: Caroline F. in Dallas, TX

Absolutely love the FREDRIX Gallerywrap Stretched Canvas. It has increased the value of my artwork tremendously! It is all I will use going forward with my artwork.

Rated by: Sheree R. in Saint Petersburg, FL

Like everything I buy from MisterArt, this product is superb. I love the canvas, but a really LOVE MisterArt. It is the best!!

Rated by: Melanie U. in Dawsonville, GA

I love this product! The quality is wonderful along with the price! Will definetly purchase this item again.

Rated by: Marcin K. in west milford, NJ

good canvas, I'm very glad

Rated by: Rebecca G. in Juneau, AK

this is a high quality product at the best price i could find. i have paid much higher prices and can now buy larger quanities because of the discount at MisterArt!

Rated by: Carla N. in Lake Havasu, AZ

I absolutely love these canvases! Not only are the a terrific price, they are made so well and great to paint on. Thanks.

Rated by: wendy s. in Hendersonville, TN

I love the 48x48 canvas. I especially like the gallery edge. I ordered 3 because of the great price and it was the same shipping 1 versus 3.

Rated by: diane . in new york, NY

These canvases are great - I love the deep sides, and the overall look of quality!

Rated by: lisa m. in cincinnati, OH

Nicely made canvases and you can't beat this price!

Rated by: Lisa W. in memphis, TN

I am very happy with the service mister art provided. Ordering via the internet was fast and simple, their response was immediate and professional, and I was amazed at how quickly I recieved my order. After shopping around for canvas at several places, I found this to be the best value for my money, and will only order from mister art from now on!

Rated by: Angelika K. in Oakton, VA

Great canvas for a good price. Works well with acrylic. Looks good even without a frame.

Rated by: Victoria B. in San Antonio, TX

I love this canvas for oil painting. It has a fine texture and and accepts and holds paint beautifully. The pricing is great and I am particularly fond of the 20" X 20" canvasses.

Rated by: Jeffrey F. in Muskegon, MI

Great quality and fast delivery! Thank you!

Rated by: Terry B. in Orlando, FL

I ordered Fredrix Gallery Wrap canvas which turned out to be a great purchase. Delivered in a timely fasion and packaged well. Thanks Misterart.com

Rated by: Donna s. in ocala, FL

great canvas at great price, will buy from again.

Rated by: soo c. in naperville, IL

Love the stuff, especially when i can get them on sale.

Rated by: Mary D. in Kinder, LA

The best canvas you can buy! Durable and doesn't warp. The staples are on the back, so framing is not necessary. A wonderful product!

Rated by: cindy m. in Opelika, AL

I have enjoyed painting on this canvas. They are very durable and excellent results with every oil I do. Thank you.

Rated by: Evelyn D. in Miami, FL

These are the best canvases and the best prices.

Rated by: diane . in New York, NY

These canvases are great, and for the price, they can't be beat! I love the deep 1.5" sides, and the quality of the canvas. You've got my business for the future!

Rated by: louis m. in glendale, AZ

gallery wrap canvases are excellent. prices is right and the quality is good. plus it includes the keys for tightening corners

Rated by: Carol B. in Snowflake, AZ

I love these. I can't believe how good your prices are. I buy exclusively from misterart.com.

Rated by: Dave G. in New York, NY

best canvas around, and MisterArt.com has the Best prices!

Rated by: Jessi E. in Hendersonville, NC

Received canvas in perfect condition. High quality, best price I could find. New customer who will be back again and again!

Rated by: Dave G. in Levittown, NY

Fredrix canvases are super high quality. The prices on Misterart.com are excellent, I canot find them cheaper anywhere. Dedicated member.

Rated by: Janice M. C. in Hughes Springs, TX

Finding extremely large canvases is very difficult. Finding good quality, very large canvases is almost impossible. These canvases are great. They work beautifully for oil, acrylic and multimedia. I couldn't be happier. And the price isn't bad either. A great buy for any artist who doesn't want to stretch their own canvas.

Rated by: Carol M. in Franklinville, NJ

This is the best canvas on the market today. I have been able to increase the prices of my portraits and paintings, because these canvases are so impressive. I will never buy another kind of canvas.

Rated by: meg p. in naperville, IL

I was thrilled to receive the gallery wrapped stretched canvas'. They are of the most premium quality, with a very reasonable price point. I will definitely be ordering more in the near future!

Rated by: sherry m. in beautiful Golden, CO

Really love the big Gallery Wrap Canvas, they're very well made, priced great and arrived quickly in excellent condition.What more could one ask for, Thanks Misterart.com!

Rated by: louis m. in glendale, AZ

recently my gallery wrap canvases have been real good. nice and taut with solid stretchers. good stability and the price, although not as inexpensive as what I can get in Canada, is reasonable. I am satisfied.

Rated by: David C. in Ashland, KY

I am continually amazed by your fast service. You are now my ONLY supplier. I have bought more than $1,000 worth of canvas and paint in the past several months... I'll keep comiing back.

Rated by: Kandi T. in Ironton, OH

I absolutely LOVE these canvases! They were well packaged, and the quality far exceeded my expectations. I have not found them cheaper anywhere else..thank you MisterArt.com!

Rated by: Martha M. in Valrico, FL

My large canvases came securely packed and were delivered right on time.

Rated by: christian m. in los angeles, CA

good value, fast shipping!

Rated by: Anne M. in Washington, DC

My canvases arrived last week and they are the best deal around for the gallery wrap style. The price is wonderful and the shipping efficient.

Rated by: Barbara H. in Groves, TX

I tried this for the first time and love it. Smooth canvas and no need for a frame.

Rated by: Emmy M. in Marrero, LA

I decided to buy gallery wrap canvas as an experiment and found that MisterArt.com provides a variety of sizes at a reasonable cost. These canvases are very easy to paint on, hold lots of paint and I find the heaviness reassuring. Also, I don't have to buy frames! So, I can create beautiful paintings at a reasonable cost. Hurray!

Rated by: Lisa M. in Southbridge, MA

This product is excellent as well as economical. I've checked around and found that it costs more to purchase small heavy duty stretcher bars, canvas etc. than to purchase the ready made through MisterArt.com. I will purchase all my ready-made canvas' here.

Rated by: orna B. in Brooklyn, NY

These are very resonably priced pre assembled frames. But it would be great to have the choice of having streched canvas or just assembled frames. Often I require a different weight canvas and must rip existing canvas off which is usually difficult as they are exerburantly stapled. Still, it works out much better value than making my own frames, and these are more sturdy. I would be more than willing to pay the same price less canvas.

Rated by: Tori S. in Seattle, WA

Excellent canvas, and very unique sizes. These canvases don't warp with heavy paint unlike others!
Add Your Review
Tell us what you think. We appreciate you taking the time to share your opinion with other artists and crafters. Please keep your review detailed and specific.
Tips on Writing Reviews
Rating Scale
(5-Star) Excellent
(4-Star) Good
(3-Star) Average
(2-Star) Fair
(1-Star) Poor
Do:
Give your perspective on how you used the product and why you liked or disliked it.
Keep your reviews short enough to hold the audience's attention.
Be honest and mindful of others when providing editorial commentary.
Don't:
Include phone numbers, addresses, URLs, or HTML tags.
Write profanity, obscenities, vulgarities, or spiteful comments.
Make defamatory comments.