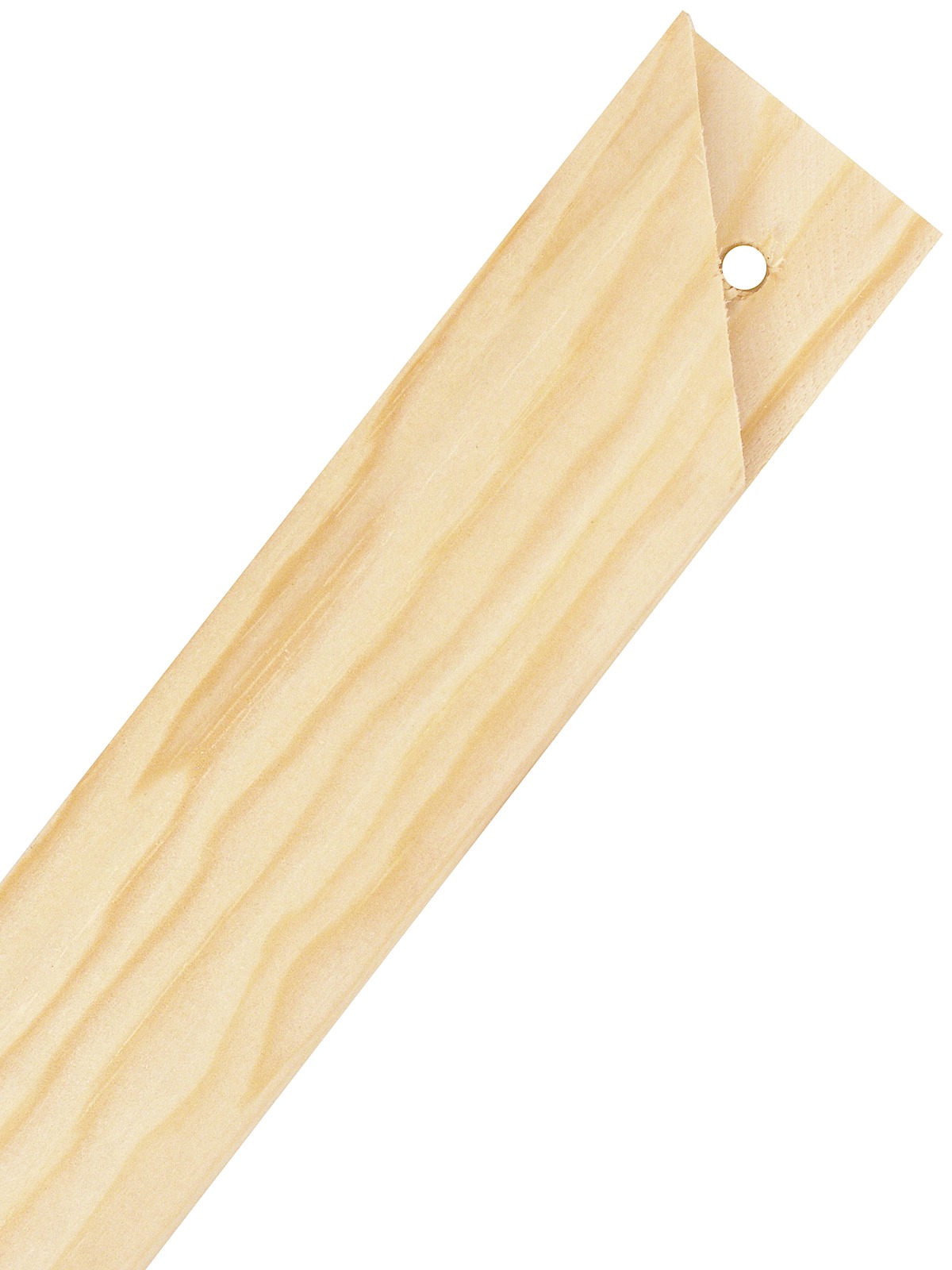 Zoom Image

Standard tongue and groove stretcher strips, kiln dried to prevent warping. Fits all brands that conform to standard dimensions of 1 9/16 in. x 11/16 in. Strips sold individually.
?
Ask a question about this product
Per from Anacortes, WA says:
I have used your frames for several years, and most of the various sizes. I print on canvas. They are great and I will continue to use them.
Share this Product
Enter Quantity & Click 'Add to Cart'
Please wait...
You May Also Like...
by X-Acto

Keep your tools sharp effortlessly
How to get VIP Club Prices
Anyone can be a VIP Member with:
Additional savings on all products
Express order handling
Exclusive promotions
Priority customer service
Your email will not be shared. We will only use your email address to respond to your question. When asking your question, please be as descriptive as possible, it will allow us to give you the most accurate answer possible.


Customer Product Reviews
Rated by: Per in Anacortes, WA

I have used your frames for several years, and most of the various sizes. I print on canvas. They are great and I will continue to use them.

Rated by: Tamara H. in Mansfield, GA

Great price, fast delivery, product was what I expected. It's hard to find a 9" stretcher bar, but you had the best selection.

Rated by: Jim in Wasilla, AK

I've ordered several sizes of these stretcher strips on a couple of different occasions and never had a bad one. Nice sturdy stretchers at a bargain price!

Rated by: Paul R. in Union Grove, WI

I always receive my order in a few days - always accurate and equal in quality to what I can purchase locally. -And always more economical - shipping included.

Rated by: roxana d. in newburgh, NY

Very good product! and the price is more than perfect. Really I'm telling everybody who needs art suplies about MisterArt.com, the shipping was on time and the customer service by phone are very nice and genteel.

Rated by: Kathy B. in mesa, AZ

I ordered 40 of these stretcher strips and not one of them was warped or cut incorrectly. I was very happy with the quality and will continue to purchase my stretcher strips here. You can't beat the price either!

Rated by: kathy l. in Maui, HI

These bars are great, they "match up" together easily for a good fit. The price is perfect.

Rated by: Renee G. in Holly springs, MS

I have used these stretchers for several years. They are consistently straight and fit together better than some of the more expensive ones I have bought. MisterArt packages them extremely well.

Rated by: Jamie N. in Hyannis, MA

Great, great price. I will keep coming back everytime. Quality of these strips are better than most costing much more. Thanks MisterArt!!

Rated by: Lyle M. in Berthoud, CO

These work well and represent a fine value. I have used them in combination with other brands and the fit is fine!

Rated by: Jill W. in Avondale, PA

I was pleased with my purchase. The quality, price, and speed of shipment was excellent. I've done business with your competitor and was not satisfied.

Rated by: Maria F. in Henryville, PA

Very good.

Rated by: Carolyn B. in Livingston Manor, NY

High quality product at a great price. Have priced all over and this is the best. The service and speedy delivery just make it that much better. Will continue to use MisterArt.com for my framing needs.

Rated by: Sheri R. in Norwalk, CT

I purchased these stretchers for pictures I picked up in Tanzania. They were approximately 40% cheaper than our local dealer. I am very pleased with my purchase. Each stretcher fit perfectly with no problems at all. I am not an artist, nor have I ever done this type of work before, so I am glad all went without a hitch.

Rated by: Kristin B. in eau claire, WI

When I first received the stretcher strips one was not cut right and the other had a crack in it. However, right when I called the customer service person had new ones at my door within a week free of charge. I was very impressed with your customer service.

Rated by: Siona M. in Atlanta, GA

These strips fit together extremely well; they almost glide into one another...very smooth and great quality. Never had a problem with warping either...

Rated by: Mary D. in chicago, IL

I have repeatedly bought these stretchers and they are really great, i just had one that I couldnt staple into, luckily i had backup. But overall, great price, and great product.

Rated by: Amanda M. in Seneca, SC

I was pleased with the quality of these stretcher strips, and with the price. I ordered quite a few at once, and none were warped or flawed, which I cannot say for other brands. I was impressed.

Rated by: Renee . in Holly Springs, MS

Good stretchers for the price. Mine were nice and straight.

Rated by: Carolyn R. in Dewey, AZ

These stretcher bars are really nice, straight and solid. The pricing is so reasonable. Great product.

Rated by: Olga T. in Aibonito, PR

Ordered for the first time from your site and everything arrived in mint condition. Only one thing shipping was a little slow. Recieved confirmation that my order shipped on the 18th and it took several weeks to arrive. I also purchase crafting material from another web site and placed my order on a Saturday and it arrived on the following Wednesday. Same service USPS. But I like everything I got from you and have passed on your site to my family and friends in the states. I definitely will be ordering again.

Rated by: tara k. in Sayre, PA

Good quality product and you really cant beat the price. This is the lowest price I have been able to find anywhere.

Rated by: Carolyn B. in Livingston Manor, NY

Tried other places but the high quality of these stretcher strips is outstanding and the price is very good.

Rated by: Candy G. in Redlands, CA

great price

Rated by: naushad a. in sunrise, FL

Very good quality at a very reasonable price. Sure will go for more. Thanks Discovery.

Rated by: Priyo M. in Fremont, CA

Excellent price. Great packaging on shipment. Great quality product.

Rated by: Anthony L. in Chino Hills, CA

When I 1st found this site - I could Not Believe the price of these Stretch Bars... Plus when I recieved my order I was more than pleased on the quality. Thanks Guys you saved me alot of $$$.

Rated by: W M. in Birmingham, AL

Comparable to Fredrix - if I didn't know better, I'd say they were one and the same. Discovery and Fredrix will fit together (I just did it). Do yourself a favor, though. They don't cost very much, so order two of every one you need because you will occasionally get a slightly warped strip.

Rated by: Mary R. in Manassas, VA

I was very pleased with the stretcher strips. Typically with other companies a minimum order is required, and if only 20 strips are needed (for 5 canvases), it is very frustrating to have to second guess what sizes to order so that a minimum of 48 can be purchased. With no minimum required, quick delivery, excellent prices, and very good quality I will definitely order these again!

Rated by: Judah B. in Philadelphia, PA

Stretched canvas has much tighter, clean edges with these stretcher bars.

Rated by: Patricia B. in Chicopee, MA

The strips are of high quality and the price is the best I've found.

Rated by: Pamela L. in San Gabriel, CA

Good price, fast shipping and good quality!!

Rated by: Angel D. in chicago, IL

Awesome quality stretchers, and amazing price! I will definitely be back!

Rated by: John L. J. in Chattanooga, TN

The price is the best. The stretcher bars are of a great quality especially for the new artist and profesional artist. I would recommend them to all.

Rated by: Kathleen H. in Tyler, TX

I can't tell anyone how wonderful it is to find a site that has everything you need. I needed canvas stretcher strips and could not find them in our area. Amazingly I found everything I needed on this one site. I will always use this site.

Rated by: Robert W. in Gulf Coast, MS

I was concerned about quality at such a low price. This product is VERY good. Straighter and better machined than some stretcher bars from a different source. The price can't be beat. I'll order again.

Rated by: Kimberley D. in Ketchikan, AK

Shipping and packaging was excellent. The product itself was great for the price, but you get what you pay for in this case. Being that they are individual pieces they don't always fit perfectly together. Order extra pieces just in case.

Rated by: David M. in Fitchburg, WI

Have ordered a number of times. Good quality control and a reliable stock item.

Rated by: Leah B. in East Providence, RI

Great! They work very well. I like them better than the Fredrix bars.

Rated by: Aline B. in Cary, NC

The Stretcher strips were a great deal, and thanks for the prompt delivery.

Rated by: Candace G. in redlands, CA

A couple of not perfect strips were quickly replaced no questions asked - that's great customer service!

Rated by: Linda D. in Shawnee, OK

Very dependable middle of the road stretchers for a bargain price.

Rated by: Pamela P. in Ronkonkoma, NY

Great price, fast shipping.

Rated by: Brad C. in Paoli, CO

The Discovery Strecher Strips I ordered are very long. I am pleasantly surprised that they are perfectly straight. Good quality, economical, thanks for the good service.

Rated by: Candace G. in Redlands, CA

As always, great quality, great price!

Rated by: Christopher R. in Bar Harbor, ME

Can beat the price and quality... together they are unbeatable.

Rated by: TERI P. in SPRINGFIELD, MA

I WAS VERY PLEASED WITH THE QUALITY AND EASE TO USE THESE STRIPS.

Rated by: Kenneth H. in Webster Groves, MO

Can't beat the price and quality. After shipping I still found that the cost is about 1/2 of that of my local art store.

Rated by: Candace G. in Redlands, CA

These were great! Fit was nice and tight, clear wood, no knots, and the price was great! Thanks

Rated by: Bill D. in Naugtuck, CT

Purchased supplies here for my first time. One of the smoothest transactions i've ever been involved with...even tracking of the items...super service and i'm sure i'll purchase products from this efficient courteous supplier. Thanks

Rated by: Bill T. in Pittsburgh, PA

I'm far from an art guru, but I am somewhat of a perfectionist. The stretcher boards were all of perfect shape and length. When connected, they formed a perfect corner with absolutely no gaps on either side. The end result looked professionally framed, so there are no complaints whatsoever from here. Thanks a bunch for the great savings and excellent product.

Rated by: Gina L. in Mission Viejo, CA

The stretcher strips worked out great. They slid in easily and I liked that there were stickers on them and not imprinted sizes, so both sided could be used.

Rated by: Rodney L. M. in Easton, PA

Excellent Service!!!!!!!!!!

Rated by: Meghan S. in North Royalton, OH

I've been stretching canvas for many years now, but never have I needed to buy so many stretchers at one time. MisterArt made it very easy to order, had fast shipping, great prices, and the stretchers I received are wonderful! I wouldn't hesitate for a second to order from this site again!

Rated by: Marnel H. in Brevard County, FL

I am thrilled with this product. They are much sturdier than other brands I have used and stay at a 90 degree angle better than I have previously experienced with the"hobby Lobby" brand. Also easier than building your own from the hardware store. I will continue to buy these.

Rated by: Suzy B. in St. Louis, MO

These stretcher strips are so nice - well constructed - and a good value, too!

Rated by: Leon O. in Skokie, IL

Great wood quality - the only thing I am disappointed in is the sharp edges - they are not rounded to when you stretch the canvas it may crack in places because of the corner. I had to buy a machine and round one edge of each bar. But the wood is good and they are nice and streight compared to the FUR bars I purchased from another seller.

Rated by: deborah c. in dana point, CA

Love the stretcher bars but disappointed there weren't corner pieces to lock them together!

Rated by: Veronica J. in Cottonwood, AZ

Easy to use, always true fit.

Rated by: Jim S. in Estancia, NM

Good product, good price, will buy again

Rated by: Lila G. in Chester, MT

This is the second time I have ordered from Misterart and have been very pleased with the stretcher bars. Great quality and a great price as well!

Rated by: christine g. in paragould, AR

Great price and good shipping. I am very happy with the bars and use them often!

Rated by: Luis M. in Hunacao, PR

Very good quality item for the price. Lowest price I've found with very reasonable shipping rates.

Rated by: Mike K. in Lakeland, FL

First time purchasing stretcher strips. I stretched a 48"x36" canvas and everything went well. I did make a center support because the 48" stretchers would bow in when I began to stretch the canvas. Would certainly buy again.

Rated by: Jose J. in Sugar Land, TX

Great product. No problem assembling this!

Rated by: Yvonne E. in Hood River, OR

Item is great, just what I expected. Shipping was fast and well packed. Thank you.

Rated by: Andrew W. in Glenview, IL

I am buying Discovery strips for about two years. The quality is good. I love the low prices, and quick delivery.

Rated by: Arlissa D. in Greenville, NC

The price is great and the quality is good. So far I haven't seen any warping, even with a canvas as large as 48"x30". The only drawback is that these stretcher bars are a little tight to put together, you've really got to use some strength to push them in the grooves.

Rated by: Ara Lou P. in Naples, FL

The stretchers arrived in perfect condition and are of good quality. The purchase was smooth and delivery was quick. I will order from MisterArt again.

Rated by: Mary K. in Essexville, MI

Great price! Great product! Wonderful selection of sizes!!!

Rated by: Debra S. in Seattle, WA

Sturdy, clean, BEST price, best range of sizes, occasionally some small splinteres at the miters, but over all a very nice product.

Rated by: Hilary W. in Chicago, IL

Great quality & great price! I'm a professional artist and need custom size stretcher bars, plus something affordable! Have purchased many times, never warped or cut wrong. High quality, A+++++!

Rated by: Carole A. in Columbia, MD

Very easy to use. Good quality. Great value.

Rated by: Sharon R. in Weston, MO

The discovery strips are a good quality and a good value.

Rated by: Judy O. in Quantico, MD

I wanted an easier and faster method for constructing my canvases. These stretcher strips filled the job.

Rated by: Karen S. in Spanish Fort, AL

Works great and easy to use. Saved a lot of money doing the framing myself.

Rated by: Melodie W. in Warminster, PA

Perfectly meet my needs in a cost-effective way. Easy to use and durable.

Rated by: Magdalena G. in Detroit, MI

Great deal. Worth the price. Better quality then expected. Would recommend.

Rated by: stanley w. in englewood, FL

Great items. Easy to use. Thanks

Rated by: R Z. in eBay Area, CA

Very quick service, well packed, EZ to assemble, just as advertised. Thanks

Rated by: chris g. in paragould, AR

Excellent product. Easy to put together and at a great price!

Rated by: Richard C. in Bethany, CT

These stretcher strips work as well or better than any others available and they do it for less money. I know because I stretch hundreds of canvas giclees each month.

Rated by: alice c. in Ellensburg, WA

you can't beat this price. And the quality is better than expected. Will re-order again.

Rated by: myra c. in memphis, TN

I was pleased with how quick these arrived and how easy they were to use!

Rated by: Helga R. in McLean, VA

Great value, quick service

Rated by: Renee . in Holly Springs, MS

Reorder--always a great buy for the price..

Rated by: RON S. in NYACK, NY

REORDER IS GREAT AGAIN ****** A+ *******

Rated by: ron s. in Nyack, NY

******** A OK ******* priced good

Rated by: John S. in Stockton, CA

Inexpensive, and good quality. Easy to assemble.

Rated by: Dilok M. in Sylmar, CA

Best Price I found.

Rated by: Renee . in Holly Springs, MS

They fit together better than some of the Fredrix brand I have bought.. a few were a little loose fitting but i always staple the corners anyway. When i have need to econonmize I WILL buy these again.

Rated by: Sarina J. in San Francisco, CA

These stretchers are of average quality and priced appropriately. Be careful when putting them together as some grooves are not a perfect fit and require gentle maneuvering to fit snugly.

Rated by: Gail S. in New Bedford, MA

I actually purchased the stretcher strips to make fabric shutters for my windows, and they're perfect! The quality of workmanship in the strips far exceeded what I would have expected for such a low-cost product! I will buy more to make shutters for all of my windows!

Rated by: James S. in La Porte, TX

The stretcher bars I purchased were in excellent condition and were basically without flaws -- they fit together well, did not interfere with the canvas, and were very reasonably priced.

Rated by: Claudia C. in Los Angeles, CA

Wonderful quality stretcher bars, easy assembly, snug fit, and much better quality than commercial art-store variety.

Rated by: Sorin A. in Philadelphia, PA

I framed a 48X32 painting with no previous experience pretty easy

Rated by: Mariesa R. in Bradley, IL

The longer ones are very flimsy but the small ones (30 and lower) are pretty good.

Rated by: Dimitris P. in Los Angeles, CA

Awesome! These are much less expensive than the local art stores and thicker wood. Highly recommended!

Rated by: Trevor C. in norwalk, OH

Great value for money!

Rated by: David C. in Bend, OR

Very adequate for small to medium canvases, but they can flex a bit on large canvases. Can't beat the price!

Rated by: elaine s. in Bradenton, FL

No problem with these stretcher bars. Can't beat the price. Will continue to purchase from MisterArt.com!

Rated by: Nino L. in Baltimore, MD

these stretchers are made from different pieces of wood that have been meshed together..... but despite that fact, they seem pretty sturdy. I did experience a problem with them "curving," though... when I gessoed my stretched canvases, the stertchers were not able to withstand the force, and got deformed. But once the gesso dried, they went back to their normal shape. So, my general overview --- they are ok. not the worst, and not the best. They are worth the price (which is the lowest price I found on line and in stores)... so for that price, it's a GREAT deal, and I DO reccomend them to students who want to save some money.

Rated by: Trevor C. in norwalk, OH

These stretchers may not be the best sold, however they provide excellent value for money! I will continue using these, as I feel they just cant be beat on price.

Rated by: Gil L. in Savannah, GA

These are good stretchers for everyday usage. They fit together precisely and made assembling a project of over 50 canvases a snap! The stretchers are priced individually so be sure to order the correct amount for your project at hand.
Add Your Review
Tell us what you think. We appreciate you taking the time to share your opinion with other artists and crafters. Please keep your review detailed and specific.
Tips on Writing Reviews
Rating Scale
(5-Star) Excellent
(4-Star) Good
(3-Star) Average
(2-Star) Fair
(1-Star) Poor
Do:
Give your perspective on how you used the product and why you liked or disliked it.
Keep your reviews short enough to hold the audience's attention.
Be honest and mindful of others when providing editorial commentary.
Don't:
Include phone numbers, addresses, URLs, or HTML tags.
Write profanity, obscenities, vulgarities, or spiteful comments.
Make defamatory comments.