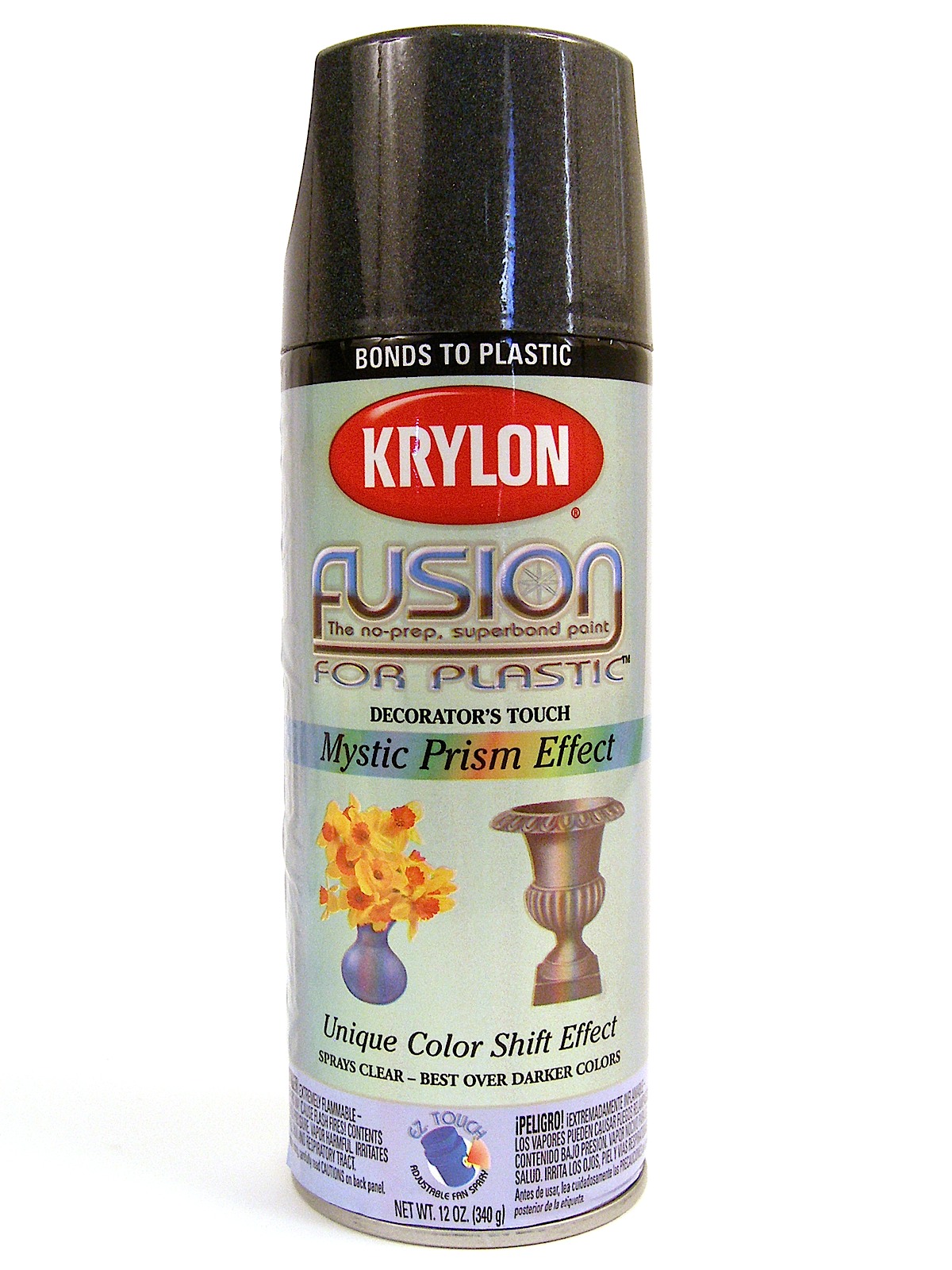 Zoom Image
Fusion Spray Paint for Plastic
by Krylon

Discover this revolutionary paint for plastic--Krylon Fusion. This top-selling paint is the first of its kind that bonds directly to most plastics. Turn a treasured toy into something new again. Get many more years of enjoyment out of your outdoor patio furniture. And don't waste that waste paper basket--simply give it a new coat of paint. No sanding, no priming, no fuss.
Krylon Fusion dries in 15 minutes or less and is fully chip resistant in 7 days. Every can of Krylon Fusion features an EZ Touch Fan Spray Nozzle. In addition to plastic, use Fusion on ceramic, plaster, glass, hard vinyl, metal, paper, papier mache, wicker, and wood.
Fusion Spray Paint for Plastic comes in 12 oz. spray cans.


?
Ask a question about this product | See all questions & answers (16)
cci1492 from Bergen, NJ says:
Color is spot on, too bad I can't find a can that does not spit droplets of paint on the project.
Share this Product
Enter Quantity & Click 'Add to Cart'
Please wait...
You May Also Like...
by Therm O Web

Permanently bond items instantly, neatly, and securely

by X-Acto

Comfortable grip for prolonged use
How to get VIP Club Prices
Anyone can be a VIP Member with:
Additional savings on all products
Express order handling
Exclusive promotions
Priority customer service
Product Questions and Answers
Would I be able to use this on birdfeeders?
- Asked by Chelsie on 08-Jun-14
Answer
This product does not have the AP non-toxic label, so it should not be used in areas that will come in contact with food.
- Answered by MisterArt on 13-Jun-14
---
How long do I have to wait for it to be chip-resistant?
- Asked by Kalat S on 26-Apr-14
Answer
This paint becomes chip-resistant after a set time of seven days.
- Answered by MisterArt on 29-Apr-14
---
Could I use Krylon Fusion on soft vinyl?
- Asked by Frank on 19-Mar-14
Answer
This spray paint works on hard vinyl. The flexibility of soft vinyl may leave the product vulnerable to cracking and chipping.
- Answered by MisterArt on 19-Mar-14
---
Can I use this on Plexiglas?
- Asked by mike f on 24-Feb-14
---
Does this paint come in brush-on form by the gallon?
- Asked by heppy on 30-Jan-14
Answer
Fusion paint is only available in the aerosol spray at this time.
- Answered by MisterArt on 30-Jan-14
---
What is the minimum temperature that this can be used?
- Asked by Ross on 19-Dec-13
Answer
This product is suitable for mild climates that are between 50°- 90° F and a humidity below 85%.
- Answered by MisterArt on 20-Dec-13
---
Can I use this to spray my truck-bed liner?
- Asked by Kenny on 02-Dec-13
Answer
Although it recommends it for patio furniture, etc., it seems like for a truck bed-liner, it would get too much wear and tear to not to chip off. I don't recommend it.
- Answered by MisterArt on 02-Dec-13
---
How opaque is this paint?
- Asked by David on 27-Jun-13
Answer
This product is pretty opaque, so, for example, you should be able to turn black to white without a primer.
- Answered by MisterArt on 28-Jun-13
---
Can you use this on concrete?
- Asked by Marsha Williams on 16-Jun-13
Answer
It is formulated for plastic, and plastic is none-porous while concrete is porous. It could seep in too much.
- Answered by MisterArt on 17-Jun-13
---
Do I have to use a primer first?
- Asked by Vickie J on 22-May-13
Answer
For really bright color you should use a primer, or a lot of the paint could absorb into the surface.
- Answered by MisterArt on 23-May-13
---
Will this work on rubber, such as on a car tire?
- Asked by Vickie J on 22-May-13
Answer
Krylon Fusion works well on rubber, but takes at least 7 days to completely dry.
- Answered by MisterArt on 23-May-13
---
Can this be used outside?
- Asked by MONIKAJO on 13-May-13
Answer
The Krylon Fusion paint can be used outdoors and is fully chip resistant in seven days.
- Answered by MisterArt on 21-May-13
---
Does this work on Formica counter tops and cabinet doors?
- Asked by chip doll on 10-May-13
Answer
This spray is not recommended for use on Formica surfaces.
- Answered by MisterArt on 16-May-13
---
Will this preserve plastic as well as paint it?
- Asked by lembuc on 21-Apr-13
Answer
The Krylon Fusion spray paints do not preserve the plastic.
- Answered by MisterArt on 24-Apr-13
---
Is this oil-based, latex, or water-based?
- Asked by gina on 25-Mar-13
Answer
This is solvent-based, similar to an acrylic paint.
- Answered by MisterArt on 26-Mar-13
---
How does one prepare this product?
- Asked by Joyce on 31-Oct-12
Answer
There is no preparation required in using the Krylon Fusion Spray Paint for Plastic. No sanding or priming is required.
- Answered by MisterArt on 08-Nov-12
---
Ask a Question About Fusion Spray Paint for Plastic

Your email will not be shared. We will only use your email address to respond to your question. When asking your question, please be as descriptive as possible, it will allow us to give you the most accurate answer possible.


Customer Product Reviews
Rated by: cci1492 in Bergen, NJ

Color is spot on, too bad I can't find a can that does not spit droplets of paint on the project.

Rated by: George B. in Lucedale Ms.

In addition to my first review about krylon fusion clear u v protection ; the directions say that if you use a krylon base that the clear will go on white and after 24 hours it will turn clear . Well 4 days later my plastic gun stock is still a pretty pearl white ; not the neat camo paint job I intended . I gave it a far sight more than 24 hours ; I guess it's back to the drawing board !!!!!

Rated by: Nav in Surrey bc

This product was terrible . It splattered . Nozzle got plugged and ruined my box

Rated by: Nav in Surrey bc

This product was terrible . It splattered . Nozzle got plugged and ruined my box

Rated by: Sue Clarke in Fairhaven, MA

This paint is awesome! I had to throw away our old rotted wooden window boxes but couldn't afford to buy all new PVC boxes (my goodness, have you priced them)? I found some cheap plastic fake terra cotta colored ones for $8, painted them with Fusion white, and they look just gorgeous! I also painted all the plastic shutters on my house - no drips, dried quickly, and look great! I was changing from burgundy to white, so it took two coats, but nearly effortless. Now I'm looking around for other things to spray!

Rated by: Eric S. in Dirty D, MI

Always good stuff. Can't go wrong with a good can of Kryo. The tips are kind of Corky from Life Goes On though. Meh, I digress.

Rated by: S J. in Washington, DC

I order this paint through a link on http://www.aquabarrel.com to use on the rain barrels we purchased from them. This paint works GREAT! Check out some of the pictures of the barrels painted with Krylon Fusion paint on http://www.aquabarrel.com

Rated by: Darlene P. in Albany, GA

I used this paint to paint Coroplast. I created 10 large pumpkins for a Halloween yard display. It worked very well. Paint was smooth in application, no splattering.

Rated by: Rita O. in Vienna, VA

This stuff looks great! I was painting my metal shutters and discovered to my dismay that several were plastic. But Fusion worked perfectly on the plastic and all the other surfaces that we've tried it on.

Rated by: Andrea D. in Pawling, NY

I used this product on my ugly, brown plastic kitchen cabinet doors. (yes, 1970's kitchen) It really worked. I used the semi gloss white and it truly looks like I have new cabinets. Great stuff.

Rated by: Lorey -. in Moorpark, CA

I bought this to paint my suitcases. This worked just as indicated.

Rated by: Harold P. in Knoxville, TN

Great paint for just about any surface. Dries fast, making it difficult to accidentally get a sag or run.

Rated by: Sue R. in , MD

Great product-- worked as described. I have painted my rain barrel that I bought from Aquabarrel.com

Rated by: Janet C. in Lawrenceville, GA

Product is excellent.

Rated by: Nancy M. in Potomac, MD

I love this product...great spray, virtually no drip, fast drying. I just can't find all the colors in local stores. Must find a site on web.

Rated by: Michelle P. in north palm beach, FL

Love it, Love it, Love it. I used it to spray my sons battery powered yellow buggy car pink, for my daughter. It looks brand new!!! So easy to use.

Rated by: James V. in Anaheim, CA

Great product, I have used it on my sea doos plastic gas and oil caps, I painted this over 3 years ago and it still has a fresh glossy apperance,just like the day I painted it. I also painted over plastic things and this stuff is strong and tough. Great paint I highly recommend it - JV

Rated by: Kristi S. in Newark, OH

I highly recommend this paint. I have three large, white plastic window box planters, that I wanted to hang on my deck. My home is brick and the deck is stained dark brown, so the white just didn't look right. I bought two cans of Kryon Satin in dark brown, and they coated the planters beautifully! The paint was very easy to use and dried in a flash. AAA+++!

Rated by: Steph B. in Ste-Therese, NY

Get this. I was very scheptical when i purchsed this but low and behold the beauty of it. Great product. Thanks

Rated by: Brenda S. in Camden, AR

Fast and courtious service. Would use them over and over and recommend them.

Rated by: Thomas C. in New York, NY

Highly recommended! I used this paint to reclaim some old patio furniture. Worked like a charm.

Rated by: Luca A. in San Francisco, CA

Amazing Stuff. No Primer. No Sanding. Perfect for plastic chassis of some scooters.

Rated by: vicki r. in new york, NY

loved this product! It works as well on metal as plastic. great cover ability. One drawback is that is took me 8 cans to do a set of outdoor furniture. I wish they made this product also in a paint can.

Rated by: Geraldine M. in Statesboro, GA

The Krylon Fusion paint I ordered was even better than I expected..I am ordering more soon. The service was great..

Rated by: Lynne P. in Los Angeles, CA

I repainted some plastic trash cans when I redecorated the colors in my kitchen and these paints were perfect for the job.

Rated by: Pierre B. in Aberdeen, SD

I wanted to paint a design on my camper spare tire cover and this paint worked great! Everyone was envious in the campground. Thanks so much.

Rated by: christine k. in chicago, IL

MisterArt's mail delivery of spray paint is a lifesaver in Chicago and other areas which ban sales except to contractors. Speedy service and a great product!

Rated by: Cindy K. in Littleton, MA

Everything about this spray paint is superior to others that I have used. From the spray nozzle and the coverage to the dry time and color and finish selection. If it came in a few more colors I would never use another brand.

Rated by: Carlos R. in San Diego, CA

Wonderful Product, color very bright and true. Product works great, exactly what was needed. Perfect for the job at hand.

Rated by: Lewis T. in Philadelphia, PA

Wonderful! I wanted to freshen up my shower area. It has plastic walls that come in standard apartments that had become a dingy beige color. Bought the high gloss white and now it looks like I have a new shower area. Thanks Krylon!

Rated by: Louis C. in Taberg, NY

Purchased one can to try on my plastic shutters. The test shutters came out great! One can covers about 25 linear feet of shutter. I am purchasing more to refinish all the shutters on the house. The paint dosen't spit or sputter when applying...the shutters look like new!

Rated by: Audrey M. in Buckingham, VA

Love it! Plastic paint renews old plastic, changes new into things of beauty! Better price and same quality as that other brand...

Rated by: J... S. in Atlanta, GA

We had a white plastic table and chairs we used at our beach house. I was able to spray just the parts of the table and chairs that were worn (arms, seats, and tabletop), without having to spray the entire set. The paint has worn very well and blends well with the original finish. Set looks 100% better with minimal effort.

Rated by: Francis E. in Palm Coast, GA

Goood colors, good paint, but hard to apply in windy outdoors, and scratches easily.

Rated by: John W. Y. in Pasadena, CA

Paint works great and leaves the plastic like new also love the price. Thanks for a good product.

Rated by: Allison S. in Hartley, IA

This paint was amazing. I searched for the longest time to find the proper color for my metal bed frame and this was it. It looks beautiful and covered the frame so nicely. Thankyou for you service misterart.com

Rated by: Agron S. in New Canaan, CT

This product is excellent the best paint for plastic that I have evered used it sticks right to plastic. Thanks MisterArt ;)

Rated by: Peter S. in Stuart, FL

Great product - I painted my lap top. Looks like a profressional paint job!! Wondering what to paint next ;o)

Rated by: Neal R. in Milwaukee, WI

This paint worked great on my Xbox - oops. I didnt say that. :) Great quality and looked awesome when it dried. Make sure you tape off the parts you dont want to be painted well to make it look sharp.

Rated by: R Q. in pittsburgh, PA

I used this particular paint to mod my iBook and it was awesome on that smooth surface- I didn't sand it at all. It gave a nice flat covering that was opaque but still allowed the LED to shine through the case.

Rated by: Nick C. in Staten Island, NY

I purchased KRYLON Fusion Spray Paint in order to spray paint a monitor I have. I build my own computers and everything is black/blue, but this monitor was off-white. So some spray painting was in order. People told me not to spray paint a monitor and if I did, not to remove the CRT tube form the front face plate. Being that I don't listen I removed the CRT from the frame to get better coverage and to prevent damage to the tube or the other sensitive parts. I didn't use plastic primer and then paint because that will leave a think coat, which I did not want on the monitor especially on top of buttons, so I purchased KRYLON Fusion Spray Paint through MisterArt.com. This spray paint went on thin and covered everything nice and smooth. I was really impressed with the quality of the nozzle on the spray paint bottle itself. It sprayed a nice fine mist and I was able to coveer every inch of the monitor. It has dried and looks fantastic, most people cant even tell that it was painted at all. Excellent product and excellent delivery from MisterArt.com, both get 5/5 from me.

Rated by: Alex L. in Gaithersburg, MD

Great products, used on computer parts and very glad I found this site. No other place had the colors available or even this product. Fast delivery too.

Rated by: Shelly B. in Sacramento, CA

I've looked around but could never find a store that carried many colors until I found this site. I found the perfect color and used it to paint the plastic removable top on my 87 Toyota 4Runner. It was easy to use and went on so well that it doesn't look like I painted it at home - It's great stuff!!

Rated by: T M. in Los Angeles, CA

A fantastic, versatile product. No need to prime, vibrant colors. Artistic uses as well due to ease of use, consistency of paint.

Rated by: Lori G. in Coalinga, CA

Enjoyed this paint very much. With the colours we bought on line and those we were able to buy locally ,we painted every plastic piece of lawn furniture we had and bought some more. Mary Engelbreit would be very proud of our patio. It wears well, takes a beating and cleans up nicely (after grandkids). Love the new spray tips.

Rated by: elberta h. in atwater, OH

When searching and can't find, go to MisterArt.com.

Rated by: jared l. in biloxi, MS

I just had my car painted baby blue and I had it black before. So of course my interior was a dark red. Which of course baby blue and dark red looks nasty toghter. So I went to the store i was recomended Fusion for my plastic parts in my car. So I bought them and now it looks like i bought new parts. It looks like it suppose to be white. So Fusion is the best.

Rated by: Jen R. in Sarasota, FL

I love the Fusion! Used it for an old kiddie pool that clashed with our new home, now it blends in and looks new! I can't even scratch it off with any of the kids pool toys, once it is dry, there is no scratching!

Rated by: Kristen B. in Cleveland, OH

This paint is awesome! Easy application and the product adheres quickly. I should have done my outdoor furniture sooner. Great product!

Rated by: P P. in Purcell, OK

Fusion is the most incredible paint! I used it to bring new life to my vinyl floor tiles. I tested it before I used it...I couldn't even scrub it off with steel wool!! Amazing stuff!! MisterArt.com carried colors I couldn't find anywhere else.

Rated by: Laurie B. in Columbus, OH

Krylon Fusion is absolutely amazing. The colors are true and application is oh-so-easy. I looked everywhere but couldn't find this paint anywhere else but MisterArt.com. MisterArt.com's prices are awesome and shipping is fast. Thanks MisterArt.com!

Rated by: shelly k. in Caledonia, WI

So far so good. I even sprayed it when it was 80 degrees with very high humidity and it still dried within the 15 minutes. Still have to see the weathering over the winter. I sprayed my edging because the original that I had was discontinued and I didn't have enough. The only color available online, through the company, was terra cotta and mine is black. I ordered the edging anyway and sprayed it. We will see..............

Rated by: Mickie V. in Cincinnati, OH

Great stuff. I painted my plastic shutters and they look GREAT. Nozzle doesn't spit and it was the same as any spray paint to apply. I can envision many great uses.

Rated by: Skip Q. in Clearwater, FL

Even though they say that this paint is not water proof I use it on my model sailboats and it does really great!!!!

Rated by: Eileen B. in Toms River, NJ

After hearing so much about this paint, I finally got to try it! It's the best paint I've seen and does exactly what it's described to do. I am very pleased with the paint and plan on purchasing lots more.
Add Your Review
Tell us what you think. We appreciate you taking the time to share your opinion with other artists and crafters. Please keep your review detailed and specific.
Tips on Writing Reviews
Rating Scale
(5-Star) Excellent
(4-Star) Good
(3-Star) Average
(2-Star) Fair
(1-Star) Poor
Do:
Give your perspective on how you used the product and why you liked or disliked it.
Keep your reviews short enough to hold the audience's attention.
Be honest and mindful of others when providing editorial commentary.
Don't:
Include phone numbers, addresses, URLs, or HTML tags.
Write profanity, obscenities, vulgarities, or spiteful comments.
Make defamatory comments.