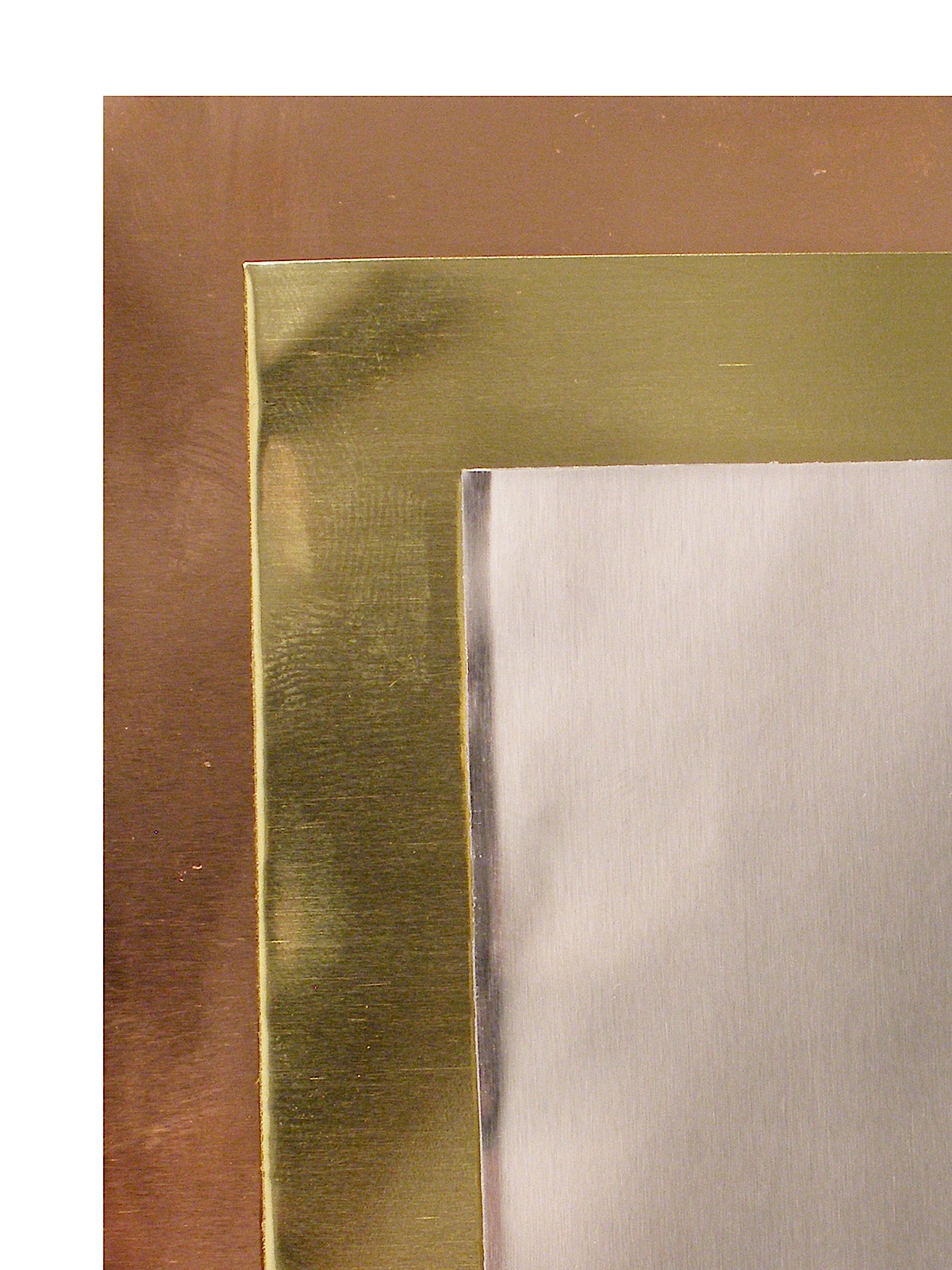 Zoom Image
Metal Tooling Foils

Wilfred J. from Santa Rosa Beach, Fl. says:
I used this foil and a roll of copper foil in an Metal Art project. Both foils are easy to use and I recommend your company to my friends.
Share this Product
Enter Quantity & Click 'Add to Cart'
Please wait...
You May Also Like...
by Pilot

Add luster to your writing
How to get VIP Club Prices
Anyone can be a VIP Member with:
Additional savings on all products
Express order handling
Exclusive promotions
Priority customer service
Product Questions and Answers
Are the rolls coated on both sides?
- Asked by jt on 26-Oct-13
Answer
The rolls are coated on one side.
- Answered by MisterArt on 28-Oct-13
---
Can this foil be used as a bezel for polymer clay?
- Asked by Marilyn Davenport on 29-May-13
Answer
This particular foil is rigid and not very bendable. This foil is more for etching, engraving, and embossing.
- Answered by MisterArt on 31-May-13
---
What are these made of?
- Asked by Magda Castro on 11-Jan-13
Answer
These 5 in. × 5 in. sheets are made of solid aluminum, copper, and brass.
- Answered by MisterArt on 15-Jan-13
---
Can these sheets be cut easily with scissors?
- Asked by Rosemari on 20-Oct-12
Answer
These sheets can be cut easily with household scissors.
- Answered by MisterArt on 26-Oct-12
---
What can I use this for?
- Asked by Rosemari on 20-Oct-12
Answer
They are great for adding an texture and dimension to any crafts project. You can etch and emboss them, for example.
- Answered by MisterArt on 26-Oct-12
---
What is liver of sulfur? Is it antique color?
- Asked by Rosemari on 20-Oct-12
Answer
The liver of sulfur is used as an antiquing solution for cooper.
- Answered by MisterArt on 26-Oct-12
---
Ask a Question About Metal Tooling Foils

Your email will not be shared. We will only use your email address to respond to your question. When asking your question, please be as descriptive as possible, it will allow us to give you the most accurate answer possible.


Customer Product Reviews
Rated by: Wilfred J. in Santa Rosa Beach, Fl.

I used this foil and a roll of copper foil in an Metal Art project. Both foils are easy to use and I recommend your company to my friends.

Rated by: Don Hesson in Arizona

This is an excellent product and MisterArt.com has the best price on the net.

Rated by: Naomi L. in Menlo Park, CA

Perfect for my developing my jewelry designs and machettes. Glad to know you carry this product as it is no longer available in the usual retail craft stores or jewelry supply companies.

Rated by: karen h. in walhonding, OH

product was as stated, my items turned out very well

Rated by: Jena Z. in Greenwood, IN

The actual product was perfect for the metal tooling project that I needed it for, but the rolls were not the length they said they should be when I ordered them. One roll was one inch short and two of the rolls were three inches short. Luckily I ordered an extra roll so I had enough, but if I hadn't, this would have been really bad.

Rated by: Stephanie B. in Corralitos, CA

I used this product to make a project for my sons class. It was perfect. I will be ordering more in the future.

Rated by: Gabriella Y K. in Los Angeles, CA

I was happy about your fast service and quality of your product. Thanks, it helped me a lot.

Rated by: Holly T. in Philadelphia, PA

I ordered a roll of brass and some sheets of copper. They showed up in fine shape. Very nice foil, can be cut with scissors but is fairly sturdy. I made a bezel out of brass and am doing some repousse with the copper.

Rated by: Patricia S. in Tolleson, AZ

I love these! They make even an amateur like me look good. What Good? My finished product looked like a pro had done it. What more can you ask of any product?

Rated by: candy k. in jacksonville, FL

The first ones I got were great and in perfect condition. My second order however was completely unuable, as it was smeared with chocolate and the edges of the brass were tarnished. How this ever got past any sort of quality control is beyond me. I wouldn't take a chance on ordering these if you need clean brass squares.

Rated by: Bridget B. in Union, OR

I used this foil for embossing leaf shapes and it's fantastic. It's soft enough to do the job but not flimsy. I bought eight rolls and would definitely buy more, great buy!

Rated by: Gillian M. in Virginia Beach, VA

Great product and received quickly! Thanks!

Rated by: Cathy M. in Marathon, WI

This product was just what I was looking for. I'm making plant labels and this product saved me a ton of money over ready made products. MisterArt.com has wonderful fast service and great prices. I'll be ordering more of this as I'm almost out.

Rated by: Beth P. in Paso Robles, CA

This product is absolutely wonderful! The children loved that they were using real metal, and I can see this working for lots of different uses. I will definitely be purchasing this again!

Rated by: paul s. in vancouver, WA

i was very pleased with the quick and effecient service i received. i did not expect the product to arrive so fast. with the copper foil, however i should have ordered the "liver of sulpher" to go with it. not one craft or hobby store in vancouver carries it. again thank you. i will order again.

Rated by: Alice C. in Raleigh, NC

Same great 36g metal as other brands for about 30-50% less! I like that!!

Rated by: Dave P. in tustin, CA

Great product, and great service

Rated by: Karen M. in Atlanta, GA

This foil is a good value and works well for metal embossing. I have worked with St. Louis Crafts aluminum, copper and brass.

Rated by: Connie C. in Somerset, WI

Not only was this the ONLY place (besides the manufacturer) to carry this width, it was the least expensive! Screamin' fast delivery. I will order again.

Rated by: Mark H. in Middleton, WI

This is a wonderful product. Very malleable, easy to use. I have used other brands of tooling copper and I have to say this is the best.

Rated by: Don H. in Ocotillo, CA

Excellent product, priced very reasonably and of course Misterarts excellent service.

Rated by: rebecca j. in Pineville, LA

Your service was exceptional, and the product was as stated, good quality and arrived in great shape.

Rated by: Laura A. in Ontario, OR

We used the copper sheeting for craft molds. It was high quality and worked perfectly!

Rated by: Gayle E. in Oviedo, FL

Students embossed the 5x5 inch copper sheets for an auction project at my son's school. All 24 students found it very user friendly. Everyone was amazed at the beauty that could be created out of a 5" piece of copper.

Rated by: elizabeth c. in richmond, CA

I purchased aluminum, copper and bronze metal for a first grade art project to be auctioned at a fundraising event for the school. The metal was perfect and fun for creating embossed tin art with the children. Thank you for offering it at such a great price!

Rated by: Molly S. in Cape Girardeau, MO

This is exactly what I was looking for! I buy several rolls at a time because I can't get anything like it here in small town Missouri. I use a lot of copper in my weavings and with these sheets, I cut it into stips and weave with it. It's beautiful!

Rated by: James B. in Hudson, NC

The medium copper sheets are an excellent value. Designs are easily traced and worked to give a 3D appearance, then antiqued with the liver of sulfer before mounting on a wooden shield.They work well for the copper tooled Coats-of-Arms that I craft for friends and family.

Rated by: Leila L. in Indian Lake, NY

Product was great to work with and the price was great.

Rated by: James R. in Milford, DE

I got two rolls of your tooling foils (copper and aluminum) so I could make a plaque to display my house numbers. The thickness of the metal was perfect for my project, malleable but substantial. I was able to cut out the numbers from the aluminum with an X-acto knife sufficiently so that scissors were hardly necessary. I also got the Liver of Sulfur to "age" the copper which worked beautifully.

Rated by: Peggy R. in Garden Valley, CA

Great product. I am extremely happy with the fast service from your company, and the quality of your products. I will be ordering from you again soon. Thank You!

Rated by: Carol H. in Franklinville, NJ

Great quality copper! Easy to work with.

Rated by: Pamela C. in West Bloomfield, MI

Great price and great quality brass. I use it in a kiln so it has to be pure.

Rated by: Clif W. in APO, AP

My order arrived much sooner than expected, which was a real plus. The 16in. width was exactly what I was looking for. The metal quality is excellent and lends itself to a variety of uses.

Rated by: J. C. in Middletown, NY

The metal sheeting I ordered arrived in perfect packing to avoid damage as it is fragile. It was exactly what I expected it to be in as much as it is so easy to use when cutting...making designs onto,or transfers. I am very happy with both the prodeuct and service I have gotten here..and I will more likely reorder sooner than expected.

Rated by: Kimm O. in Aurora, IL

I used this product for embossing in a craft class. The kids loved the project and the metal was easy to work with.

Rated by: Teresa D. in Eagle, CO

I used this foil to replace an existing top on a dry sink. It was very easy to work with and accomplished the desired result.

Rated by: Lindsay G. in Kettering, OH

I really enjoy working with these rolls of metal. They are sturdy enough to do lots of indenting and embellishments without tearing, but they are also not to tough for my middle school students to cut. The price is pretty fair compared to other places also!

Rated by: Sparkle F. in Oakland, CA

This stuff is the best! If you are interested in using metal in your art, start here. Very easy to work with , affordable, and beautiful! I looked everywhere for a similar product but MisterArt.com always has what I need!

Rated by: Lyubov D. in Culver, IN

It was a joy to get my order on time. Foil is excellent, and I am inspired to have more projects with it. It looks great inside the house and outside, in the garden. Thank you for this product, I will definitely buy more.

Rated by: Lawrence R C. in Palmetto, FL

These are the finest quality metal foils I have seen and they are generally quite hard to find in this area. Thank goodness for MisterArt.com and their online ordering system.

Rated by: Barbara N. in Shelby Township, MI

I have ordered this product twice and it has worked on several projects that I needed to use copper sheets. The quality of the copper sheets is excellent. Shipping of the product was extremely quick and packaged well so that no damage was incurred.

Rated by: Kathryn H. in Sisters, OR

the copper tooling foil works great for my tooling projects. And your price is very good also.

Rated by: Michelle B. in West Lafayette, IN

The copper foil worked wonderfully in my last project (which was an enameled piece). It is easy to work with and easy to form by hand...great price too.

Rated by: Damaris P. in Asheville, NC

The foils are great, perfect thickness and format! Thanks!

Rated by: Anna W. in Fairbanks, AK

The packages of square sheets are great for all kinds of mixed media and decorative uses. Thin enough to cut with scissors and emboss with a simple stylus. The square sheets are great for small projects- you can cut out some pretty intricate shapes with them, and they are nice and flat, so you don't have to deal with the waves and bends that you get from rolled foil.

Rated by: Katherine H. in Richmond, VA

This is exactly what I was looking for but could not find anywhere locally. Easy to cut, shape and withstands water.

Rated by: Stacy D. in Great Falls, MT

I love this stuff! Just what I needed. Not available here in the kinds of quantity MisterArt.com has. What is available locally is always out of stock. I really like working with MisterArt.com.

Rated by: Lori M. in Dallas, PA

This foil was even better than I expected! It was just what I was looking for, but couldn't get in my area.

Rated by: Deborah P. in Amston, CT

I purchased this tooling foil to make punched luminaries with children ages 4-10. It worked beautifully. Even the yougest children were able to create wonderful designs.

Rated by: Carol L. in Pennellville, NY

I bought these foils for scrapbooking. They cut easily with scissors I attached them with eyelets and it looks look "smashing" in my scrapbook pages!

Rated by: Danielle B. in St. Petersburg, FL

I picked the tooling foil to create chinese latterns as Christmas gifts, and they turned out better than I ever expected. Not only was this the best price I found anywhere, but the foil is the best quality I've ever purchased!!

Rated by: Yvonne K. in LaVista, NE

This product is just what I hoped it would be. It was easy to order and arrived much faster than if I shopped my area for it!

Rated by: Jeff T. in Homosassa, FL

I have never incoporated copper in my projects but one came along which was perfect for such. I could not find the copper until using the internet and finding MisterArt.com. Local resources were limited and not exactly what I wanted. The copper purchased here was perfect! Just the right thickness to allow the treatments I desired. The copper product itself - could not have been better.

Rated by: Sally E. in Henning, MN

I knew what I needed to finish my deck project but didn't know where to purchase the items. That was until I found out about MisterArt.com!! The copper foil will be just perfect for the railing post finales.

Rated by: PATRICIA T. in Cincinnati, OH

I had a supply of copper foil I worked on for years. When the supply ran out I couldn't find anyone locally who carried the same product. Thanks to you I have exactly what I need and have a ready source for future orders.

Rated by: michael r. in ledyard, CT

My orchids are happy now that they have a new tray that I made out of the copper sheeting. Only downside is that they are a bit maleable, but then again, that's what makes them so easy to work with.

Rated by: Jayme S. in Hector, MN

The tooling foil was very easy to work with, I only wish I would have purchased more than one color!

Rated by: Connie L. in Jackson, MI

Used this to make leaves for crafts, worked well.

Rated by: Lorri S. in Branford, FL

I used this with our vacation Bible school children and made crosses. The children then punched holes in them to hang out in the yard. The project worked out great and the kids and adults loved them!

Rated by: Bryan C. in Burlington County, NJ

Can't get this at my local A&C store anymore. Quick service, great price!

Rated by: Anne R. in Arlington, MA

Great product at an excellent price.

Rated by: Eva N. in Naperville, IL

Wonderfully rich looking copper foil which can be easily cut with craft scissors. Have recommended this foil and MisterArt.com to family and friends.

Rated by: Judith B. in Albuqueque, NM

Your metal is nice and strong. Just what I was hoping for. Thank you.

Rated by: Dulany L. in La Veta, CO

This is definitley the best Toolong Foil on the market.

Rated by: Patricia M. in Minneapolis, MN

These foils are very good for the work I am experimenting with, pliable and yet resiliant. Fast service, very responsive and good place to deal with. I'd recommend MisterArt.com anytime.

Rated by: Sheri S. in St. Louis, MO

I ordered the copper metal sheeting, and it's perfect for what I need it for. It's pliable enough to cut with a scissors, but still sturdy. The product arrived quickly and in convenient packaging for storage of extras.

Rated by: Laurie R. in Portland, OR

Wonderful product. I do repousse and this foil is great to work with. It shapes nicely without tearing.

Rated by: Kelly W. in saugus, CA

Very easy to work with! I need very few tools to get the desired result. It's great to find such an inexpensive and thin gauge foil for my artwork.

Rated by: L. R. H. in Henderson, TN

I bought the precut sheets, and loved the ease of working with this metal foil. Cuts easily with scissors, great for stampin/scrappin projects.

Rated by: Charlene W. in McMinnville, OR

So happy to finally find copper for punching. Used as inserts in kitchen cabinet. Wonderful to work with. And service was fast and handled wonderfully. Always such a pleasure doing business with MisterArt.com.

Rated by: Janet O. in LaVernge, TN

I am so thankful for this company. I have been looking for copper sheeting that was at least 13" in width. The carft stores only carry 12". I am using the copper as an insert in my kitchen cabnets. The product is very easy to use and I can cut it with a utility knife. Your prices are great. I would have had to pay twice as much in a craft store.
Add Your Review
Tell us what you think. We appreciate you taking the time to share your opinion with other artists and crafters. Please keep your review detailed and specific.
Tips on Writing Reviews
Rating Scale
(5-Star) Excellent
(4-Star) Good
(3-Star) Average
(2-Star) Fair
(1-Star) Poor
Do:
Give your perspective on how you used the product and why you liked or disliked it.
Keep your reviews short enough to hold the audience's attention.
Be honest and mindful of others when providing editorial commentary.
Don't:
Include phone numbers, addresses, URLs, or HTML tags.
Write profanity, obscenities, vulgarities, or spiteful comments.
Make defamatory comments.