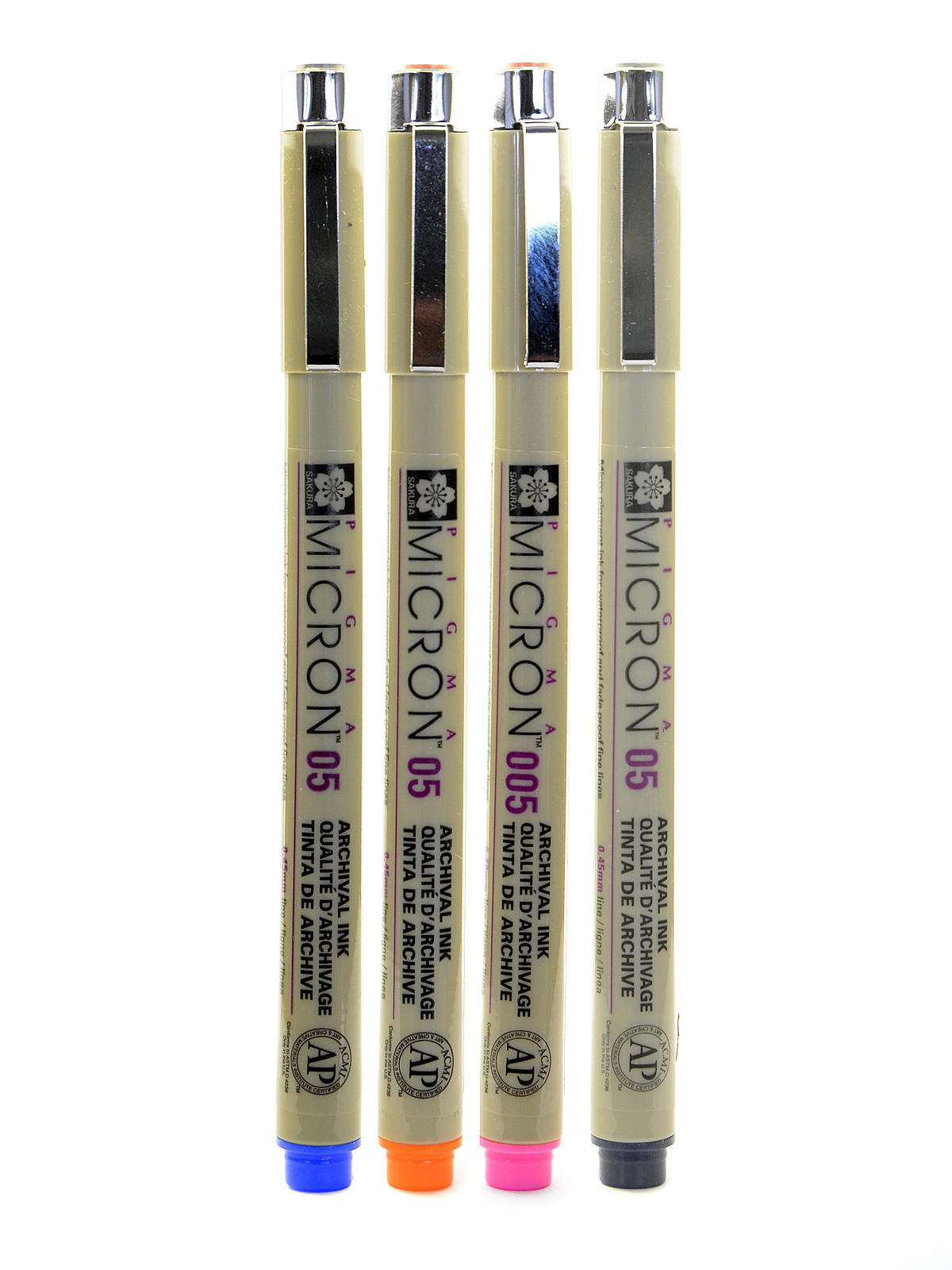 Zoom Image

Pigma Micron pens are fine point writing instrument offers a waterproof, quick-drying pigment ink. Fade proof and smudge proof on porous surfaces, including 100% cotton fabrics. Will not smear or feather when dry. Fade resistant. Does not bleed through most paper. Use for graphics, journaling, scrapbooks, memos, illustration, drafting, archival recording, cartooning, and accounting. pH neutral. Ideal for acid-free environments. Chemical resistant.
Also available in sets.
?
Ask a question about this product | See all questions & answers (3)
Felice K. from Buffalo, NY says:
Archival and nice range of sizes. Too bad they run out of ink .
Share this Product
Enter Quantity & Click 'Add to Cart'
Please wait...
You May Also Like...
by Expo

Classroom essentials
How to get VIP Club Prices
Anyone can be a VIP Member with:
Additional savings on all products
Express order handling
Exclusive promotions
Priority customer service
Product Questions and Answers
How do the sizes of the tips rank?
- Asked by Mindy on 10-Jan-14
Answer
Tips range from smallest to largest: 005, 01, 02, 03, 05, 08.
- Answered by MisterArt on 13-Jan-14
---
What is the most commonly used size?
- Asked by Mindy on 09-Jan-14
Answer
The .005 size is popular with our customers.
- Answered by MisterArt on 10-Jan-14
---
Can you use a Pigma pen when painting on glass and then heating in the oven to set paint?
- Asked by bev on 14-Dec-13
Answer
No, the Pigma Micron is primarily used in graphic arts or when archival ink is needed. The Vitrea 160 Markers can be painted on glass and baked in the oven. The Sharpie Paint Markers also work on glass and are permanent without baking.
- Answered by MisterArt on 16-Dec-13
---
Ask a Question About Pigma Micron

Your email will not be shared. We will only use your email address to respond to your question. When asking your question, please be as descriptive as possible, it will allow us to give you the most accurate answer possible.


Customer Product Reviews
Rated by: Felice K. in Buffalo, NY

Archival and nice range of sizes. Too bad they run out of ink .

Rated by: Kelly M. in New Jersey

These pens are seriously the best. Such a variety of colors and sizes! The tip is fine and the ink flows smoothly, consistent, and doesn't smear or bleed when working with markers or other wet media! Once I'm done with them I'll definitely buy these great quality pens!

Rated by: B Fisher in Boothwyn PA

The pens are the best. Easy to control. I draw with ink and I always felt like I was cheating using a micron pen. I say, whatever works!!!

Rated by: Riku D. in San Francisco, CA

Sakura pigma pens never fail me. Even though I have a bad habit of putting a lot of pressure on my pens when I draw, the pimga pen always stays nice and sharp and does not become blunt after a year. And this is after using the pen almost every day for detailing and outlining.

Rated by: Eric in tiny town in Oregon forest

These Pigma micron pens are wonderful for super fine lines that even 0000 wont give you. Also great for fine details in your paintings. What might have been scorned 20 years ago is embraced today, so dive in, and enjoy the differences these pens can add to your art.

Rated by: beverly ann s. in new orleans, LA

i ordered the black and brown pen. the black was great but the brown was defective. it had something wrong with the tip and would not make a continuous line. im not going to hassle with sending one pen back!!!!

Rated by: jamie s. in Houston, TX

I love this pen. It is a very fine pure black line. After it dries you can watercolor over it without any bleeding.

Rated by: Pauline L. in Bullhead City, AZ

Great for fine detail, does not smear, fade when sprayed with acrylic spray. Easily painted over to soften.

Rated by: Ryan S. in Bensalem, PA

I am a Multimedia and Animation Student in Community College. When I do concept drawings on paper, I use these guys to ink small things like eyes, hands, objects the character might be holding etc. I reccomend this to anybody. Whether you are a professional or an art student, these pens are worth a try. They are also inexpensive so they are easy to replace!

Rated by: Megan S. in Vernon, NJ

This is a great product. I use it to both write and outline, I love that it is waterproof!

Rated by: David I. in Palo Alto, CA

I have always had a thing for pens and pencils and the quality of their output and have wished for a pen that makes a flawless, super-fine line. My letterforms are generally on the very small side and the .005 allows me to keep letters clear and as small as I like. The ink is permanent and so does not have detectable fading. I use these all the time and could not be more pleased.

Rated by: Kimberly J. in Katy, TX

These are the best pens on the market! I draw plans by hand every day and these are the best I have found and beleive me, I have tried MANY! They dry fast, come in many colors and sizes. They copy great when making blue prints and they last a long time! by far the best around.

Rated by: Robert C. in Waco, TX

The service was outstanding.I ordered 8 SAKURA Pigma Micron 05 pens. A slip-up resulted in me receiving #.005 instead. But the company not only replaced the pens very quickly with the correct number, they said I could keep the wrong ones too. Unfortunately, I had already mailed them back. But there is still time, come to think about it, for the company to say, "What the heck..." and send me the .008 pens too! I love this company and will do all my ordering from them in the future.

Rated by: Mary B. in blntvil, TN

these are great for inking on watercolor paper

Rated by: Beka S. in Waxhaw, NC

These are excellent for working on fine detailing, laying down a smooth, vibrant color. Well worth the price!

Rated by: Melissa H. in Green Pond, AL

These are great pens and I wish I had more than one of every color and size they make. I hope they have made their creators lots of money. Excellent buy!

Rated by: virginia h. in st. louis, MO

Excellent lining pen. Holds a line and color well. Perfect for any field kit.

Rated by: Paul C. in Knoxville, TN

I'm not an artist! I use these pens everday for journaling and bible study. The ultra-fine line allows me to make legible notes in the margins. The various colors allow me to color code my studies. For those uses, these are the best I've found.

Rated by: Colin W. in Coudersport, PA

The pigma pen is always used when inking. It's perfect for our art. We use hot press watercolor paper and the pigma pen is the only pen we use. Thank you, Mister Art, for having them on your site.

Rated by: adam b. in Mildenhall, AE

When it comes to painting miniatures, these pens allow an unimaginable level of detail. Hobbyists looking to make their models really stand out need not look further. The only limit now is your imagination.

Rated by: Laura H. in Conway , MA

I loved this product!!

Rated by: S.R. A. in Seattle, WA

As far as I'm concerned Microns have allowed me to do everything I want one a page with any level of detail I see fit with confidence. The quill and ink pot will always be swell and novel and useful but Microns really open up the pencils without the apprehention of totally jackin' em' up with a snag in the paper or an ill timed dribble.

Rated by: chance m. in Canyon Country , CA

I love it. They are absolutley magnificent! Best pens you could get for pictures.

Rated by: Lorna L. in Durango, CO

A wonderful ultra fineline pen. I only wish they had more color choices!

Rated by: Jeanette K. O. in Ocala, FL

I USE YELLOW STATIONERY AND THE BROWN SHOS UP BEAUTIFULLY AND I LOVE THE FINE LINE.I AM ABLE TO USE IT FOR MANY THINGS. THANK YOU FOR RECOMMENDING IT.

Rated by: GioVanni G. in Kirkland , WA

This is the best pen i have ever used.

Rated by: Colleen F. in Pittsburg, CA

I can't imagine doing my job without these - from ultra fine to somewhat thick, these are easy to handle, don't smudge or run, and are waterproof. They also last quite awhile. I STRONGLY recommend them for any artist looking for ultra fine pens.

Rated by: Paula M. in NYC, NY

MisterArt is the BEST in everything they do! My order arrived more quickly than I expected, the quality of the ordered items was excellent, AND--unlike another art supply website--their shipping charges did not outweigh the value of their discount! I would recommend this website to every single artist I know.

Rated by: Bil M. in Tavares,, FL

I knew these pens were good when I ordered them, The're other pens out there with the same style and ink composition but these are by far the best quality I have found. The price for the Pigma pens here is more affordable than any art store on the net or otherwise, especially if you purchase membership. excellent pens for comics, draft, and even hold their own on sketch book paper. fast shipping too...

Rated by: Dustin F. in Rochester, IN

I've been looking for some quality pens for a while now to ink my artwork. Normally I hate inking, but the Microns make it extremely easy and enjoyable. The 03 has become my best friend when it comes to drawing, creating smooth lines that flow without bleeding.

Rated by: Rob S. in Enfield, CT

I love these things! Only problem is that the .08 starts leaking after extended use; i.e. it puts out too much ink and the line bleeds...

Rated by: Nicholas C. in Las Vegas, NV

These are the best pens I have used. The come in a variety of sizes and last very long. I also like how the don't blee through the paper ever. And they also have semi-flexible tips so you can make thicker or thinner lines depending on how hard you press.

Rated by: Tina R. in Charlotte, NC

I don't use these because I am not an architect, but I do know that the tects here like them very much.

Rated by: Matt R. in portland, OR

I love these pens because of the extremely fine line (on the finest version) and the excellent black ink. However you must always live in dread of the person standing next to you in line. "Can I just borrow your pen for a second?" That's the end. "Oh, I'm sorry. You can't borrow my pen. Your big cloddish hands will mash my tip." Nope. You're going to let um use it. There's no defense. But the pen will never be the same.

Rated by: Katie H. in columbus, OH

These pens are great. Consistent flow, great tips and sizes... I can't think of anything wrong with them!

Rated by: Becky T. in San Diego, CA

A wonderful pen. I only ordered one, and I am so pleased with it, that I am going to order more in other colors. And you cannot beat these prices.

Rated by: Rob K. in Oak Park, IL

These very fine pens are perfect for fine detail work on 28mm figures. The ink stays in place over water based paints and the lines are fine enough for all kinds of work (text in books, eyeballs, embroidery on clothes, etc). I strongly recommend them to miniatures painters.

Rated by: jeannie p. in phillips, WI

the .005 micron pen is the best substitute i've found for a croquil pen -- almost as fine for tiny details, but of course, easier to control. i paint birds and other wildlife on small slices of birch, not always very smooth, and never as smooth as paper. i sue acrylics, then markers, and finish with india ink or these .005 pens. i like the hard tip, since the surface i work on tends to wear out many types of points.

Rated by: Van T. in Tulsa, OK

Great pens! I bought a complete set of these pens and I amazed with the precision and quality they provide.

Rated by: Miriam F. in Lakewood, NJ

I bought the .005 and was extremely pleased at how thin a line I could accomplish. However, the pen is of no use on non-porous surfaces such as acetate. I found the Pilot permanent pens far superior for that purpose.

Rated by: Denny W. in Odessa, TX

These pens are perfect for underlining in my Bible. The fine point will not bleed, fade, smear, etc. I have been recommending them to everyone I come across. Now I recommend them to you.

Rated by: TW M. in Nashville, TN

I'm by far an expert and I only paint W40k minutures. I could never get faces right. Until I got my pens. Now I make daily sacrifices to them. They are wonderful!!!!

Rated by: Guillaume C. in Huntington, NY

Great pens for details/fine lining of miniatures. Good hold on acrylic paints and no clogging.

Rated by: Gene @ The Siege T. in Whiteville, NC

EXCELLENT PENS!!! I do allot of 10mm miniatures with shields and heraldry. The 005 pens help IMMENSELY in dividing fields and writing inscriptions. A MUST for any miniature painter! 5+ STARS!!!

Rated by: Douglas T. in Columbus, OH

I love this pen. The very detail I'm able to achieve is outstanding. I had heard of these pens quite some time ago and decided to try one. Now I wish I had purchased a complete set. I will never be without them again.

Rated by: Terri N. in Saint Helens, OR

I use the .005 size for detailed pen & ink drawings. Other pens I have tried have had tips that "squash", ink that has bled, or faded upon drying. Sakura Pigma pens are the best I have used. Since I tend to be a control freak with my drawings, I enjoy the consistency of line and color. It is also nice to not worry about smearing the ink if I accidently brush my hand across a recently drawn line or section of work. I have used these pens on several different types of paper (watercolor, drawing, bristol boards, vellums, the cheapest of copy paper)and have not noticed feathering or bleed through. My search for fine art permmanent markers is over!

Rated by: Morton C. in Fairfax Station, VA

I use the pens to final-ink cartoons on Strathmore 300 series smooth bristol. They are excellent quality drawing instruments that render drawings crisp and smooth. Points are highly durable and remain sharp throughout the life of the pen. The only drawback to these pens is that the ink will fade somewhat under an eraser, so one has to be quite careful when erasing any pencil-work.
Add Your Review
Tell us what you think. We appreciate you taking the time to share your opinion with other artists and crafters. Please keep your review detailed and specific.
Tips on Writing Reviews
Rating Scale
(5-Star) Excellent
(4-Star) Good
(3-Star) Average
(2-Star) Fair
(1-Star) Poor
Do:
Give your perspective on how you used the product and why you liked or disliked it.
Keep your reviews short enough to hold the audience's attention.
Be honest and mindful of others when providing editorial commentary.
Don't:
Include phone numbers, addresses, URLs, or HTML tags.
Write profanity, obscenities, vulgarities, or spiteful comments.
Make defamatory comments.