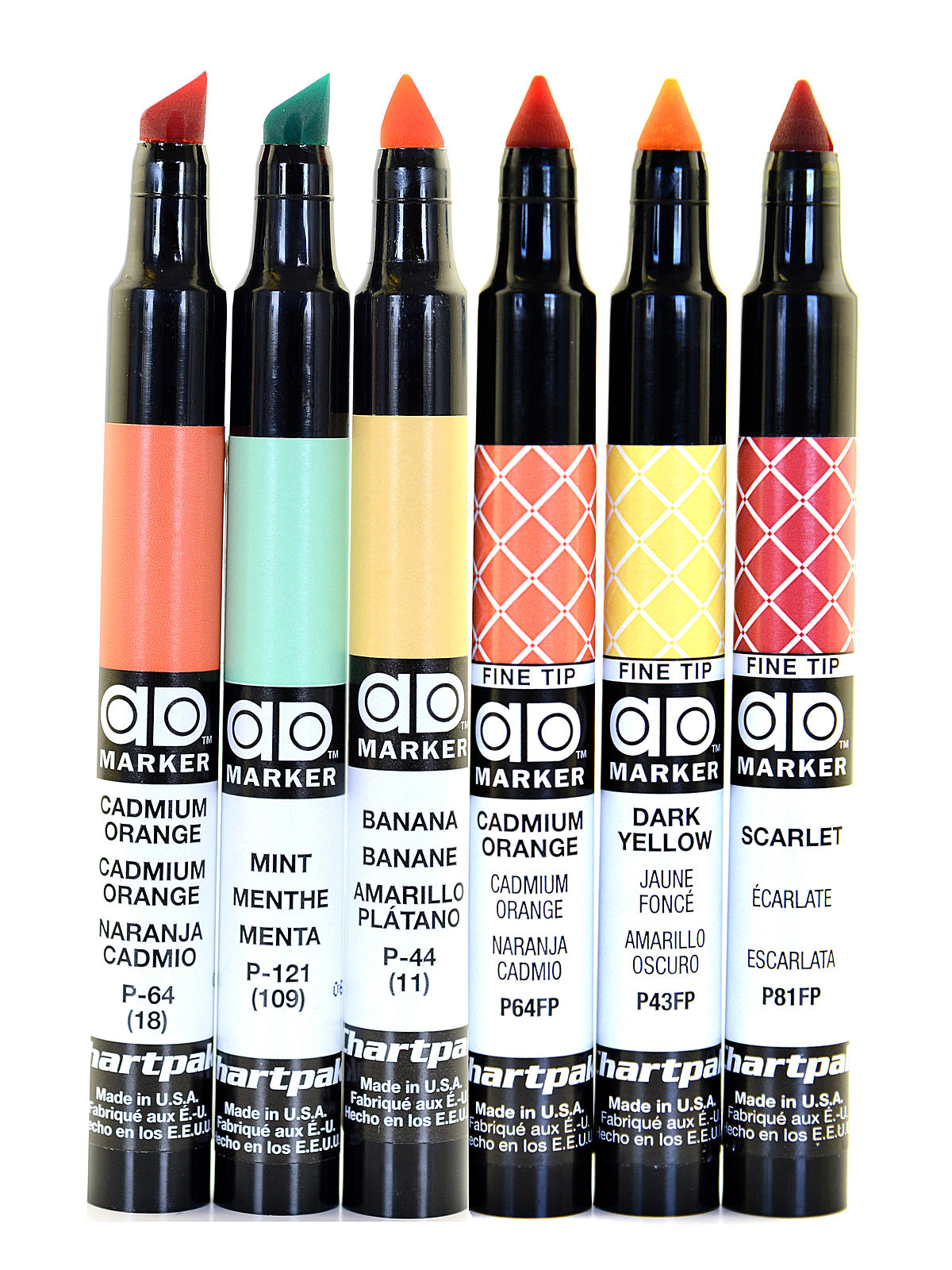 Zoom Image

Chartpak AD Marker Tri-Nib has three distinct line weights in one nib! The markers deliver sparkling and brilliant color in fine point, medium weight or broad strokes – with just a twist of the wrist. The unique shape of the Tri-Nib gives you precise control over your stroke, and the wide palette of permanent colors, which includes a complete range of pastels and grays, opens new worlds of creative possibility.
The Tri-Nib Colorless Blender produces graduation/color from deep tones to light.
Black and Super Black are also available in a Fine Point nib.
From crisply articulated tight comps to broadly expressive illustrations, all the line you need is right at your fingertips! Chartpak AD Markers are xylene based.
?
Ask a question about this product | See all questions & answers (3)
Craig W. from Lincolnton, NC says:
Very good prices, correct order, very timely delivery. I will order more products when they are needed. Thank you.
Share this Product
Enter Quantity & Click 'Add to Cart'
Please wait...
You May Also Like...

How to get VIP Club Prices
Anyone can be a VIP Member with:
Additional savings on all products
Express order handling
Exclusive promotions
Priority customer service
Product Questions and Answers
Do they no longer make a chisel tip?
- Asked by Natalie T on 26-Aug-13
Answer
The tri-nib, at the right angle, can make a perfect chisel point, as well as a fine, and bullet nib, too.
- Answered by MisterArt on 28-Aug-13
---
Are they water soluble?
- Asked by Deb59 on 17-May-13
Answer
The Chartpak Ad Markers are permanent and not water soluble.
- Answered by MisterArt on 22-May-13
---
Can I use this marker on silk?
- Asked by rachela on 31-Oct-12
Answer
These markers are not recommended for use on fabric.
- Answered by MisterArt on 08-Nov-12
---
Ask a Question About AD Markers

Your email will not be shared. We will only use your email address to respond to your question. When asking your question, please be as descriptive as possible, it will allow us to give you the most accurate answer possible.


Customer Product Reviews
Rated by: Craig W. in Lincolnton, NC

Very good prices, correct order, very timely delivery. I will order more products when they are needed. Thank you.

Rated by: Amber P. in Silver Spring, MD

Chartpak has awesome wide range of vibrant colors. They work best in my opinion with a rag vellum, but I have a friend who says Marker paper (Canson)is much better. The only problem I have with them is the fumes!! But overall, they are great.

Rated by: Kathy B. in Charlotte, NC

I've used CHARTPAK markers for years in my landscape design business, but they were becoming increasingly inconvenient to buy in local art stores. When my blending pens finally died, I searched for them online and found the MisterArt.com site. I find their prices and ease of ordering top-notch.

Rated by: Shai E. in New York, NY

good service and fast, I received everything on time and well packed

Rated by: Jessica L. in Monroeville, PA

My company has recently bought the Chart Pak Ad Markers! We couldn't be any happier with them! They are excellent markers and will continue to order them! Thank you very much!

Rated by: Kevin W. in Oswego, IL

The Chartpak AD markers are very long lasting. I use several brands of markers depending on the project. I primarily use the Chartpak Pale Flesh and Flesh tones when doing figure work. The only thing to be wary of is the amount of bleed they have when new.

Rated by: Daryl T. in Shawnee, OK

They were exactly what I needed and I received them in a timely manner.

Rated by: Barbara M. in Sacramento, CA

Great Product, works well, just the way it is supposed to - very clean nice blending. Great service as well from provider.

Rated by: Tom N. in Bellevue, WA

I wouldn't use any other pens but these.

Rated by: Daryl T. in Shawnee, OK

I was very pleased with the way the markers performed and at how quickly I received my order.

Rated by: Juanita J. in Chicago, IL

The colors are wonderful. I was unable to seal the colors, (they ran) so I cant use them on my rocks.

Rated by: James B. in Weymouth , MA

Chartpaks are as good as advertised If you take the time to learn how to use them. GREAT COLORS

Rated by: Jessica L. in Monroeville, PA

I would like to say that we love the markers! They are great and I would highly recommend them!

Rated by: Deborah B. in Worland, WY

Great markers. Would highly recommend!!!

Rated by: Parise W. in careywood, ID

I love these markers. The colors are rich and varied. The nibs can produce the lines I need. I've just bought a blender marker and playing with that has been pure joy. Personally I think Chartpak is the best and the price is fantastic. An incredible value.

Rated by: Fred E. in Bridgeport, CT

Excellent color, vibrant and rich. Ink flow is generous yet clean. I wish that they lasted a bit longer, but I feel that way about every item that I like. Anyway, running out is a great reason to call MisterArt and speak with the polite and informed staff. The colors are much more radient and alluring than the sample "swatches" on the site. I think ADs are a sure winner for concept roughing or final presentations. DO order the 25 marker holder (I've got quite a few).

Rated by: Toni A. in TONAWANDA, NY

The artist in our family who uses this medium was thrilled and loves them. They were part of a perfect Christmas gift. She is very particular about these and was delighted.

Rated by: Toni A. in TONAWANDA, NY

I bought these for a professional artist who is a part of our family and she has used them before and thought that they were absolutely wonderful. One of her Christmas Wish List surprises. Perfect.

Rated by: Janice S. in Fremont, CA

I have been teaching drawing and watercolor painting for years, and these grey value markers are a great and quick way to teach students the value scale.

Rated by: Jill L. in Yorba Linda, CA

Very happy with Chartpak Markers and with the service MisterArt provides. Always receive my shipment within a few days.

Rated by: Alex M. in Fort Lauderdale, FL

Great Markers! They last very long and I woulnt work a day without them!.The prices are cheap at MisterArt.com than many other places.

Rated by: josh b. in phoenix, AZ

These markers are just ok. The soft and shapely nips take some time to get used to. They come in a good variety of colors, but i still prefer copic markers over these.

Rated by: Paul S. in Kingsport, TN

I use the blender pen to transfer artwork for carving letterbox stamps. It works incredibly well, far better than acetone and is much quicker than heat. The pen design is much easier to use and control than a cotton ball soaked in xylene, and stinks less.

Rated by: Kevin S. in Manhattan, KS

They are the best markers I have ever used!

Rated by: Susan R. in Ranchos de Taos, NM

Delivery was prompt and the markers are fresh and not dry. This delighted me!

Rated by: Katherine M. in Manchester, NH

Wonderful color! More ink than Prismacolor.

Rated by: Marlene G. in Wheeling, IL

Chartpak is my favorite choice for when I do color caricatures because of the lush and variable palette. I especially love their warm grays to create natural looking hair color, something that hasn't been equaled by other marker brands.

Rated by: Maritza L. in San Jose, CA

I love these markers; The wide tip help to cover larger surfaces.

Rated by: Chris S. in Richardson, TX

While the profession is moving away from hand renderings, I still find there is a need to create something special only a marker can do. These Chartpak are my preference.

Rated by: Stacy L. in New York, NY

Great for creating flesh tones, but beware they are a little on the oily side and tend to smudge.

Rated by: Rebecca F. in Madison, WI

These markers are an office standard. Period.

Rated by: Bob L. in San Francisco, CA

Pens arrived promptly, work well.

Rated by: Jacqueline S. in Mebane, NC

Love the range of colors & the ability to use the different widths of the stokes. Do not dry up like so many others & if the smell bothers you, use a mask...it is worth it for the quality you get.

Rated by: Cheryl L. in Houston, TX

I have at least 300 markers from variopus companies, Chartpack holds up the best over long periods. Only occassionally does the tip break off. Out of all the brands, I tend to favor CHartpark.(Besides, they fit in the discontinued "Design Marker" stands very nicely.

Rated by: Bruce D. in Florham Park, NJ

We love these markers. They are all we use here in our office. Thanks for providing them to us at a low cost!

Rated by: manvel a. in Los Angeles, CA

Awsome! I loved the Design markers, now i'm in love with these!

Rated by: Allison F. in n/a, NY

Picked up some of these on account of the price, decided to give them a try. Now I'm hooked! Pros: Very juicy as others have mentioned, they blend well, seem to last long (nice to be able to color a whole peice of paper and not have it dry up!) and have nice colors. Cons: Super-stinky! Also they bleed quite a bit, at least on the paper I use (strathmore bristol) Other than that, they're great, and I plan to keep using them.

Rated by: hasd h. in moorpark, CA

These are the best markers that i have ever used! the depth of color is absolutely amazing and gives a punch to any art. They do bleed through paper very easily, but who cares?! they're awesome!

Rated by: Kelly C. in Camden, NC

These markers are true, vibrant, and don't smear. You can make a line with one color, then overlap with another..and they don't intermingle. I like to use them to make plaid designs on glossy paper. They are a little smelly but if you use them in a well ventilated area they're fine. Love them!

Rated by: leonel b. in El Paso, TX

Best price in town!!, keep 'em low! ! ! !

Rated by: Mario C. in san diego, CA

Smooth stroke, great blending and a huge variety of colors, unfortunately they stink like an alcoholic!

Rated by: James J. in Eagle, CO

Great markers for the right paper. Consistent richness and variety in color. A quality rendering media.

Rated by: Bill B. in Corona, CA

Excellent markers for architectural rendering. Very soft tip allows for better flow on presentation bond or heavy tracing paper.

Rated by: Adam S. in East Lansing, MI

These markers are the best. They come all juicy and ready to use. The color is very uniform and vivid. Also, Chartpak offers a great variety of colors.

Rated by: Karen S. in La Mesa, CA

Beautiful color selection. They really give me a lot of options for green. I do wish the markers lasted a little longer.

Rated by: Cynthia J. in Fulton, MO

I purchased the blender pen to use only to transfer laser copied elements, patterns and templates to my scrapbook pages. Works great and the price was great compared to other places.

Rated by: Judith M P. in Knoxville, TN

I wouldn't be able to work without these fantastic markers. They alllow me o block in larger background areas quickly, and the colors are true, vibrant and layer alost as well as watercolor. They allow me to complete an illustration in half the time it would take me to "fill in" with Tria or any other marker. My only problem is that I use them up so fast, If I could "refill" these markers I would be ecstatic. Great color choices, and the only type of marker I use each and every day.

Rated by: Kristie I. in Wilmington, DE

I am new to the landscape design industry and am just starting to build up my supplies. I was referred to MrArt.com through the instructor of one of the classes I was taking. I shopped around before purchasing these markers to make sure I was getting the absolute best price, and I did! The price didn't even compare to what other stores were charging. Once I received the markers one of them had the cap off and was a little dried up. I called customer service and the girl I spoke to instructed me to turn the marker upside down for a few hours and the marker would come back to life. And it really worked!! I thought that was such a cool feature with these markers. Then once I got to actually try these markers on a project, I was completely satisfied!!!

Rated by: Yang-Chi C. in Denton, TX

I was shopping around for the Chartpak markers for weeks for my drawing class and didn't see prices this low before. Their service is excellent and delivery was fast. I got it by the end of the week that I ordered it in. Unlike another online supply store, all the markers worked and weren't dried up or anything.

Rated by: Liz H. in Stuart, FL

The best price I've ever seen for Chartpak markers. Fast delivery, and excellent product! We will definately be a return customer when the need arises.

Rated by: jeffrey y. in Lynchburg, VA

Not only the user friendly web site, not only the competitive product costs, not only the product availability, not only the ease of purchase, but the expeditious shipping turnaround time all lead to a much appreciated positive experience. Thanks!

Rated by: Bruce D. in Florham Park, NJ

We use these markers on a daily basis and we love them. There is nothing compared to them - thanks

Rated by: Katie H. in columbus, OH

Stinky, but non-toxic. They are juicy, wonderful colors, can't go wrong with them. Although they don't have dual tips, it's not an issue because of the shape of the marker. Go buy them!

Rated by: Jennie B. in Monroe, MI

The Blender Chartpak Markers were really juicy right out of the pack and we utilized them in our advanced airbrush class to transfer our Xerox toner drawings to hot press illustration board. Nothing could be easier! My students loved them, they worked exactly as I expected.

Rated by: Erica E. in Spencerville, IN

I'm an interior design student in college! These markers work great for showing color details in my drawings and designs! I highly suggest them for any other interior designers or interior design students!

Rated by: betty k. in Wayzata, MN

These are great markers! The tip is versatile and the ink flows very smoothly!

Rated by: greg k. in Tolland, CT

These difficult and unusal shades of markers do the trick for our jobs. Service is great.

Rated by: Priscilla H. in Athens, AL

Great markers. They get the job done that I need them too. Also, love the prices and the prompt delivery.

Rated by: Susan W. in Dallas, TX

I use these for shading in drawings. It is fast and these don't smudge as easly as some other markers.

Rated by: T.D. H. in L.A., CA

While not my primary marker brand, I find that Chartpak markers provide a nice complement to Prismacolor markers.

Rated by: Aaron J. in College Station, TX

The selection of markers is the best on the web. All I have to do is think of a color I want and there it is on the list. I don't have to shop around different web sites to get the best deal anymore. Everything can be found here.

Rated by: Metro P. in Dickinson, ND

I'm happy to find these markers. Ever since my favorite art supply store went out of business, I've had a tough time finding the art supplies that I need. At MisterArt.com, I found what I needed, and a lot more, at good prices, Thanks!!

Rated by: Patricia C. in New York, NY

In my opinion these markers are the be all and end all. I received a set of Chartpak markers in my first year of art college. While I did not use them consistently, as I was involved with other medias at the time, most of the markers could still be used 8, 9, 10 years later. I have been using markers more and more lately. When I needed a new set, as some colors eventually dried up, there was no question what I would buy and only hoped that the same set would be available to me 10 years later. Not only do these markers maintain their ink, which seems to last forever and ever and ever....you can't ask for better color quality or color range. Additionally, the size and shape of the markers allow for great versatilty. No one can go wrong with this brand!

Rated by: Judy M. in Huntsville, AL

Great markers. Shipped promptly! I am pleased with the accuracy of my order. Thanks.

Rated by: Hathanh N. in Baton Rouge, LA

I owned 97 Ad Markers before ordering from MisterArt.com. Love these little things! Decide to order online because it's cheaper than at my place. Great price on these markers! Downside is that MisterArt.com don't have all 130 Permanent Colors of Ad Markers.

Rated by: Amy H. in College Station, TX

The price was good. The shipping was fast. And the markers are good quality that are perfect for landscape rendering. The muted colors are more believable in the landscape and they flow well for working on blackline.

Rated by: Dawn S. in New York, NY

These markers are great...versatile, juicy and colorful! What a selection! You can achieve any desired look or finish with them, and the blender is an excellent tool for rendering. Aside from that,the prices at MisterArt.com are much cheaper than what I would pay in other art supply stores. A great marker at a great price!!!

Rated by: munjen n. in NY, NY

Very nice. Downside is the toxicity. Stinks up a room. But if you can get used to it and master the use, these markers do amazing things. Downside is the amount of colors they have.

Rated by: Patty R. in Bennington, VT

These are the only markers I have found that go on the page so evenly. While I love them, I have found them to dry out rather quickly, and have also found that I have to be very selective about the paper I use because they do tend to bleed around the edges.

Rated by: Sheila S. in Kansas City, MO

Excellent markers! The colors are the most vibrant of any I've used, and I've never had a problem with them drying out or the nibs breaking down. Excellent value, but if you join the VIP program, the price is near perfect!

Rated by: J. Gregory B. in Dallas, TX

GREAT MARKERS! We like getting full boxes so that the dye lots match for all markers!

Rated by: c e. in Storrs, CT

good flow on these markers, excellent marker if you don't mind the smell.
Add Your Review
Tell us what you think. We appreciate you taking the time to share your opinion with other artists and crafters. Please keep your review detailed and specific.
Tips on Writing Reviews
Rating Scale
(5-Star) Excellent
(4-Star) Good
(3-Star) Average
(2-Star) Fair
(1-Star) Poor
Do:
Give your perspective on how you used the product and why you liked or disliked it.
Keep your reviews short enough to hold the audience's attention.
Be honest and mindful of others when providing editorial commentary.
Don't:
Include phone numbers, addresses, URLs, or HTML tags.
Write profanity, obscenities, vulgarities, or spiteful comments.
Make defamatory comments.