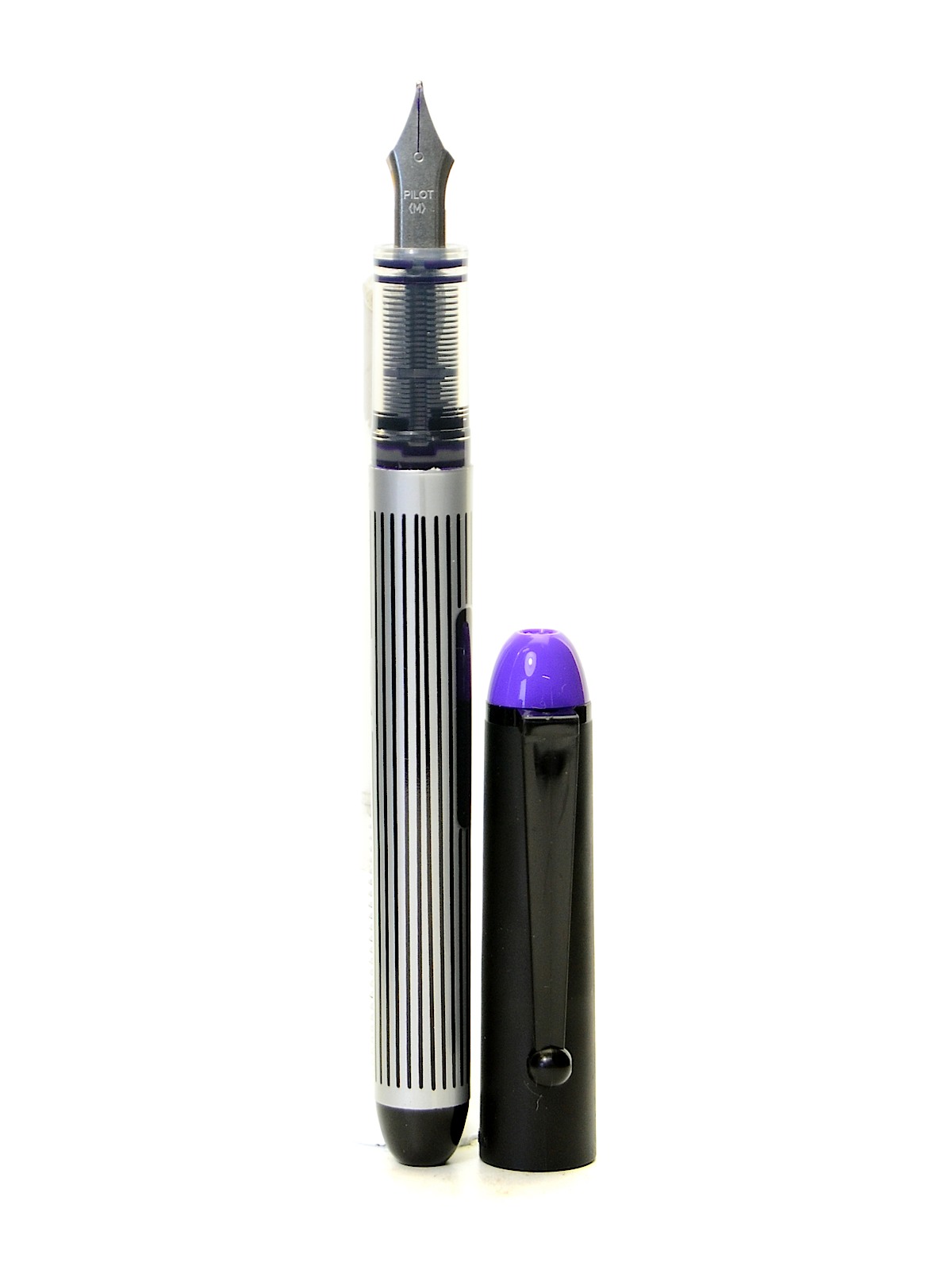 Zoom Image
Varsity Disposable Fountain Pen
by Pilot

Evelyn D. from Waynesboro, VA says:
While in London we fell in love with these pens. We are so excited to find a company in the States to order from. Almost as good as my Waterman, almost...
Share this Product
Enter Quantity & Click 'Add to Cart'
Please wait...
You May Also Like...
A dozen great colors in one pack
How to get VIP Club Prices
Anyone can be a VIP Member with:
Additional savings on all products
Express order handling
Exclusive promotions
Priority customer service
Product Questions and Answers
Are the inks waterproof?
- Asked by Ken on 04-Jun-14
Answer
Pilot says this ink is not permanent or waterproof.
- Answered by MisterArt on 11-Jun-14
---
Ask a Question About Varsity Disposable Fountain Pen

Your email will not be shared. We will only use your email address to respond to your question. When asking your question, please be as descriptive as possible, it will allow us to give you the most accurate answer possible.


Customer Product Reviews
Rated by: Evelyn D. in Waynesboro, VA

While in London we fell in love with these pens. We are so excited to find a company in the States to order from. Almost as good as my Waterman, almost...

Rated by: Karen S. in san antonio, TX

I discovered these pens when addressing invitations for my daughter's wedding. They are great. I like to use ink pens and these are so convenient, cheap, and write smoothly and well. A great product and in some good colors.

Rated by: Sandra T. in UNION CITY, OK

All my life I have liked different writing instruments. I especially like fountain pens. I give these Pilot pens to my Superintendent at the start of each school year as a special gift. He loves them as much as I do.

Rated by: Rachel H. in Greenville, SC

Ordered for my husband. For the money it is a very good pen. He is well pleased. Would purchase again.

Rated by: June Ellan M. in Las Cruces, NM

I discovered these pens years ago. I was looking for a fountain pen to use in my classroom and biology lab. I didn't want to use one of my expensive ones and these fill the bill perfectly. It became a tradition about the same time to reward my A/B Honor Roll students with one of these pens if they made the A or A/B Honor Roll all 4 report cards. Now, years later, they are still demanded and remembered. THank you for a great product. My only request is for other colors. I have found a green and a red pilot and use them sparingly because they are so hard to find. JEMJ

Rated by: Art S. in Philadelphia, PA

The best fountain pen out there. For my purposes--I do a great deal of sketching, mostly of people--the Pilot Varsity is the best pen I've come across, and I've used all kinds of technical illustrating instruments. The Varsity is miles ahead of anything out there in a water-soluble drawing or writing instrument.

Rated by: Adrienne C. in Chicago, IL

I love using fountain pens. I love especially using the disposable fountain pen. It is so convenient and the colors are wonderful.

Rated by: Vickie H. in WILLIAMSBURG, KY

I do a lot of writing in our bussiness. The pen writes smooth and it so far has been trouble free.

Rated by: Bonnie F. in Kansas City, MO

I was both pleased and impressed with the fountain pens I ordered. I will be sure to order again because of the the quality and price of these writing instruments. Thanks!!

Rated by: Jeff L. in Tukwila, WA

I've used these as my main writing instrument for about 5 years now, and have turned a lot of people onto them. Using them has even improved my handwriting!

Rated by: Donald M. in Los Angeles, CA

These disposable fountain pens are addictive. I love them so much that I purchase them in bulk, and I refuse to use any other writing utensil. The ink flows so smoothly, and the price is reasonable. I highly recommend these pens to anyone who likes to write... beautifully.

Rated by: Mark F. in Harrisonburg, VA

The Varsity disposable fountain pens really are amazing. The flow of ink is steady right up to the last stroke. No scratching and wondering if it's really empty. I just wish blue-black was one of the color options.

Rated by: June ELlan M. in Las Cruces, NM

I adore these pens and so do the other teachers on my Team. I use them as academic incentives for my 7th grade science students. If they atain A/B Honor Rolls status throughout the school year they receive one of the pens. This has been a tradition in my classes for years. The pens are coveted and bragged about. I also use them for all my grading.

Rated by: Annelle H. in seattle, WA

I love this fountain pen. The ink flows smoothly as promised with no scratchiness. I have over a dozen expensive fountain pens and I pick this one over them.

Rated by: Mary B. in Las Cruces, NM

These pens make writing notes fun again. They're one of those simple things like Velcro - indispensible once you try them.

Rated by: Theresa L. in Dallas, TX

I LOVE these pens! They give a great smooth line with no ink leakage! Since they're disposable, you don't have to worry about messy refill catridges. A GREAT buy not to mention fun colors!! Purple is my top color pick - a nice deep purple that pops off the page without looking "Jr. High"!

Rated by: Fred E. in Bridgeport, CT

I have already said how much I like the action, but I now "have to" keep a bunch in stock in various colors because my students are always "borrowing" them during office hours. Can't say I blame them.

Rated by: Donna C. in Bronx, NY

I grew up using fountain pens and losing them. Thes product is great to use and you don't feel terrible if you misplace it. It's the best.

Rated by: Fred E. in Bridgeport, CT

I collect fountain pens, and while this item will not replace 18K flex nibs, it is a great pen (and at this price what's not to like)? I often use it in my work because of the smooth action. The ink lasts for a long time too.

Rated by: Lila E. in Austin, TX

These pens are great. Writing with them is smooth and effortless. Other pens I've used tend to clog up and stop working, but these Pilot Varsity pens keep writing until the ink is completely gone.

Rated by: Patrick H. in Dallas, TX

Perfect. I use the Pilot Varsity pen to write personal notes, or just for the fun of "handwriting." It is really a fine pen without the shortcomings of traditional fountain pens.

Rated by: June Ellan M. in Las Cruces, NM

I have used these pens for years. If my students make the A/B Honor roll for each of the 4 grading periods they earn one of these pens. Over the years they have become Ms. Mazz's" pens and the students old and new covet them.

Rated by: June Ellan M. in Las Cruces, NM

It has been a tradition in my classroom for more than 20 years to receive one of these pens if a student makes the A/B Honor role each grading period throughout the year. What a great product. My only wish-more colors.

Rated by: Jean S. in Mansfield, CT

This is the perfect pen for anyone, but for someone with handwriting difficulties,the consistent smooth flow and light weight sets it apart from ALL others. Thank you!

Rated by: na n. in na, VA

These are really great pens. I even leave the cap off sometimes for hours and they still write very smoothly.

Rated by: nancy z. in Clearwater, FL

Ilove these pens and have introduced them to numerous coworkers. Wish they came with dark green ink though!

Rated by: Lawrence G. in Detroit, MI

Terrific pens, better than many that aren't disposable. Too bad they can't be refilled.

Rated by: Janet Y. in Rye, NY

The only thing I don't like about the pens has nothing to do with Mr. Art - only with the distributor - we have always had this pen as part of our office. However, the barrel has changed and isn't quite as presentable as before. Thank you.

Rated by: nancy z. in Clearwater, FL

I love these pens! During meetings people ask me about them and I have "recruited" more than a few devotees...I just wish they came in red!

Rated by: Douglas K. in Alida, MN

This product has re-kindled my love of fountain pens and ranks a front row position on my carousel!

Rated by: Brian J. in Price, UT

These disposable fountain pens are wonderful to write with. I use them for journal writing and I am impressed with the smoothness of the pens. Highly Recommend them to anyone.

Rated by: judythe d. in chapel hill, NC

This is the BEST pen on the market. The newer ones are even better - they write smoothly and effortlessly - they are well worth the money (and I get lots of free pens that I could be using) I recommend them without any reservation.

Rated by: Valerie M. in Raleigh, NC

These pens are awesome! I've been looking for a decent inexpensive fountain pen for 10 years. I bought several in every color and I love them!

Rated by: Joyce H. in Little Rock, AR

I used these several years ago, but I couldn't find them at our office supply stores. I had to order them on line. They are so much fun and write beautifully!

Rated by: m b. in jenison, MI

I love it. smooth writing and great price.

Rated by: Briana C. in La Grange, IL

Just like an old fashioned fountainpen, without the inconsistent flow of ink. Fabulous colors, and perfect width of line! I do wish they had a refillable version, for waste/environmental reasons.

Rated by: robbn m. in olympia, WA

I love the colors available and the pens write so smoothly!!! And very stylish,too.

Rated by: Sharyn M. in Arlington, TX

I love them!! These pens make great "bonus" prizes for students. I have given them as presents to family, colleagues and friends. What a great product.

Rated by: giddy 9. in St. Louis, MO

Love these pens! The easy fluidness of a fountain pen, without those messy (and sometimes disasterous) ink cartridges! I also wish there were a few more colors (red, green, etc.)...

Rated by: Chris G. in Binghamton, NY

These pens are simple and easy to use. the ink is consistantand bold, it doesen't thin out until just before the pen runs out. I wish they had a few more colors.

Rated by: L M. in Ogden, UT

The pilot varisty is a great tool for any profession or art person. Its smooth, easy to handle, and gives you perfect results. I highly recommend them.

Rated by: Mary Lee K. in Charleston, SC

These pens have been a great alternative to conventional fountain pens for me for many years and I now find them perfect for an elementary school aged granddaughter who is learning the joy of writing with a real fountain pen.

Rated by: Edward H. in Baton Rouge, LA

Although I've been using computers for almost thirty years, I still think through the grip of my fingers on a pen. Ball points require much too much pressure and wear me out; roller balls are better, but over a long time they also wear me out. I've had lots of different kinds of fountain pens, some of the fairly expensive and my Montblanc very very expensive. Only the Montblanc is better than a roller ball. But it keeps breaking and having to be fixed. These pens write so nearly as well as makes no difference--and they never have to be fixed! A great discovery!

Rated by: kweli k. in Rockville, MD

While living in France for a year, my daughter got hooked on these pens and turned me on to them. If you love fountain pens, you can not go wrong with these!!! Although, not as nice as a real fountain pen, they still beat ballpoint.

Rated by: Heidi F. in Clinton Twp., MI

Great pen! Writes so smoothly there's barely a need to press into the paper - nearly writes by itself. Only smears if you swipe it as soon as the ink hits the paper. No messy refills, hardly ever bleeds drops of ink from the sides of the nib (like all my traditional pens do occasionally), sturdy,not too slippery to hold onto, very lightweight.

Rated by: David F. in Memphis, TN

I own many expensive fountain pens. The Pilot Varsity writes better than any of them. They write well from beginning to end and the visible supply tank lets you know when to put an extra in your pocket.

Rated by: Margi S. in Aubrey, TX

As the owner of both Mont Blanc and Parker fountain pens that still leak, despite being sent for repairs twice, I really appreciate the Pilot Varsity pens. They they write like a more expensive pen, are worry free, and don't leak. The pens are difficult to find in stores, so thank you, MisterArt.com, for carrying this wonderful product.

Rated by: Sandra D. in Hattiesburg, MS

I love these pens! They are so hard to find! I'm glad I found this site! Thank you!!!

Rated by: Joan K. in Annandale, VA

I love these pens. All the great features of a fountain pen in a disposable. Its great how you can get a real fine point by just rotating the nib. Buying them at MisterArt.com is so easy - you can select exactly which colors you want and at a great price.

Rated by: Chris A. in Novi, MI

These inexpensive, but high quality fountain pens are great for every day writing. After my daughter accidently bent the Nib on one of my more expensive pens, I ordered the Varsity for her to use. If she bends the nib again, It's not such a big deal. I snagged a few for myself for the office. They really do rival more expensive Fountain pens !

Rated by: Enid W. in Blackwood, NJ

I have always loved writing with a fountain pen, but I have not enjoyed the leaks, inkwells, cartridges, etc. This pen is great because there is no mess, no fuss. It feels good in my hand, and I don't find any problem with smearing (I am left-handed). I like them in all colors. Thanks!

Rated by: Ariana A. in Boston, MA

I love writing with fountain pens, and seeing these, I had to get them! It was worth it. They're a tiny bit messy if you don't hold them the right way, but they don't leak or anything. And you don't have to worry about refilling the pens, which didn't always work for me. I highly reccommend these pens.

Rated by: Ann R. in Lincoln, NE

I love these pens! They come in great colors and are great to write with. One of my favorites!

Rated by: ralph m. in lombard, IL

Great product at a great price!

Rated by: Mark J. in NJ, NJ

There is not a single fountain pen out there that you can find for $2.50 that will work near as good as this. In fact, it's hard to find any fountain pen for $2.50. I hesitantly bought a few when I was resupplying, and fell in love within a minute. It is smooth, clean, and very easy to use. It's also nice and small. Absolutely no need to worry about mess with these pens. I have used fountain pens much more expensive, and honestly, they do not work near as good as the Varsity. I highly recommend this product to everybody. It's great for drawing, lettering, and just plain writing...I use it for everything now and can't stand not having one in my pocket at all times.

Rated by: Patricia F. in New Brunswick, NJ

I agree with the other reviews, these pens are difficult to find in local stores. I'm thrilled for have found them on line at a great price. Shipping was so fast! I am very pleased with MisterArt.com. Thanks!

Rated by: Scott T. in Edina, MN

I love these pens! They are impossible to find in stores and when I found Misterart I was thrilled and ordered one in every color. They are fun to write with. My signatures have a flair. These pens perform so much better than my Waterman I can hardly believe it. I'm so pleased to find a fountain pen that works well for left handed writers. Thank you Pilot and Misterart.com!

Rated by: Jane P. in Arlington, VA

Thrilled to find these pens on line. I've been using them for years. I can't even think without having one in my hand -- especially for outlines. My small stationary store that used to carry them closed.

Rated by: Diana M. in Council Bluffs, IA

I searched high and low for these pens. I love them. I did not know that they were available in colors other than black before, so the extra colors are a bonus! Thank you!

Rated by: Stephen M. in Miami, FL

A great pen to travel with--writes extremely well and you can lose it without fear. I use it instead of rollerballs because it writes like a good fountain pen

Rated by: Steve P. in Kirkland, WA

I won't write without these pens. Ink flows easily from them but they're inexpensive enough that I don't care if I lose them. The perfect disposable pen. Not readily available in stores, MisterArt.com is a great source for these treasures.

Rated by: Laurene A. in Lauderhill, FL

Exactly what I was looking for. Product not readily available in stores. Service quick and easy. Website friendly and effective.

Rated by: Valerie N. in Buffalo, NY

All the writing pleasure of a fountain pen with the ease and convenience of a disposable pen. Wonderfully smooth to write with and worth the trouble of finding the product online.

Rated by: Luna M. in New Orleans, LA

These pens are splendid! The ink just flows beautifully onto the page, with different line width dependent upon how you angle the tip. It's like an old fountain pen without the hassle or mess. I look for these pens anywhere I live & they just get harder to find with every year -- and these were the least expensive.

Rated by: Stacey J. in Dalton, GA

These are the best pens ever. They write so good.

Rated by: Victoria C. in Los Angeles, CA

These are for real - no leaks, no unpleasant surprises, nice ink flow. They are a little on the medium side of fine - I prefer extra fine... Still, they are great.

Rated by: Debbie A. in Louisville, KY

I have been using these pens for several years. I used to be able to find them in an office supply store, but they no longer carry them. I was so happy to find them at MisterArt.com. I read all of the other reviews and agree with them ALL!

Rated by: Tory T. in Reston, VA

I love these pens! I found one in a stationary store nearby months ago, on clearance. They no longer stock them, and I was unable to locate them anywhere else close to me. I was ecstatic to find them on this site for such a great price, and with such a complete color selection. (The pen I bought was purple, and I wanted more professional colors for the office.) It writes beautifully, and doesn't require messy cartridge manipulation. I will definitely buy them from you again. Thanks!

Rated by: Patricia G. in Cleveland, OH

I use a fountain pen to take minutes in meetings, which prevents cramping. I use a different color for each specific meeting. These pens are easy to use and you just pitch them when empty. They are never stocked in the stores, but ordering on line from MisterArt.com is fast and easy.

Rated by: Paul S. in Seattle, WA

It's been 5 years since I had access to these (at my previous company) and my pilfered supply had dwindled to a single pen. I'd done a Web search 4 years ago for these and was giving up hope, but then I found MisterArt.com. I'm thrilled with the pens AND the selection of colors!

Rated by: Tom B. in Albany, NY

These are fabulous pens! I've owned several fountain pens (Rotring, etc.) and they never worked as well as these pens! The ink flows very well, and while the nib yields a pretty broad point, I found that if I turn the pen around 180 degrees to write on the "back" of the nib, you get a nice fine line.

Rated by: Angela Leddy J. in New Orleans, LA

I fell in love with these pens years ago and had almost given up hope of ever finding them again when I did an online search and found them at MisterArt.com! And the bonus was, they were very affordable! I bought enough to keep me supplied for a while but thank goodness I know where to go to find them when I need them again! Thanks so much for carrying a product that other office supply stores gave up on!

Rated by: Hilary Y. in Aurora, CO

These pens are awesome!! The colors are strong and the ink doesn't smear. At each meeting I attend, someone admires and inquires about my pens. I am completely satisfied and will make these a must in my office supply closet.

Rated by: Sharon B. in Raleigh, NC

My husband and I both prefer these pens over any other we've used (with the possible exception of his Mont Blanc, which of course is in a different category entirely). I favor purple to have my comments stand out when editing and writing notes, but the range of colors is outstanding. The tips are smooth and the ink actually lasts a long time. Unfortunately they're hard to find, so thank you MisterArt.com for carrying them!

Rated by: Lauren H. in Leesburg, Oh 45135, OH

I LOVE these pens! they are wonderful, and I would highly recomend them to anyone.

Rated by: Jessica V. in San Diego, CA

I love writing with fountain pens, but I've had lots of problems with ink refilling and flow. I love these pens, because I don't have to deal with refills, and I always get a nice even flow of ink. I was grateful to find these pens available at a discount on MisterArt.com, as I have not been able to find them at any local stores.

Rated by: Carol S. in Dallas, TX

I love these pens! Combining gel ink with a fountain pen is a great combination. I started buying them at my daughter's school store, where they always sold out quickly.

Rated by: PHYLLIS M. in SHERIDAN, AR

These pens are great and the delivery time was excellent. A lot of times you have to buy a whole card of different color pens to get the one color that you want. I love being able to order the single color and your prices are fantastic.

Rated by: Michael H. in Greenwood, SC

This is one cool pen! It's very eclectic, vintage, but modern too!

Rated by: Virginia W. in Memphis, TN

The most fabulous pen I have ever found. I'm a lefty.
Add Your Review
Tell us what you think. We appreciate you taking the time to share your opinion with other artists and crafters. Please keep your review detailed and specific.
Tips on Writing Reviews
Rating Scale
(5-Star) Excellent
(4-Star) Good
(3-Star) Average
(2-Star) Fair
(1-Star) Poor
Do:
Give your perspective on how you used the product and why you liked or disliked it.
Keep your reviews short enough to hold the audience's attention.
Be honest and mindful of others when providing editorial commentary.
Don't:
Include phone numbers, addresses, URLs, or HTML tags.
Write profanity, obscenities, vulgarities, or spiteful comments.
Make defamatory comments.