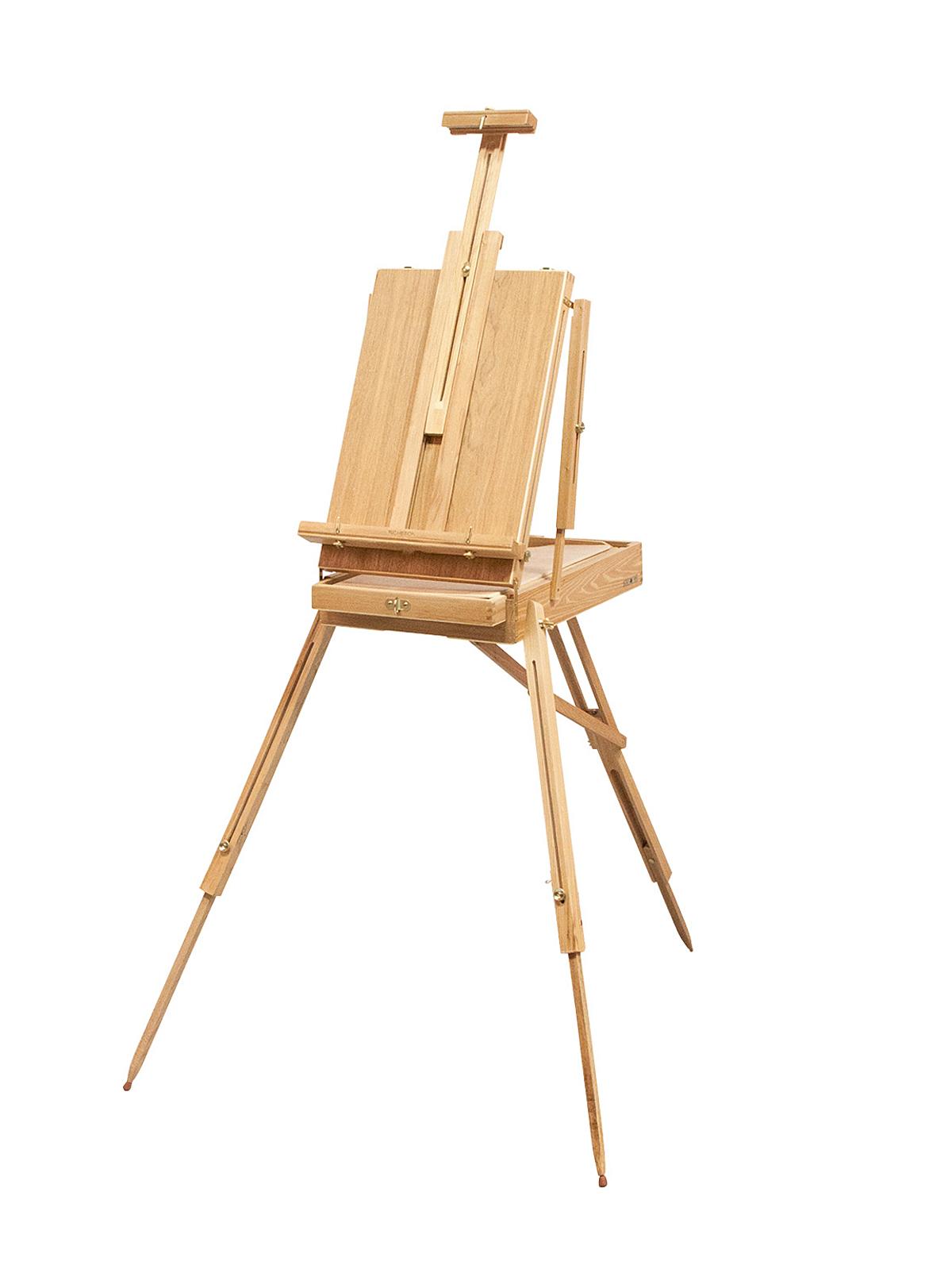 Zoom Image
Elm Wood Weston Full French Easel

Beautifully handcrafted from eco-friendly Elm hardwood, the Weston is an extraordinary version of an ever-popular design that takes the easel to a new level. The telescoping front legs adjust to rough terrain, and the braced back leg holds the easel securely in place.
Non-skid pads on the feet add extra stability, and the easel's removable compartments are perfect for storing materials. This unfinished wood easel tilts past vertical, has an adjustable lid and canvas handle, and includes an 11 in. x 16 in. wooden palette.
Maximum easel height is 69 1/2 in. Maximum canvas height is 33 in. When not in use, the easel folds up to 16 in. x 22 in. Its weight when empty is 14 lb.
?
Ask a question about this product
Mary from Eugene Oregon says:
I love it. I am using it everyday and love the convenience of breaking it down and the ease of setting it back up. The storage is an extra plus. The only suggestion I could make is to include the instructions...[more]
Share this Product
Enter Quantity & Click 'Add to Cart'
Please wait...
You May Also Like...
by Mona Lisa

Functional, affordable transfer paper

Professional grade metallic powders
How to get VIP Club Prices
Anyone can be a VIP Member with:
Additional savings on all products
Express order handling
Exclusive promotions
Priority customer service
Your email will not be shared. We will only use your email address to respond to your question. When asking your question, please be as descriptive as possible, it will allow us to give you the most accurate answer possible.


Customer Product Reviews
Rated by: Mary in Eugene Oregon

I love it. I am using it everyday and love the convenience of breaking it down and the ease of setting it back up. The storage is an extra plus. The only suggestion I could make is to include the instructions in the kit. I did need them for setting it up the first few times.

Rated by: Linda L. in Buffalo, NY

I'm new to painting and ready for canvas. I purchased this since my living quarters are small. Seems very nice for the price. Easy set up (after the first time, no instructions came with product) and smells great! Must be the elm. Very happy.

Rated by: Jesse G. in Santa Cruz, CA

Beautiful box easel for the price. fold in legs should be handled with care.

Rated by: holly k. in bonita springs, FL

Very good easel for general use. Easy to store and set up.

Rated by: Pam M. in Fort Myers, FL

I told all of my family members that I love shopping Misterart.com and at Christmas, lo and behold; I had gift certificates to spend. Their money wasn't wasted on this easel. I have it set up and have been painting steadily. The easel has storage, it is sturdy, and doesn't take up alot of room. I attend out-of-state workshops and mail my art stuff ahead of me- this easel doesn't weigh too much so it now will become part of my mailed out art stuff. The only negative thing was the initial set up; I wish it had come with some instructions...but now that I have figured it out its a breeze to set up! I love it and I sincerely recommend it to everyone looking for a great portable, inside outside easel.

Rated by: Irma M. in Allagash, ME

This easel is wonderful. I like the feature that it folds to a briefcase size when not in use. My place is very small and this is wonderful. It also unfolds and folds very easily. I love it.

Rated by: Lacy A. in Columbus, OH

This french air easel is surprisingly well constructed and nicely designed. I can't wait for spring to take it into the field, plein air paint and relax from the every day grind.

Rated by: Ronn W. in Pocatello, ID

This easel is great. Since I travel a lot. I just pick it up and go. It's always with me.

Rated by: Albert S. in Ellicott City, MD

Well made and sturdy, with sufficient space for tubes, brushes and the supplied palette, this French plein-air easel is a winner. With the simple addition of four rubber-button feet, it also gives yeoman service on table-top. Great gear.

Rated by: Erik K. in Glendale, CA

You get what you pay for with this easel. It's a good easel to get if you are a beginning painter and don't want to put too much money into it. For me, this easel has been about learning to live with it's faults and make the best of it. I've been doing outdoor painting. The lid cracked on the side and the screw holding the lid fell out within the first two outdoor painting sessions I took this easel on. I fixed it myself but will mostly likely invest in something more sturdy later on.

Rated by: jacqueline r. in big sky, MT

I do not recommend this easel if you are actually using it for plein air painting. The construction of it is shoddy and the joints do not glide as they must in order to set it up and take it down after each painting session.

Rated by: Joan S. in St. Simons Island, GA

I just completed a landscape painting workshop in Vermont that required the use of a French Easel. Purchased this easel in time for my workshop; first time I used the box, one of the tiny screws holding a brass latch fell out. I had to resort to taping the screw to the latch until I got home as I had no glue in the field. I think if I am careful with it, the easel will hold up to continued use in the field. Other than the hardware problem, I am satisfied with the easel, and the price was lower than other vendors.

Rated by: Mary B. in Gainesville, FL

It's a splendid idea to have an easel that can be set up in a studio or taken outside, and this easel is an excellent value. I live in an apartment, however, and hadn't realized how much more room it takes than a standing easel.

Rated by: Carlos D. in Bayamon, PR

I'm so pleased with the easel...now I'm ready to Plein Air Painting... grab the easel and on the road I go. Just great!!!

Rated by: Jennifer B. in Novato, CA

This is perfect! Don't hesitate on this one -- it's compact, sturdy and not to mention, beautiful!! Holds all the supplies I need and it sets up SO quick. Thanks for the quality product!

Rated by: Emily S. in Concord, NH

I love this easel. It's got great portability and stability (just be sure to tighten the knobs completely). I love, love, love it! I would recommend this easel to anybody. Thank you MisterArt.com for such great service!!

Rated by: Emma P. in Philadelphia, PA

Good easel, just make sure you tighten the knobs securely when it is set up & buy a better palette.

Rated by: Linda D. in Shawnee, OK

Great value! Versatile and decently made.

Rated by: Alexandra W. in SW, FL

I love this easel. It is something I have wanted for years. I recently used it, along with the extra shelf, at a facepainting gig at a local fair. There was a place for everything. I plan to purchase the mini version for 2 granddaughters so we can all go out painting together.

Rated by: Brenda A B. in Battle Mountain, NV

I love this easel. It is great for the where I wanted to place it. It is also exactly what I was expecting. It will travel well and has lots of storage.

Rated by: Debbie W. in Detroit, MI

The service I received from MisterArt was exceptional. I am giving you 5 stars for your service. I had to contact MisterArt concerning the leg on the easel which was broken. They sent a new one out the next day.

Rated by: Jim H. in Barberton, OH

Perfect, arrived in 5 days, better than expected, retails in this area for 190.00.

Rated by: Linda C. in Laplace, LA

Excellent quality, my fourteen year old granddaughter loves it, it is exactly as the description and more, the price is exceptional, I'm a very satisfied customer

Rated by: Jennifer J. in Roseburg, OR

Great quality, easy to set up and VERY portable.

Rated by: Mary H. in Hertford, NC

Outstanding product...fits in my compact studio beautifully.

Rated by: Rene G. in Houma, LA

Excellent easel at a bargain price. Plus, has the Jack Richeson name behind it. I'd recommend this easel to anyone.

Rated by: sharon s. in new port richey, FL

I bought this for my daughter, along with some other items, because she was getting into art and loved drawing. I love everything about this easel, and my daughter couldn't be happier. It's easy to set up and folds down small enough to store.

Rated by: BOYD S. in sanatoga, PA

Wonderful, everything I expected for an affordable price. One concern was tha the easel was slightly damaged in shipping, but rather than send it back I fixed it my self. Santa is happy.

Rated by: T B. in Oklahoma City, OK

I am so pleased with this easel! I've taken it with me to paint along rivers, in the woods, and in private gardens. It is sturdy, convenient, and holds all of my supplies in it's drawer. If there is a difference between this and the more expensive easels, I haven't seen it. This has met and exceeded all of my expectations. I would highly recomend it to any of my friends. Thank you Mister Art.

Rated by: Leon L. in Fort Worth, TX

This easel is great, it's just what I need for my den or patio or elsewhere. There's no way I could move my large easel out of my studio room, and i hate my table easel. This did the trick I love it. I also like the price.

Rated by: Mara Y. in Lake Placid, FL

Beautiful, steady, functional piece. I'm taking it to Italy to use during my Summer exhibition demonstrations. I hope my paintings will do it justice!

Rated by: Susan W. in Hamilton, NJ

Love this, and the price is just unbelievable. Very sturdy and attractive stores away easily and folds up to the size of a briefcase.

Rated by: DJ H. in Deer Lodge, MT

We really love the french easels so much that we have also bought them for birthday presents for our grown children. They are a wonderful price and an excellant value for the quality of the product! You can't go wrong with a product like this!

Rated by: Jarvis S. in del norte, CO

i love it. it's compact enough for me to carry it arround

Rated by: ALMA B. in GAINESVILLE, GA

I was so exicted when I saw this easel at this price. I loved that misterart didnt take long to deliver, overall the best bargin online ever!

Rated by: Melissa N. in no, CO

I love this! Look around every other place that carries this will charge you 50-100 dollars more. Great quality...I'm so excited to take this easel college.

Rated by: Jeannie A. in baltimore, MD

Great easel! The size is perfect for our small apartment. The only issues I've had so far is that the wing nuts on the legs don't seem to tighten enough to keep the legs in a locked position. Other than that, it's wonderful.

Rated by: Elizabeth B. in Wellfleet, MA

I purchased this easal for my girlfriend for Christmas and she is delighted with it. She's a beginner painter and wanted something for both inside and outside. This is a great, inexpensive way to start. Thank you.

Rated by: Karen L. in Brisbane, CA

I purchased this easel for my 7 year old daughter -- I am very happy with the excellent construction, good design. I couldn't be happier with it!

Rated by: Margaret C. in Red Oak, TX

Great Easel & for the price, it can't be beat. Have been wanting one such as this for a long time, & when I saw this, it was at the top of my wish list for Christmas. Thanks for both the good quality & the prompt delivery. Did not expect it so soon.

Rated by: Sharon B. in Grass Valley, CA

This is now my favorite easel and cannot believe the quality of it, then add Misterart.com's great price & you can't go wrong. It is everything and then some that is advertised about it. What a great product.

Rated by: Vickie H. in Eufaula, AL

I got this easel for my daugter,and she loves it.When I told her I had ordered it for her on the internet,she could'nt wait till it came in the mail.One thing I like about this easel is that you can carry it with you where ever you go.

Rated by: Jacquelyn O. in New Haven, CT

I cannot believe what a good deal this easel was! I am a beginning oil painter with aspirations of painting my favorite view in the field...I had shopped for a French easel (both full and half) for quite some time, never finding anything in my price range. Then I found misterart.com and this unfinished easel for fully 1/4 the lowest price I could find elsewhere. It is beautiful, practical, and sturdy. For my beginning attempts, it works great as a tabletop easel. And I know it will be great to take in the field when I am ready, with a handy carrying handle as well as a strap. Wonderful find!

Rated by: Tulio K. in Saint Just, PR

I like to let you know how SATISFIED I am with my new Jack Richeson Academy Weston Full French Easel. For me it is very practical for the easy assembly and good quality of materials used. Thanks a lot.

Rated by: Kathy C. in Any City, FL

Love it. Easy to set up and carry with you. Get the back pack straps though if you are going to carry it very far.

Rated by: Curt S. in Farmington, NM

The easel was actually better quality than I expected. Overall, I was very pleased.

Rated by: Marie M. in Queens, NY

I had been searching for an easle that was good quality and inexpensive with no luck for 2 months. I've seen the whole gammet; plastic, metal, wood, you name it from $9.00-$350.00 and up. I almost gave up untill I saw this one. WoW! when I got it home it was nicely packaged, opened easly, set up in seconds. It's look alone is truly inspiring. A nice addition to my home, and painting with it is a pleasure. The drawer holds my paint, brushes and ideas for my next "master piece". Thank you mister art, you have everything I need, and the price I like.

Rated by: Robert C. in Redondo Beach, CA

Excellent product. Most cleverly designed for convenience, ease of transport and set up. Accommodates just about anything of any size. Sold in stores at nearly twice the price. Rapid delivery. Great response to the replacement of one missing nut.

Rated by: Danny Piano C. in Oklahoma City, OK

Great easel, perfect for mobile on location work. It is sturdy for reliable service, yet light for transport and quick easy setup. Shipping was surprisingly fast, with good packing. No complaints. Would highly recommend this Jack Richeson Academy Weston Full French Easel as a must buy, when you need to get fresh inspiration and out of the studio. This easel is as good as any, and about a Hundred Dollars less than your local store; if you were able to get the same quality goods.

Rated by: S. T. in Dallas, TX

Excellent! Easel arrived promptly and as well built as it looked in the online images (i.e. solid construction). Would use MisterArt.com again.

Rated by: John H. in Dothan, AL

Great value, well built and attractive.

Rated by: Stacy A. in Pacific NW, OR

This is a really great en air easel! Perfect for inside a cramped studio, too. Plenty large without being too bulky. Sturdy, well-built and good looking. I highly recommend it to all painters!

Rated by: Angelo N. in New York, NY

Wow! This easel is a wonderful choice. It is supposed to be used en plain air but you can enjoy its versatility at home. It gives a touch of freshness to your studio.

Rated by: Lauren I. in Orange County, CA

I usually work on more than one painting at a time and thus have a number of easels set up in my studio. For awhile I was using drafting tables ($100 at the very cheapest) and Winsor & Newton's Arun table easels (I paid around $65 for mine, at MisterArt.com they are $45). I found this to be much more convenient, and so incredibly cheap! What I was worried about most was the stability (it hasn't faltered once) and having enough table space around there, but I can fit all of my brushes and paints in the drawers and set up a little turpentine or water and palette on a table to the side. This is a great buy!

Rated by: Vladimir K. in Brooklyn, NY

JACK RICHESON Academy Weston Full French Easel is a great investment for both home and outdoor use. The quality, price, the whole shopping experience was very nice. Thank you MisterArt.com!

Rated by: Nina F. in Summerfield, FL

This is the best investment I have made since I started to paint. It is easy to position. I can use it standing up or sitting down. I highly recommend this easel.

Rated by: Orville G. in tucson, AZ

I've been dreaming to have this kind of easel for a long time, now I have it! Works perfect on my first portrait this year, I am really pleased.

Rated by: Arlene C. in munfordville, KY

I have wanted one of these for a long time. I could not believe the price when I saw it. My local discount art store had it on sale for $242! Not only is this an absolute bargain, it is quality!!!!!! and I love it.

Rated by: Kimi H. in Los Angeles, CA

Yaaaay I love it! I have it sitting in my living room in a corner with my second painting on it and I just got the thing! It is very sturdy, and very well crafted and posh like the ones the french painters of antiquity utilized; and this particular one is a little darker in color than the picture which is wonderful because it gives it even more of an elegant expensive look! What a conversation piece it is as well! I am truly happy! Don't procrastinate another minute! Get this easel you will not be sorry! I also wanted my easel bad and fast and I received my order QUICK (within a week) and it was VERY well packaged! Thank you MisterArt.com you have a customer in me!

Rated by: Christina P. in T., CA

Not only did my 5 year old step son feel like a real painter when he painted on this easel for the first time, I decided that I had to have one for myself. I love this thing!!!!

Rated by: Ismael R. in Austin, TX

Excellent easel. I've already filled it with supplies from MisterArt.com. The easel is great for this beginning artist. Service and shipping were excellent.

Rated by: Adam K. in Dallas, TX

This is the best easel ever!

Rated by: Katheryn G. in Timmonsville, SC

I wish you could have seen my daughter's eyes on Christmas morning. She loves this easel. Yes, it is her first one. She likes it because she can take it with her anywhere she goes. She doesn't have to know how much it costed, but she thinks I paid BIG bucks for it. She feels like a "real artist" now. Thanks so much MisterArt.com for the great packaging and quick shipping. Everything was WONDERFUL !

Rated by: Jenny D. in Cincinnati, OH

Excellent quality at a rock-bottom price! Lightweight, easy to set up... no assembly required, save one set screw and the strap. I'm so glad I got it!

Rated by: Judith M. in Colorado Springs, CO

I'm pleased with the looks and performance of my French easel, no balky parts or warped wood.

Rated by: Bryan N. in Pasadena, CA

Be honest...there are better easels out there...but none at this price/quality. Even so...it does the job just fine...the craftsmanship is good if not perfect, and the whole product is signifigantly lighter than the more expensive models from other manufacturers that use oak instead of maple or pine. This is a highly recommended easel for those who are just starting out and would like to have a useable easel that isn't patronizing them or for those who'd like a second easel purely for utilitarian purposes.

Rated by: Charlotte P. in Dallas, TX

This product is wonderful. It is so easy to store or set up for use. It is very durable and convient. I love it to take on my trips.

Rated by: David M. in Portland, OR

Great easel for the money. Folds up and is easily transportable. Can't beat MisterArt's price, either.
Add Your Review
Tell us what you think. We appreciate you taking the time to share your opinion with other artists and crafters. Please keep your review detailed and specific.
Tips on Writing Reviews
Rating Scale
(5-Star) Excellent
(4-Star) Good
(3-Star) Average
(2-Star) Fair
(1-Star) Poor
Do:
Give your perspective on how you used the product and why you liked or disliked it.
Keep your reviews short enough to hold the audience's attention.
Be honest and mindful of others when providing editorial commentary.
Don't:
Include phone numbers, addresses, URLs, or HTML tags.
Write profanity, obscenities, vulgarities, or spiteful comments.
Make defamatory comments.