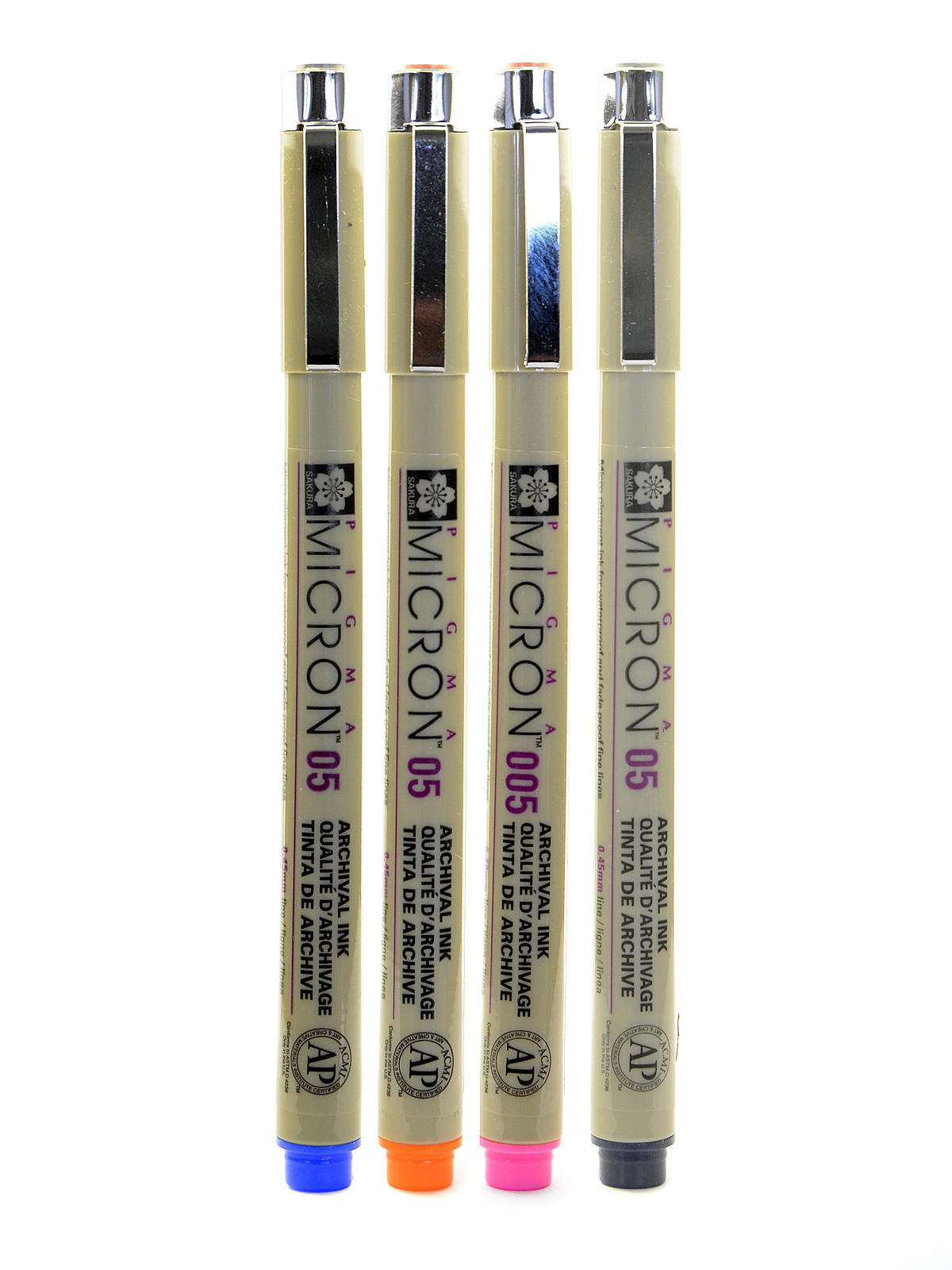 Zoom Image

Pigma Micron pens are fine point writing instrument offers a waterproof, quick-drying pigment ink. Fade proof and smudge proof on porous surfaces, including 100% cotton fabrics. Will not smear or feather when dry. Fade resistant. Does not bleed through most paper. Use for graphics, journaling, scrapbooks, memos, illustration, drafting, archival recording, cartooning, and accounting. pH neutral. Ideal for acid-free environments. Chemical resistant.
Also available in sets.
?
Ask a question about this product | See all questions & answers (3)
Felice K. from Buffalo, NY says:
Archival and nice range of sizes. Too bad they run out of ink .
Share this Product
Enter Quantity & Click 'Add to Cart'
Please wait...
You May Also Like...
struct
EVENTNAME
[empty string]
EXCEPTION

struct
Cause

struct
ErrorCode
1205
Message
[Macromedia][SQLServer JDBC Driver][SQLServer]Transaction (Process ID 430) was deadlocked on lock | communication buffer resources with another process and has been chosen as the deadlock victim. Rerun the transaction.
SQLState
40001
StackTrace
java.sql.SQLTransactionRollbackException: [Macromedia][SQLServer JDBC Driver][SQLServer]Transaction (Process ID 430) was deadlocked on lock | communication buffer resources with another process and has been chosen as the deadlock victim. Rerun the transaction. at macromedia.jdbc.sqlserverbase.ddcw.b(Unknown Source) at macromedia.jdbc.sqlserverbase.ddcw.a(Unknown Source) at macromedia.jdbc.sqlserverbase.ddcv.b(Unknown Source) at macromedia.jdbc.sqlserverbase.ddcv.a(Unknown Source) at macromedia.jdbc.sqlserver.tds.ddr.v(Unknown Source) at macromedia.jdbc.sqlserver.tds.ddr.a(Unknown Source) at macromedia.jdbc.sqlserver.tds.ddr.c(Unknown Source) at macromedia.jdbc.sqlserver.dda4.m(Unknown Source) at macromedia.jdbc.sqlserverbase.dde7.e(Unknown Source) at macromedia.jdbc.sqlserverbase.dde7.a(Unknown Source) at macromedia.jdbc.sqlserverbase.dde7.x(Unknown Source) at macromedia.jdbc.sqlserverbase.dde7.t(Unknown Source) at macromedia.jdbc.sqlserverbase.dde7.execute(Unknown Source) at coldfusion.server.j2ee.sql.JRunStatement.execute(JRunStatement.java:359) at coldfusion.sql.Executive.executeQuery(Executive.java:1567) at coldfusion.sql.Executive.executeQuery(Executive.java:1317) at coldfusion.sql.Executive.executeQuery(Executive.java:1247) at coldfusion.sql.SqlImpl.execute(SqlImpl.java:427) at coldfusion.tagext.sql.QueryTag.executeQuery(QueryTag.java:1211) at coldfusion.tagext.sql.QueryTag.startQueryExecution(QueryTag.java:841) at coldfusion.tagext.sql.QueryTag.doEndTag(QueryTag.java:794) at cf1row3items2ecfm679456892.runPage(/var/www/html/misterart.com/views/components/1row3items.cfm:29) at coldfusion.runtime.CfJspPage.invoke(CfJspPage.java:262) at coldfusion.tagext.lang.IncludeTag.handlePageInvoke(IncludeTag.java:729) at coldfusion.tagext.lang.IncludeTag.doStartTag(IncludeTag.java:565) at coldfusion.runtime.CfJspPage._emptyTcfTag(CfJspPage.java:4082) at cfgroupdetails2ecfm1794534649._factor15(/var/www/html/misterart.com/views/category/groupdetails.cfm:711) at cfgroupdetails2ecfm1794534649._factor20(/var/www/html/misterart.com/views/category/groupdetails.cfm:175) at cfgroupdetails2ecfm1794534649._factor21(/var/www/html/misterart.com/views/category/groupdetails.cfm:8) at cfgroupdetails2ecfm1794534649.runPage(/var/www/html/misterart.com/views/category/groupdetails.cfm:1) at coldfusion.runtime.CfJspPage.invoke(CfJspPage.java:262) at coldfusion.tagext.lang.IncludeTag.handlePageInvoke(IncludeTag.java:729) at coldfusion.tagext.lang.IncludeTag.doStartTag(IncludeTag.java:565) at coldfusion.runtime.CfJspPage._emptyTcfTag(CfJspPage.java:4082) at cflayout32ecfm1035591831.runPage(/var/www/html/misterart.com/views/layout/layout3.cfm:13) at coldfusion.runtime.CfJspPage.invoke(CfJspPage.java:262) at coldfusion.tagext.lang.IncludeTag.handlePageInvoke(IncludeTag.java:729) at coldfusion.tagext.lang.IncludeTag.doStartTag(IncludeTag.java:565) at coldfusion.runtime.CfJspPage._emptyTcfTag(CfJspPage.java:4082) at cfindex2ecfm158854119.runPage(/var/www/html/misterart.com/index.cfm:407) at coldfusion.runtime.CfJspPage.invoke(CfJspPage.java:262) at coldfusion.tagext.lang.IncludeTag.handlePageInvoke(IncludeTag.java:729) at coldfusion.tagext.lang.IncludeTag.doStartTag(IncludeTag.java:565) at coldfusion.filter.CfincludeFilter.invoke(CfincludeFilter.java:65) at coldfusion.filter.ApplicationFilter.invoke(ApplicationFilter.java:557) at coldfusion.filter.RequestMonitorFilter.invoke(RequestMonitorFilter.java:43) at coldfusion.filter.MonitoringFilter.invoke(MonitoringFilter.java:40) at coldfusion.filter.PathFilter.invoke(PathFilter.java:162) at coldfusion.filter.IpFilter.invoke(IpFilter.java:45) at coldfusion.filter.ExceptionFilter.invoke(ExceptionFilter.java:96) at coldfusion.filter.BrowserDebugFilter.invoke(BrowserDebugFilter.java:78) at coldfusion.filter.ClientScopePersistenceFilter.invoke(ClientScopePersistenceFilter.java:28) at coldfusion.filter.BrowserFilter.invoke(BrowserFilter.java:38) at coldfusion.filter.NoCacheFilter.invoke(NoCacheFilter.java:60) at coldfusion.filter.GlobalsFilter.invoke(GlobalsFilter.java:38) at coldfusion.filter.DatasourceFilter.invoke(DatasourceFilter.java:22) at coldfusion.filter.CachingFilter.invoke(CachingFilter.java:62) at coldfusion.CfmServlet.service(CfmServlet.java:226) at coldfusion.bootstrap.BootstrapServlet.service(BootstrapServlet.java:311) at org.apache.catalina.core.ApplicationFilterChain.internalDoFilter(ApplicationFilterChain.java:231) at org.apache.catalina.core.ApplicationFilterChain.doFilter(ApplicationFilterChain.java:166) at coldfusion.monitor.event.MonitoringServletFilter.doFilter(MonitoringServletFilter.java:46) at coldfusion.bootstrap.BootstrapFilter.doFilter(BootstrapFilter.java:47) at org.apache.catalina.core.ApplicationFilterChain.internalDoFilter(ApplicationFilterChain.java:193) at org.apache.catalina.core.ApplicationFilterChain.doFilter(ApplicationFilterChain.java:166) at org.apache.tomcat.websocket.server.WsFilter.doFilter(WsFilter.java:53) at org.apache.catalina.core.ApplicationFilterChain.internalDoFilter(ApplicationFilterChain.java:193) at org.apache.catalina.core.ApplicationFilterChain.doFilter(ApplicationFilterChain.java:166) at org.apache.catalina.core.StandardWrapperValve.invoke(StandardWrapperValve.java:199) at org.apache.catalina.core.StandardContextValve.invoke(StandardContextValve.java:96) at org.apache.catalina.authenticator.AuthenticatorBase.invoke(AuthenticatorBase.java:491) at org.apache.catalina.core.StandardHostValve.invoke(StandardHostValve.java:139) at org.apache.catalina.valves.ErrorReportValve.invoke(ErrorReportValve.java:92) at org.apache.catalina.valves.RemoteIpValve.invoke(RemoteIpValve.java:685) at org.apache.catalina.core.StandardEngineValve.invoke(StandardEngineValve.java:87) at org.apache.catalina.connector.CoyoteAdapter.service(CoyoteAdapter.java:357) at org.apache.coyote.ajp.AjpProcessor.service(AjpProcessor.java:422) at org.apache.coyote.AbstractProcessorLight.process(AbstractProcessorLight.java:66) at org.apache.coyote.AbstractProtocol$ConnectionHandler.process(AbstractProtocol.java:764) at org.apache.tomcat.util.net.NioEndpoint$SocketProcessor.doRun(NioEndpoint.java:1388) at org.apache.tomcat.util.net.SocketProcessorBase.run(SocketProcessorBase.java:49) at java.base/java.util.concurrent.ThreadPoolExecutor.runWorker(ThreadPoolExecutor.java:1128) at java.base/java.util.concurrent.ThreadPoolExecutor$Worker.run(ThreadPoolExecutor.java:628) at org.apache.tomcat.util.threads.TaskThread$WrappingRunnable.run(TaskThread.java:61) at java.base/java.lang.Thread.run(Thread.java:834)
Suppressed
TagContext

array
1

struct
COLUMN
0
ID
CFQUERY
LINE
29
RAW_TRACE
at cf1row3items2ecfm679456892.runPage(/var/www/html/misterart.com/views/components/1row3items.cfm:29)
TEMPLATE
/var/www/html/misterart.com/views/components/1row3items.cfm
TYPE
CFML

2

struct
COLUMN
0
ID
CFINCLUDE
LINE
711
RAW_TRACE
at cfgroupdetails2ecfm1794534649._factor15(/var/www/html/misterart.com/views/category/groupdetails.cfm:711)
TEMPLATE
/var/www/html/misterart.com/views/category/groupdetails.cfm
TYPE
CFML

3

struct
COLUMN
0
ID
CF_GROUPDETAILS
LINE
175
RAW_TRACE
at cfgroupdetails2ecfm1794534649._factor20(/var/www/html/misterart.com/views/category/groupdetails.cfm:175)
TEMPLATE
/var/www/html/misterart.com/views/category/groupdetails.cfm
TYPE
CFML

4

struct
COLUMN
0
ID
CF_GROUPDETAILS
LINE
8
RAW_TRACE
at cfgroupdetails2ecfm1794534649._factor21(/var/www/html/misterart.com/views/category/groupdetails.cfm:8)
TEMPLATE
/var/www/html/misterart.com/views/category/groupdetails.cfm
TYPE
CFML

5

struct
COLUMN
0
ID
CF_GROUPDETAILS
LINE
1
RAW_TRACE
at cfgroupdetails2ecfm1794534649.runPage(/var/www/html/misterart.com/views/category/groupdetails.cfm:1)
TEMPLATE
/var/www/html/misterart.com/views/category/groupdetails.cfm
TYPE
CFML

6

struct
COLUMN
0
ID
CFINCLUDE
LINE
13
RAW_TRACE
at cflayout32ecfm1035591831.runPage(/var/www/html/misterart.com/views/layout/layout3.cfm:13)
TEMPLATE
/var/www/html/misterart.com/views/layout/layout3.cfm
TYPE
CFML

7

struct
COLUMN
0
ID
CFINCLUDE
LINE
407
RAW_TRACE
at cfindex2ecfm158854119.runPage(/var/www/html/misterart.com/index.cfm:407)
TEMPLATE
/var/www/html/misterart.com/index.cfm
TYPE
CFML

Type
java.sql.SQLTransactionRollbackException

DataSource
MA3
Detail
[Macromedia][SQLServer JDBC Driver][SQLServer]Transaction (Process ID 430) was deadlocked on lock | communication buffer resources with another process and has been chosen as the deadlock victim. Rerun the transaction.
ErrorCode
40001
Exceptions

array
1

struct
class
java.sql.SQLTransactionRollbackException
message
[Macromedia][SQLServer JDBC Driver][SQLServer]Transaction (Process ID 430) was deadlocked on lock | communication buffer resources with another process and has been chosen as the deadlock victim. Rerun the transaction.

Message
Error Executing Database Query.
NativeErrorCode
1205
RootCause

struct
ErrorCode
1205
Message
[Macromedia][SQLServer JDBC Driver][SQLServer]Transaction (Process ID 430) was deadlocked on lock | communication buffer resources with another process and has been chosen as the deadlock victim. Rerun the transaction.
SQLState
40001
StackTrace
java.sql.SQLTransactionRollbackException: [Macromedia][SQLServer JDBC Driver][SQLServer]Transaction (Process ID 430) was deadlocked on lock | communication buffer resources with another process and has been chosen as the deadlock victim. Rerun the transaction. at macromedia.jdbc.sqlserverbase.ddcw.b(Unknown Source) at macromedia.jdbc.sqlserverbase.ddcw.a(Unknown Source) at macromedia.jdbc.sqlserverbase.ddcv.b(Unknown Source) at macromedia.jdbc.sqlserverbase.ddcv.a(Unknown Source) at macromedia.jdbc.sqlserver.tds.ddr.v(Unknown Source) at macromedia.jdbc.sqlserver.tds.ddr.a(Unknown Source) at macromedia.jdbc.sqlserver.tds.ddr.c(Unknown Source) at macromedia.jdbc.sqlserver.dda4.m(Unknown Source) at macromedia.jdbc.sqlserverbase.dde7.e(Unknown Source) at macromedia.jdbc.sqlserverbase.dde7.a(Unknown Source) at macromedia.jdbc.sqlserverbase.dde7.x(Unknown Source) at macromedia.jdbc.sqlserverbase.dde7.t(Unknown Source) at macromedia.jdbc.sqlserverbase.dde7.execute(Unknown Source) at coldfusion.server.j2ee.sql.JRunStatement.execute(JRunStatement.java:359) at coldfusion.sql.Executive.executeQuery(Executive.java:1567) at coldfusion.sql.Executive.executeQuery(Executive.java:1317) at coldfusion.sql.Executive.executeQuery(Executive.java:1247) at coldfusion.sql.SqlImpl.execute(SqlImpl.java:427) at coldfusion.tagext.sql.QueryTag.executeQuery(QueryTag.java:1211) at coldfusion.tagext.sql.QueryTag.startQueryExecution(QueryTag.java:841) at coldfusion.tagext.sql.QueryTag.doEndTag(QueryTag.java:794) at cf1row3items2ecfm679456892.runPage(/var/www/html/misterart.com/views/components/1row3items.cfm:29) at coldfusion.runtime.CfJspPage.invoke(CfJspPage.java:262) at coldfusion.tagext.lang.IncludeTag.handlePageInvoke(IncludeTag.java:729) at coldfusion.tagext.lang.IncludeTag.doStartTag(IncludeTag.java:565) at coldfusion.runtime.CfJspPage._emptyTcfTag(CfJspPage.java:4082) at cfgroupdetails2ecfm1794534649._factor15(/var/www/html/misterart.com/views/category/groupdetails.cfm:711) at cfgroupdetails2ecfm1794534649._factor20(/var/www/html/misterart.com/views/category/groupdetails.cfm:175) at cfgroupdetails2ecfm1794534649._factor21(/var/www/html/misterart.com/views/category/groupdetails.cfm:8) at cfgroupdetails2ecfm1794534649.runPage(/var/www/html/misterart.com/views/category/groupdetails.cfm:1) at coldfusion.runtime.CfJspPage.invoke(CfJspPage.java:262) at coldfusion.tagext.lang.IncludeTag.handlePageInvoke(IncludeTag.java:729) at coldfusion.tagext.lang.IncludeTag.doStartTag(IncludeTag.java:565) at coldfusion.runtime.CfJspPage._emptyTcfTag(CfJspPage.java:4082) at cflayout32ecfm1035591831.runPage(/var/www/html/misterart.com/views/layout/layout3.cfm:13) at coldfusion.runtime.CfJspPage.invoke(CfJspPage.java:262) at coldfusion.tagext.lang.IncludeTag.handlePageInvoke(IncludeTag.java:729) at coldfusion.tagext.lang.IncludeTag.doStartTag(IncludeTag.java:565) at coldfusion.runtime.CfJspPage._emptyTcfTag(CfJspPage.java:4082) at cfindex2ecfm158854119.runPage(/var/www/html/misterart.com/index.cfm:407) at coldfusion.runtime.CfJspPage.invoke(CfJspPage.java:262) at coldfusion.tagext.lang.IncludeTag.handlePageInvoke(IncludeTag.java:729) at coldfusion.tagext.lang.IncludeTag.doStartTag(IncludeTag.java:565) at coldfusion.filter.CfincludeFilter.invoke(CfincludeFilter.java:65) at coldfusion.filter.ApplicationFilter.invoke(ApplicationFilter.java:557) at coldfusion.filter.RequestMonitorFilter.invoke(RequestMonitorFilter.java:43) at coldfusion.filter.MonitoringFilter.invoke(MonitoringFilter.java:40) at coldfusion.filter.PathFilter.invoke(PathFilter.java:162) at coldfusion.filter.IpFilter.invoke(IpFilter.java:45) at coldfusion.filter.ExceptionFilter.invoke(ExceptionFilter.java:96) at coldfusion.filter.BrowserDebugFilter.invoke(BrowserDebugFilter.java:78) at coldfusion.filter.ClientScopePersistenceFilter.invoke(ClientScopePersistenceFilter.java:28) at coldfusion.filter.BrowserFilter.invoke(BrowserFilter.java:38) at coldfusion.filter.NoCacheFilter.invoke(NoCacheFilter.java:60) at coldfusion.filter.GlobalsFilter.invoke(GlobalsFilter.java:38) at coldfusion.filter.DatasourceFilter.invoke(DatasourceFilter.java:22) at coldfusion.filter.CachingFilter.invoke(CachingFilter.java:62) at coldfusion.CfmServlet.service(CfmServlet.java:226) at coldfusion.bootstrap.BootstrapServlet.service(BootstrapServlet.java:311) at org.apache.catalina.core.ApplicationFilterChain.internalDoFilter(ApplicationFilterChain.java:231) at org.apache.catalina.core.ApplicationFilterChain.doFilter(ApplicationFilterChain.java:166) at coldfusion.monitor.event.MonitoringServletFilter.doFilter(MonitoringServletFilter.java:46) at coldfusion.bootstrap.BootstrapFilter.doFilter(BootstrapFilter.java:47) at org.apache.catalina.core.ApplicationFilterChain.internalDoFilter(ApplicationFilterChain.java:193) at org.apache.catalina.core.ApplicationFilterChain.doFilter(ApplicationFilterChain.java:166) at org.apache.tomcat.websocket.server.WsFilter.doFilter(WsFilter.java:53) at org.apache.catalina.core.ApplicationFilterChain.internalDoFilter(ApplicationFilterChain.java:193) at org.apache.catalina.core.ApplicationFilterChain.doFilter(ApplicationFilterChain.java:166) at org.apache.catalina.core.StandardWrapperValve.invoke(StandardWrapperValve.java:199) at org.apache.catalina.core.StandardContextValve.invoke(StandardContextValve.java:96) at org.apache.catalina.authenticator.AuthenticatorBase.invoke(AuthenticatorBase.java:491) at org.apache.catalina.core.StandardHostValve.invoke(StandardHostValve.java:139) at org.apache.catalina.valves.ErrorReportValve.invoke(ErrorReportValve.java:92) at org.apache.catalina.valves.RemoteIpValve.invoke(RemoteIpValve.java:685) at org.apache.catalina.core.StandardEngineValve.invoke(StandardEngineValve.java:87) at org.apache.catalina.connector.CoyoteAdapter.service(CoyoteAdapter.java:357) at org.apache.coyote.ajp.AjpProcessor.service(AjpProcessor.java:422) at org.apache.coyote.AbstractProcessorLight.process(AbstractProcessorLight.java:66) at org.apache.coyote.AbstractProtocol$ConnectionHandler.process(AbstractProtocol.java:764) at org.apache.tomcat.util.net.NioEndpoint$SocketProcessor.doRun(NioEndpoint.java:1388) at org.apache.tomcat.util.net.SocketProcessorBase.run(SocketProcessorBase.java:49) at java.base/java.util.concurrent.ThreadPoolExecutor.runWorker(ThreadPoolExecutor.java:1128) at java.base/java.util.concurrent.ThreadPoolExecutor$Worker.run(ThreadPoolExecutor.java:628) at org.apache.tomcat.util.threads.TaskThread$WrappingRunnable.run(TaskThread.java:61) at java.base/java.lang.Thread.run(Thread.java:834)
Suppressed
TagContext

array
1

struct
COLUMN
0
ID
CFQUERY
LINE
29
RAW_TRACE
at cf1row3items2ecfm679456892.runPage(/var/www/html/misterart.com/views/components/1row3items.cfm:29)
TEMPLATE
/var/www/html/misterart.com/views/components/1row3items.cfm
TYPE
CFML

2

struct
COLUMN
0
ID
CFINCLUDE
LINE
711
RAW_TRACE
at cfgroupdetails2ecfm1794534649._factor15(/var/www/html/misterart.com/views/category/groupdetails.cfm:711)
TEMPLATE
/var/www/html/misterart.com/views/category/groupdetails.cfm
TYPE
CFML

3

struct
COLUMN
0
ID
CF_GROUPDETAILS
LINE
175
RAW_TRACE
at cfgroupdetails2ecfm1794534649._factor20(/var/www/html/misterart.com/views/category/groupdetails.cfm:175)
TEMPLATE
/var/www/html/misterart.com/views/category/groupdetails.cfm
TYPE
CFML

4

struct
COLUMN
0
ID
CF_GROUPDETAILS
LINE
8
RAW_TRACE
at cfgroupdetails2ecfm1794534649._factor21(/var/www/html/misterart.com/views/category/groupdetails.cfm:8)
TEMPLATE
/var/www/html/misterart.com/views/category/groupdetails.cfm
TYPE
CFML

5

struct
COLUMN
0
ID
CF_GROUPDETAILS
LINE
1
RAW_TRACE
at cfgroupdetails2ecfm1794534649.runPage(/var/www/html/misterart.com/views/category/groupdetails.cfm:1)
TEMPLATE
/var/www/html/misterart.com/views/category/groupdetails.cfm
TYPE
CFML

6

struct
COLUMN
0
ID
CFINCLUDE
LINE
13
RAW_TRACE
at cflayout32ecfm1035591831.runPage(/var/www/html/misterart.com/views/layout/layout3.cfm:13)
TEMPLATE
/var/www/html/misterart.com/views/layout/layout3.cfm
TYPE
CFML

7

struct
COLUMN
0
ID
CFINCLUDE
LINE
407
RAW_TRACE
at cfindex2ecfm158854119.runPage(/var/www/html/misterart.com/index.cfm:407)
TEMPLATE
/var/www/html/misterart.com/index.cfm
TYPE
CFML

Type
java.sql.SQLTransactionRollbackException

SQLState
40001
Sql
UPDATE group_2_group_new set counter = counter + 1 WHERE group_id = 1177 AND related_group_id = 5528
StackTrace
coldfusion.tagext.sql.QueryTag$DatabaseQueryException: Error Executing Database Query. at coldfusion.tagext.sql.QueryTag.startQueryExecution(QueryTag.java:894) at coldfusion.tagext.sql.QueryTag.doEndTag(QueryTag.java:794) at cf1row3items2ecfm679456892.runPage(/var/www/html/misterart.com/views/components/1row3items.cfm:29) at coldfusion.runtime.CfJspPage.invoke(CfJspPage.java:262) at coldfusion.tagext.lang.IncludeTag.handlePageInvoke(IncludeTag.java:729) at coldfusion.tagext.lang.IncludeTag.doStartTag(IncludeTag.java:565) at coldfusion.runtime.CfJspPage._emptyTcfTag(CfJspPage.java:4082) at cfgroupdetails2ecfm1794534649._factor15(/var/www/html/misterart.com/views/category/groupdetails.cfm:711) at cfgroupdetails2ecfm1794534649._factor20(/var/www/html/misterart.com/views/category/groupdetails.cfm:175) at cfgroupdetails2ecfm1794534649._factor21(/var/www/html/misterart.com/views/category/groupdetails.cfm:8) at cfgroupdetails2ecfm1794534649.runPage(/var/www/html/misterart.com/views/category/groupdetails.cfm:1) at coldfusion.runtime.CfJspPage.invoke(CfJspPage.java:262) at coldfusion.tagext.lang.IncludeTag.handlePageInvoke(IncludeTag.java:729) at coldfusion.tagext.lang.IncludeTag.doStartTag(IncludeTag.java:565) at coldfusion.runtime.CfJspPage._emptyTcfTag(CfJspPage.java:4082) at cflayout32ecfm1035591831.runPage(/var/www/html/misterart.com/views/layout/layout3.cfm:13) at coldfusion.runtime.CfJspPage.invoke(CfJspPage.java:262) at coldfusion.tagext.lang.IncludeTag.handlePageInvoke(IncludeTag.java:729) at coldfusion.tagext.lang.IncludeTag.doStartTag(IncludeTag.java:565) at coldfusion.runtime.CfJspPage._emptyTcfTag(CfJspPage.java:4082) at cfindex2ecfm158854119.runPage(/var/www/html/misterart.com/index.cfm:407) at coldfusion.runtime.CfJspPage.invoke(CfJspPage.java:262) at coldfusion.tagext.lang.IncludeTag.handlePageInvoke(IncludeTag.java:729) at coldfusion.tagext.lang.IncludeTag.doStartTag(IncludeTag.java:565) at coldfusion.filter.CfincludeFilter.invoke(CfincludeFilter.java:65) at coldfusion.filter.ApplicationFilter.invoke(ApplicationFilter.java:557) at coldfusion.filter.RequestMonitorFilter.invoke(RequestMonitorFilter.java:43) at coldfusion.filter.MonitoringFilter.invoke(MonitoringFilter.java:40) at coldfusion.filter.PathFilter.invoke(PathFilter.java:162) at coldfusion.filter.IpFilter.invoke(IpFilter.java:45) at coldfusion.filter.ExceptionFilter.invoke(ExceptionFilter.java:96) at coldfusion.filter.BrowserDebugFilter.invoke(BrowserDebugFilter.java:78) at coldfusion.filter.ClientScopePersistenceFilter.invoke(ClientScopePersistenceFilter.java:28) at coldfusion.filter.BrowserFilter.invoke(BrowserFilter.java:38) at coldfusion.filter.NoCacheFilter.invoke(NoCacheFilter.java:60) at coldfusion.filter.GlobalsFilter.invoke(GlobalsFilter.java:38) at coldfusion.filter.DatasourceFilter.invoke(DatasourceFilter.java:22) at coldfusion.filter.CachingFilter.invoke(CachingFilter.java:62) at coldfusion.CfmServlet.service(CfmServlet.java:226) at coldfusion.bootstrap.BootstrapServlet.service(BootstrapServlet.java:311) at org.apache.catalina.core.ApplicationFilterChain.internalDoFilter(ApplicationFilterChain.java:231) at org.apache.catalina.core.ApplicationFilterChain.doFilter(ApplicationFilterChain.java:166) at coldfusion.monitor.event.MonitoringServletFilter.doFilter(MonitoringServletFilter.java:46) at coldfusion.bootstrap.BootstrapFilter.doFilter(BootstrapFilter.java:47) at org.apache.catalina.core.ApplicationFilterChain.internalDoFilter(ApplicationFilterChain.java:193) at org.apache.catalina.core.ApplicationFilterChain.doFilter(ApplicationFilterChain.java:166) at org.apache.tomcat.websocket.server.WsFilter.doFilter(WsFilter.java:53) at org.apache.catalina.core.ApplicationFilterChain.internalDoFilter(ApplicationFilterChain.java:193) at org.apache.catalina.core.ApplicationFilterChain.doFilter(ApplicationFilterChain.java:166) at org.apache.catalina.core.StandardWrapperValve.invoke(StandardWrapperValve.java:199) at org.apache.catalina.core.StandardContextValve.invoke(StandardContextValve.java:96) at org.apache.catalina.authenticator.AuthenticatorBase.invoke(AuthenticatorBase.java:491) at org.apache.catalina.core.StandardHostValve.invoke(StandardHostValve.java:139) at org.apache.catalina.valves.ErrorReportValve.invoke(ErrorReportValve.java:92) at org.apache.catalina.valves.RemoteIpValve.invoke(RemoteIpValve.java:685) at org.apache.catalina.core.StandardEngineValve.invoke(StandardEngineValve.java:87) at org.apache.catalina.connector.CoyoteAdapter.service(CoyoteAdapter.java:357) at org.apache.coyote.ajp.AjpProcessor.service(AjpProcessor.java:422) at org.apache.coyote.AbstractProcessorLight.process(AbstractProcessorLight.java:66) at org.apache.coyote.AbstractProtocol$ConnectionHandler.process(AbstractProtocol.java:764) at org.apache.tomcat.util.net.NioEndpoint$SocketProcessor.doRun(NioEndpoint.java:1388) at org.apache.tomcat.util.net.SocketProcessorBase.run(SocketProcessorBase.java:49) at java.base/java.util.concurrent.ThreadPoolExecutor.runWorker(ThreadPoolExecutor.java:1128) at java.base/java.util.concurrent.ThreadPoolExecutor$Worker.run(ThreadPoolExecutor.java:628) at org.apache.tomcat.util.threads.TaskThread$WrappingRunnable.run(TaskThread.java:61) at java.base/java.lang.Thread.run(Thread.java:834) Caused by: java.sql.SQLTransactionRollbackException: [Macromedia][SQLServer JDBC Driver][SQLServer]Transaction (Process ID 430) was deadlocked on lock | communication buffer resources with another process and has been chosen as the deadlock victim. Rerun the transaction. at macromedia.jdbc.sqlserverbase.ddcw.b(Unknown Source) at macromedia.jdbc.sqlserverbase.ddcw.a(Unknown Source) at macromedia.jdbc.sqlserverbase.ddcv.b(Unknown Source) at macromedia.jdbc.sqlserverbase.ddcv.a(Unknown Source) at macromedia.jdbc.sqlserver.tds.ddr.v(Unknown Source) at macromedia.jdbc.sqlserver.tds.ddr.a(Unknown Source) at macromedia.jdbc.sqlserver.tds.ddr.c(Unknown Source) at macromedia.jdbc.sqlserver.dda4.m(Unknown Source) at macromedia.jdbc.sqlserverbase.dde7.e(Unknown Source) at macromedia.jdbc.sqlserverbase.dde7.a(Unknown Source) at macromedia.jdbc.sqlserverbase.dde7.x(Unknown Source) at macromedia.jdbc.sqlserverbase.dde7.t(Unknown Source) at macromedia.jdbc.sqlserverbase.dde7.execute(Unknown Source) at coldfusion.server.j2ee.sql.JRunStatement.execute(JRunStatement.java:359) at coldfusion.sql.Executive.executeQuery(Executive.java:1567) at coldfusion.sql.Executive.executeQuery(Executive.java:1317) at coldfusion.sql.Executive.executeQuery(Executive.java:1247) at coldfusion.sql.SqlImpl.execute(SqlImpl.java:427) at coldfusion.tagext.sql.QueryTag.executeQuery(QueryTag.java:1211) at coldfusion.tagext.sql.QueryTag.startQueryExecution(QueryTag.java:841) ... 65 more
Suppressed
TagContext

array
1

struct
COLUMN
0
ID
CFQUERY
LINE
29
RAW_TRACE
at cf1row3items2ecfm679456892.runPage(/var/www/html/misterart.com/views/components/1row3items.cfm:29)
TEMPLATE
/var/www/html/misterart.com/views/components/1row3items.cfm
TYPE
CFML

2

struct
COLUMN
0
ID
CFINCLUDE
LINE
711
RAW_TRACE
at cfgroupdetails2ecfm1794534649._factor15(/var/www/html/misterart.com/views/category/groupdetails.cfm:711)
TEMPLATE
/var/www/html/misterart.com/views/category/groupdetails.cfm
TYPE
CFML

3

struct
COLUMN
0
ID
CF_GROUPDETAILS
LINE
175
RAW_TRACE
at cfgroupdetails2ecfm1794534649._factor20(/var/www/html/misterart.com/views/category/groupdetails.cfm:175)
TEMPLATE
/var/www/html/misterart.com/views/category/groupdetails.cfm
TYPE
CFML

4

struct
COLUMN
0
ID
CF_GROUPDETAILS
LINE
8
RAW_TRACE
at cfgroupdetails2ecfm1794534649._factor21(/var/www/html/misterart.com/views/category/groupdetails.cfm:8)
TEMPLATE
/var/www/html/misterart.com/views/category/groupdetails.cfm
TYPE
CFML

5

struct
COLUMN
0
ID
CF_GROUPDETAILS
LINE
1
RAW_TRACE
at cfgroupdetails2ecfm1794534649.runPage(/var/www/html/misterart.com/views/category/groupdetails.cfm:1)
TEMPLATE
/var/www/html/misterart.com/views/category/groupdetails.cfm
TYPE
CFML

6

struct
COLUMN
0
ID
CFINCLUDE
LINE
13
RAW_TRACE
at cflayout32ecfm1035591831.runPage(/var/www/html/misterart.com/views/layout/layout3.cfm:13)
TEMPLATE
/var/www/html/misterart.com/views/layout/layout3.cfm
TYPE
CFML

7

struct
COLUMN
0
ID
CFINCLUDE
LINE
407
RAW_TRACE
at cfindex2ecfm158854119.runPage(/var/www/html/misterart.com/index.cfm:407)
TEMPLATE
/var/www/html/misterart.com/index.cfm
TYPE
CFML

Type
Database
queryError
[Macromedia][SQLServer JDBC Driver][SQLServer]Transaction (Process ID 430) was deadlocked on lock | communication buffer resources with another process and has been chosen as the deadlock victim. Rerun the transaction.
where
[empty string]