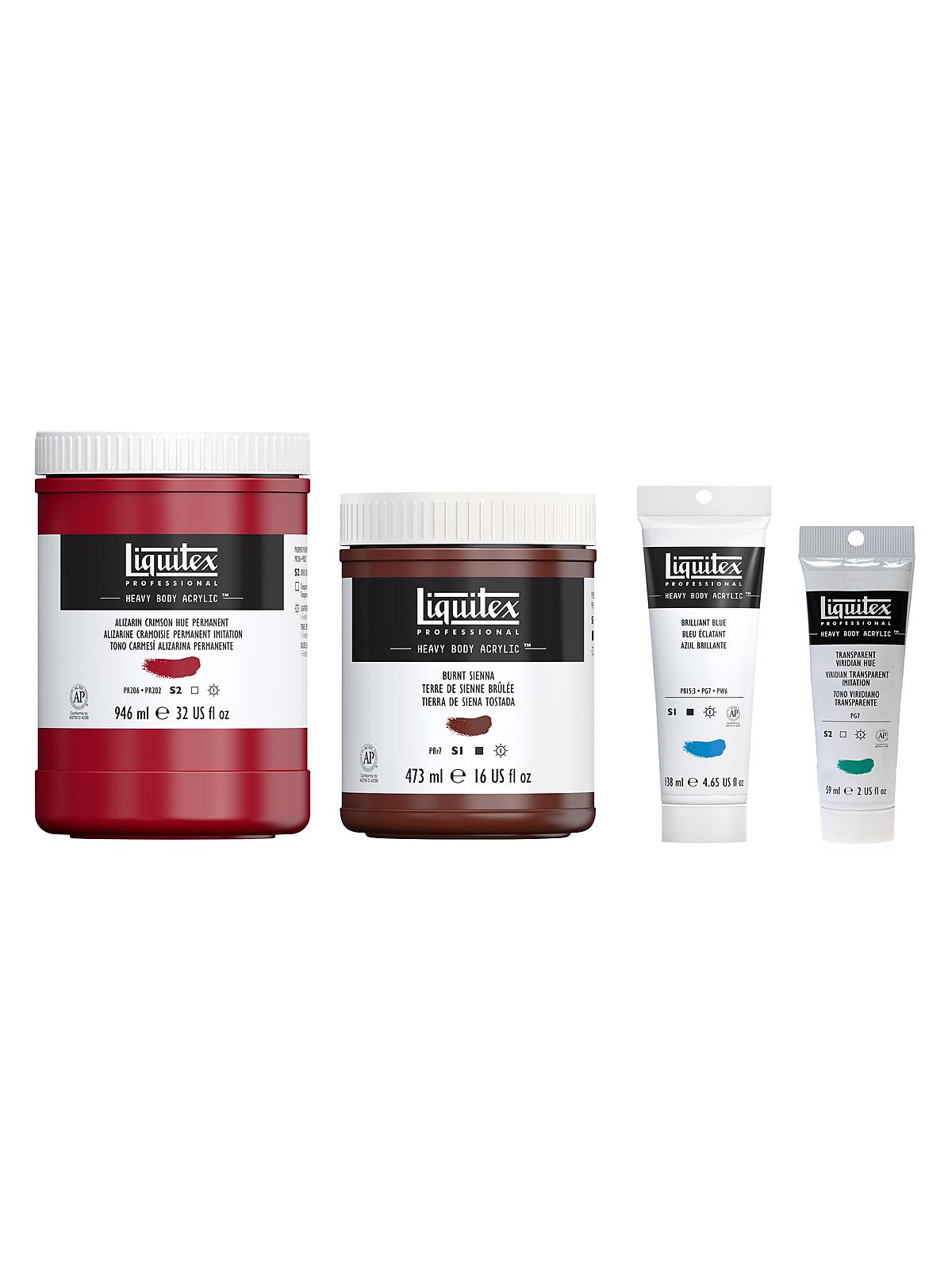 Zoom Image
Heavy Body Professional Artist Acrylic Colors
by Liquitex

Liquitex Heavy Body Professional Artist Acrylic Color, previously referred to as High Viscosity Acrylic Color, has an exceptionally smooth, thick and buttery consistency. Because it's so thick, it retains crisp brush strokes and palette knife marks, making it perfect for impasto, mixed media, collage, and printmaking applications.
Heavy Body Acrylic Color combines excellent handling and blending characteristics with increased open working time. Its high pigment load produces rich, brilliant, permanent color. Water soluble when wet, it is flexible, non-cracking, non-yellowing, and water resistant when dry.
?
Ask a question about this product | See all questions & answers (1)
John Sloane from Cherry Valley, Illinois says:
As a professinal artist, I have the highest opinion of Liquitex acrylic colors. I have been painting with them for more than forty years, on both canvas and illustration board, and they are always a...[more]
Share this Product
Why is the VIP Price not displayed for this product? MisterArt.com's goal is to provide our customers the lowest prices on all products we sell. Some manufacturers restrict retailers from displaying or promoting certain products at any price lower than a Minimum Advertised Price (MAP). It is MisterArt.com's policy to offer these products at their MAP price as our Non-Member Price. VIP Members will see the VIP Price after adding the product to the cart without any purchase obligation.
Enter Quantity & Click 'Add to Cart'
Please wait...
You May Also Like...
by Beadalon

Perfect for stringing beads with small holes

Cuts easily with scissors
How to get VIP Club Prices
Anyone can be a VIP Member with:
Additional savings on all products
Express order handling
Exclusive promotions
Priority customer service
Product Questions and Answers
I'm looking for an acrylic that will not crack when used on leather. Is this appropriate?
- Asked by Robin on 28-Feb-13
Answer
The Heavy Body Artist Acrylic Colors are not recommended for use on leather. We would suggest using the Lumiere Artist Acrylics by Jacquard or the Acrylic Colors by Createx.
- Answered by MisterArt on 07-Mar-13
---
Ask a Question About Heavy Body Professional Artist Acrylic Colors

Your email will not be shared. We will only use your email address to respond to your question. When asking your question, please be as descriptive as possible, it will allow us to give you the most accurate answer possible.


Customer Product Reviews
Rated by: John Sloane in Cherry Valley, Illinois

As a professinal artist, I have the highest opinion of Liquitex acrylic colors. I have been painting with them for more than forty years, on both canvas and illustration board, and they are always a pleasure to work with. After so many years, even my earliest paintings still look as though they were painted yesterday. I especially love the versatility of Liquitex colors. They have a consistent, buttery quality that makes them perfect for a range of techniques, from impasto "oil painting" to watercolor washes. I periodically place large orders to Mister Art and highly recommend them for their value and service. They are a great source for many hard to find supplies, and, in all the years that I have ordered from them, they never disappoint. Also, the VIP Savings Club is a great value. I save a lot on discounted VIP prices. Thank you, Mister Art!

Rated by: Jamie in Houston, TX

This paint is high quality and my art students enjoyed using it to create their paintings. Misterart.com has great products at great prices with fast service.

Rated by: Rodrigo in Buenos Aires. argentina

Liquitex acrylics are abexcelent product. The best in acrylics.

Rated by: Nancy in Florida

I really like the texture of the paint. It's thick, easy to work with, and covers great. I see why many professionals use these paints... I really like them.....

Rated by: Neta in California

Beautiful color. very good quality.

Rated by: Neta in California

I use this shade for mixing with other shades to add warmth.

Rated by: Neta in California

I am using this brand for my gold accent in my art. I use it on clay, canvas and also fabrics. good subtle shine.

Rated by: Linda in Mansfield, Tx

Great paint for novice artists.

Rated by: Doris Cooper in Tennessee

I have some Liquitex acrylics that have been around my easel for decades and they are still workable! The caps have been trouble free which cannot be said of some brands. They do not skin over on an open palette, nor do they get watery when lightly sprayed in hot weather to keep them workable. They are my favorite. No wonder there's so many 5 stars for them. I agree!

Rated by: Kelly C. in Charlotte, NC

I love these paints. Vibrant colors, great prices.

Rated by: Donald M. in Eaton, OH

The best paints

Rated by: Nancy L. in Greenfield, TN

Great paint, great consistency.

Rated by: Robert L. in Hamilton, TX

FANTASTIC.. I HAD BEEN USING A STUDENT GRADE OF PAINT AS IT SEEMED TO BE LESS EXPENSIVE BUT IT WAS FALSE ECONOMY, THE HEAVY BODY PAINT IS MORE VIBRANT AND GOES MUCH FURTHER, COSTING LESS IN THE LONG RUN

Rated by: Donald M. in Eaton, OH

The best coverage. Covers mistakes well . excellent colors

Rated by: William P. in Murrieta, CA

Really enjoy these acrylics. They work fine for all my fine art work. I use them with the Golden and Stephen Quiller brands and they all mix together with no problems.

Rated by: Donald M. in Eaton, OH

It's nice to get the best at the same or lower price than the rest.

Rated by: Jennifer D. in Corona, CA

These are the best quality acrylic paints that I have used. I love the richness of color and the thickness of the paint. It is great paint. Professional quality.

Rated by: Daphne S. in Tulsa, OK

I really like the texture to the paint it's thick and easy to work with. I see why many professionals use these paints... I love them.

Rated by: Kelly P. in Spokane, WA

Worked out wonderful for what I needed it for. The color was true to what is stated. I painted a few pictures for my new home to match painted walls and new bedding! THANKS for the great low price too! =)

Rated by: Jacqueline P. in COLORADO SPRINGS, CO

My introduction to art over 30 years ago was with Liquitex Acrylic Paints. I've tried other brands over the years, but for quality and price, I prefer Liquitex over all that I have tried.

Rated by: Erik A. in Winona, MN

I love liquitex for its phat texture. It starts out so thick, but it's easy to thin it down with a variety of media, including water. Even thinned out, it retains its intensity, but it can also be added in tiny doses to water, for a glaze-like effect. It's the acrylic I buy when I buy acrylics.

Rated by: Dundeee N. in Santa Cruz, CA

Heavy body, nice satin finish. Dries fast.

Rated by: PAUL R. in Urbana, OH

Having tried other brands, I find Liquitex always gives me the results I am looking for. I would recommend them to anyone.

Rated by: Carolyn B. in Locust Grove, VA

Liquitex Heavy Body acrylics are great for my needs. Mister Art has very competitive prices and fast shipping.

Rated by: Robert L. in Hamilton, TX

this is an amazing paint. I didn't realize there could be such a difference in paints. The color is much more vibrant, more like oils, and you use much less; this more than offsets the slightly higher price of the student paints.

Rated by: Reatha W. in Murtle Beach, SC

Liquitex paint performs the way you expect good acrylics to perform. The heavy body provides good coverage. You don't have to keep applying paint and the color is rich and accurate. The order was filled and shipped promptly. I love Mr. Art!!

Rated by: James g. in Jacksonville, FL

I was very pleased with my order. I received it in a timely manner, and noticed the extra care Mister Art used in the packing of my purchase. Each tube of paint was tapped so the caps would not come off. I will definitely buy all my art supplies at Mister Art.

Rated by: hilda k. in santa fe, NM

This is the first time I have used higher quality paint and I am very pleased with the results. I would definitly order these paints again.

Rated by: Melissa R. in St Paul, MN

I have used hundreds of tubes of Liquitex over the years and I am always pleased with the consistent quality of their paints.

Rated by: Margaret C. in Red Oak, TX

After deciding to try the heavy body acrylic, my first thought was of Liquitex and of course it was like the rest of their products - superb quality. So smooth and creamy and easy to work with.

Rated by: Charlotte D. in Hickory, PA

I have tried different acrylics but Liquitex gets my vote hands down.

Rated by: Felice K. in Buffalo, NY

Great prices, great paint!

Rated by: Thomas G. in Haymarket, VA

Great prices and terrific service.

Rated by: chuck b. in santa barbara, CA

Good product, prompt service. My only issue is that it would be nice to have all the different sizes grouped together, along with the color swatches, as some of your competitors do

Rated by: Devon N. in Valley Springs, CA

This product has been the backbone of my work for years. The consistency makes it adaptable to multiple uses, and the brilliance of the colors is hard to beat. It is also a great value. What more could you ask?

Rated by: Cheryl P. in The Woodlands , TX

I used these paints with my elementary students. The paints are soft and creamy, easy to squeeze from the tubes, and the wide lids are easy for small hands to open and close. I will use this brand again.

Rated by: reatha w. in Myrtle Beach, SC

Lquitex always delivers. Good viscosity and rich color. And Mister Art prices are excellent also.

Rated by: Marlene B. in Tontogany, OH

My preference in acrylic paints! Nice consistency and works anyway you want to,with it. love the colors as well as the ability to create new colors on my own.All my commission customer have been very happy with their LIQUITEX portraits :-)

Rated by: Stephanie P. in Laurel, MT

I love the Liquitex paints - very smooth and great colors. Misterart does a great of job of getting the item to you fast and reasonably priced

Rated by: Laura R G. in Dayton, OH

Great paint...great value. Easy to work with and the colors are very vibrant.

Rated by: Linda R. in St Helena, CA

Great classroom paint! Colorfast, durable and student friendly. My paint arrived promptly. Misterart rules in my classroom!

Rated by: Sylvia H. in rochester, NH

GREAT PRODUCT, PRICE AND VERY QUICK DELIVERY. THANK YOU SO MUCH. WILL DEFINITELY ORDER AGAIN.

Rated by: CAROLE F. in Miami, FL

On time!

Rated by: Susan D. in Scottsdale, AZ

Excellent in all ways. Thank you, you'er the best.

Rated by: Mary Marius S. in Redding, CA

The absolute best acrylics I've ever used; colors are true, maleable, easy to work with, colorfast (dosen't fade), and easy to use in a variety of techniques: from "oils" to "watercolors" and all in betweens. Will never buy else, nor elsewhere. The price here is wonderful!!! AAA+++

Rated by: Anatoly S. in Washington, DC

This product has the right qualities (excellent consistency, versatility, durability and permanence, as well as ease of use) to be one of the best paints in Acrylic painting. The great price on Misterart.com is also important!

Rated by: Mary S. in Redding, CA

absolutely the best acrylics I've ever used. Now, I use only Liquitex products. The prices here at MisterArt are also without parallel.

Rated by: Rebecca H. in Washington, DC

Great! They arrived on time and in good condition. No complaints.

Rated by: Danielle C. in Sharon, MA

I LOVE these acrylics. I've bought acrylic paints so many times that just weren't thick enough for the effect I wanted to create. The colors are beautiful and the paint is top quality.

Rated by: lisa m. in cincinnati, OH

I hadn't used this paint in a while and decided to order some for a new series of paintings I was doing. I was amazed and delighted with the huge selection of colors! I was able to whip the paintings out because I had so little mixing to do. The colors I needed were all available. Nice paint, great selection.

Rated by: Mary S. in El Segundo, CA

I find Liquitex, high viscosity, the best ever! The colors are exacting, the texture and body wonderful. The Liquitex speciality line, such as "cracked ice" makes it possible to do New Century work like none before. Thank you for this all around terrific product.

Rated by: Reta H. in Choctaw, OK

The BEST paint, great for texture, blending and overall natural look.

Rated by: frederick a. in ozone park, NY

this is one of the best paints i ever tried, when used right it creates a natural look

Rated by: Dawn R. in Jonesport, ME

I like this paint, love the consistancy, ease of opening the tubes, nice choice of colors and less waste left in the tubes.

Rated by: Laura S. in Austin, TX

Just wanted to give a thumbs up on the prices and variety of colors.

Rated by: Therin B. in Buena Vista, CO

I have used Liquitex Acrylics, and nothing else, for over 40 years. I love them !!

Rated by: Richard R. in Rayville, LA

The above description of the Liquitex Acrylic paint is exactly as represented. I purchase multi jars at a time (237 ml). I use nothing else. Reliable and smooth as silk application. I have yet to be disappointed with the product.

Rated by: Ingrida G. in Yelm, WA

These are among my favorite brand of Acrylics. I use the heavy bodied paints, and love their buttery consistency, and good pigmentation. They are heavy enough for good textural and impasto work.

Rated by: Kitty U. in Providence, RI

I bought a bunch of different colors. These are excellent paints when you are in a hurry and want your paintings to dry quickly. I use it to paint models. I find it to be an excellent, high quality paint. The paint in the tubes lasts a long time without drying up, too.

Rated by: Jann M. in Greenbank, WA

As always,Liquitex provides a TOP quality product at a reasonable price. You can count on color and consistency from batch to batch, year to year. The packaging is durable enough to keep little used colors for years, and stand up to the abuse of favorites. I like everything about this product.

Rated by: DANIEL B. in SAN DIEGO, CA

GOOD PRODUCT, QUICK DELIVERY

Rated by: Die H. in Sandwich, MA

Simply the best. I tried another brand and regretted it. Great consistency and mixability and a large range of colors. Can use them thick or thin, always good results.

Rated by: Lisa L. in Beach Lake, PA

Liquitex has always been in my tool box as the pick of paints for artists, my college professors all recommend them as well. The consistency and colors are of excellent quality and superior standards. Liquitex are easily manipulated and even easier to apply. They give all works of art a true professional appearance. MisterArt.com does an excellent job at protecting the 8 oz. jars when shipped, I never have to worry about losing a product due to breakage. THANKS

Rated by: David L. C. in Naples, FL

Liquitex has proven once again it's one of the best suppliers of Acrylic Paints. I retired for the second time and I finally got some time to paint. The last time I did any painting, was about twenty (20) years ago. I found my ol paints and equipment. Much to my surprise, my Liquitex paints still had the same consistency and vibrant colors as any of the new supplies I purchased just recently. I will use only Liquitex.

Rated by: Colleen W. in Echo, OR

I can always depend on Liquitex for fine quality acrylic paint, with wide range of colors from which to choose

Rated by: Sheileen G. in Redding, CA

Also Instructor recomended. I love being able to purchase there supplies from this site. Not only does MisterArt.com have a wider selection, but I can afford to buy more of the product!

Rated by: Jennifer S. in Norco, CA

Of the several different brands of acrylic paints I have used, Liquitex is by far my first choice. It creates a nice shine, especially when used with the Liquitex heavy gloss gel medium. I love this product and would recommend it to anyone who is serious about painting with acrylic paints.

Rated by: ines Miller - Timeless Memories T. in Menifee, CA

These paints last little longer to dry this gives me the flexibility to work on my Acrylic paintings easly. Great quality and service. Very pleased.

Rated by: Thomas D. S. in Austin, TX

These paints do everything I want them to and with the best results I could expect.

Rated by: Wayne G. in Mapleton, MN

I started painting again after a twenty year break. Liqitex continues to work extremely well.

Rated by: Catherine H. in Tempe, AZ

I love Liquitex High Viscosity Acrylics with their rich color range. I paint fast and thick and these are perfect for impasto. I primarily use a pallet knife and am really happy with the buttery way they spread. Liquitex Acrylics are very responsive paints.

Rated by: Abbey O. in Bethany, WV

Great product!! Very nice paints, I would recommend them!!

Rated by: Judy G. in Alice, TX

I paint a lot and use only acrylic paint. Liquitex is the best paint I've used. The paint has a wonderful consistancy, its very versatile and it is very creamy which makes it easy to blend.

Rated by: Pamela J. in Kensington, MD

As I am just beginning my journey into the world of painting, I am trying out many brands of acrylics, and so far this one is at the top of the list. The paint has a very nice consistancy, and quite easy to blend. The color is outstanding, retaining it's brilliance when dry. I also like the fact that it covers "errors" even light over dark. I will stick with this brand, my search is over.

Rated by: Kerry B. in new orleans, LA

The absolute best! They far surpass all other brands in color intensity, texture, and overall quality!

Rated by: Melissa S. in Florence, AL

Very competitive prices, shipment arrived promptly within expected arrival time. Will buy again!

Rated by: Rachel Michelle S. in columbia, SC

I find the Liquitex thin compared to other brands like Golden and Grumbacher.

Rated by: Melanie K. in St. Francisville, LA

I was amazed by how fast and perfect my order arrived. I LOVE these colours and the paint is excellent!

Rated by: suzy d. in San Bruno, CA

Love these. Smooth painting. Easy clean up. Fabulous colors.

Rated by: Jennifer R. in New York, NY

These paints are the best! They are smooth, bright, and work well with water and mediums. And MisterArt.com has the best prices for Liquitex paints!

Rated by: Margaret C. in Red Oak, TX

I love Liquitex paints because of their smooth, creamy consistency. They are much easier to paint with than those that are so dry. Also in their favor, is when you can find them at a favorable price, that makes the "Double the Fun".

Rated by: TALI L. in CORAL GABLES, FL

In my opinion, Liquitex is the best acrylic paints on the market today. I paint with a very thick texture and the buttery consistancy of the paint is just perfect for the effect that I like. Another great quality is that the colors keep their shine after they dry, which keep the painting "looking fresh" much like an oil painting does.

Rated by: dennie s. in spartanburg, SC

Fine quality, shipped very well

Rated by: Carol M. in Lee's Summit, MO

good grade for students. decent price.

Rated by: Michelle R. in St. Augustine,, FL

I have been using this product for around twenty years and I think the paints are really wonderful. The viscosity and hues are ideal for the textural buildups that I like to achieve in my works on wood. Many people who buy my work wonder if I am using oils and I say simply "no"...there are acrylic paints that give the same effects without annoying fumes...

Rated by: Sharon J. in Senoia, GA

Have used this product for many years and plan to continue to do so. Love the fact you can use water to thin consistency--no messy, smelly thinners. Color remains bright even when blending different shades. I have used it on different types of surfaces and have been pleased with the results every time.

Rated by: Ginger C. in Houston, TX

As a professional artist I have used this acrylic paint for over 20 years. The color is consistant from one order to the next. The viscosity(depth of pigment)covers well for impasto tecniques and layering of colors. It mixes well with other brands of acrylic paint and is reasonably priced. I would not reccomend the 'student grade" as the coverage is a little transparent and watery for a true oil painting effect or the build up of layers. While I have tried many different major and minor brands of acryic paint I always end up restocking with Liquitex. I would suggest: LIQUITEX ACRYLIC GLOSS MEDIUM for a final varnish. (2 coats) This preserves the depth and shine of the painting)
Add Your Review
Tell us what you think. We appreciate you taking the time to share your opinion with other artists and crafters. Please keep your review detailed and specific.
Tips on Writing Reviews
Rating Scale
(5-Star) Excellent
(4-Star) Good
(3-Star) Average
(2-Star) Fair
(1-Star) Poor
Do:
Give your perspective on how you used the product and why you liked or disliked it.
Keep your reviews short enough to hold the audience's attention.
Be honest and mindful of others when providing editorial commentary.
Don't:
Include phone numbers, addresses, URLs, or HTML tags.
Write profanity, obscenities, vulgarities, or spiteful comments.
Make defamatory comments.