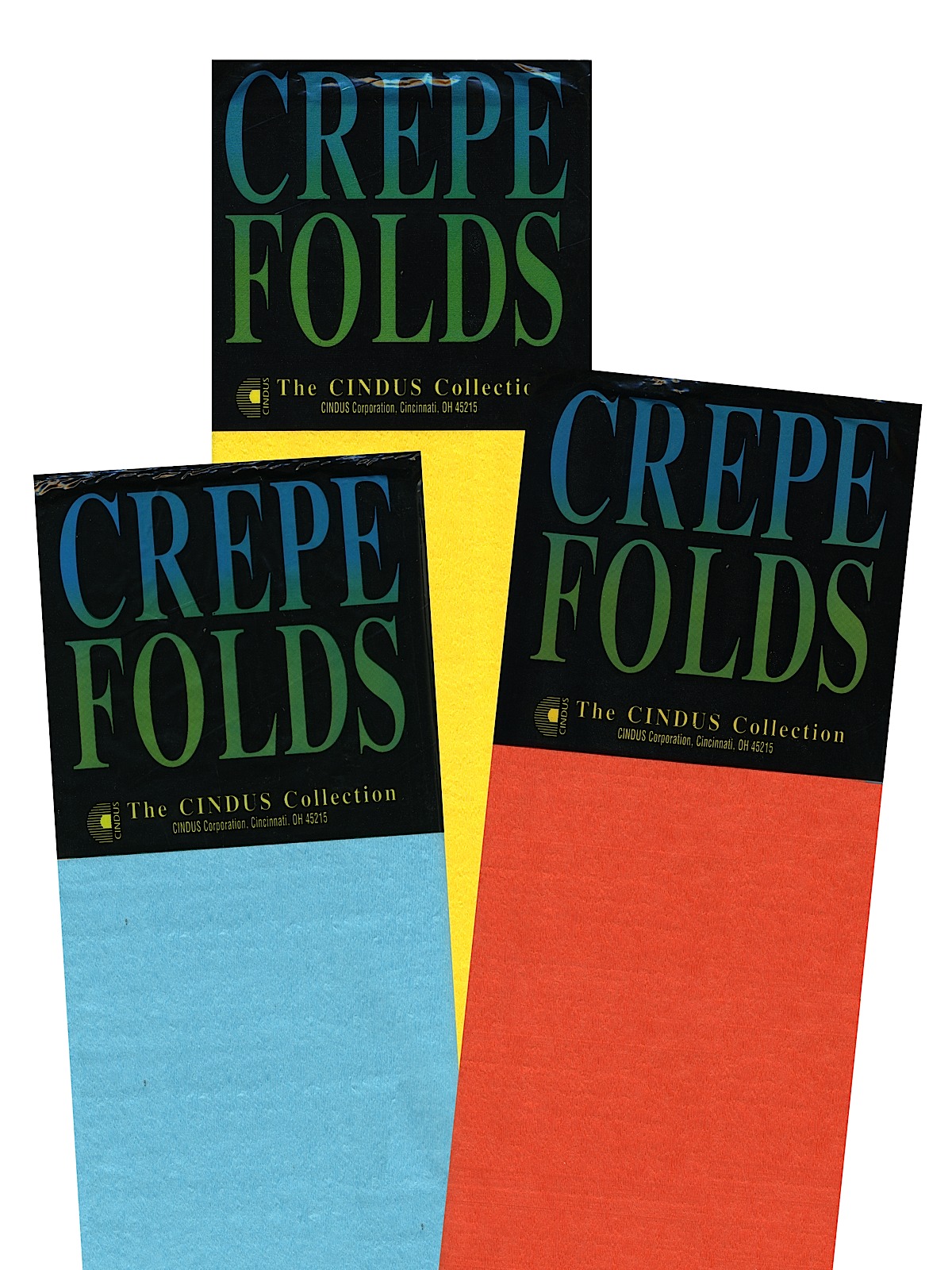 Zoom Image

Brilliant colors of art crepe in extra strong, fire resistant folds that can be shaped and stretched to almost anything. Use folds to create holiday and party decorations, parade floats flowers, or special dance nights. Fold sheets will not bleed. Folds size 20 in x 7.5 ft. sheet.


?
Ask a question about this product | See all questions & answers (6)
Mele G from Makaha, HI says:
The crepe paper has excellent quality and is available in the colors that I need. Perfect for my projects and I don't have to run all around looking for the right colors. Mahalo for your prompt service.
Share this Product
Enter Quantity & Click 'Add to Cart'
Please wait...
How to get VIP Club Prices
Anyone can be a VIP Member with:
Additional savings on all products
Express order handling
Exclusive promotions
Priority customer service
Product Questions and Answers
I am interested in using the crepe paper for hangings. Are there folds in the paper that will remain if the paper is hung full length?
- Asked by Charlotte Helen Lohrenz on 16-Apr-14
Answer
Yes, the folds remain in the crepe paper when hung flat. The appearance of the crease may be reduced by folding it in the opposite direction of each fold and then reopening, but the crease will still be visible.
- Answered by MisterArt on 19-Apr-14
---
Is this double-sided crepe paper?
- Asked by Beverly ADams on 18-Jan-14
Answer
Yes, Crepe Paper Folds are double-sided.
- Answered by MisterArt on 21-Jan-14
---
I would like to use this as table runners. Will there will be creases in the paper when laid out, since the paper is not packaged in rolls but folded?
- Asked by MK on 27-Oct-13
Answer
Yes, these crepe papers are folded and will have slight creases where the folds are.
- Answered by MisterArt on 29-Oct-13
---
How many sheets are in the package?
- Asked by Jamescol on 30-Jan-13
Answer
The crepe paper folds are sold individually. Each package contains one sheet that is 20 in. x 7.5'.
- Answered by MisterArt on 04-Feb-13
---
I want to make some crepe paper flowers, and need doublette crepe paper. Is this paper similar?
- Asked by laura on 29-Jan-13
Answer
The Cindus crepe paper is similar, but not the same as doublette crepe paper. These crepe paper folds are lighter in texture, but can be used for making flowers as well.
- Answered by MisterArt on 30-Jan-13
---
Where is this product made?
- Asked by Ellen on 13-Nov-12
Answer
The Cindus Corporation is located in Cincinnati, Ohio, but we're actually not sure where the product is made.
- Answered by MisterArt on 15-Nov-12
---
Ask a Question About Crepe Paper Folds

Your email will not be shared. We will only use your email address to respond to your question. When asking your question, please be as descriptive as possible, it will allow us to give you the most accurate answer possible.


Customer Product Reviews
Rated by: Mele G in Makaha, HI

The crepe paper has excellent quality and is available in the colors that I need. Perfect for my projects and I don't have to run all around looking for the right colors. Mahalo for your prompt service.

Rated by: Donna S. in Cleveland, Ohio

I ordered the crepe paper folds in canary, pink, bright orange and lt. blue so that I could make crepe paper flowers for my daughter "Fiesta" bridal shower. I made them about twelve days before the actual shower and they still looked as beautiful as the day I made them. The crepe paper is heavy, and yet easy to fold and unfold. Great product!!

Rated by: Renee S. in Phoenix, AZ

My husband and I drove all over the metro searching for crepe paper with none to be found. The crepe paper we ordered came timely and was packed well. We made crepe paper flowers and the material held up very nicely-- it helped to create very realistic flowers due to its flexibility and strength.

Rated by: SueAnn L. in Sandia Park, NM

Quality crepe paper. The paper had a better texture than I expected. Wonderful!

Rated by: Carol G. in Austin, MN

I was extremely happy to find a site that handled crepe paper. The colors are vibrant and beautiful, the packets are generous and the paper stretched just right for the "flower" May baskets I wanted to create.

Rated by: Dawn F. in Minneapolis, MN

Brown crepe paper was tough to find. So glad that I found it on your site and reasonably priced - thank you!

Rated by: Robert S. in Dearborn Heights, MI

Crepe paper came in a timely manner. Paper was in great shape when I received it. Will definitely order from MisterArt.com in the future!

Rated by: Cari M. in San Jose, CA

The paper is great quality and was perfect for our project! Beware, the burgundy color is actually fuchsia!

Rated by: Jacqueline T. in Forest Park, IL

In the Chicago area Crepe Paper Folds are very difficult to find now days half the places I asked didn't even know what I was talking about. The one store where I did find them the price was outrageous and they only had 6 colors. Mister Art has a fantastic color selection more than anyone I found and the price was great!

Rated by: E M. in Washington , DC

This crepe paper was definetly not as thick as I had hoped. It was not thick enough to be molded easily. Fine for most things, but it does not hold a shape well.

Rated by: Dianne B. in Roslyn, PA

At last I found them and the journey was well worth it!

Rated by: Jamie A. in Cincinnati, OH

I have a great flower making book from the 1920's that I wanted to experiment with. I had a terrible time locating crepe paper in sheets till I found this site. I've used this paper with great success for flower making and general crafts. My only disappointment is that MisterArt.com doesn't carry the same paper in two tone sheets (light on one side, dark on the other).

Rated by: Patricia S. in Albuquerque, NM

I looked everywhere in town and could not believe that there were no "sheets" or much choice of color. So happy to find your site. All was perfect, QUICK deliv, beautiful colors, thanks!

Rated by: Marlen M. in Salt Lake City, UT

Paper crafts of crepe

Rated by: Ronald G. in allentown, PA

Wonderful texture to this crepe paper and it comes in so many colors. The price can't be beat. Use for flower making, decor items, festooning etc. I have made my own duplex crepe with this using spray adhesive.

Rated by: Mary B. in Bishop, CA

YEA! I finally found crepe paper folds! VERY GOOD quality and FAST shipping from MisterArt.com!

Rated by: Vincent L. in barnegat, NJ

My niece graduated high school and i had a pool party for her; the crepe paper was used for a backdrop of a sign congratulating her. That day we had heavy winds which tossed the sign around, but nothing happened to the crepe paper. excellent product.

Rated by: Sue C. in Wichita, KS

I've been looking for a sturdy crepe paper for some time now. I've spent considerable time and money and have found nothing to meet my needs. I bought from you with the hope that it would be good and I am very pleased! Your crepe paper is very strong and easy to work with. The colors are beautiful. I could not be happier. Thank you so much!

Rated by: Virginia G. in Brooklyn, NY

Great paper at a fantastic price... didn't expect to find this range of colors. Also, shipping was quick and paper was intact.

Rated by: Allison B. in Harrison City, PA

Very nice crepe paper at a great price. Also a great assortment of colors, more than I could find anywhere else.

Rated by: Judith R. in Palm Desert, CA

I was teaching Large Mexican Flowers and the colors were rich and they worked very well. Everyone was happy with choice of colors of Crepe Paper folds. I cut them in thirds to get 3 flowers per package.

Rated by: Verna E. in Santa Fe, NM

I used this paper to make colorful flowers using two or three colors for each blossom. They turned our very pretty and just what I wanted.

Rated by: Pat W. in Moses Lake , WA

Finding your website made it so much easier for me to find the crepe paper that I use to teach paper flower making at the assisted living center where I live. I no longer have to wait for someone to visit from Seattle WA to recieve my supplies. The quality of your products is very good and I appreciate your prompt service and delivery. Thank you.

Rated by: Pamela C. in Palo Alto, CA

If everyone rated five stars, trust it.

Rated by: Karen K. in Baltimore, MD

Quality was great! Price was right! Very hard to find sheets of crepe paper in stores. The rolls are inadequate for making flowers. Thanks. I will be a return customer.

Rated by: Charlene E. in Oak Park, IL

This is a wonderful crepe paper at a fantastic price! If you try it you will surely purchase it again.

Rated by: M B. in Chicago, IL

Great color selection and quality in crepe paper. I found everything I was looking for and more.

Rated by: Richard H. in Rolling Prairie, IN

These art supplies were everything we expected. And the email notifying us that the colors we could not get that were now available was perfectly timed.

Rated by: Lily K. in San Jose, CA

I could not find this product at popular named craft stores, so I got online and found this website through Google. I was excited to receive the 20in x 7.5ft sheets of crepe paper to make these paper roses. I will definitely recommend Misterart.com to other crafters.

Rated by: Carla K. in Chaska, MN

This Crepe Paper was exactly what I've been looking for. The shipping was speedy and efficient. Thank you.

Rated by: Judy H. in Geneseo, IL

I was delighted to find this product--something I haven't seen since childhood! It was sent promptly and was beautifully packaged. Thank you.

Rated by: Pauline H. in San Gabriel , CA

The service and product that I recieved was great. The crepe paper was of superior quality and will be of good use for all my projects! Thanks, Pauline

Rated by: J. N. in Vancouver, WA

I recently purchased crepe paper from MisterArt to make Mexican Flowers for Cinco De Mayo for schools in which I sub.(crepe is not available in stores) The color choices are great and the price are the best. The kids loved it. I'll be ordering again.Thanks MasterArt.

Rated by: Donna N. in Anderson, IN

Where I live only one craft store carries crepe paper folds and I am limited to one or two basic colors. I was delighted find all the different colors and shades. Thank you.

Rated by: Sue Ellen B. in La Mesa, CA

I am very pleased with the product I ordered and the speed with which it arrived.

Rated by: Sue Ellen B. in La Mesa, CA

I have worked with this product and found it to be all that it is advertized to be. The colors were true to the online colors, which is very helpful.

Rated by: Shannon K. in Fort Leavenworth, KS

Fantastic quality, colors matched exactly from the internet. Would definitely get again! This is hard to find!

Rated by: Alice W. in Baltimore, MD

Brilliant color is not at all an exaggeration here. The CINDUS Crepe Paper folds I ordered were gorgeously colored and richly textured. I used the papers in some gift wrapping projects and their brilliant colors and lovely texture made the packages look...well... brilliant. I experienced zero bleeding even though I worked with the paper for quite some time.

Rated by: VALERIE C. in MIDWEST CITY, OK

GREAT PRODUCT AND FAST SERVICE...

Rated by: Marta A. in Portland, OR

This is exactly what I was looking for, in seperate packages of SO many colors!! Thanks MisterArt!!

Rated by: Mary Z. in Austinburg, OH

The paper worked great-made roses with it-They were beautiful-Great colors. A class member entered her rose in the County Fair and it won a blue ribbon!

Rated by: Melissa S. in Granby, MA

These crepe paper folds are great! None of the crafts stores around here carry folds. I'm making crepe paper roses as a part of my wedding favors. The variety of colors this site has is the best I have found.

Rated by: MaryAnn V. in Marion, OH

Found a great project in a magazine for Halloween but could not find the crepe paper. Thank goodness for the internet where we found you. The sheets of crepe paper work great and I am adapting the project for Christmas. Thanks so much!

Rated by: Ericka M. in Peoria, IL

I drove to every hobby story in my area and spent hours searching online for a decent selection of colors. What's offered here can't be beat. The paper is good quality and shipping time was prompt. I'd definetly recommend this if you also make paper flowers.

Rated by: Amanda L. in Syracuse, NY

I am very happy with my purchase. I did a lot of searching on the internet for high quality crepe paper, and Mister Art has by far the best selection. My order came quickly, and the flowers I am making with the paper are coming out great!

Rated by: Donna Z. in mount pleasant, PA

Wonderful selection, the folds cannot be found anywere around here,I loved the colors and the service.

Rated by: Carolyn W. in Gig Harbor, WA

Great color selection. I could not find folded crepe paper in my area and found this site. I was able to get every color I had been looking for. Deliver was great and it was package like it was expensive antiques. Only complaint. What do I do with all these peanuts?

Rated by: Anne R. in Cardiff, CA

The crepe paper was great! The color was perfect and was very reasonably priced. I needed it pretty quick and it got here just in time.

Rated by: Jane B. in Willmar, MN

Order arrived promptly, the crepe paper is perfect, and the price was very reasonable.

Rated by: Tammy K. in Omaha, NE

I was impressed with the quality of the Cindus crepp paper fold and the selection of colors offered. Since I'm unable to find a supplier in the Omaha area, I would order this product on-line again.

Rated by: Judith B. in Palmdale, CA

Your crepe paper was exactly what I wanted, now the burden of creativity lies in my hands. Thanks a lot.

Rated by: maggie m. in cincinnati, OH

Needed hard-to-find crepe paper in folds in vibrant colors. Found them at a fantastic price and great quality. Fast shipment too. Thank you.

Rated by: Sheryl R. in Hemet, CA

I make crepe paper flowers. Because of where I live there I drove for miles in search of crepe paper folds. No luck, but misterart.com has a great selection at increadable prices, I am very lucky to have come across this site.

Rated by: Linton H. in Anaheim, CA

My daughter won first place for best Homemade Halloween costume in the entire school. We made her outfit out of this crepe paper! Beautiful selection of colors, and a quality product.
Add Your Review
Tell us what you think. We appreciate you taking the time to share your opinion with other artists and crafters. Please keep your review detailed and specific.
Tips on Writing Reviews
Rating Scale
(5-Star) Excellent
(4-Star) Good
(3-Star) Average
(2-Star) Fair
(1-Star) Poor
Do:
Give your perspective on how you used the product and why you liked or disliked it.
Keep your reviews short enough to hold the audience's attention.
Be honest and mindful of others when providing editorial commentary.
Don't:
Include phone numbers, addresses, URLs, or HTML tags.
Write profanity, obscenities, vulgarities, or spiteful comments.
Make defamatory comments.