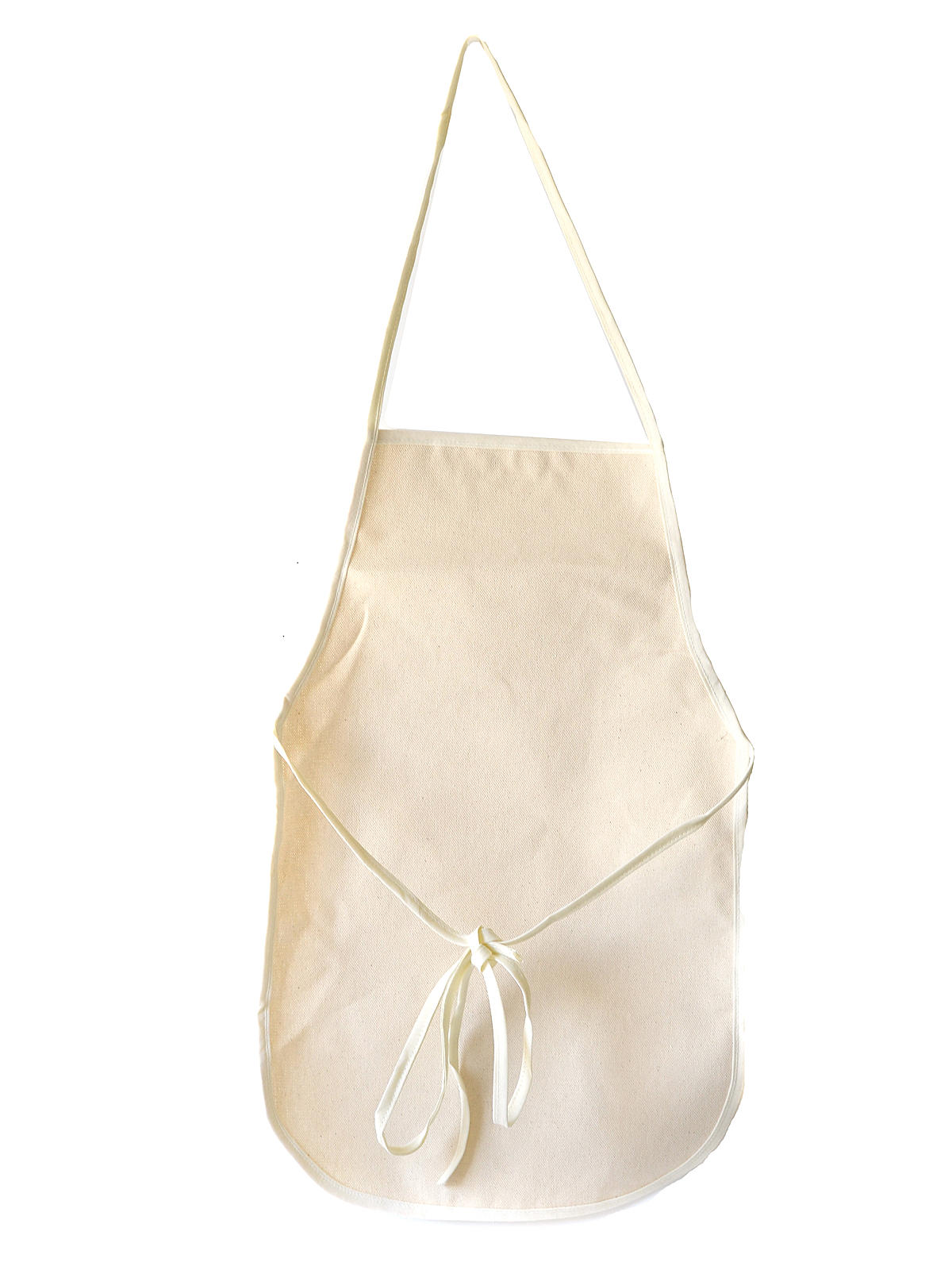 Zoom Image
Children's Aprons

These kid's aprons are totally fun, totally fashionable…totally you! The art of wearing an apron is to not only protect your clothing but to look good while doing so. Add some style using paint, fabric swatches, beads, buttons, iron-ons, trims, feathers, transfers, and more!
The aprons are made of 100% cotton duck, and come in a natural canvas color. They measure 19 in. from neck to hem and 12 in. across the front. Some shrinkage will occur during washing.
The apron is available without pockets or with two bottom pockets.
?
Ask a question about this product
gail n. from Alexandria, VA says:
Great value for the price! I used them for my son's pizza party and the kids loved decorating them while the pizzas were in the oven.
Share this Product
Enter Quantity & Click 'Add to Cart'
Please wait...
You May Also Like...
by Jones

Accomodate even the widest brush
How to get VIP Club Prices
Anyone can be a VIP Member with:
Additional savings on all products
Express order handling
Exclusive promotions
Priority customer service
Your email will not be shared. We will only use your email address to respond to your question. When asking your question, please be as descriptive as possible, it will allow us to give you the most accurate answer possible.


Customer Product Reviews
Rated by: gail n. in Alexandria, VA

Great value for the price! I used them for my son's pizza party and the kids loved decorating them while the pizzas were in the oven.

Rated by: Shari M. in Hopkinton, MA

Love the aprons! Great party favor for my kids' birthday art party. We stamped all the kids' names on them. Great project too.

Rated by: Michelle S. in aberdeen, NJ

these are a great price, and perfect for decorating. we had a cooking party, and this was a great, low-cost favor...

Rated by: pandashin s. in torrance, CA

The size of the apron itself is great. THe drawback in my estimation is the strap that goes around the neck. It is very long, and made of stiff, thin material, making it uncomfortable around the neck where it does make contact. But like I said, it is far too long for most children, so the apron hangs quite low.

Rated by: Julie d. in Fort Lauderdale, FL

Great product! Very nice quality. Exactly what I was looking for and the price was amazing. I used these for my 4 year old daughter's cookie decorating party and used fabric paint to decorate the aprons. They turned out great!

Rated by: claudia b. in waterford, CT

great product! good quality fabric, handy 3 pockets, good size for kids. Perfect for crafts. i used fabric markers and the aprons came out amazing!

Rated by: Karla P. in Baltimore, MD

I used these aprons for my son's cooking birthday party. They are really nice and took the fabric marking pens well.

Rated by: julie f. in king of prussia, PA

The aprons are a hit. They were sturdy, easy to iron on, and were shipped quickly!

Rated by: D C. in Hollywood, FL

The aprons were great and worked beautifully for our daughter's make your own pizza party. All the kids decorated them before we cooked! You should note that they are not made by Totally Yours as shown in the picture, but they are a similar natrual canvas apron with three small pockets in the front.

Rated by: Becky G. in mandeville, LA

These aprons were a great price and worked perfect for my daughters birthday party. The kids loved decorating them and then wore them while making their own pizza's! I haven't washed them yet though.

Rated by: l c. in cleburne, TX

These were great and the price was right! We used these for vacation Bible school and the kids enjoyed decorating them. Customer service was excellent.

Rated by: Amy C. in Milwaukee, WI

The aprons were exactly what we were looking for. We used them as a craft and the girls decorated them with fabric markers and Sharpies. They turned out cute! Perfect size for 6/7 year olds.

Rated by: jennifer h. in costa mesa, CA

These are very cute & cheap aprons. But, be careful when washing. Mine shrunk to about half the size.

Rated by: Kristy B. in ST. LOUIS, MO

These are great. I ordered them as a replacement for your normal goody bag for my daughters birthday party! The kids loved them!!

Rated by: Dee F. in Tucson, AZ

Wonderful....exactly what I was looking for and what a GREAT price!! I did learn NOT to put them in the drier though!! That was a mistake, because ironing these babies is BIG job! The aprons are great and the price is unbeatable!

Rated by: susan d. in Chandler, AZ

These aprons are one of my best sellers at Farmers Markets. I sew a patch of material on the bib (Natural canvas) and across the pockets, mothers & grandmothers love them, the kids like picking out their own.

Rated by: Joni F. in Bishop, CA

We needed some aprons for our 4-H kids to paint on and these were perfect. We were working within a budget and misterart.com allowed us to do a cute fun project that all of the kids enjoyed.

Rated by: B J. in Roanoke, VA

Forgot to add studio to the list of places where this apron came in handy for my kids.

Rated by: B J. in Roanoke, VA

Denim apron is great for kids following you around the shop or kitchen. Helps them be an integral part of the project. Wish the adults apron had a pencil pocket too!

Rated by: Ronit F. in Stamford, CT

These aprons worked out perfectly for my daughter's 3rd Birthday party. We had an Arts & Crafts theme, so I wrote the kid's names on them and put them on each chair. The kids wore them for the whole party and could decorate the picture frames and cookies without getting their party clothes messy. An added bonus are the pockets in front. The service from Mister Art was fabulous, they arrived on time and they were the best quality for the best price that I could find anywhere.

Rated by: Tracy H. in montgomery, AL

Great price!

Rated by: Amanda G. in New Bern, NC

I purchased this item because I simply could not beleive the price, and because of the great reviews it received here. I am not disappointed at ALL with this product. I purchased it for my three year old daughter. It's been doing a great job of protecting her clothes from paint - it is fairly thick and the pockets are very large and can hold various objects. I definitely reccomend this product!!

Rated by: Jennifer L. in Atlanta, GA

These aprons were the best deal EVER!! They're very easy to use stencils on and fabric paints. I have not yet washed them, but they feel sturdy and durable. Thank you for supplying a great product!

Rated by: Sean M. in Cliffwood Beach, NJ

My girls loved the aprons and so did MOM.(for keeping their clothes cleaner.) I took the liberty of personalizing them with their names.

Rated by: Sally M. in Smithtown, NY

I was pleasantly surprised at the quality of these aprons. I didn't want to spend much because I needed more than a dozen aprons to give to finalists in a girls baking contest, so I wasn't expecting much in terms of quality, but these were great. The girls loved them.

Rated by: Heather W. in Houston, TX

I ordered these aprons for my daughter's 5th birthday party. I received my order the next day! The size was just right for my daughter and her little friends. These are great quality at a great price! Thanks

Rated by: Deirdre P. in Torrington, CT

Great product for the price. We used them for my daughter's 8th birthday cooking party. They were perfect for most of the girls, a little on the small side for the bigger girls - but worked out fine. The girls loved decorating them with fabric paint. The pockets also were handy. I shopped around and these were the definitely the best for the price!

Rated by: Priscilla H. in East Haddam, CT

These are awesome and such a great deal! Our brownie troop used them for a recent dinner party we put together for the parents. We used the Crayola fabric crayons to personalize them. The girls will treasure them always!

Rated by: michele s. in Sewickley, PA

The aprons are of fine quality and perfect for both girls and boys.

Rated by: Steven M. S. in Inverness, FL

The 100% cotton kid's aprons and crayons I purchased went to Canada as a gift. I got a call to say how great it was for the young one. Now they can add art to the play time and not worry about the clothing. Just have fun. Thanks for having the kids section.

Rated by: Elissa S. in Glastonbury, CT

The aprons are top quality with an excellent price - I look forward to placing my next order. Thanks again for the excellent product as well as the delivery and communication!

Rated by: Michelle W. in Huber Heights, OH

The aprons were a big hit with the "chefs" at my son's cooking party... A great favor for the kids to take home and be able to use to help in the kitchen or for art projects! They are very durable and the price was great!

Rated by: Tara L. in Minneapolis, MN

These are great! I bought the natural canvas one for my 2 year old. Actually I bought 4. You can't beat the price.

Rated by: Lucy N. in Colchester, CT

This is a great product and you can't beat the price!! love it.

Rated by: Jenifer K. in Cape Girardeau, MO

These aprons were absolutely awesome. Great size and manageability. Our campers enjoyed decorating them before using them in the cooking and craft classes. Thanks for making them available.

Rated by: n l. in ny, NY

I bought these as party favors for my son's 2nd birthday and used the Crayola fabric markers to personalize them with the kids names - worked out great...an inexpensive favor that doesn't look inexpensive

Rated by: Kathleen P. in Yardley, PA

I bought these aprons for my 6-year old son's chef birthday party and wrote each child's name on an apron. They were a great party favor, and the kids (and parents) loved them. What a hit!

Rated by: Andrea T. in West Bloomfield, MI

The natural aprons were great for my 9-year-old daughter's cooking-themed birthday party. We decorated them with the Crayola Fabric markers and the girls had a great souvenir.

Rated by: Barbara N. in Livermore, CA

I ordered these for my neices b-day party. They used pastels to decorate them and wear before making dinner.We pre washed them and they looked great! Just a lot of ironing!

Rated by: Annie R. in Beverly Hills, CA

These aprons were great! I ordered them for my Son's party and they were a hit! The kids painted them and had a blast.

Rated by: Katie C. in rocket city, AL

I used these aprons to make gifts for my nephews. They seem like good quality for the price. Word to the wise though, the string ends frayed when I washed them and had to be sewn (which I would have done beforehand). Next time I think I will air-dry the aprons.

Rated by: Ann B. in Winter Garden, FL

These aprons were perfect for the kids in my son's 2nd grade class to decorate at Thanksgiving. They are very durable, great sizing and the price was pretty good too.

Rated by: Janet M. in Everett, PA

We decorated these aprons with Crayola fabric markers at the beginning of my daughter's cooking birthday party (10 year olds). After a quick ironing, the girls wore them while they cooked. They turned out great and made a nice item to take home! Thanks for a good product at a very reasonable price.

Rated by: joan l. in springfield, NJ

I ordered these aprons for my daughter's 6th birthday party which was held in a cookie factory. Personalizing them with a fabric marker was easy, the kids loved them (boys and girls!) and they looked adorable. My order was handled perfectly-everything arrived in plenty of time. In fact, the cookie place is considering offering them as favors as well since they thought it was such a great idea!

Rated by: Kristen D. in Porterville, CA

We started a girls club and had the girls decorate aprons and they will be putting their badges they earn on them. It turned out purfect.

Rated by: laurie h. in w. bloomfield, MI

We monogrammed these aprons for my daughter's 4 year old "cooking" birthday party. They were great for all ages of kids and everyone loved having their own apron with their name on it!

Rated by: mary s. in Geneva, IL

We owns a retail store and also offer more upper end birthday parties, we have a pastry chef party where they decorate the apron and also create a pastry and we love your aprons, the quality is wonderful and we feel proud to offer them at our parties. Thanks!

Rated by: Christie H. in Charlotte, NC

I gave these aprons to all of the 3 year olds at my son's art themed birthday party. I used iron transfer paper to personalize each apron with the child's name & picture. It worked great and the kids loved them!

Rated by: Jill M. in Palatine, IL

All the five year olds at my daughter's birthday cooking party loved decorating these after I had stenciled their names on them. We used Crayola's new Fabric markers and they worked like a dream on the apron fabric. A really excellent product!

Rated by: Maya L. in Tucson, AZ

I purchased these canvas aprons for as gifts for my daughters cooking party! They worked fabulously with the Uchida Fabric Brush Markers!!!!Highly recommended!

Rated by: Debbie B. in Walnut Creek, CA

What a great deal for children's aprons. I looked everywhere and this was the best deal, as well as, excellent quality. My daughter's 3rd birthday party was an arts and crafts theme and these aprons worked out really well as party favors. Thank you so much!!!

Rated by: Jennifer H. in Dallas, TX

The quality of these aprons for the price is fantastic. I searched everywhere for children's aprons for a painting birthday party and these worked out great!! I was not able to find apron's with pockets and that are canvas, as to create on them, anywhere for the low cost found here!! Thank you misterart.com!!

Rated by: Christina K. in Kensington, MD

We are really happy with the service from MisterArt.com. When our order arrived two of the aprons where damaged. I called the company and they sent out two new ones free of charge the very next day. The prices are the best around. I'm using them for my son's 2nd birthday party (Construction Zone). The kids will love them.

Rated by: Luciana M. in Lake Worth, FL

A very nice apron and a very good material. I decorated the pockets and painted their names and we all loved. The girls got crazy about them.

Rated by: Allison M. in Yardley, PA

I used these for my twin toddlers' painting party.I decorated each one for the kids. Everyone loved them and got to take home a really special party gift!

Rated by: Kathy M. in Chicago, IL

These were great! Used them for my daughter's birthday (baking theme) with iron-ons and it worked great. They were so cute! And a real bargain too.

Rated by: Diana M. in Moneta, VA

We have twin grand daughters and they love their art aprons! Got the natural color so the girls can draw their own designs of their apron. Lots of fun

Rated by: Lori R. in Decatur, IL

A great value for such a durable material. Really just a fantastic buy. Perfect for little cooks and artists.

Rated by: Jennifer L. in savannah, GA

These launder very nicely. They come out nice and flat, not stiff and wrinkled like most of the other non-disposable kids aprons that you come across out there.

Rated by: Elizabeth D. in New Orleans, LA

Great aprons! My kids love them!
Add Your Review
Tell us what you think. We appreciate you taking the time to share your opinion with other artists and crafters. Please keep your review detailed and specific.
Tips on Writing Reviews
Rating Scale
(5-Star) Excellent
(4-Star) Good
(3-Star) Average
(2-Star) Fair
(1-Star) Poor
Do:
Give your perspective on how you used the product and why you liked or disliked it.
Keep your reviews short enough to hold the audience's attention.
Be honest and mindful of others when providing editorial commentary.
Don't:
Include phone numbers, addresses, URLs, or HTML tags.
Write profanity, obscenities, vulgarities, or spiteful comments.
Make defamatory comments.