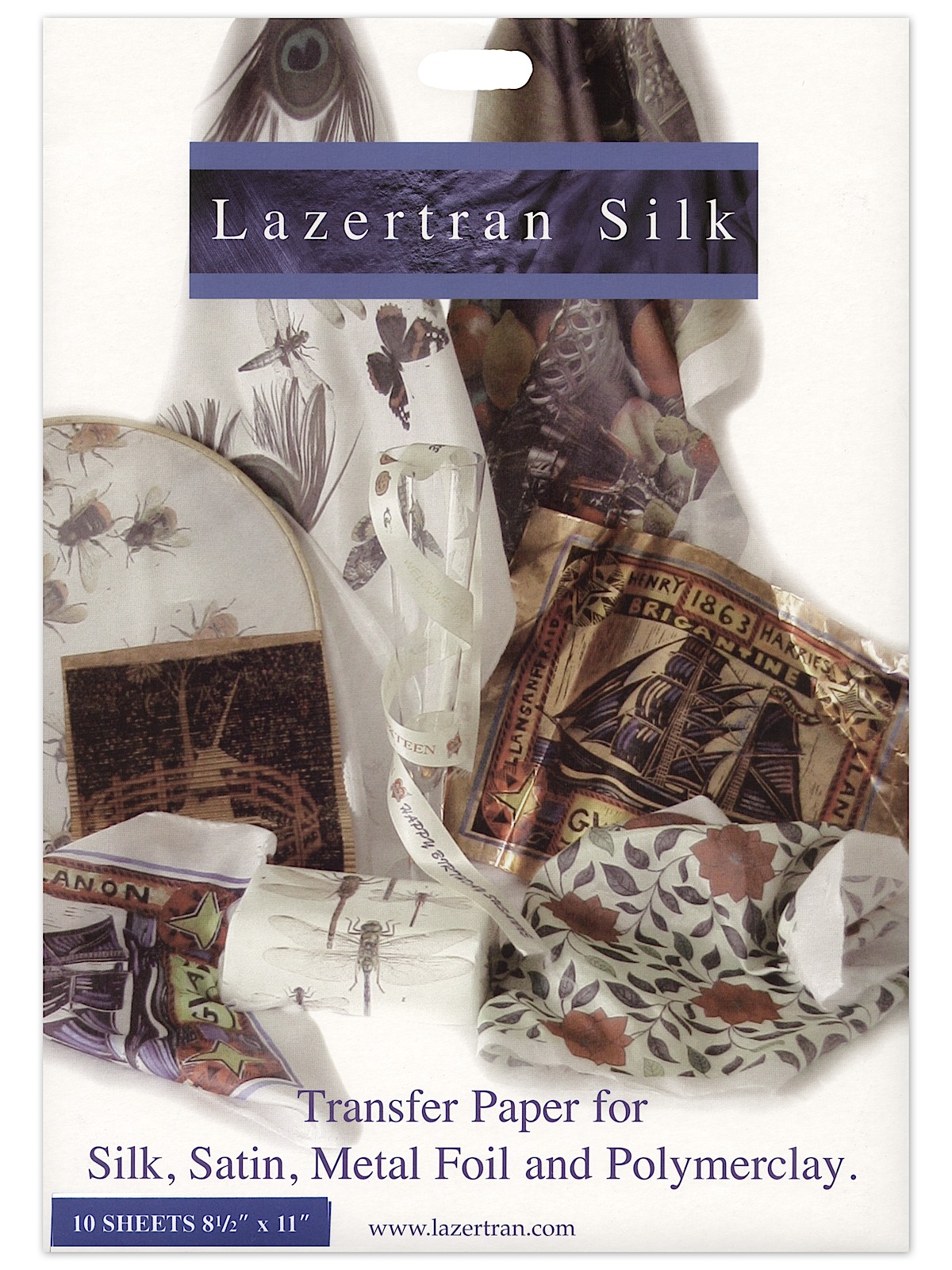 Zoom Image

Lazertran Waterslide Decal Paper is an amazing new type of transfer paper for art, crafts, home decorating, scrapbooking, and more – use it anywhere you want to add your own picture or design.
It enables you to add your unique design or image to almost any surface, including paper, tiles, windows, painted or papered walls, stone, fabric, metal foil, plaster, candles, polymer clay etc. Just print or copy your image onto the special Lazertran paper, trim it, soak in water, and then apply – the image literally slides off the paper! Available in packs of 10 - 8 1/2 in. x 11 in. sheets.
Instructional CD Book with tips and project ideas is also available.
Regular Lazertran is meant for use with color copiers. Lazertran for Inkjet is to be used with inkjet printers only (not for use with laser or bubblejet printers). Lazertran Silk can be used to apply transfers to fabric, metal foil, or polymer clay and is for use with either color copiers or laser printers.
CAUTON! Please be aware that a number of photo copiers now run too hot for Regular Lazertran. Copiers and machines that fuse over 180° C. are not recommended. If in doubt, please use Lazertran Inkjet.


?
Ask a question about this product | See all questions & answers (10)
MAC from MI says:
This stuff is amazing! I have used it on many different mediums over the years with fantastic results; glass, metal, wood and a little fabric. It pays to read up on the product before you use it. There...[more]
Share this Product
Enter Quantity & Click 'Add to Cart'
Please wait...
You May Also Like...
by Fredrix

Stretch canvas, not your budget

Ready-to-use molds in 10 minutes

by Sakura

Permanent, waterproof, pigmented ink
How to get VIP Club Prices
Anyone can be a VIP Member with:
Additional savings on all products
Express order handling
Exclusive promotions
Priority customer service
Product Questions and Answers
How can you tell which side of the paper to use?
- Asked by carl k on 11-Jun-14
Answer
Lazertran has a liner sheet backing. The image should be printed onto the glossy side.
- Answered by MisterArt on 16-Jun-14
---
Because of size, I will need to use more than one sheet of Lazertran inkjet transfer paper. Will it be possible to join the image together without the seam showing?
- Asked by Shirley on 06-Apr-14
Answer
Multiple sheets of transfer paper may be used and assembled to create large images. This delicate process requires careful trimming and alignment of each part of the image. Seams should be minimal. Depending on what the image is being transferred onto, heat setting may reduce the appearance of seams.
- Answered by MisterArt on 09-Apr-14
---
Can you tell me if your decal paper works for ceramic mugs? I'd like to be able to wash it afterward.
- Asked by Audra Brewer on 23-Mar-14
Answer
Yes, Lazertran may be applied to ceramics and then baked in a domestic oven to make it washable. Lazertran is not to be fired in a kiln. Be sure to print the image in reverse as a mirror image. Follow application instructions, but apply the decal to the ceramic mug face down with the toner towards the ceramic surface. The backing paper should slide away as it is applied. Smooth out any air bubbles. Place in a domestic oven and follow the heat set instructions until the decal becomes shiny.
- Answered by MisterArt on 27-Mar-14
---
Can I kiln-fire this? I want to transfer decals to ceramics and then fire them.
- Asked by alain devise on 18-Mar-14
Answer
This product does not require kiln firing temperatures. It may be heat set in a traditional oven. Bake for one hour at 250° F. Increase temperature by 50° every 15 minutes until reaching 450° F for a final 15 minutes. The decal will become shiny and scratch resistant.
- Answered by MisterArt on 19-Mar-14
---
What is the difference between Regular Lazertan and Lazertan for Inkjet?
- Asked by Cristy W on 04-Mar-14
Answer
Regular Lazertran is meant for use with color copiers. Lazertran for Inkjet is to be used with inkjet printers only (not for use with laser or bubble jet printers). Lazertran Silk can be used to apply transfers to fabric, metal foil, or polymer clay and is for use with either color copiers or laser printers. Caution: Please be aware that a number of photocopiers now run too hot for Regular Lazertran. Copiers and machines that fuse over 180° C are not recommended. If in doubt, please use Lazertran Inkjet.
- Answered by MisterArt on 04-Mar-14
---
Can I use a Canon Pixma IP 4200 with Lazertran?
- Asked by Joyce R. on 19-Oct-13
Answer
If it is an inkjet printer, yes. If not, it is recommended that you use the regular Lazertran.
- Answered by MisterArt on 21-Oct-13
---
Can Lazertran paper be used on clay that air dries?
- Asked by Elaine M on 09-Jul-13
Answer
Everything I have read states it may be used on Polymer clay, so, since you are not even having to heat it, it should work just as well. Lazertran customer support suggests a final varnish, however.
- Answered by MisterArt on 10-Jul-13
---
Can I use this on a wax candle?
- Asked by PF in BC on 16-Apr-13
Answer
Lazertran Waterslide Decal Paper is not recommended for use on wax surfaces.
- Answered by MisterArt on 17-Apr-13
---
Which Lazertran do I have to get to apply to metal?
- Asked by Tania on 18-Mar-13
Answer
Lazertran Silk can be used to apply transfers to metal.
- Answered by MisterArt on 20-Mar-13
---
Which side gets printed on?
- Asked by Russ on 16-Sep-12
Answer
The paper should be loaded into the copier face-up as packaged. Photo copiers now run too hot for Regular Lazertran. Be sure you have the Lazertran for inkjet.
- Answered by MisterArt on 10-Oct-12
---
Ask a Question About Waterslide Decal Paper

Your email will not be shared. We will only use your email address to respond to your question. When asking your question, please be as descriptive as possible, it will allow us to give you the most accurate answer possible.


Customer Product Reviews
Rated by: MAC in MI

This stuff is amazing! I have used it on many different mediums over the years with fantastic results; glass, metal, wood and a little fabric. It pays to read up on the product before you use it. There are many little tips that artists have discovered that aren't given with the manufacturers instructions. MisterArt.com has the best price going for Lazertran.

Rated by: Jerrocity in Rochester NY

First off, let me say I've used Lazertan for inkjet on painted metal boxes for months without issue. Then I bought two packs here and the results were terrible; the surface had lines and spots that didn't take ink properly, and the labels didn't seem to adhere as well, with edges turning up. I've since bought two more packets elsewhere with the same results. I make guitar effects pedals and people expect them to look new, not mottled and with blem spots. On light labels I've gotten away with it but for my darker labels, it is terrible. I've contacted the manufacturer and have been assured a few times that replacements were on the way, but it never happened. It's too bad, it was great while it lasted.

Rated by: Paula in Pittsburgh, PA

Great product. Used it on slate with no problems.

Rated by: Pat B. in Capitola, CA

The Lazertran regular decals are really cool and a great product! I'm baking the decals on clear glass beer mugs. The image isn't as bright in color as I would have liked, but I'm happy with the end result, so much so that I just ordered 6 more packages. Thanks for the quick shipment and great customer service.

Rated by: Eileen B. in Laredo, TX

I wouldn't use any other waterslide decals for my projects. I've written dozens of tutorials using Lazertran for my website, TheArtfulCrafter.com. Easy to use, great results. I've put these decals on polymer clay pendants, glassware, tile wall plaques, Easter eggs, Christmas ornaments, even bars of soap.

Rated by: to b. in apex, NC

I was so excited to try this product. I guess there is a learning curve I am not mastering! Everytime I have placed the paper in water, even waited 24 hours after printing one time, the dye bleeds. I have a HP inkjet copier that uses dye ink, like most of them on the market. Maybe a pigment ink printer cartridge works better? The directions do not state either way. The product lifted and curled when I baked it. Directions were vague at best. I really want to master this but am very frustrated with the lack of specific directions. MisterArt is wonderful though, this is no reflection on them

Rated by: Torrie P. in Carmel Valley, CA

I was surprised to see all the great reviews. I was not happy with the inkjet waterslide papers. I attempted 5 different applications on ceramics and each one failed...peeled, chipped, flaked off. Perhaps they work better on more porous items?

Rated by: Kim C. in Bellevue, WA

I had seen this product in a book and the photo of a decal on rock was so amazing, but in real application, the decal didn't disappear into the turpentine as we had expected. Even so, it was pretty cool. I will use this again. The directions are somewhat vague. I would recommend watching video to help. We lost quite a few at the beginning as we got the hang of it.

Rated by: Lynda M. in Charlotte, NC

I have used the Lazertran paper to apply pictures to tiles and to candles. This paper allows you to move your art to a whole different level. It is easy to use and provides wonderful results.

Rated by: Michelle M. in Laguna Hills, CA

Amazing!!!

Rated by: Bob M. in Central, NJ

I tried both regular Lazertran and Lazertran for Inkjets. The regular Lazertran only works in a limited set of printers/copiers that use fuser oil, which are not made anymore. In my experience, regular Lazertran melts in modern laser printers and color copiers due to the higher temperatures at which they run. The Lazertan for Inkjets, however, worked perfectly in both my inkjet and color laser printer, so I'll be buying that exclusively from now on. It took some practice to learn the technique (search Google for tips and video demos - they are helpful), but after that, all is good. Great product.

Rated by: Jude L. in Mebane, NC

I love this decal paper. Takes inkjet printing well, adheres equally well on tiles w/both gel medium or turpentine. Wonderful results.

Rated by: shelley l. in Oak Harbor, WA

My sister in law introduced me to this product - we both love it! Works great for printing our art and transferring it to a variety of surfaces. Great for collage artists!

Rated by: jamie h. in San Mateo, CA

Lazertran is a very delicate paper to work with and took quite a bit of experimentation to work with. As a side note: it does not disappear if you are working with rock!

Rated by: faith s. in Cincinnati, OH

I have tried other transfer paper products, and I was extremely pleased with the ease of printing as well as the application of the transfer to canvas using the Lazertran. Much better results than the peal and stick products I've tried, and I thought the finish was also superior. I will use this product exclusively from now on.

Rated by: susan w. in Memphis, TN

Great service from MisterArt.com. Did have to get another brand of decals because I needed clear (I'm using the inkjet paper), but have had tons of fun using these on canvas. I print my image, coat the canvas with a little turpentine, place the image, then coat it with an oil-based varnish. Love the results.

Rated by: Linda H. in Rockport, TX

I'm having more fun with this. I went to Office Depot with a cd of the images I wanted to use and they charged a minimal fee to print on the LAZERTRAN sheet. Great product

Rated by: Julie W. in Lafayette, LA

I make Keepsake Tiles as a sideline hobby and I could NOT do it without this wonderful product!! It is absolutely wonderful and so easy to use.

Rated by: Patricia H. in Casa Grande, AZ

Wonderful product. Works exactly as described and is great for crafting.

Rated by: Jennifer L. in Columbus, OH

I really love this product! I use it to transfer onto clay, and it works so well!

Rated by: Mary H. in N. Stonington, CT

Lazertran inkjet is a great product. The colors are less brilliant when placed on clear glass, but still look great. I followed advice in a book and baked my item to seal... a necessary step. Can't wait to lazertran everything!

Rated by: Liz A. in berkeley, CA

I've had amazing results with lazertran for inkjet... very easy to apply to glazed ceramics, and I still have a lot of experimenting to do with other surfaces. Lazertran silk is great once you get the hang of it. It's tricky and a bit more fragile to work with, but I found the transfer did not stiffen the silk at all.

Rated by: jane h. in Englewood, FL

This product is wonderful and so easy to use once you get the hang of it. MisterArt was wonderful with my order and my exchanges. Thank you so much!!!

Rated by: sharol s. in Algonac, MI

5 stars...I love Mr. Art and love this product!!!!!!

Rated by: scott m. in Orange, CA

xlnt product makes for great alternative art

Rated by: Brian D. in Oak Park, IL

This is a really cool art project tool (if you have enough $ in your budget). Use Mod Podge to seal it.

Rated by: Lisa T. in Salisbury, NC

I am very happy with the Lazertran waterslide decal paper. I had been trying to find something that would work well transfering pictures onto uncured polymer clay pendants/beads. This product really has been great. Thank you. Also pleased with prompt service. Lisa Taylor/Enchanted Visions ClayArt

Rated by: Deb F. in Toledo, OH

LOVE Misterart----fastest, curtious and most effecient service. AAA+ I love the lazertran waterslides and I will only buy them through misterart!!! This company is the best!

Rated by: Beth J. in Hillsborough, NJ

This product is one of a kind. Unlike less expensive water slide decal paper, the process is very easy. No coating/treating prior to use (unless you want to!). The types of products this can be used on is absolutely limitless. I highly recommend Debba Haupert's The New Book of Image Transfer. I use this paper almost exclusively in my custom tile art design business. And... Misterart beats the rest on price and shipping.

Rated by: Maria E. in Chicago, IL

I used Lasertran with an inkjet printer, sprayed the image with clear sealer, put it in water and the object looked great and did not smear. Great product. I'm anxious to try paper inteded for inkjet printers.

Rated by: Pam E. in cranberry township, PA

A great product but be aware that your printed image will shrink as the decal dries.

Rated by: Nathan R. in Knoxville, TN

It maintains the printed color and shaprness extremely well after being in all of the liquids. I used it on wood, and it looked great. It is somewhat difficult to work with on a small scale (I applied it to turned pens). The pieces were about 1"x2". With the wood, you have to use turpentine and pretreat the wood, so you get it on your fingers and it has a tendency to fall apart. I just kept a wet paper towel on hand to wipe my hands off in between. This is a great product!

Rated by: Doreen S. in Troy, OH

This product is fabulous!! I have been making so many gifts for family and friends. I just love it. So easy to use. Simple instructions. MisterArt sent it fast. Will order more from this website.

Rated by: Terri V. in Miami, FL

Great product, works really well for those projects you want to create a WOW factor for. I love that you have the choice to have the finished product clear or white.

Rated by: Dawn S. in Harrison, AR

I love this product. I found some old black and white photos of my parents printed them on the Lazertran Inkjet paper and applied them to tumbled marble tiles. They loved them. The instructions were comprehensive and the decals' edges disappeared into the tiles. I can think of many applications for this paper.

Rated by: Louise W. in Marietta, GA

The product is wonderful. I used two packages to make 10 sets of coasters for Christmas and what a hit they were. I'm very impressed with misterart.com as well. My product came when expected, in good condition and at a selling price cheaper than the product website (they were out of product too). I will order again.

Rated by: Miriam S. in Salt Lake City, UT

The instructions were clear and easy to read - this product is good if you follow the directions completely.

Rated by: Amy B. in New Palestine, IN

I really liked this product. I used it on glass and had a few problems with water marks and scratches - but overall I was very satisfied. Am already on my second package and will no doubt order more!

Rated by: Julie M. in Raeford, NC

I use LazerTran for Copiers for making cremation urns and other ceramic products. The baking of the decal paper onto the glazed surface of the urns has been a god-send. The images do not scratch, peel or fade after being baked on and I could not be more pleased with this product!

Rated by: Carol B. in Temple, TX

Everyone was thrilled with the coasters I made for Christmas.This was so easy and fun to make. My Grand daughters are searching for pictures so I can make more coasters for them.

Rated by: Kathleen M. in West Point, NY

I used the product to make glass photo ornaments as gifts for the parents of the children I care for. The directions were very easy to understand and the final product came out even better than I anticipated. I would definitely recommend this product and use it again.

Rated by: Iva B. in LAMPASAS, TX

This stuff is great. I had so much fun making Christmas presents. I used it to print out pictures and images from my computer and put them on ceramic tiles for coasters and candles. Spray with lacquer and it looks so nice. My 10 yr old daughter even did it and had fun doing it. I'll definitely buy more.

Rated by: Lynnae F. in Harker Hieghts, TX

I love this stuff!!!! It's great for making coasters and Christmas ornaments. This is a paper I cannot be without.

Rated by: Jessica B. in Riverside, CA

Pretty neat, colors will run a bit if you spray a glossy coat over it. Satisfied.

Rated by: Abigail R. in Abington, MA

I used the Lazertran sliding decals in my Photoprinter to put pictures of my family members in glass ornaments. They turned out amazing and I know my family will love seeing themselves on the tree this Christmas! Try it, you'll love it as much as I do!

Rated by: Anne R. in South Bend, IN

Fabulous product! Used it for a parochial school class auction project - terrific results! Quick shipping from MisterArt. Can't wait to buy more for holiday presents!

Rated by: Julie M. in Raeford, NC

Excellent product! I will definitely be buying this from mistart.com in the future! Thanks!

Rated by: Patricia R. in NYC, NY

This product left perfect images on the clay. Beware...wait until the paper floats off naturally. Don't fool around with it. You will get an imperfect image. If you follow directions to a "T" you will get what you are looking for.

Rated by: Diane B. in san francisco, CA

I just taught a class about image transfers using gel medium, which can be very frustrating to learn to do well. I also showed the Lazertran Waterslide Decals, which are completely FOOLPROOF! The students loved them. We applied them to metal tins and paper. Sometimes the adhesive is not enough to prevent the decal from curling at the edges, but a bit of glue stick or Diamond Glaze adheres it well.

Rated by: Christina S. in Tampa, FL

I would recommend this fabric for general crafts - not intended for something permanent or everlasting without putting a good coat of varnish or something on top. I used this to put pictures on the center of plates (for decorative purposes) and it worked great!

Rated by: Susan K. in Morton Grove, IL

Wouldn't use it for something intended to be permanent, but for a high quality product proof - it works great.

Rated by: Andrea B. in Gardner, IL

I used this to put family pictures on glass ornaments, it was so easy to use, and the quality of picture is outstanding. The possibilities are endless.

Rated by: Charles S. in Bloomington, IL

Great product! Made transfers from the inkjet paper for wooden game pieces and mounted them using the terpentine technique. I'm a first-time user but results were still professional looking with no waste. Just follow directions and don't over-handle the decals. I'm planning to use it for several other wood applications. MisterArt.com's order handling was fast, even during the Holiday mail crunch. I will buy this product again.

Rated by: Vivian M. in New Port Richey, FL

Received my order for Lazertrain Decal paper. Package arrived in great shape. Used it on decorating Goose Eggs for Christmas gifts. Worked great. will definiately use it again

Rated by: Joanna K. in Juneau, AK

Excellent product. I used it to make coasters and they came out perfect. Very easy to use and good instructions. Excellent site, too. My order came promptly (to Alaska) and very well packaged.

Rated by: Elisa H. in LUGOFF, SC

Great! Site layout was easy to navigate and product arrived well packaged and as ordered.

Rated by: Kerry G. in Caldwell, ID

Still experimenting! Plates, models (rockets), tiles, coasters...we're not done yet! Easy to use. Just purchase the transfers to match your computer...we have more ideas than we've had time!

Rated by: Kathy G. in Santa Rosa, CA

I bought both Lazertran and Lazertran for Ink-Jet. They both worked very well. I did have a problem finding a place that would photocopy on the regular Lazertran for me. The ink jet is great, but is not recommended for fabric.

Rated by: Laura D. in Los Angeles, CA

Lazertran is the best out there. We transfer Andrea Dern's popular florals onto tea trays which are adverstised in Romantic Homes Magazone. We've been looking for moths for the correct product and have finally found it! Thanks!

Rated by: Brenda M. in Silverton, OR

This product acts just as it is described. I used this in a class I taught, and students loved it. We had great results applying the product to cardstock using Perfect Paper Adhesive.

Rated by: Steve C. in Spanish Fork, UT

The Lazertran for InkJet is a fantastic product. The coating takes the ink very well, with high contrast and beautiful color retention (in fact, I was suprised at the vivid colors that the coating allowed). I have successfully transfered photographs to natural stone with wonderful detail and color. I print my images with an Epson R200 according to the instructions with the media and have seen excellent results. I have ordered more and will continue to use this product.

Rated by: veronica d. in tacoma, WA

Easy to use. Will buy this product again.

Rated by: rebecca t. in Portland, MI

I purchased Lazertran to produce a new cover for a book. Not only was MisterArt.com's price lower than elsewhere, the order arrived much quicker than expected. Lazertran allowed me to put my Illustrator image onto fabric easily and permanently.

Rated by: Chris K. in Greeneville, TN

I bought Lazertran paper to use for some Christmas gifts I was making. I scanned photos and printed them out on the Lazertran paper and transferred them to coffee mugs. They turned out great and the directions were easy to follow. Try it!
Add Your Review
Tell us what you think. We appreciate you taking the time to share your opinion with other artists and crafters. Please keep your review detailed and specific.
Tips on Writing Reviews
Rating Scale
(5-Star) Excellent
(4-Star) Good
(3-Star) Average
(2-Star) Fair
(1-Star) Poor
Do:
Give your perspective on how you used the product and why you liked or disliked it.
Keep your reviews short enough to hold the audience's attention.
Be honest and mindful of others when providing editorial commentary.
Don't:
Include phone numbers, addresses, URLs, or HTML tags.
Write profanity, obscenities, vulgarities, or spiteful comments.
Make defamatory comments.