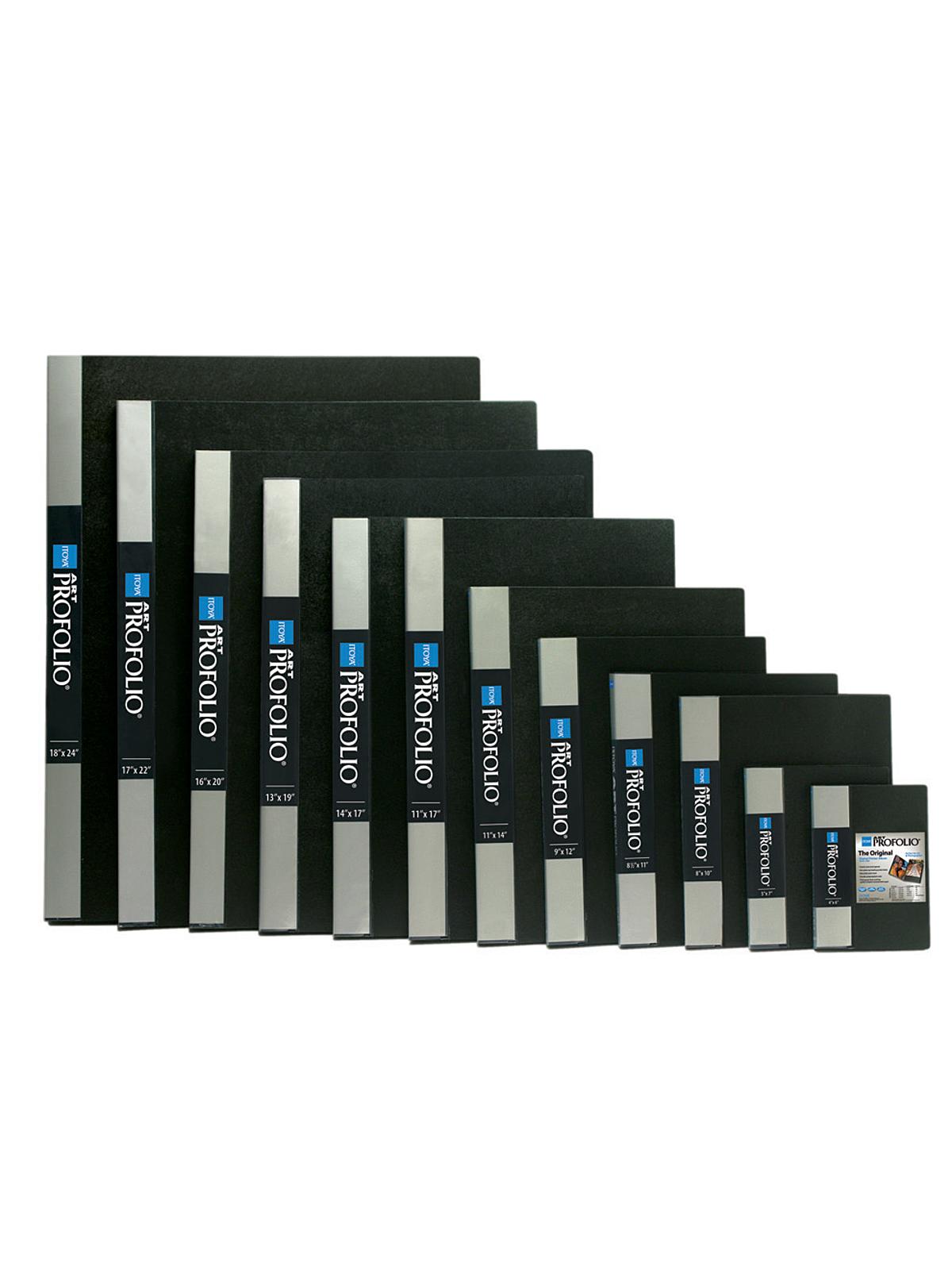 Zoom Image
Art Profolio Storage/Display Book
by Itoya

Display artwork and photos in a wide array of popular sizes. Completely acid-free and archival safe. PVC and lignin free. Durable black polypropylene cover and pages. Black acid-free mounting paper provided in each page. Archival safe for all your art storage needs. Great for storing photographs and film of all sizes. Top-loading, clear polypropylene sheets will not stick to copier toner and is also ideal for storing a vast array of artwork and memory projects. A reversible spine insert, which allows for customized titling and organization. Inner cover pocket (included on many sizes) for quick-access storage. 24 sleeves for 48 views. Binding is on longest dimension.
The 8 1/2 in. x 11in. Art Profolio is also available in other page counts besides the standard 24 page book.
?
Ask a question about this product
Houston from Memphis TN says:
I only use Itoya and I only get them from Misterart.com...... Period!
Share this Product
Enter Quantity & Click 'Add to Cart'
Please wait...
You May Also Like...
by Cousin

Great for looping, crimping, cutting, and more

Everything you need to get started
How to get VIP Club Prices
Anyone can be a VIP Member with:
Additional savings on all products
Express order handling
Exclusive promotions
Priority customer service
Your email will not be shared. We will only use your email address to respond to your question. When asking your question, please be as descriptive as possible, it will allow us to give you the most accurate answer possible.


Customer Product Reviews
Rated by: Houston in Memphis TN

I only use Itoya and I only get them from Misterart.com...... Period!

Rated by: Thru Jenn's Eyes in Wyoming

Great professional display book! My artwork is even better looking now. I am proud to show it off! I came back and bought 3 more!!!

Rated by: Kathy B. in Studio City, CA

I've used these for years for my afterschool art classes, and I currently have about 80 students. The kids are so proud to show off their art when the books are filled! They also love coloring on the plastic cover with metallic markers. Best investment ever!

Rated by: Carol in L.A.

Sturdy, flexible, two 14 x 17" folios fit in my carry-on, amply holds comic art. Arrived well-packed and in good time.

Rated by: Cris M in Orlando, FL

I use this product every year to show off, in an organized manner, all my daughter's art work and school work for the year. I love it!

Rated by: Danielle J. in Chatham, MA

Re-ordered a large supply for our business for the best prices that we could find.

Rated by: Jesse G. in Santa Cruz, CA

Sturdy. Does the job for the price.

Rated by: sara l. in Dallas, TX

I bought these display books for my child's art work - construction paper is 9x12 and they work great. My son loves to look through his drawings and paintings and show them off to visitors.

Rated by: Danielle J. in Chatham, MA

We use this product to display our pieces. The folios are especially handy to display and protect our fine maps at shows. They're compact, solid and professional looking. We think they're terrific.

Rated by: Hans H. in E Greenwich, RI

Great value, good quality, lowest price anywhere.

Rated by: Kevin C. in River Forest, IL

The Itoya portfolios make anything look professional! They are well constructed, durable, and eminently presentable.

Rated by: Giles L. in Washington, DC

Perfect for its intended use and at a reasonable price.

Rated by: Isabelle F. in Stanford, CA

This is so great! I just finished putting in all of the crafts my son has made for his pre-kindergardren class this year. I added photos here and there too, it's a great keepsake. I will definitively get another one to keep his best school work for next year.

Rated by: Mary Beth T. in Wilkes-Barre, PA

Perfect book for storing articles in our public relations archive.

Rated by: stephanie s. in broadview hts., OH

Love this product. Great for presentations. Very professional.

Rated by: Rachel B. in Milwaukee, WI

Wonderful display book, great quality, great prices

Rated by: Jennifer C. in Ocean Springs, MS

High quality books make for a professional display of my photographs.

Rated by: Ted C. in Bullhead city, AZ

The Itoya Portfolio was just what I was looking for to store my wifes paintings. It is a great product at a good price. No review is complete without a suggestion or two and this is no exception. She paints on fairly thick poster board. The portfolio would be a little handier if the binding could expand in some way to accomodate them and lie flat as the paintings accumulated. Maybe some sort of threaded post and wing nut arrangement would work, like you find on some bookkeeping ledgers.

Rated by: Rebecca Orr C. in Charlotte, NC

You just can't find a better product or value than Itoya!! I use these for my calligraphy portfolios and potential clients and event planners are always quite impressed!

Rated by: Shirley F. in El Cajon, CA

Before buying the product I researched for best price and shipping costs. Mister Art was by far the most competitive. My item was delivered on schedule and in perfect condition. I will return to purchase in the future. Regards, Shirley Feldmann

Rated by: Jane R. in Littleton, CO

Super product! Would not use anything else to store/preserve my art collection!!

Rated by: pattie r. in Charlottesville, VA

A great value for the money well made portfolio

Rated by: Zoe B. in San Francisco, CA

Excellent product as advertised. I use them to show dealers my vintage b&w prints. This is my second order.

Rated by: Connie C. in Boulder, CO

I love these books. I use them to display my photographs. They are bound real well and hold up real well under normal viewing. Clear plastic makes viewing photos real well. I use the larger ones to display 8x10's and the smaller ones to display 4x6's.

Rated by: veronique p. in ATlanta, GA

good product, easy to customize, clean finish.

Rated by: Houston F. in Memphis, TN

For the money, the Itoyta portfolio is the best means of preserving my collection!

Rated by: D.M. L. in Falls Church, VA

The portfolio lives up to its description and in the 18" x 24" format, it's perfect for storing and displaying drawings and sketches of varying sizes. Just great!

Rated by: Gail H. in Arvada, CO

The product was of nice quality and arrived fast.

Rated by: Erica B. in Renton, WA

I bought the 13X19 size for my son's preschool artwork. Perfect for that oversize construction paper they use and he loves to flip through and look at it. I shopped around a lot and found this to be the best price (by far), even with the shipping. I bought another for the upcoming school year. Great product!

Rated by: Will C. in Guerneville, CA

Entirely satisfied with these storage/display books. I am using them for drawings--two to a page, back to back. Extremely easy to insert and take out. The pages, of course, do not come out for optimum alteration of sequence, but books with this feature are considerably more expensive. The Itoya opens flat and the book stays neat even when filled with drawings.

Rated by: anne c. in Kingston, ID

I love my Iotya portfolio. It protects my originals and copies. The 15x17ish is the best size for all pictures. I got the smaller one but it is not quite large enough for my artwork (colored pencil and charcoal pencil). I recommend that anyone doing charcoal, pastels or pencil purchase one. It saves your original while you are working on it and is excellent to display your copies.

Rated by: Eric B. in Saint Louis, MO

These are quick, easy, and inexpensive portfolios. they do not easily allow for doubling over, but they will open flat.

Rated by: Mercedes H. in Issaquah, WA

Wow!! THIS IS THE BEST FOR ITS WORTH !! I USE when I can afford them!!ONLY THESE !!

Rated by: Scott G. in Milwaukee, WI

Great product for storing artwork. Prompt service from Mister Art! These people are the best, have the best and have it at the best prices I've found in my 50+ years of collecting!!

Rated by: SUE W. in LYNN, MA

My daughter in college needed to display artwork projects done for her early childhood education class. The projects varied in size and shape as well as texture. She also needed to describe the works as to materials used, age appropriateness, etc. This portfolio was perfect, allowing for all piece of this project to be put in order as well as look attractive. I know that I will keep this in mind if either of us ever has a similar project. Best part about it was the price! What a great deal!

Rated by: Karen B. in NEW YORK, NY

I love these portfolios. I did a lot of research before buying them, and for the price and quality they are the best ones around. The pages are big and perfect for storing all your work. Photos and articles fit flawlessly into the sleeves. If your looking for a way to store your work, these portfolios are the way to go.

Rated by: Dave L. in Pasadena, CA

Excellent product, excellent value

Rated by: Cat R. in Bellevue, WA

These guys were the only ones that had the 18 in. x 24 in. book. It was perfect for keeping large old posters.

Rated by: Linda C. in Nashville, TN

Exactly what I ordered. Good products. Great communication with MisterArt. Fast shipment. Reasonable prices. Thanks, MisterArt! Nice doing business with you.

Rated by: Scott G. in Milwaukee, WI

Perfect product for displaying artwork. The customer service at Mister Art was also perfect. I shall return.

Rated by: Scott G. in Milwaukee, WI

Perfect product for displaying artwork. The customer service at Mister Art was also perfect. I shall return.

Rated by: D. M. in MEREDITH, NH

GOOD QUALITY. GOOD DELIVERY TIME. GOOD PACKAGING...RECEIVED IN GREAT SHAPE.

Rated by: Jude P. in Knoxville, TN

I use these handy and inexpensive itoya of every size, and have done so for years. It safely protects fragile works on paper, can be used to display representative illustrations, and occasionally even for layouts of a children's book. I can organize into categories, The only disadvantage I can think of is that there are only 48 slots.

Rated by: Erica S. in Mill Creek, WA

I absolutely love this product. I store all my large pictures of my children. Perfect for 8 by 10's and larger. Many friends have commented on what a great way to display photos and keep them safe.

Rated by: Lorna L. in Durango, CO

High quality, perfect for storing or displaying watercolors until framed.

Rated by: Lorna L. in Durango, CO

High quality, perfect for storing or displaying watercolors until framed.

Rated by: Karen C. in Brookings, OR

I find the porfolios a perfect answer to displaying numerous pieces of art along with movie memorabilia that I have for sale. Customers can browse through the porfolios without adding to wear and tear on the objects themselves. I love that you carry so many sizes!

Rated by: Henrique U. in Miami, FL

Excelent product.

Rated by: Lorna L. in Durango, CO

Exactly what I was hoping for: places to store and share my watercolors, small or large, and very good quality.

Rated by: jeff o. in deland, FL

I get alot of use out of the books, I use them to store my art in progress and i also use them for dispaying, flash in my tattoo shop.

Rated by: Felicia L. in Brookeville, MD

These portfolios are a wonderful (and inexpensive) way to organize/protect both work in progress and finished artwork! The acid free sleeves can accommadate heavy paper, fabrics, or whatever.

Rated by: Joel H. in South Bend, IN

The Itoya art portfolio is an excellent why to showcase various differant works. I am very pleased with the portfolio.

Rated by: Bethany H. in Norfolk, VA

These portfolios are great. I bought one for each different size that I needed.

Rated by: John M. in Port Richey, FL

Great little book. I ordered this book in a 5x7 and love it. It is small enough to carry around or drop it in my camera bag, yet big enough to show my work. A very nice portable portfolio.

Rated by: Marlo A. in Cerritos, CA

I bought these portfolios as a convenient way to store my original comic book art which normally measures 11" x 17". Sometimes the art runs a tad larger, such as with cover art, so this portfolio covers that as well. There are 24 pockets with archival black backings for a total of 48 perfect veiws for single pages comic artwork. A great item at a terrific price! What more could you ask for? Sturdy and stores nicely too! I may order more soon!

Rated by: Amelia G. in Trenton, NJ

These portfolio books are great! There is a nice selection of different sizes for different needs. For those who may find large, traditional portfolios too bulky and overkill, these portfolio books are highly portable and flexible. If you have smaller scale artwork to display, these are perfect for portability and handling. Great for my kids and their artwork, too. And the prices are just right, IMO. Misterart.com shipped mine quickly and well-packaged.

Rated by: Vera E. in Los Angeles, CA

These books are perfect to store all my kids' art work. And what a bargain! MisterArt.com is the best deal on the Net.

Rated by: Jessica F. in Atlanta, GA

Great product to hold my art in!

Rated by: Christina M. in Brockton, MA

This portfolio was just what I needed to make a Red Sox souvenir album. I especially liked the clear pocket on the spine which allows for a custom insert.

Rated by: Tania E. in Ann Arbor, MI

This is a very useful portfolio book: easy to load the photos; sturdy on the outside; very clear view of each page. I have two of them, different sizes, and find them both ample in dimensions and number of sheets. Also, I have often put too much in a slot such as a client calendar and the page still holds the item easily and correctly. I have piled them in the car or stuffed them into briefcases: the cover edges still look great and no scuff marks on the cover. For the money, it's a bargain.

Rated by: MICHELLE L. in WESTMORLAND CITY, PA

THIS IS A GREAT WAY TO STORE AND PRESERVE MY SONS ART WORK FROM SCHOOL.

Rated by: Lisa T. in DeMotte, IN

I think I was more excited than my 2 daughters (ages 7 and 10) to get their art work organized. They are really great. I would suggest some type of labels for the pictures. Thanks.

Rated by: Rachel R. in South Hempstead, NY

I used the portfolio to display ink drawings, and it was great. I only wish it were easier to find one with less pages than 24, but if you have many drawings to display, this is perfect for you.

Rated by: Gregory C. in Jacksonville, NC

These are just what the Doctor ordered for your artwork or on the road tattoo flash...or just that overflow flash art in a busy but smaller shop.

Rated by: Judith M P. in Knoxville, TN

I have done over 700 completed illustrations in the last 6 months, and without these terrific portfoloios, heaven only knows where they would be! The acid free environment both protects them and the plastic sleeves and book format allow easy access for clients or just for me. I have a shelf full of these, and will be buying more. Terrifi price at Mister Art as well!!

Rated by: Suzanne D. in New Windsor, MD

Bought a few of the 8X10's as a temporary way to organize model portfolios. I feel no need to replace them. The quality is great. Very durable material. Great prices. Will be ordering may more in other sizes.

Rated by: Joern W. in Clayton, CA

Great product to help organize, protect and display my art merchandise and collection and present it in a professional manner to clients. The quality of the portfolio is much better than what is used to be 5-6 years ago. You definitely cannot beat the price and customer service at Mr.Art.

Rated by: Steven S. in Chicago, IL

Very clean look at a very affordable price. Works well with even Glossy 80lb prints at 11x17.

Rated by: Judith M P. in Knoxville, TN

This is a terrific product to help organize and protect my illustrations. It makes it easy to find as well as to show clients, it looks good on the shelf and each holds 48 pieces. Super price as well.

Rated by: Robert N. in Norwalk, CT

I have 4 of these - they are a sturdy, rather inexpensive, nicely designed and durable. Great for photographs, artwork etc. A super buy.

Rated by: Gwen O. in Grand Rapids, MI

Great for presentations and to leave with the client!

Rated by: John E. in stone mountain, GA

These portfolio books are easy to manage in a public setting and comes in multiple sizes to showcase and store your work.

Rated by: Richard T. in San Jose, CA

I bought this book to store my animation cels in. I found it to be very satisfactory in storing and presenting my cel collection. There were a few ripples along the plastic but I think that was due to weather from when it was shipped. The only improvement I can see on this item is an inclusion of a handle along the spine.

Rated by: Lauren P. in West Palm Beach, FL

My newspaper used these booklets for the Pulitzer Prize entries ... they were the only binder I could find that matched the size requirements. The paper inserts were sturdy for mounting the entries, and the binding allowed for an insert with the category title and our name... very utilitarian. Plus, no bulky metal rings to add weight! I would definitely use them again.l

Rated by: nicole c. in san antonio, TX

these portfolios are great to present and store tattoo flash art.

Rated by: Frank B. in North Palm Beach, FL

Great low cost portfolio. Easy to customize cover.

Rated by: Gina G. in Madison, WI

Wonderful product. Great for showcasing work. Easy to put samples in. Easy to change. Lightweight, easy to trasport. I don't use anything else to store or display my work. Highly recommend the quality of this product.

Rated by: BRASS M. in Los Angeles, CA

I first started using Profolios to hold sheet music; there was nothing else like them on the market. They opened flat and stayed flat and I was able to alphabetize my music with the removable (AND reversible!) binder labels. When I became a professional organizer, Profolios provided even more versatility! I have used them as tear-sheet binders (magazine articles), photo books (the 9"x12" size is perfect for headshots) and even scrapbooks (the pages provide an acid-free environment)! Invaluable for so many purposes under the sun!!

Rated by: Liz B. in Phoenix, AZ

Finding the ITOYA Profolio is the BEST thing to happen to me this semester! This display portfolio is PERFECT for students because of its price, yet it still maintains a VERY professional look! I did not have any problem with "non-refillable" pages. Why? At these prices, I can afford to buy more and archive them. They come in SO many sizes, too! I got a 14"x17" size and it was large enough to hold my 12"x16" matted images! With 48 views total (you do not even need mounting paper--it comes with it!), these are extremely valuable for presentations and worth their weight in gold!

Rated by: Cynthia C. in Alfred, NY

I cannot believe how nice this portfolio is for the money. It is extrememly professional looking, and just the perfect thing I needed.

Rated by: Becky S. in St.Cloud, FL

Very nice and profesional looking. You can tell it is high quality and durable. The price is good too.

Rated by: Mercedes L. in Issaquah, WA

These portfolios are great if you have limited space. Also if limited funds and cannot put all your pictures in frames! The price is right, too!

Rated by: Jody M. in Syosset, NY

Excellent product. Sturdy and easy to use.

Rated by: Britt S. in Fort Worth, TX

I bought two of the Itoya Profolios... I use them to show prints, and when I am printing in the darkroom, take one with me to put prints in so they don't get damaged. For the price, these folios cannot be beat! Good quality for the price.

Rated by: Donna C. in Austin, TX

I really love these versatile portfolios so much more than the traditional with-handles books. They're much lighter, and less expensive so it allows me to create several books that I can easily slide into a case and yank out as the interview demands. They're also really great to ship to art directors and magazines as they're lighter and still look good.
Add Your Review
Tell us what you think. We appreciate you taking the time to share your opinion with other artists and crafters. Please keep your review detailed and specific.
Tips on Writing Reviews
Rating Scale
(5-Star) Excellent
(4-Star) Good
(3-Star) Average
(2-Star) Fair
(1-Star) Poor
Do:
Give your perspective on how you used the product and why you liked or disliked it.
Keep your reviews short enough to hold the audience's attention.
Be honest and mindful of others when providing editorial commentary.
Don't:
Include phone numbers, addresses, URLs, or HTML tags.
Write profanity, obscenities, vulgarities, or spiteful comments.
Make defamatory comments.