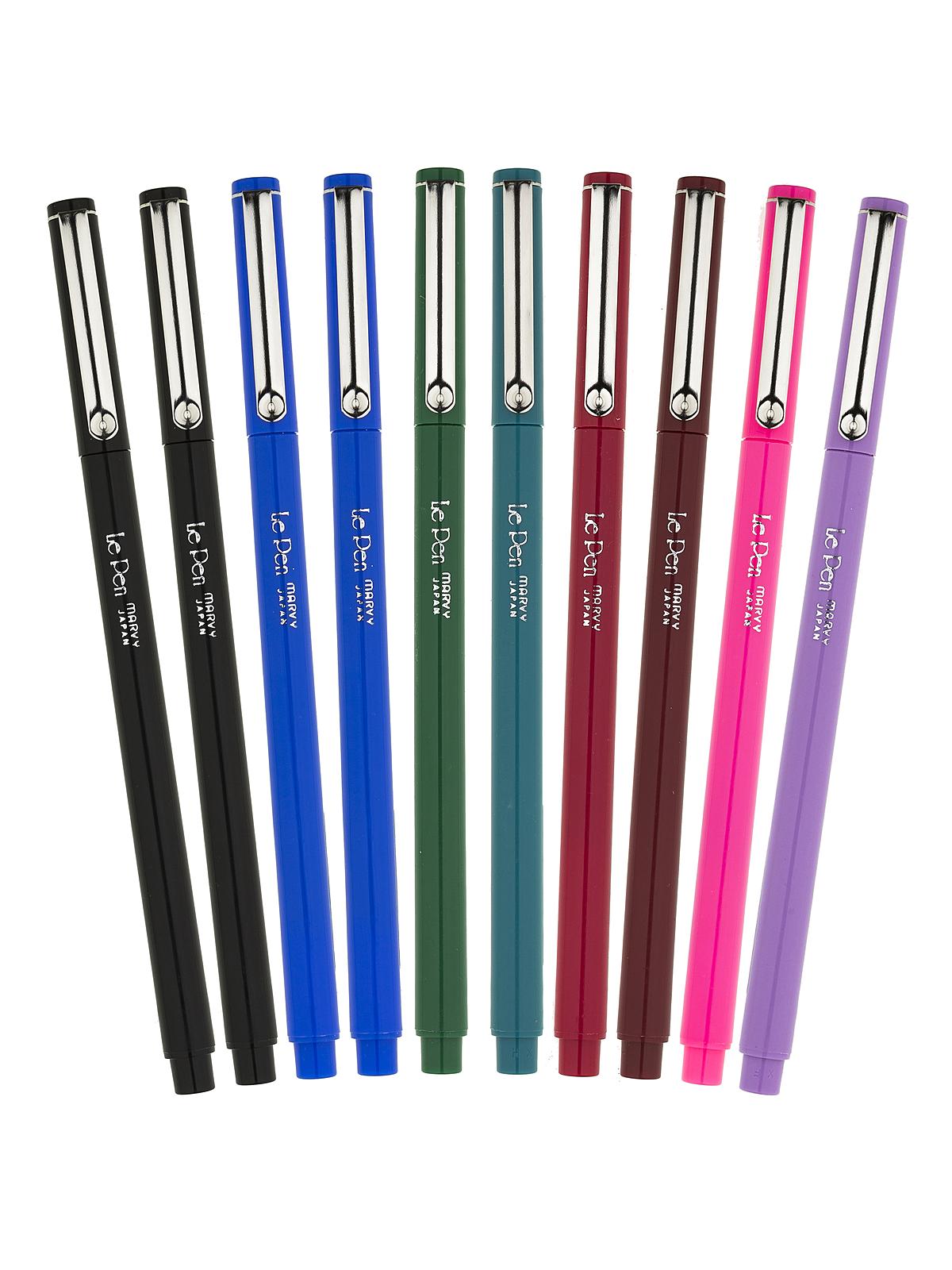 Zoom Image

These smooth, sleek pens with a lightweight barrel design have a 0.3 mm point size. They're great for business forms, notebooks, diaries, memo pads, and letters. The inks are smudge proof and come in a variety of different colors. The ink colors match the barrel colors. Also available in 4 different sets.
The Bright Set of 10 contains colors: lavender, orchid, pink, orange, light green, teal, light blue, blue, periwinkle and amethyst.
The Basic Set of 10 contains colors: black, dark grey, red, burgundy, brown, green, olive green, blue, Oriental blue and lavender.
The Neon Set of 4 contains colors: fl. blue, fl. green, fl. yellow and fl. pink.
The Pastel Set of 6 contains colors: yellow, coral pink, pale blue, wisteria, peppermint and pastel peach.


?
Ask a question about this product | See all questions & answers (2)
Justin88 from Lake Tahoe says:
If you're a lefty like I am, then I don't have to explain why I'm obsessed with this/ It is the only pen I EVER use. It never smears!! No matter how fast I write. I have to sign off on checks all day...[more]
Share this Product
Enter Quantity & Click 'Add to Cart'
Please wait...
You May Also Like...
by Jacquard

Permanent, colorfast, and washable

by C-Thru

Every scale you need
How to get VIP Club Prices
Anyone can be a VIP Member with:
Additional savings on all products
Express order handling
Exclusive promotions
Priority customer service
Product Questions and Answers
Is Le Pen ink archival quality?
- Asked by Rayann on 11-Jun-14
Answer
The ink is acid-free and non-toxic, but not archival.
- Answered by MisterArt on 16-Jun-14
---
I am looking for a pen to autograph a poster such as the type of pen pro athletes use. Any suggestions?
- Asked by Thomas John Segers on 19-Mar-13
Answer
The Le Pen's are great for business forms, notebooks, diaries, memo pads, and letters. We suggest using the Identipen Markers by Sakura instead. These markers are great for autographing. You can use either the blue or red to make the signature stand out. You can find them using the search box above.
- Answered by MisterArt on 22-Mar-13
---
Ask a Question About Le Pen

Your email will not be shared. We will only use your email address to respond to your question. When asking your question, please be as descriptive as possible, it will allow us to give you the most accurate answer possible.


Customer Product Reviews
Rated by: Justin88 in Lake Tahoe

If you're a lefty like I am, then I don't have to explain why I'm obsessed with this/ It is the only pen I EVER use. It never smears!! No matter how fast I write. I have to sign off on checks all day long, and I feel 100% confident this pen is permanent, fancy and expressive. Only pen I use.

Rated by: Shasta in Victorville,ca

Absolutely LOVE these pens!! And the variety of colors are Great, & so pretty! I've bought many of these in almost every color. Love them so much, I turned my family on to them:) Great gifts too... And YES they are smear & smudge proof! :)

Rated by: Shasta in Victorville, Ca

I have looked Everywhere for a pen that didn't smear or smudge!! I finally found one, the Le Pens! These are what I have been looking for... I use mine to underline key points in a Very Important Book, which would be My personal Bible :) Because the paper in a Bible is much different, I would suggest the lighter ones, like the pink. I have used the black, & it's good too, I am just going for the lighter colors now. I'm so very Happy that they don't smear! Thank you so very much!!

Rated by: Sandee in SLC, Utah

These pens are impossible to find anywhere!! Especially at this low price. They are my favorite for writing cards and doing crossword puzzles. I used to buy them at a local stationary store, but they were much more expensive and extremely outdated. Thank you so much for continuing to supply these. My 92 year-old mother also always requests them for her Christmas present!

Rated by: Olivia M. in San Diego, CA

Thank you MisterArt for your amazing customer service. I ordered 5 Le Pens and when they arrived they seemed completely dried out as they did not write well at all. I notified you and you sent replacements which are full of ink and that I am enjoying every day! I especially like these pens because I can order them separately and they have 2 of the exact colors in my logo and I like to coordinate my thank you note writing with the logo. I will definitely be back! Great Service, Great Pens the 2nd time around!

Rated by: PatintheHat in Rockland, Maine

Truely and excellent pen at a very good price. Doesn't leak, uncaps easily, portable and responsive. Happy, happy!

Rated by: Mary B. in Bartlesville, OK

Im hooked...I will not use any other pen...EVER!

Rated by: Victoria V. in Los Angeles, CA

I'm very particular about the pens I write with, especially with regards to the durability of the pen tip as well as the vibrancy of its color. The UCHIDA pens offer both, and work well across various media. I use it most often in my sketchbook, and I keep multiple colors handy to differentiate between my different projects.

Rated by: Nelson B N. in Kalamazoo, MI

A great fine tip felt marker. A little heavy on the ink flow.

Rated by: Lindsey E. in Harrisburg, PA

The pen itself might be thin but it leaves a bold stroke on the page. Great color choices and the ink dries immediately so it won't end up on your hand.

Rated by: Holly T. in Atlanta, GA

I first discovered these pens at a specialty paper product store called Scriptura on Magazine St. in New Orleans. They were $2.50 per pen. My friend used them and that's where she got them... I found this site online and for a dollar less per pen! They're the BEST pens out there... felt tip without any of the leakiness that trails behind your writing when you write fast or in a cursive/print mix. I ordered two of every color for another friend who fell in love with them when I handed her one to use for something. She was more excited to be getting pens for her birthday than she could have been about anything else. And I am an extreme pen critic, so to find one as amazing as this, it's well worth the money!

Rated by: Harry W S. in Ventura, CA

Greatest pen I have even had the pleasure of writing, drawing, sketching and doodling with...will never use another pen till the day I die.

Rated by: Anita R. in Ann Arbor, MI

These are the best little pens around. I've used them for 20+ years. They are smuge proof, archival, and do NOT bleed with the passage of time making them the perfect pen to sign photographs & art work with! And I love all the new colors!

Rated by: Lichen F. in Atlanta, GA

Le Pens are great. I provide one in every Blinkblot kit I sell.

Rated by: Angie S. in Naperville, IL

I absolutely love the Le Pens! The tip is very fine and neat, and the ink won't smear. Great for writing in small spaces like calendars and planbooks. I would definitely recommend buying these in several colors!

Rated by: DONNA S. in ALBUQUERQUE, NM

These pens are great! My sister and I have used them for years, but haven't been able to buy them locally for awhile. So glad to have found a source and super fast delivery. Thanks!!

Rated by: Marian B. in New City, NY

My sister Carole and her partner, Paula, created a TV show many years ago called "the Magic Garden." The still do live shows, and each year I buy each of them a full set of LePens for Christmas, which they use to sign autographs, they wouldn't use anything else!

Rated by: Brody F. in Portland, OR

Le Pen is the absolute best pen ever! My dad gave me one that he never used (his loss), and when I accidentally ruin the tip, I was completely devastated. I was amazingly happy to finally find one here on MisterArt.com.

Rated by: Idelma W. in Elktin, VA

I have used these pens for many years, but the local stationary stores do no carry them any more. I was very upset until I found you on the web as selling the LaPens. I need them to write small in my ledgers. They are the best.

Rated by: Sandee M. in Salt Lake City, UT

I buy Le Pens online at my Mom's request, because they are PERFECT for lying in bed and working crossword puzzles - that's right, they write tilted any way!!

Rated by: Thad N. in Tampa, FL

These are excellent pens. You probably won't find a "narrower" pen (small circumference) out there. Lots of colors add to the appeal. All-in-all, a perfect pen except for one thing - the ink does bleed/feather a bit depending on the type of paper you use. Stick with heavier paper and you have a perfect writing instrument.

Rated by: Kathy G. in Midland, TX

I love these pens and could no longer find them locally. Thank goodness for your web site! Shipped immediately and at a great price. Thank you.

Rated by: Maria A. in Miami Lakes, FL

The ink of these pen are very smooth and they do not smudge. I love these pen!!!!

Rated by: Shannon K. in Ventura, CA

I am a pen addict and have tried and owned just about every pen known to man. After all these years, the Le Pen is still my favorite all around pen. I too have had a very hard time finding them in stores and was also relieved to find them here. THANK YOU MisterArt.com for carrying these awesome pens for all of us who love them!

Rated by: Emily O. in Austin, TX

Here are my few words: These pens are stu-pen-did. You can't find a better pen. It is a fine point, different colors, one sleek size, the cap attaches to the end of the pen, it is very lightweight, good for spinning, it says Le Pen and Japan which is oh so impressive and they are well worth it for the small price. I can't recommend these any more.. it is literally a must buy, and this is the only thing I've ordered on line. (I was jealous when I saw the rare few having them).

Rated by: Cyndi H. in charlotte, NC

These are the best pens i have ever used to write cards or to just balance your checkbook. They are very neat and clean.

Rated by: Angela G. in Kansas City, MO

These pens are great. I use them at home...now we use them every year at work to sign our Christmas cards.

Rated by: Jeanette W. in Sherman, TX

One local office supply store used to carry LePen in several colors. Now they don't carry any. I found your site. And boy was I relieved. It is so hard to try to find a new pen that both my husband and I like as well as these. Thanks for selling them. I hope you never stop! I also appreciated how quickly my order arrived.

Rated by: Jennifer P. in Greenville, SC

I adore these pens! I cringe if someone wants to borrow one because they are so sacred to me. Granted, I am a complete pen snob, but there is no other like this little pen that brings me so much joy!

Rated by: Kellie M. in Las Vegas, NV

I loved these pens! We purchased only the brown ones for our wedding guest book pages, and they worked great! No smudges, and everyone loved the unique ink color. I'll definetly try different colors when I'm ready to start our scrapbook!

Rated by: MJ T. in Rochester, NY

My 83 year-old mother, who lives in assisted living now, LOVES these fine-point pens . I was so glad to find them on your site and I was a real hero when I took an assortment to her.

Rated by: Andrea C. in Jacksonville, FL

I came across these pens in a specialty paper store and I was hooked! Unfortunately they did not have a very good variety of colors, so I was thrilled when I found them here! I will never use another pen again!

Rated by: Shelly U. in Camden, ME

I love the Le Pens! They are fantastic for mapping tours and writing contracts. The color never bleeds through the paper and the fine point is terrific for adding directions in tight places.

Rated by: Jane T. in Bountiful, UT

Le Pen is my favorite pen....it writes with a very fine line and comes in fantastic fun colors. I have used other pens in books that I read to underline key passages or make comments in the margins and they inevitably smear. Le Pen never smears or bleeds through the pages. I have driven around to store after store looking for them and they were difficult to find here (I originally got the idea from a friend in another state). Luckily I found them on line at MisterArt. There is no pen that writes finer, lasts longer and is slender enough to carry conveniently about anywhere. It is also my preferred pen to use on invitations or Christmas cards; because of Le Pen's slender body it is easy to control and writes beautifully.

Rated by: Tom H. in Topeka, KS

I used to get these wonderful pens at our local Crane Stationery store in Kansas City. No more Crane store...no more Le Pens. Glad to find them here at a very good price.

Rated by: Suzanne R. in Chicago, IL

These pens are getting harder and harder to find, especially in colors other than black and blue, but MisterArt.com has the best prices I've found. The very thin barrel of the pen is why I buy them... my husband is missing a finger on his writing hand, and these are the only pens slim and smooth-writing enough for him to use comfortably.

Rated by: Carla Neeley F. in Merritt Island, FL

I used to buy these pens at Hallmark stores, but I have not been able to find them for years. I was thrilled to find them at misterart. The points on these pens hold up really well; they have fine points; they last a long time; the colors are great. I use them to annotate case law and other sources when I write.

Rated by: Marian B. in New City, NY

I buy these pens at Christmastime for my sister, Carole, of Carole and Paula of the Magic Garden, a show that was on channel 11 in New York for many years. They now do many live performances, and they use these pens to autograph their albums and posters. They love them!

Rated by: Nathaniel A. in Los Angeles, CA

I love these pens so much. They are precise and dry fast (good for lefties).

Rated by: Lindsey N. in New York, NY

I adore Uchida's Le Pen. Writing in brown or green or light blue makes note-taking all the more amusing. Great for the epistolary arts, pointless doodling, caption-writing in scrapbooks, and giving as gifts to pen afficionadoes! I only wish Uchida would come out with an avocado green to contrast nicely with the lavender...

Rated by: Brenda S. in Sarasota, FL

These are wonderful pens, and for their amazing quality, you cant beat the price!! They are so versatile. I use them for crafting, writing professional looking cards, lettering and they are prefect for stenciling. I am thrilled to be able to buy them online.

Rated by: Jenn R. in St. Louis, MO

These pens are great for scrapbooking and I use them for work as well. They write very smooth and the colors are vibrant. These are great pens.

Rated by: Donna W. in Brighton, MI

These are the best pens. They are great for my scrapbooks and rubber stamped projects. You can't find them in the stores, so was thrilled to find them here!
Add Your Review
Tell us what you think. We appreciate you taking the time to share your opinion with other artists and crafters. Please keep your review detailed and specific.
Tips on Writing Reviews
Rating Scale
(5-Star) Excellent
(4-Star) Good
(3-Star) Average
(2-Star) Fair
(1-Star) Poor
Do:
Give your perspective on how you used the product and why you liked or disliked it.
Keep your reviews short enough to hold the audience's attention.
Be honest and mindful of others when providing editorial commentary.
Don't:
Include phone numbers, addresses, URLs, or HTML tags.
Write profanity, obscenities, vulgarities, or spiteful comments.
Make defamatory comments.