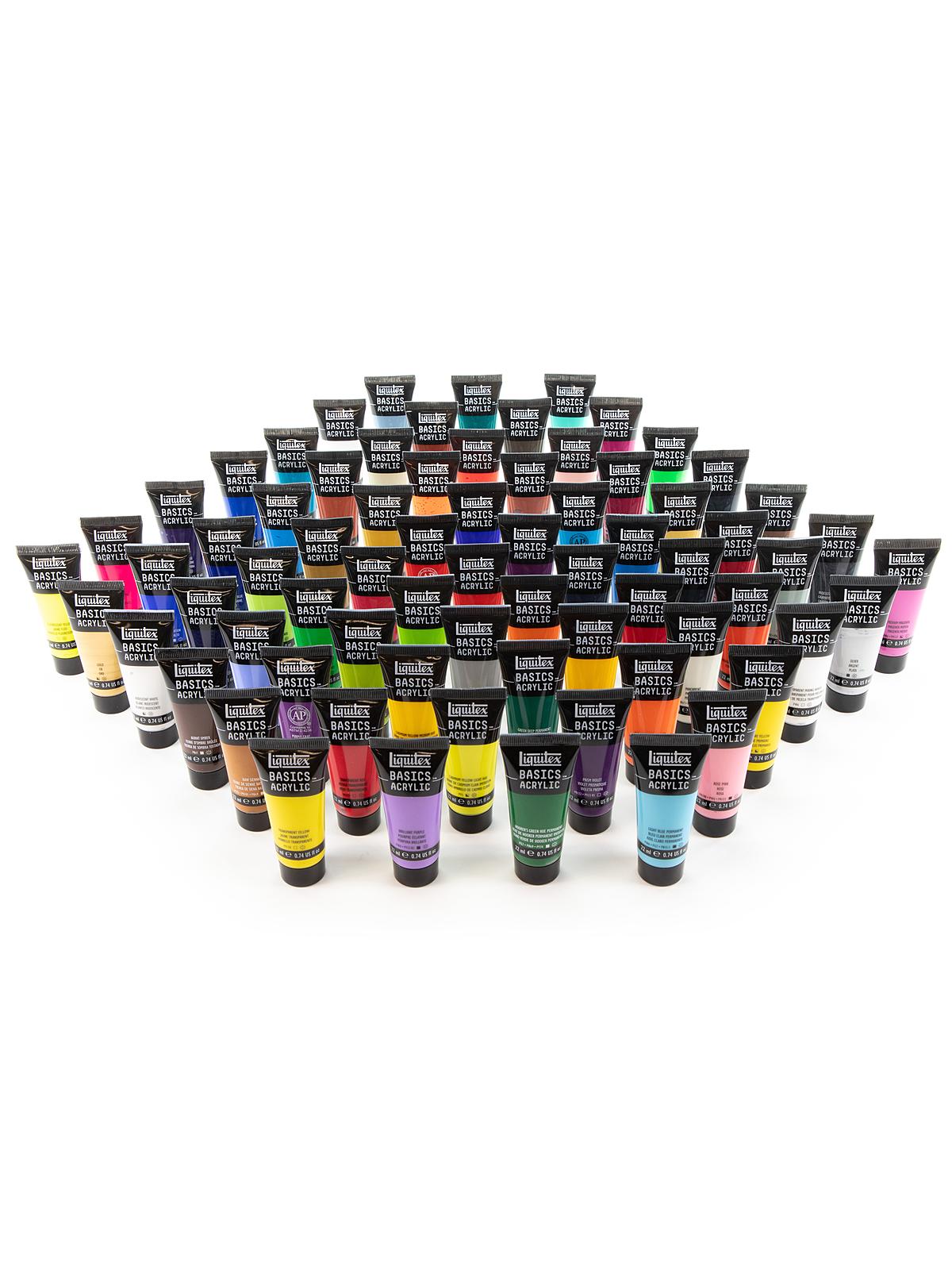 Zoom Image

Liquitex Basics are high quality, student grade acrylics. Affordably priced, they are perfect for beginners and for artists on a budget.
Each color is uniquely formulated to bring out the maximum brilliance and clarity of every pigment. They have a heavy viscosity and, like oils, paint thick, retaining peaks and brush marks. They provide great coverage and dry to a satin finish.


?
Ask a question about this product | See all questions & answers (1)
Art by Marti from North Texas says:
This is decent paint for the studio with long lasting color.
Share this Product
Enter Quantity & Click 'Add to Cart'
Please wait...
You May Also Like...
by Midwest

Used by hobbiests and architectural model makers

by Lineco

Bookbinding essentials

by Diamond Tech

Breaks glass cleanly for a professional look
How to get VIP Club Prices
Anyone can be a VIP Member with:
Additional savings on all products
Express order handling
Exclusive promotions
Priority customer service
Product Questions and Answers
What do you use to clean your brushes?
- Asked by Cecil on 31-Jan-13
Answer
We carry quite a few brush cleaners on our website. Turpenoid is one of the more common ones, though.
- Answered by MisterArt on 04-Feb-13
---
Ask a Question About Basics Acrylics Colors

Your email will not be shared. We will only use your email address to respond to your question. When asking your question, please be as descriptive as possible, it will allow us to give you the most accurate answer possible.


Customer Product Reviews
Rated by: Art by Marti in North Texas

This is decent paint for the studio with long lasting color.

Rated by: Chris in Milwaukee

Great Paint! ..wish it came in larger containers then the quarts. For the cost you really can't get a lot more value.

Rated by: Jamie in Houston, TX

Great Paint for high school students. Great price and good quality. These were packed fairly well, though some slipped around quite a bit, none came open in the shipping process. My entire order arrived very promptly.

Rated by: susan in NYC

Any online site that has no human being to speak to is useless in my opinion. Several e-mails and phone messages were not answered which shows a lack of professional conduct. I'm taking my business to ASW and advise everyone else to do the same. The shipping charges are also exorbitant and are free on other sights. I would rate this company as a large "O"

Rated by: Brelin in Ithaca, NY

Bright, vivid, colors, with a nice consistency. I often end up painting many layers, these paints offer adequate coverage to the markings underneath them. You can still see a shadow of whats below with one coat, but two coats usually totally covers, It is nice to have the option to let some show through. Biggest plus with this paint is the price, especially when going through a lot of paint, This is a good choice.

Rated by: Kara in Fort Worth, TX

Great addition to my child's school art class!

Rated by: Nick Piliero in Saint Johnsbury Vt. USA

This is a excellent paint to use as a blender and I am a professional that has sold paintings all over the globe. And you cannot beat MisterArt.com's prices!!! I have been using MisterArt.com for 8 years or more. The price is great and the service is excellent!! Great shipping and packing. Thank you MisterArt.com

Rated by: EmiliaK in West Milford, NJ

Best value, better coverage and opacity than others

Rated by: mark D. in bakersfield, VT

I am new to the field of art and have just started carving birds. My initial attraction to MisterArt.com was the price but found much more. They have a full range of colors that work great on my birds and many brands to chose from.

Rated by: Renee G. in Holly Springs, MS

for the price it is a good paint for general projects.

Rated by: R M. in Troy, AL

Fell in love with this site immediately. Best prices on the net, quick shipping(soundly packed), Huge selection. All around satisfied

Rated by: Wade F. in Shakopee, MN

I love Liquitex in general, and Basics are great for starting out and experimentation, as well as student work. I'm taking a painting class, and instead of spending $100 on 2 oz. tubes I spent around $40 for twice the paint. They have a thick consistency (except the greens) and colors are bright and consistent. Excellent paint for the money.

Rated by: Margaret P. in Portland, OR

I just love your products and your great delivery options. Super Fast, I would recommend this online shopping for any artist. I have shopped at other art online stores and I rate Mister Art "10" and will not shop at any other store in the future except MisterArt.com! :>)

Rated by: michael p. in pittsburgh, PA

excellent coverage and viscosity for "Basic" acrylic paint - very good pigment and the paint holds up well to a variety of applications and painting styles. A really good value for the money, especially in the 32 ounce size.

Rated by: Jess A. in Mansfield , OH

Great product for those of us who like a less heavy-bodied paint. Flows well. Easy cleanup. Mixes easily.

Rated by: michael p. in pittsburgh, PA

an excellent acrylic paint for the price; it covers smoothly and consistently, and holds up very well to a variety of techniques and styles.

Rated by: Margaret C. in Red Oak, TX

Thses acrylic paints are excellent and you can't go wrong with using these for your best paintings. Smooth, creamy and easy to spread.

Rated by: Nan J. in Naples, FL

Liquitex Acrylics are just the thing for the artist in a budget. The bonus is they have great color definition and they allow your brush marks and other texturing to show clearly when they dry. They sure don't look budgetary when your work is completed!

Rated by: katlyn G. in Phoenix, AZ

I love these paints. They work like a dream and are perfect Acrylics for any painter, whether you're a beginner or a qualified painter, Liquitex is an amazing brand for acrylics.

Rated by: n k. in Dana Point, CA

great for basic work. Silver is a bit thin, but gold is very consistent. I've been a fan of these for a while, and i love them even more with MisterArt.com's prices.

Rated by: christine F. in E.Bridgewater, MA

great color, love the price.

Rated by: Sarah S. in Fort Worth, TX

The paint arrived on time and in perfect condition. It is the same high quality product that I used to purchase for almost double at Hobby Lobby. The paint looks beautiful and has an easy workable texture. I will always buy my paints and supplies from MisterArt.com now.

Rated by: Marti B. in Fort Worth, TX

Wonderful product for underpainting and for basic work. Great amount of paint for the money. Good for student work.

Rated by: april m. in cincinnati , OH

I am so very glad that I found MisterArt.com, as with most struggling artists we have to be carefull where we buy our supplies because of todays gas, food, rent prices, it hardly leaves us any cash to play with, MisterArt.com is a blessing! When i would purchase paint from a local craft store I would pay almost 4 dollers for 2oz. of paint and where I would purchase clay or glaze it costs a couple of bucks more too! It is worth shopping here at MisterArt and it's worth the shipping & handling, I still make out in the end and I love the french clays and other clays as well, well.. everything rocks! thank you so very much!!!

Rated by: P W. in Hartford, CT

Good color selection for beginner paints with much more per tube than most "artist" quality colors, i.e. room for mistakes! 8) However, these are basic paints and so some provide less coverage and are less "creamy" than the higher grade Liquitex colors. Great value and best price around.

Rated by: Ray T. in Boise, ID

Great product, great price.

Rated by: Ray T. in Boise, ID

Great product for a conservative budget.

Rated by: Nicole B. in Birmingham, AL

I LOVE Liquitex Basics arcrylic paints, they're the best I've used so far. Cost effective and super fast shipping. They're so much thicker than other low-cost paints.

Rated by: deb m. in easton, PA

Art snobs everywhere, be advised, liquitex paints are good. They are easy to work with, have some absolutely beuatifyl new colors and come at a price you can afford! I've used many other brands and really enjoy the texture and the colors of liquitex. Good Solid paints!

Rated by: Caroline M. in Fairless Hills, PA

Great coverage, easy to use and mix

Rated by: Jennifer P. in Costa Mesa, CA

I was so used to buying my art supplies from local warehouse retailers, I never thought that I could find a better company online! Liquitex acrylics are the best that I have used so far, very vivid colors, great coverage on canvas- a little goes a long way! And what a great deal! The warehouse retailer I used to buy from sells this large size tube for almost $8.00 each! I will never shop anywhere else!

Rated by: Carol G. in Austin, TX

Great colors, great price and quick shipping!

Rated by: Gwen D. in Greensboro, AL

I like the paint but next time will try the Heavy Acrylics.

Rated by: Linda W. in San Fransisco, CA

Great paints for a beginner or more. For the price you cannot beat it.

Rated by: sean y. in san francisco, CA

The paints are ideal for watermedia effects, especially when applied as 50% diluted layers. The new artificial colors (such as the napthols) that Liquitex calls hues are, in fact, exciting new hues that artists (professional and otherwise) might consider.

Rated by: Jo Anne R. in Fort Smith, AR

I like the texture and coverage of the Liquitex. The creaminess leaves you time to mix colors.

Rated by: adria W. in streamwood, IL

Good med it's a lot like oil paint

Rated by: adria W. in streamwood, IL

I love to try new items and this one is great the color stays so true to its self try this one.

Rated by: Katherine N. in Ypsilanti, MI

I swear by this stuff. It's cheap and of good quality. It will take a lot for me to switch to a different acrylic paint

Rated by: Paul Y. in Nashville, TN

Read MisterArt.com's decription; it is accurate. Great color density. Add Flow Release for slight drying delay & increased spread while remaining opaque. Dilutes and cleans up with water - low pallet-evident color shifts & good translucent effects. Excellent color blends, mixes and brush multi-loads. Oil effects without the solvent fumes or disposal concerns. Buy a big soft brush with the money you save - it's fab!

Rated by: Gregg M. in Hingham, MA

Buying my daughters art supplies from Mister Art saved me over $30.00. Shopping was easy, I was updated by e-mail when my order shipped and received in a matter of days. I will buy again for sure.

Rated by: Malinda B. in Tallahassee, FL

I was thrilled to receive my box of paints almost immediately. I loved the ease of ordering and the delivery. I was only sorry not to check my inventory, so I had to order more the next day! Who knew I used so much green! I am very happy with the Liquitex acrylics. Thanks.

Rated by: barb s. in Hermosa Beach, CA

The Liquitex paint is fabulous! Tube size is bigger and better than any I have found locally. The paint quality is excellent. It flows easily from the tube and worked equally well with a palette knife or brush. Highly recommend this paint.

Rated by: kat r. in clemson, SC

Liquitex basics are an excellent value. Very nice for anything from washes to heavy impasto. versatile and affordable, don't skimp, and don't spend more than you should on paint just to get the name brand that sounds fanciest. Liquitex Basics are a high quality paint at a friendly price.

Rated by: Kelly P. in Spokane, WA

Wonderful low price for the size! Worked out great for what I needed it for, just painting a few simple pics for my new home! Thanks =)

Rated by: Carol N. in Flushing, NY

I am very much enjoying these paints for my personal use.

Rated by: Emilia K. in West Milford, NJ

LIQUITEX Acrylic Color Basics Value Series - They are the best value - better coverage and opacity than others.

Rated by: Steve R. in Santa Barbara, CA

I like the value I get with Liquitex, I sometimes use the more expensive paints and find there is not much difference in the quality.

Rated by: Heather L. in New Orleans, LA

Excellent colour. Just what I needed. Because of student quality, the paints tend to be a little thin and transparent-- but that's to be expected!

Rated by: vickie g. in geneva`, OH

i found the Basic acrylics quite nice, liked the color saturation and the value of the cost/size... cant be beat, I've looked at dozens of other sites and MisterArt.com has the best prices, delivery system, speed and reliability that I have encountered over 5 years of online ordering.

Rated by: G. S. in Berne, IN

I ordered supplies for my grandchild. Mister Art filled the order. completely and promptly. I am so pleased with their service. They even included a personal message for my grandchild who is in another state. He called me and said he loves the paints-- His mother called me to tell me it was great and everything arrived in good stead. As I have experienced all kinds of poor service from various suppliers, it was refreshing for Mister Art to get it right first time for me.

Rated by: Vicky M. in Cheraw, SC

Excellent! Great for children's workshops.

Rated by: judy s. in loudon, TN

good bang for your art buck!

Rated by: effie V. in No Hampton, NH

I find your acrylic paints very easy to work with, the colors are great, they blend well and dry fast

Rated by: Steve E. in Platteville, WI

I so appreciate the fantastic deals I get from Mister Art. I know when I purchase something it will arrive speedily and the quality will be high.

Rated by: Stephen E. in Platteville, WI

This is the paint I always use, only now I pay about 1/2 the price. Thanks Mr.Art.

Rated by: stephanie c. in Greensboro, GA

These are great paints for beginners like me. I am using the 32oz jars for a public art project and they are working just great!

Rated by: brittany z. in gainesville, GA

this paint is an oldy but goody. always a favorite because it can be used on anything.

Rated by: Brandon J. in Stillwater, OK

Great price, decent quality. It's great when you need simple, solid paint work. Would definitely buy it from misterart.com again!

Rated by: john k. in rio rancho, NM

Great price on a great product. MisterArt is one of the best designed and operated sites, and their service and delivery is quick. I am really impressed.

Rated by: Chrysti H. in Raleigh, NC

Excellent coverage, vivid color -- a lovely, thick paint! Great value!

Rated by: sally G. in los angeles, CA

Great value for an excellent quality basic acrylic paint. Will continue to buy this product from Mister Art

Rated by: Stella P. in Chicago, IL

Nice consistancy and coverage, good choice of colors.

Rated by: Judy R. in Benton City, WA

Got my first order this week - fast service. MisterArt had the best price on Liquitex Basic Paints. Will order again.

Rated by: Hayley J. in ss, MD

This is a great student paint being affordable and lasts quite awhile. It is not as thick as some of the other brands out there, but it is all up to personal taste.

Rated by: Laura K. in Brooklyn, NY

I love this paint! It is great to work with and when you use it on wood it dries so shiny!

Rated by: Darya G. in Philadelphia, PA

Although these do not have the best texture, they are ideal for the beginner. It's very easy to work with them and the price doesn't sacrifice good quality either.

Rated by: angele m. in fayetteville, AR

best value for the money...great size, great PRICE!!! great paint for the price!!

Rated by: Ann W. in Packwood, IA

Paint arrived promptly and in great shape. Thanks

Rated by: ed h. in phx, AZ

my painting with this brand has enhanced my work . It is really an artist wish, financially and professionally.

Rated by: Diane J. in Brooksville, FL

I have been painting clothing for 18 years and this is the best paint. The colors stay true (with proper washing) they don't crack or peel. Ordering thru Mr.Art is the best. I get my orders in a timely manner and always satisfied with the packing. Mr.Art takes care and pays attention. I like the convience and the selection. Thanks!

Rated by: Marcin K. in west milford, NJ

LIQUITEX Acrylic Color Basics Value Series - They are the best value - better coverage and opacity than other

Rated by: Bjai S. in St. Petersburg, FL

I have been using LIQUITEX basics acrylics for years to hand-paint sculptures, some of which are 7 feet tall. They hold color for years, clean well, and resist chipping and fading.

Rated by: Nancy C. in omaha, NE

I love these paints -- rich colors, great texture, super blendability. I know they're marketed as a student product, but there is nothing lower quality about them. In short, I can do whatever I can imagine with them and the price is certainly reasonable.

Rated by: Sheila L. in Reelsville, IN

I just moved to this state, and I paint to relax. This paint is and always will be my number 1 choice. thank you.

Rated by: Linda K. in Blooming Prairie, MN

I used these paints for my son's fourth grade classroom - they were terrific - the kids had a great time creating their own impressionist masterpieces. The paint was just right for their projects - they turned out great. Very satisfied with the quality of this product.

Rated by: Ashley S. in Glen Burnie, MD

Very vibrant colors! A nice affordable paint in a wide range of colors.

Rated by: Thomas V. in Spring Hill, TN

I'm new to acrylics but find this to be a great product. Delivery and service have been excellent.

Rated by: Fernando A. in Tucson, AZ

Liquitex Basic Acrilic Colors perform greately when I paint. I love their consistency and brightness. The price is little compared to their quality,

Rated by: Alexis E. in Arecibo, PR

Great prices on acrylic paints. Fast and secure delivery. I recomended Mister Art.

Rated by: Queenie L. in San Francisco, CA

Great colors! Great Price! HIGHLY RECOMMEND

Rated by: Betty B. in McLean, IL

good product especially for beginners, can teach color mixing because colors are basic.... good price

Rated by: Carol B. in Snowflake, AZ

I love these acrylics. I paint using liberal amounts, you could call me a "paint over user" .... the economical price saves me.

Rated by: Maureen H. in columbia Falls, ME

these paints are excellent in quality for the price and make the painting come alive as the colors are so vivid.

Rated by: M F. in Lakewood, NJ

I love the creamy texture of these paints. Great quality at a great price! My students appreciate it, and so do I!

Rated by: Kenneth J. in Lenexa, KS

Good quality paint at a great price and super fast delivery.

Rated by: David O. in Fort Myers, FL

These are the only paints I use and I find them the best quality for the money anywhere, also the colors are so rich and real, I can't foresee using anything else.

Rated by: Jackie P. in Boca Raton, FL

Great to blend with expensive brands. Also good for glazing.

Rated by: Bruce H. in Minneapolis, MN

Great colors, nice texture, smooth, easy to work with. Good value.

Rated by: j g. in costa mesa, CA

Good quality paint for the price. Texture is creamy and color is consistant.

Rated by: Kendall K. in Belmond, IA

Liquitex Acrylics applies equally well from the beginning of the tube to the end. Consistant color through and through along with blendability of other color. Looking forward to ordering other colors.

Rated by: Renee . in Holly Springs, MS

For student grade a good buy.

Rated by: Walter L. in Elberton, GA

LIQUITEX Basics Acrylics Colors have a superb selection of colors. The pigment is bright and rich. Is as good as many of the more expensive acrylic paints on the market. Great deal for the money. Highly recommend.

Rated by: Lee S. in Greensboro, NC

I've tried "HQ professional" grade paints, such as Golden, Liquitex hi vis and many others. I always come back to Liquitex BASICS! WHY? Simply b/c the formula works best for my multilayers, glazing and easy mixing. Though I'm aware of the higher pigment loads of "pro" grades, some of the high viscosities are "gunky/sticky" for my methods. For highly textured work using a knife, I can be generous with the application of BASICS. LOVE the HUGE JARS! The colors are fantastic! They hold brush strokes too with brights for an "oil" appearance. I love the new "improved" formula, better than ever. This may be "student" grade but it is my preferred brand thus far and the "standard" to which I compare other brands against. I will continue to use BASICS until/unless I find a brand that performs better for me.

Rated by: John S. in Gulfport, FL

Great paints at a great value. I have tried others, but these spread and mix the best. Why pay more for less quality?

Rated by: Adrienne W. in New Orleans, LA

An affordable yet good paint. It is a tad on the transparent side, but that actually gives you more options for working with it. If you use a lot of paint, or just can't afford the fancy, small tube stuff, this is the way to go!

Rated by: MARILYN R. in AUSTIN, TX

Great paint, and it is a good value for a student painter. I find I am willing to paint more since I do not have to be so concerned about the cost.

Rated by: Margaret C. in Red Oak, TX

Great paint, so versatile. Creamy texture & at such a wonderful price. Thanks for the speed in which I received my order.

Rated by: Tera H. in Castle Rock, CO

This paint is very versatile. You'd never know it's so economical!

Rated by: Andre P. in lynd, NJ

Quality paint that wont break your pocket. Great colors and fine application ability. Great with glossies.

Rated by: James H. in Gallipolis, PA

I have used liquitex basic acrylic for years. I like the way it builds, nice smooth rich color to my paintings, thats important for the 3D efect I get, as the paintings forground jumps out at you. I need that goes on wet, fast dry, bold color, so I can move on to the next level. Fast Fast and Fast.

Rated by: nick b. in virginia beach, VA

Many of my students choose Basics brand paint for it's price but come to appreciate the value the paint offers.As a teacher I appreciate the fact that the students are willing to paint more and take more chances when they're not worried about cost.

Rated by: Linda F. in Selma, OR

You get more for your money with LIQUITEX Acrylic Color Basics Value Series! They are the best value - better coverage and opacity than other 'student grade' acrylics, and they mix well, too. I use them ALL the time!
Add Your Review
Tell us what you think. We appreciate you taking the time to share your opinion with other artists and crafters. Please keep your review detailed and specific.
Tips on Writing Reviews
Rating Scale
(5-Star) Excellent
(4-Star) Good
(3-Star) Average
(2-Star) Fair
(1-Star) Poor
Do:
Give your perspective on how you used the product and why you liked or disliked it.
Keep your reviews short enough to hold the audience's attention.
Be honest and mindful of others when providing editorial commentary.
Don't:
Include phone numbers, addresses, URLs, or HTML tags.
Write profanity, obscenities, vulgarities, or spiteful comments.
Make defamatory comments.