Artists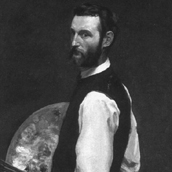 Jean-Frédéric Bazille
(1841 - 1870)
Born:
Montpellier, France
Style:
Impressionism
Famous Works:
The Pink Dress (1864)
Portrait of Auguste Renoir (1867)
The Artist's Studio on the rue de la Condamine (1870)
Despite passing away before the first Impressionist exhibit, Jean-Frédéric Bazille upheld the philosophy of the period of painting scenes from everyday life. Much like the other artists of the mid-nineteenth century who were all working towards what would become the new style of Impressionism, Bazille valued working from everyday life, filling his canvases with images he observed in his studio, or outside. He infused his portraits with numerous bright and distinct colors; these colors became a standard feature in Bazille's work and gave the young artist a reputation as a brilliant colorist. His interest in color was perhaps due to the new science of color theory which was developed in the late nineteenth century. This study dictated a correlation between hues and emotions. To Bazille, this might have been an irresistible way to organize his paintings and to influence the viewers' reaction to them. Undoubtedly Bazille was a master at leading the eye through his paintings by his use of local color. Unfortunately, Bazille was unable to create a large portfolio due to his early death on the Prussian battlefield at the age of 29. Shortly before he died, Bazille was rejected by the establishment academy's Salon show, where he entered a painting of his studio. This painting gives insight into the atmosphere of collaboration of the time, as the scene shows the art and literature giants Pierre Auguste Renoir, Émile Zola, Édouard Manet, and Claude Monet on a visit to Bazille's studio. It was precisely this kind of exchange which eventually lead to the solidifying of the Impressionist era.
Feeling inspired? Try out these fine products…
Up to 54% Off

Up to 44% Off

Up to 57% Off

by Strathmore

Durable, medium surface paper for final drawings
Latest Product Reviews
This pen is an essential part of sketching I do for design clients. It has the perfect tip, almost brush-like, and the water color ink doesn't react with the art markers I use with it. Also the price at Mister Art is the best!
- Art Kelley in South Pasadena, CA

Dynasty
Excellent mid-range synthetic brush - I use with water-mixable oils. They don't last forever, but while they do, they are a very dependable brush.
- Charlie Hunter in Bellows Falls, VT
The Metallics work GREAT on T-Shirts and cotton material, wood, metal and concrete...
- Mel in Belize City
Free Download for Kids

Download FREE coloring
book pages to color at
home or school.
View Pages »