Artists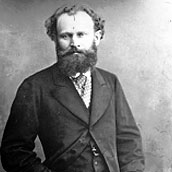 Édouard Manet
(1832 - 1883)
Born:
Paris, France
Style:
Realism
Famous Works:
Le Dejeuner sur l'Herbe (1863)
Olympia (1863)
The Fifer (1866)
Édouard Manet was a revolutionary artist with a vision that broke art free from its rule and tradition bound format. He was interested in the depiction of reality of form and accuracy of color. From his early work he both outraged critics and influenced fellow artists. In 1861, two of Manet's paintings were accepted for inclusion in the Salon show. Fittingly, his work received a decidedly mixed response, both for its style and content. A portrait of the artist's parents was roundly panned; his other entry, The Spanish Singer, garnered a more favorable response, with the loose, bold composition intriguing younger artists and confounding the more conventional critics. In 1863, Manet presented Le déjeuner sur l'herbe, the artist's controversial update of a conventional pastoral scene. One nude woman and another scantily clad, in the presence of fully clothed men, struck the established art world as being uncultured. In reality, it was an example of an artist seeking creative freedom within the structure of history. Manet's knowledge of the old masters is evident in many of his works, existing in harmony with his characteristic desire to push the limits of expression and taste. His masterwork is thought to be Olympia, a nude portrait of a woman who stares without remorse at the viewer. Despite its obvious connections to the same subject by several masters, including Ingres and Titian, the painting was added to the long list of Manet's that were dismissed by the art world. After this debacle Manet left France for Spain to study the work of Diego Velazquez. From this journey Manet painted The Fifer in 1866. Manet removed the Renaissance study of perspective from this painting, setting the figure against a grey tone without contrast. Manet changed the rules of traditional painting and laid the groundwork for the artists following him. His method of breaking up planes of color inspired many of the Impressionists, and he eventually became friends with Claude Monet. Manet never exhibited with the Impressionists, choosing instead to seek success with the Salon.
Feeling inspired? Try out these fine products…
Up to 45% Off

by Prismacolor

Richly pigmented color & unmatched blendability

From $15.99

Discover how to paint vibrant watercolors of animals.

From $15.99

Explore the myriad possibilities of working with acrylic.

From $19.99

by Search Press

A friendly, accessible and inspiring course in oil painting

From $1.55
Latest Product Reviews
All the colors in the bottles are transparent, so you will need more to cover surfaces. Love the old jars better because they were thicker and opaque and a little bit went a long way.
- G. Mich. in Maine
Reasonably priced. Packaged well. Arrived promptly. Good quality and just what I wanted.
- Alvie B. in Fort Wayne, IN
I worked with this color and found the paint was perfect viscus in my airbrush. I will order again and tell other friends about the high quality and fair costs.
- Lamar Fussell in 39842
Free Download for Kids

Download FREE coloring
book pages to color at
home or school.
View Pages »