Artists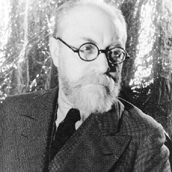 Henri Matisse
(1869 - 1954)
Born:
Le Cateau-Cambresis, France
Style:
Fauvism
Famous Works:
Woman with a Hat (1905)
Blue Nude (1907)
Dance (II) (1910)
Henri Matisse is one of the 20th century's most influential artists, and, alongside Pablo Picasso he enjoys the position of one of the seminal artists of his time. Matisse was born in Le Cateau-Cambrésis, France, but moved to Paris to study law as a young man. In 1889, while bedridden after being treated for appendicits, Matisse began to paint. So enamored by painting was Matisse that he abandoned his law studies in order to pursue a career in art, enrolling in the Académie Julian and building his proficiency in landscape and still-life painting. The influence of Australian Impressionist, John Peter Russell, had a tremendous impact on Matisse, exposing him to impressionism and a palette that favored bright, bold colors. Matisse completed several paintings in his new style, five of which were chosen for exhibition at the Paris Salon. At the turn of the century, Matisse championed the Divisionist technique of Paul Signac, and later became the leader of the Fauves with André Derain. The fauvist movement suited Matisse, allowing him to use the bright and expresssive colors to which he was partial, with little concern for the subject's natural color. Matisse's favorite subjects were women, and he often used his wife and children as models. An example of the combination of the female form and his signature colors is his 1909 painting, Dance II. In it a ring of dancers holding hands leap in a joyous circle. This painting shocked its patron and other viewers; its acid colors relate the intensity of the dance. Matisse had become an international art celebrity by the 1930s, exhibiting in Basel, New York, Paris, and Berlin. During this time he was commissioned to complete murals for the Barnes Foundation in the United States in addition to appearing in numerous books and articles. Matisse lived the last part of his life in the south of France, where he embarked on his cut-out shape works, publishing his limited-edition book, "Jazz" in 1947. Matisse created art until his final days, and passed away in 1954, in the same room as his latest work, the model of his stained-glass window design for a New York Church.
Feeling inspired? Try out these fine products…
From $2.57

From $1.39

Brushes for the kid in all of us!

From $19.99

by Search Press

Expressing the natural world with acrylics, and mixed media.
Latest Product Reviews
Great brushes in the Silverline Series. Use for detail work.
- Connie B. in Duncannon, PA
GREAT surface, nice weight...great drawing board!
- c a in hermitage tennessee
This is my choice of brand for canvas panels. Always of good quality.
- Connie B. in Duncannon, PA
Free Download for Kids

Download FREE coloring
book pages to color at
home or school.
View Pages »