MisterArt is the ONLY business I use to order my glass paint for my mason jar business!!
Cindy
GREEN COVE SPRINGS, FL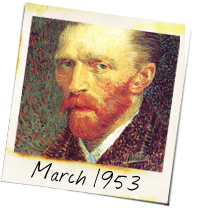 This Month in Art History
March, 1953 - Vincent van Gogh was born in Groot-Zundert, the Netherlands. Van Gogh's troubled life, fraught with depression and psychological unrest, would only be eclipsed by his prolific career. The artist was an innovator, and his influence on the trajectory of modern art is undeniable.
The soul thrives on art, and MisterArt.com is here to help your soul experience as much as possible! Whether you want to brush up on famous artists, explore the styles and periods of art, consult the glossary, or arm yourself with product knowledge from comprehensive purchase guides, MisterArt.com has collected all of the resources you need to plunge head-first into the dizzying world of visual arts.
The soul cannot thrive in the absence of art. If you don't want the pleasure of art, you are not human; and if you are not human, you don't have a soul.

- Thomas Moore
More masters than a Shaolin temple

Every great artist has a story to tell. MisterArt.com's comprehensive listing of famous artists contains detailed information on these legends' life stories, historical settings, creative styles, and prized masterpieces. Discover how ordinary men and women struggled to bring forth unforgettable art and movements!

View Artists »
The evolution of visual art

Can't tell the difference between Fauvism and Futurism? MisterArt.com can help. Our guide to the great movements and trends throughout the history of Western art includes famous examples of each style as well as details on the movers and shakers that popularized new ideas.

View Styles & Periods »
Because you didn't take notes in art class

There are hundreds of terms tossed around in the art world-- impasto, mastaba, frieze-- that you won't find in any dictionary. After all, they're not even English! MisterArt.com has collected hundreds of art terms and their definitions for easy browsing, including terms in French, Latin, Japanese, and other languages.

View Glossary »
Time-out doesn't have to be time wasted

Just like the professionals, sometimes younger artists need a little direction, and MisterArt.com wants to help. Get the little ones involved with free Coloring Book Pages, taken from our huge selection of coloring books. If you're seeking more of a challenge, MisterArt.com offers several easy-to-follow Project Sheets, to help get those creative juices flowing.

View Projects »
Leading you through the art supply wilderness

Our detailed purchase guides will walk you through all of the considerations necessary to find the perfect art and craft supplies for your latest project. Can't quite tell the difference between a flat brush and a filbert? Not entirely sure what makes for a good frisket? Educate yourself at MisterArt.com!

View Purchase Guides »
Latest Product Reviews
I wish someone had written a review for me. So I am paying it forward! I purchased every single eraser on the market and I did extensive testing!!! I have to say, I found a review too late on You Tube by Owings Art called Eraser review. I highly recommend you watch the video! Don't just take my word for it! I could have saved myself all the hassle, time and money! The Faber-Castell DUST FREE white eraser is hands down the VERY, VERY BEST eraser I have ever used! I love that it does not produce crumbles that need to be brushed away with a drafter's brush. Instead you get neat rolls. This is the best eraser for me because I draw in graphite, colored pencil and compressed charcoal. The latter two are almost impossible to erase completely with any eraser on the market. And the Faber-Castell DUST-Free eraser will not erase them completely, but it does the best job of any eraser out there. Period! I have done my own independent tests on erasers in my sketchbook! I have not found anything that erases graphite, colored pencil or compressed charcoal better. I prefer the DUST FREE on colored pencil because it is much faster than the kneaded eraser, and gives me similar results. In addition, the Faber-Castell DUST FREE erased Prismacolor's col-erase pencils completely! It does the best on Prismacolor's Premier colored pencils too. And it does the best on compressed charcoal. Note, no eraser will get completely eraser colored pencils or compressed charcoal period!!! But this eraser does completely erase the Prismacolor col-erase pencils. (FYI I removed the pink eraser that is on the bottom of the Prismacolor col-erase pencil because it SUCKS!) If you are looking for an eraser for all four mediums graphite, Prismacolor col-erase, Prismacolor Premier colored pencil and compressed charcoal the Faber-Castell DUST FREE eraser beats the pants off the completion!!!!!!!!!!!!!!!! I tested Staedler's electric eraser, FACTIS, Pink Pearl, Prismacolor Magic Rub, Prismacolor Art Gum, General's art gum, Prismacolor Kneeded, Alvin Velvet Softie, Staedtler Mars, Pentel Hi-Polymer Clic, papermate Tuff stuff! Note: I now exclusively use only three erasers. The Faber-Castell Dust-free white, Pentel click and Papermate Tuff stuff eraser. I use the later two for fine detailed erasing with my graphite drawings, but they can not erase colored pencil or compressed charcoal as well as my Faber-Castell dust-free!
- Sun Beam in Dallas, TX
This EV-R-Round Circle Cutter is an awesome product. My husband was cutting circles of cork for coasters by hand and they didn't come out really round. Enter the Circle Cutter - perfect circles. Very easy to use and well made. He loves this product!! Wish he would have purchased a long time ago!!
- Gale in Hastings, MN
This product is excellent. Cuts like butter, and the wire lasts longer then expected. I still havent had to change it. Great for all projects from school to crafts to fine art.
- WatkinsArt in Az
Free Download for Kids

Download FREE
coloring book
pages to color at
home or school.
View Pages »