We are very happy with your prompt service and the ease of using your website. Thank you and keep up the good work.
Patricia
Winslow, AR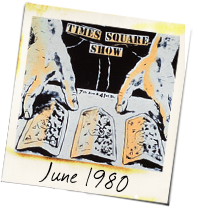 This Month in Art History
June, 1980 - Artists' group Collaborative Projects (Colab) sponsored The Times Square Show in New York City. The show featured over a hundred artists who represented the influence that youth and urban culture was asserting on the art world. Jean-Michel Basquiat is a notable participant.
The soul thrives on art, and MisterArt.com is here to help your soul experience as much as possible! Whether you want to brush up on famous artists, explore the styles and periods of art, consult the glossary, or arm yourself with product knowledge from comprehensive purchase guides, MisterArt.com has collected all of the resources you need to plunge head-first into the dizzying world of visual arts.
The soul cannot thrive in the absence of art. If you don't want the pleasure of art, you are not human; and if you are not human, you don't have a soul.

- Thomas Moore
More masters than a Shaolin temple

Every great artist has a story to tell. MisterArt.com's comprehensive listing of famous artists contains detailed information on these legends' life stories, historical settings, creative styles, and prized masterpieces. Discover how ordinary men and women struggled to bring forth unforgettable art and movements!

View Artists »
The evolution of visual art

Can't tell the difference between Fauvism and Futurism? MisterArt.com can help. Our guide to the great movements and trends throughout the history of Western art includes famous examples of each style as well as details on the movers and shakers that popularized new ideas.

View Styles & Periods »
Because you didn't take notes in art class

There are hundreds of terms tossed around in the art world-- impasto, mastaba, frieze-- that you won't find in any dictionary. After all, they're not even English! MisterArt.com has collected hundreds of art terms and their definitions for easy browsing, including terms in French, Latin, Japanese, and other languages.

View Glossary »
Time-out doesn't have to be time wasted

Just like the professionals, sometimes younger artists need a little direction, and MisterArt.com wants to help. Get the little ones involved with free Coloring Book Pages, taken from our huge selection of coloring books. If you're seeking more of a challenge, MisterArt.com offers several easy-to-follow Project Sheets, to help get those creative juices flowing.

View Projects »
Leading you through the art supply wilderness

Our detailed purchase guides will walk you through all of the considerations necessary to find the perfect art and craft supplies for your latest project. Can't quite tell the difference between a flat brush and a filbert? Not entirely sure what makes for a good frisket? Educate yourself at MisterArt.com!

View Purchase Guides »
Latest Product Reviews
This is an excellent product as far as price and quality. It is one of a kind; and the best deal in town!
- rick ,the artist in los angeles,cal
I don't know why more people don't know about this glue. I made a layered cardboard box over 15 years ago and it is just like the day I made it. No warping, loose edges,its perfect. And the great thing about it, if you haven't used it in a long time and it seems dried out, put some water in the jar, close the lid and come back next day and it's usable. It's one glue that more is not better. Thin it with a little water and cover the surface using an old credit card or brush. I love it for paper or chipboard or cardboard projects.
- Deborah Thomas in Mesa, AZ
Other than the few that kept breaking as I was sharpening them, I was impressed with the vibrant colors & how they went on so smoothly.
- Janet Stewart in Martinsville, IN (46151)
Free Download for Kids

Download FREE
coloring book
pages to color at
home or school.
View Pages »