Artists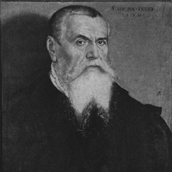 Lucas Cranach the Elder
(1472 - 1553)
Born:
Kronach, Germany
Style:
Northern Renaissance
Famous Works:
The Głogów Madonna (1518)
The Judgment of Paris (1530)
Reformators (c. 1535)
Lucas Cranach was the son of a painter, and most likely took his last name from his hometown, Kronach. He received his training from his father, presumably, and left the studio in 1500, when he moved to Vienna. In the city he met master engraver Albrecht Dürer, whose craft of observation had a great influence upon him. He began painting the mountains he had seen on his journey to Vienna, enthusiastically introducing the element of landscape into his artwork. Cranach went to Wittenberg in 1505 as a court painter to Fredrick the Wise of Saxony, where he was the head of a prosperous and busy studio that painted many altarpieces, Madonnas, and portraits. Cranach would eventually align himself with Martin Luther and the Protestant Reformation, becoming Luther's close friend and godfather to his first child. Cranach completed portraits of Luther, and also committed himself to the expression of Lutheranism through art. Cranach gained a reputation as a superior proponent of the Reformation. During the Northern Renaissance, in the latter half of his career, the artist began to paint idealized forms of men and women, resisting the naturalist teachings of the Renaissance brought north by Dürer. Rather than using live female models and basing his study on the mass of the subjects, he created long, elegant, and sensuous figures, often nude and in both mythological and religious scenes. Cranach's most popular works were these mythological scenes. The size and subject matter of these pieces made them popular items to collect. The artist's son, Lucas Cranach the Younger, worked closely with his father, and continued to paint in his style after his death.
Feeling inspired? Try out these fine products…
Up to 48% Off

From $1.65

by DecoArt

Add a metallic accent to any project
Latest Product Reviews
Perfect for holding oversized pieces of art. I haven't completely filled one of these so I can't say how it preforms long-term, but as of now I love it. I only wish I could get one in an even larger size!
- Customer in DFW
Love it and will be buying again!
- Allen in ny
Fuschia. Vibrant colour. These paints are great to work with, works well with gel plates, also great for creating texture using a palette knife
- Shar G in Florida
Free Download for Kids

Download FREE coloring
book pages to color at
home or school.
View Pages »