Artists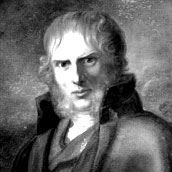 Caspar David Friedrich
(1774 - 1840)
Born:
Greifswald, Germany
Style:
Romanticism
Famous Works:
The Wanderer Above the Mists (1817-18)
The Sea of Ice (1824)
Landscape with Grave, Coffin and Owl (1836-37)
Caspar David Friedrich emerged at the end of the nineteenth century as one of Germany's most gifted Romantic landscape painters. Friedrich spent much of his childhood alone, following the death of his sister, brother, and mother. He took solace in the beauty of nature, and took frequent walks in the countryside. This time communing with the landscape of his homeland formed important roots which would appear later in his artwork. Friedrich traveled to Copenhagen to study at the Academy of Fine Arts, but soon moved to Dresden, where he came in contact with painters, writers, and intellectuals of the Romantic school. His paintings were celebrated by many, including the German poet Goethe. Friedrich studied nature with an eye for accuracy and detail, however, his paintings are not scientific studies. Instead, they are infused with an intense spirituality. His painting Abbey in an Oak Forest, 1809-1810, shows barren and gnarled trees in an ancient cemetery. This meditation on death is solemn, and hushed. Human subjects appearing in Friedrich's work are typically secondary in importance to the environment, serving in many cases to illustrate the vastness and wonder of the natural world. The crown prince of Prussia admired Friedrich's work, and became a patron. Friedrich's prosperity grew even further when he was nominated into the Academy of Berlin and elected into the membership of the Academy of Dresden. Acclaim for Friedrich and his work would not last. Depression was a permanent fixture in Friedrich's life, and while his struggle with the disease undoubtedly inspired many of his important works, it would eventually prove insurmountable. Friedrich's art for the last fourteen years of his life was marked by symbols of death and ruin. He died virtually unknown, and remained so until Symbolists in the nineteenth-century were drawn to his extreme and moody landscapes.
Feeling inspired? Try out these fine products…
From $21.59

by North Light

17 projects for creating your visual narrative.

Up to 48% Off

From $19.99

by Search Press

A practical guide for artists of all abilities.
Latest Product Reviews
Lemon. Vibrant colour. These paints are great to work with, works well with gel plates, also great for creating texture using a palette knife
- Shar G in Florida
Great paint & color. MisterArt has one of the best prices for this product. Thank you.
- Star H.H. in OH
I can always depend on Mister Art to carry the product I need to create my art. Thank you!
- Cynthia Smith in Philadelphia, PA
Free Download for Kids

Download FREE coloring
book pages to color at
home or school.
View Pages »