Artists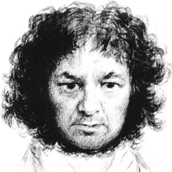 Francisco Goya
(1746 - 1828)
Born:
Fuentendos, Spain
Style:
Romanticism
Famous Works:
The Colossus (1808-12)
The Third of May 1808 (Execution of the Defenders of Madrid) (1814)
Saturn Devouring His Son (1821-23)
Francisco Goya is considered to be one of the great painters of the Romantic period. In addition to his technical skill, Goya possessed the unique ability to simultaneously document and comment on the world around him. Goya was exposed to art as a student of Spanish painter Francisco Bayeu, a future court painter. Goya's reputation grew, and he was asked to paint many portraits of the Spanish elite despite his practice of not idealizing the fine costumes, instead painting the forms before him without bias. His royal portrait, The Family of Charles IV, reveals his lack of trepidation in portraying the queen's less than picture perfect appearance. The portrait is modern in its sensibilities, painted with a candor uncommon for its time. Goya's ability to depict subjects honestly became a hallmark of his work, a skill that would prove even more valuable when he found himself chronicling the darker side of history. In his haunting work, The Third of May 1818, Goya tells the story of the occupation of Spain by Napoleon's troops, and the savagery that occurred in Madrid. We see a firing squad attacking a group of men at close range; some are already dead, some wounded. In the center of the composition stands a man in glowing white, begging for his life, seemingly powerless against the will of his captors. Goya, while not depicting a religious subject, achieved an historical portrait with as much emotion and clarity. The dark themes of war and psychological turmoil would persist in Goya's work until his death in 1828. He was admired by many artists, including Eugène Delacroix.
Feeling inspired? Try out these fine products…
From $4.99

by General's

3 popular sketching pencils, all in one convenient set

From $1.65

by DecoArt

Add a metallic accent to any project
Latest Product Reviews
Helpful phone staff and reasonable shipping options. As a printmaker, I found this to be of excellent quality and at a great price.
- Gina in Rhinebeck, NY
Great quality; quick delivery.
- Robert J. in Northern California
It works great.
- M.C. in San Jose
Free Download for Kids

Download FREE coloring
book pages to color at
home or school.
View Pages »