Artists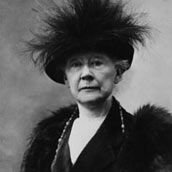 Mary Cassatt
(1844 - 1926)
Born:
Pittsburgh, Pennsylvania
Style:
Impressionism
Famous Works:
Young Woman Sewing in the Garden ( c. 1880-82)
The Bath (1893)
The Boating Party (1893-94)
Mary Cassatt, although born and trained in America, was not only a masterful painter of the French Impressionist style, but also the only woman to have achieved an international reputation from this period. Cassatt studied under Thomas Eakins at the Pennsylvania Academy, from whom she acquired her approach of total authenticity of observation. Cassatt traveled to Europe extensively as a child, and eventually moved to Paris in 1866, despite her father's objections. There she began collaborating closely with Edward Degas, who became her mentor. His methods and techniques can be seen throughout her work. Cassatt's work at this time follows the Impressionist style of responding to the action of light and color in everyday scenes, and, in 1874, Cassatt began exhibiting her paintings with other Impressionists. From this point Cassatt was recognized as a member of the French group. She was fond of scenes portraying the lives of woman. Whether in an outdoor scene painted from life, or one involving the connection between children and their mothers, Cassatt revealed a strong sense of affection and warmth seen in few other Impressionistic paintings. In 1890 Cassatt's approach shifted after seeing a show of Japanese woodblock prints. She flattened her painted and printed forms in a manner similar to Japanese traditions. Cassatt stopped working after her eyesight failed around 1914, but she continued to influence the art world. She is credited with bringing the works of the Impressionists to the United States by using her high society connections to influence American collectors.
Feeling inspired? Try out these fine products…
Up to 45% Off

by Strathmore

Great for an amazing amount of media!

From $15.96

by Search Press

Learn how to create vibrant wax paintings in no time at all.
Latest Product Reviews
The quality and service at Misterart.com is fantastic! the canvases I ordered look great and were packed beautifully. GREAT customer service and quality. I would recommend any artist to purchase from you. Thank you again and keep up the excellent work!
- Suzie M. in Toledo, OH
The Metallics work GREAT on T-Shirts and cotton material, wood, metal and concrete...
- Mel in Belize City
The Prismacolor artgum is a very good eraser to erase pencil on Mylar. I really think it the best eraser for that purpose and I highly recommend it. And as always a prompt delivery and very good price. Thanks MisterArt
- Yacht Designer in Maine
Free Download for Kids

Download FREE coloring
book pages to color at
home or school.
View Pages »