Artists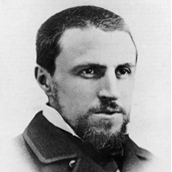 Gustave Caillebotte
(1848 - 1894)
Born:
Paris, France
Style:
Impressionism
Famous Works:
Man at the Window (1875)
Paris: A Rainy Day (1877)
Man Drying Himself (1884)
Native to Paris, Gustave Caillebotte was known for his paintings of everyday urban life, and for his adamant support of the Impressionist movement. Caillebotte had a substantial interest in photography, and designed his compositions with a photographer's eye; the placement of the figures in the canvases seem arbitrary and spur of the moment. Again, as if from a camera, his work did not show the extreme brushwork of other Impressionist painters, however, the essence of his paintings is definitely about recording a moment in life. He utilized unusually deep perspective, pulling the viewer into the image and creating a truly unique and innovative style. His subjects were set in the city, recording, moment by moment, the metamorphosis of Paris from a medieval center into a modern metropolis. Caillebotte was personal friends with Claude Monet, Pierre Auguste Renior, and Alfred Sisley, all major contributors to the movement. Caillebotte prepared their exhibitions and purchased many of their paintings, acting as a curator and collector as well as an artist. The artist possessed considerable wealth, and was therefore able to champion the cause of the Impressionists by purchasing paintings from his struggling friends. Upon his death in 1893 Caillebotte donated his entire collection of sixty-five Impressionist paintings to France. Despite the over thirty years that Impressionist painters had dedicated to the style, this donation was scorned by many, including Jean-Léon Gérôme, an academic painter and sculptor who declared the work immoral.
Feeling inspired? Try out these fine products…
Up to 60% Off

popular watercolor brushes

Up to 46% Off

From $19.99

by Search Press

A practical guide for artists of all abilities.

From $23.99

A creative workshop in watercolor, gouache, & ink.

From $10.39

An essential reference for the practicing artist.
Latest Product Reviews
Perfect for holding oversized pieces of art. I haven't completely filled one of these so I can't say how it preforms long-term, but as of now I love it. I only wish I could get one in an even larger size!
- Customer in DFW
Lemon. Vibrant colour. These paints are great to work with, works well with gel plates, also great for creating texture using a palette knife
- Shar G in Florida
Wasn't as pleased with the Winsor Newton brushes as I thought I would be. Was expecting better quality.
- Connie in Duncannon, PA
Free Download for Kids

Download FREE coloring
book pages to color at
home or school.
View Pages »