Artists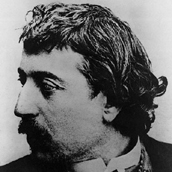 Paul Gauguin
(1848 - 1903)
Born:
Paris, France
Style:
Post-Impressionism
Famous Works:
Yellow Christ (1889)
Woman with a Flower (1891)
Where Do We Come From? What Are We? Where Are We Going? (1897)
Paul Gauguin was raised in Peru, where he developed a deep appreciation and understanding of non-western cultures that is apparent in his life's work. Gaugin resettled in France as a twenty-three year old and became a stockbroker. It was during this time that Gauguin began to paint. A friendship with the Impressionist, Pissarro, helped Gaugin to nourish his own talent and meet other artists. In 1887, Gauguin visited Panama and Martinique, and despite the harsh conditions was inspired to complete several paintings. Gauguin became increasingly frustrated with Impressionism, feeling that it was insufficient to capture the essence of the exotic places and people he was so powerfully drawn to. When Gauguin was 35, he left his family and career to devote his life to painting. Gauguin created paintings marked by free composition and brilliant coloration. The bright colors of his paintings, with their heavy outlines, coined a new style, cloisonnisme, named after the craft of staining glass. Around 1888 Gauguin left France to live in Martinique and, later, Tahiti. It was here that he sought to break loose from what he perceived to be a contrived sense of reality and immersed himself in the lives of the natives of the area. He painted the Polynesian culture from daily observation and folk tales. The space and depth in his canvases became flattened, the forms were reduced to essential shapes, and his colors gained in intensity. Gaugin attempted to return to France and reintroduce his work, but was not successful and soon found himself back in Tahiti. Gauguin had found a world in which he could devote himself to his paintings. Two posthumous retrospectives in Paris brought Gauguin's work to light, where it garnered considerable acclaim from artists like Pablo Picasso and Henri Matisse.
Feeling inspired? Try out these fine products…
From $22.19

by Schiffer

A workbook for creating your best art.

At Least 29% Off

by Golden

Intense, permanent acrylics with a thin consistency

At Least 39% Off

Our best selling oil paint--artist recommended

From $1.79

by Staedtler

Create drawings with bold intensity!

Up to 43% Off

by Best

Professional, solid red oak painting easel
Latest Product Reviews
As usual the products arrived quickly were packaged nicely and were just as advertised.
- Don G in Cape Girardeau
Love the product performed exactly as described on your Web site. Delivery was prompt and the price was the best I found anywhere. Everything was packed very securely. I'm very satisfied with my purchase.
- Jane C. in Dracut, MA
Helpful phone staff and reasonable shipping options. As a printmaker, I found this to be of excellent quality and at a great price.
- Gina in Rhinebeck, NY
Free Download for Kids

Download FREE coloring
book pages to color at
home or school.
View Pages »