Artists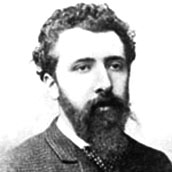 Georges Seurat
(1859 - 1891)
Born:
Paris, France
Style:
Post-Impressionism
Famous Works:
Bathers at Asnières (1884)
Sunday Afternoon on the Island of La Grande Jatte (1884-86)
Chahut (1889-90)
Georges Seurat led a priveledged life as a child in Paris, studying art from a young age and attending the prestigious Paris Academy's School of Fine Arts. By his early twenties, Seurat had moved into his own studio and completed his first major painted work, Bathers at Asnières. Monumental in size, and now considered one of Seurat's masterpieces, Bathers at Asnières was rejected by the Paris Salon, motivating Seurat to turn his back on the artistic establishment and align himself with the innovative, independent Parisian artists. The artist became very involved in the theory of color and representation, exploiting the power of colors and their complements to energize the canvas. Seurat was obsessed with the science of color, and believed that the naked eye would blend two dots of pure color naturally if they were placed next to each other. Instead of brushstrokes, Seurat placed dots of unmixed color onto the surface of the painting. Using these tiny dots of paint organized by color was called pointillism, or divisionism. This technique received overwhelming criticism and disapproval when first exhibited. Artists questioned at the notion of Seurat's using dots to depict the scene in his legendary painting, A Sunday Afternoon on the Island of La Grande Jatte. Pointillism was radical to neither Seurat nor his friend Paul Signac, but a means to portray tone and color in a new light. The artist created numerous drawings and studies before embarking on a large canvas, as one would complete a scientific experiment. Despite his death at only thirty-two, Seurat's work is considered a precursor to commercial art, and the artist himself a vital influence on Post Impressionism.
Feeling inspired? Try out these fine products…
From $0.20

by Dixon

Nothing better than this

From $19.99

by North Light

Expressions in mixed media suitable for beginners.

From $2.41

Up to 30% Off

by Bruynzeel

Top quality water soluble pencils
Latest Product Reviews
Good product. Works well for cleaning my oil paint brushes.
- Connie B. in Duncannon, PA
I've been a working artist most of my life and these have been my favorite black pens for many years. I love that they don't 'blob', that the line is always consistent. Highly recommended.
- Alice VSM in CA
Great product and quality, love the color, very vibrant, and will definitely purchase again!
- Bonnie in San Diego
Free Download for Kids

Download FREE coloring
book pages to color at
home or school.
View Pages »