Artists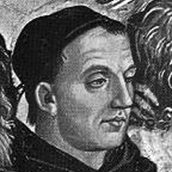 Fra Angelico
(1387 - 1455)
Born:
Vicchio di Mugello, Italy
Style:
Early Renaissance
Famous Works:
Madonna and Child with Angels (c. 1425)
Last Judgement (1431)
Deposition from the Cross (1437-40)
Dominican Monk Fra Angelico, born Guido di Pietro, devoted his life and art to religion, as he painted in churches all over Italy. Shortly after joining the order, Fra Angelico painted frescoes in the chapel of San Marco, located in the center of Renaissance Florence. In a manner suiting the monastery, the artist rendered the stories of the Gospels simply. Fra Angelico was conservative when compared to his revolutionary contemporaries, however, the beauty of his religious dedication, when manifested in his artwork, suggested the serenity of his vision. He culled the strengths of his predecessors, such as Giotto and the artists of the International Gothic Style, and combined these influences in the San Marco frescoes, barely heeding to the practical challenges of the space. Fra Angelico carefully administered color and handled light while successfully painting receding backgrounds. Despite his fervent loyalty to his calling, the contemporary developments of the Florentine masters were not lost on Fra Angelico. He used the scientific discovery of perspective to govern his compositions, and depicted volume through highlights, as others were doing simultaneously. As a highly revered biblical artist, Fra Angelico's success awarded him the name Angelic or "Angelico." His most remarkable contribution was his ability to revere the traditions of Gothic manuscript illumination before him, while incorporating the modernizations of the Renaissance. Fra Angelico died at a Dominican Convent in Rome in 1455.
Feeling inspired? Try out these fine products…
From $17.59

Up to 54% Off

by Canson

High quality and Earth friendly!

Up to 37% Off

by Pebeo

Colours are intense and permanent.
Latest Product Reviews
This is a great addition to another great product, the EV-R-Round Circle Cutter. This is the best cutter I've found for paper and even thick watercolor paper.
- Artsyfart in Michigan
Just right amount of "stick". Just like a Post-it note. Left no residue.
- Gary in Florida
Good stuff! Good service!
- Michael in Oklahoma
Free Download for Kids

Download FREE coloring
book pages to color at
home or school.
View Pages »