Artists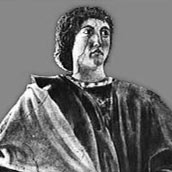 Piero della Francesca
(1406 - 1492)
Born:
Borgo Sansepolcro, Italy
Style:
Early Renaissance
Famous Works:
The Flagellation of Christ (1445-50)
Baptism of Christ (1450)
Madonna and Child with Saints (1472)
Piero della Francesca was most likely trained by painter Domenico Veneziano. He enjoyed a great reputation as one of the best painters in Italy during his life, influencing a great many students and completing work around Italy. The itinerant artist is shown by records of payment to have worked in Arezzo, Ferrara, Urbino, Rome, Rimini, and Venice. Early in his career Piero became interested in the new science of one-point perspective. The method of depicting space relied on principles of geometry and mathematics intrigued Piero, and he soon devoted his work to its examination. He mastered the discipline, writing treatises, poetry, and books on the mathematical accuracy of his perspective. Most importantly, Piero incorporated a deep sense of perspective and created the illusion of depth and dimension throughout his work. A standard attribute throughout the collection of Piero is the presence of linear lines and perspective. In one of his most important paintings, The Flagellation of Christ, a scene of the Savior is set on a grid of Greek architecture, receding into the rear of the picture plane. To emphasize this depth Piero painted a seemingly insignificant grouping in the front of the canvas, exaggerating the placement of the figures and the condensed space. He interpreted the beauty of the world as a combination of shapes circle, pyramids, and cones and merged his idea of space with his use of sophisticated color. Some revere Piero as the earliest ancestor to the modern artists concerned with simplifying objects to their purest form.
Feeling inspired? Try out these fine products…
From $2.07

by Princeton

Choosing the right paintbrush is a Snap!

From $23.96

by Search Press

An informative text on a traditional form of Japanese art.
Latest Product Reviews
I really love the rich intensity of the gold, silver and copper markers. I have used them several times since receiving them.
- janet in Virginia
I've used 1-Shot for over thirty years, mainly for boat pin-striping, lettering and also for main-body colors. I love it's easy application, glossy finish and durability. Also, the color choices are versatile. It is comparable to many polyurethane enamels (one-part boat paints).
- Andy in Dolores, CO
These were larger than I thought they'd be, but they are *adorable.* They stick well, and are perfect for a lot of different applications.
- Alice in Sarasota, FL
Free Download for Kids

Download FREE coloring
book pages to color at
home or school.
View Pages »