Artists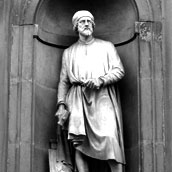 Donatello di Niccolo Bardi
(1386 - 1466)
Born:
Florence, Italy
Style:
Early Renaissance
Famous Works:
St. Mark (1411-15)
Feast of Herod (1423-27)
Magdalene Penitent (c. 1455)
Donatello's impressive life spanned 80 years, bridging the Gothic and Renaissance periods. In fact, his work laid the groundwork for many sculptural masters, and he is considered the first bright light from the massive innovations which occurred during the Italian Renaissance. Donatello, a member of Florentine architect Filippo Brunelleschi's circle, is remembered for his ability to accurately and convincingly capture human feeling and sentiment in sculpture. His understanding of single point perspective and the effects of light was striking to his Early Renaissance contemporaries. Donatello broke from the traditions of his medieval predecessors by studying human anatomy from live models, combining this intense observation with the myths of heroes and gods, much as the Greeks and Romans did nearly 1,000 years before him. Whereas Gothic statues set into the niches of cathedrals typically look as if they were hovering stiffly in their environment, Donatello's classical figures display a realistic relationship to the ground, firmly resting their body weight on their feet. His mastery of capturing human gesture was one of his greatest gifts, and his work forever changed the artists after him, including Lorenzo Ghiberti and Michelangelo. He is revered as one of the pioneers of the Renaissance and had considerable fame and success during his lifetime. His main patron, Cosimo il Vecchio dè Medici, commissioned works in Florence, however, Donatello also completed works in the northern city of Padua.
Feeling inspired? Try out these fine products…
From $15.99

Drawing & painting secrets from a master of hyperrealism.

Up to 26% Off

by Barron's

For advanced students and pros

Up to 51% Off

by Daler-Rowney

Extentions to the besting selling Simply Simmons line.

Up to 55% Off
Latest Product Reviews
Love the color pencils, except I have had a number of points just break off when sharpening.
- j newman in WA
Great quality and wonderful depth of coverage when these powders are dusted on unbaked polymer clay. I had bought a set of their metallics years ago, and they lasted forever. This order was to replace the Pearl color, and add a few new colors. Love the lustrous finish they give to jewelry and earrings I make from polymer clay and sell at my Etsy shop. As always, fast shipping and good service from Mr. Art.
- Claytheism in New York City
The best white transfer paper I have used. Would recommend it. Nice clean lines on dark paper and black scratch board.
- DT in California
Free Download for Kids

Download FREE coloring
book pages to color at
home or school.
View Pages »