Artists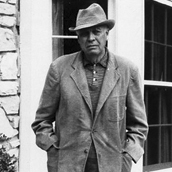 Edward Hopper
(1882 - 1967)
Born:
Nyack, New York
Style:
Regionalism
Famous Works:
Sheridan Theatre (1937)
Nighthawks (1942)
Cape Cod Morning (1950)
Edward Hopper's art appeals to many for its realism rooted in a true modern sensibility. As a child, Hopper displayed both the intellectual leanings of his father and the artistic inclinations of his mother. Hopper's burgeoning interest in art was nourished by his parents, and he was experimenting with different media and techniques by his teenage years. He studied for six years under William Merritt Chase and Robert Henri at the New York School of Art. In his early twenties, Hopper secured work as an illustrator, designing covers for trade magazines. During this time, Hopper took three trips to Europe to study art, and his lukewarm response to modern artistic movements reflected his personal inclination towards realism. Following his last trip to Europe, Hopper moved into a New York City studio. The artist suffered artistically and financially; struggling with his identity as an artist, Hopper free-lanced as an illustrator. At the legendary 1913 Armory Show, Hopper finally sold his first painting, but this was not to be his big break. It was not until 1923 that Edward Hopper began to make serious headway in the art world. The artist's new wife, Josephine Nivison, became a tremendous boon to his career, assisting him as a model and helping publicize his work. In 1924, after gaining exposure, selling some of his work, and garnering many positive reviews, Hopper was able to give up Illustration and paint full-time. During this time his style developed into its mature phase. He chose as his subject the American city and all its structures and inhabitants. Hopper demonstrated a distinct capability to isolate one unspectacular setting from a perceived multitude, and place in it the figures that would give it life. The contrast between Hopper's often solitary figures and the settings in which they find themselves achieves tremendous effect. He used the untapped icons of America to fashion images that speak to not only Americans, but to people all over the world. Edward Hopper died in 1967, and his wife donated his estate to the Whitney Museum of Art in New York City, a collection of over 2000 canvases.
Feeling inspired? Try out these fine products…
Up to 30% Off

by Holbein

Imparts a natural luster to you paintings.

From $2.25

Up to 30% Off

by Koh-I-Noor

Easy to layer and burnish your Colored Pencil Masterpiece
Latest Product Reviews
Daniel Smith Watercolor paints are outstanding. They are extremely pigmented with excellent lightfast quality. They blend and bleed perfectly. I'm addicted!!! Mister Art has the best price on these paints, and their customer service is very helpful. Their membership fee is 100% worth it.
- Vanessa in El Paso, Tx
Lumiere paints are wonderful. Rich color and very durable - no chipping, or fading. I use them on items I make from polymer clay to highlight the details. They give great coverage, even over black clay.
- Claybird in New York City
I love my new oak flat file. It was securely packed and and fairly easy to put together after figuring out the directions and sorting all the screws. Good quality & beautiful craftsmanahip.
- Jan C. in Crystal, MN
Free Download for Kids

Download FREE coloring
book pages to color at
home or school.
View Pages »