Artists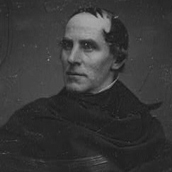 Thomas Cole
(1801 - 1848)
Born:
Bolton-le-Moors, England
Style:
Romanticism
Famous Works:
Destruction (from The Course of Empire) (1836)
The Notch of the White Mountains (Crawford Notch) (1839)
River in the Catskills (1843)
Thomas Cole's artwork represents the height of American art in the nineteenth-century. Founder of the Hudson River School, Cole is heralded for his romantic landscapes of upstate New York. Cole's family emigrated from England to the United States, specifically Steubenville, Ohio, in 1818. It was here that Cole learned the craft of portraiture from a traveling artist, though his interest would quickly shift to landscape painting. A visit to the Hudson Valley marked a turning point in Cole's career, fueling a series of paintings, two of which would end up on loan to the American Academy of Fine Arts in 1826. It was here that Cole's work was noticed by artist John Trumbull, who introduced Cole to several future patrons. The beauty of the Hudson Valley stunned Cole, who reacted to the vast majesty of the rolling hills, wide skies, and flat valleys. Cole started a new means of depicting landscape in which he transformed the English formulas of landscape painting into a method more appropriate to his new homeland. In Cole's work beams of sun radiate down from parting clouds, as if signaling the beatification of God for the land and its people. This benign view of human existence also had a social bent. Cole was concerned with the rapid growth of the country, and the destruction of the frontier. No where is this concern more evident than in the artist's The Course of Empire series, which depicts the stages of human settlement and the resulting effects on the natural world. Cole's vision included the often accompanying poetry he wrote for his paintings. The work of the Hudson River School was popular from 1825 to 1876, the Centennial celebration.
Feeling inspired? Try out these fine products…
From $11.99

by Search Press

Start to paint with 3 colours, 3 brushes and 9 easy projects

From $2.25

by DecoArt

Update you stylish items with Stylin

Up to 58% Off

by Canson

100% recycled newsprint that's great for sketching

Up to 49% Off

by Best

Ideal for flat work

From $2.15

by Yasutomo

An inexpensive and versatile brush
Latest Product Reviews
I can always depend on Mister Art to carry the product I need to create my art. Thank you!
- Cynthia Smith in Philadelphia, PA
Fuschia. Vibrant colour. These paints are great to work with, works well with gel plates, also great for creating texture using a palette knife
- Shar G in Florida
Great product, great price.
- Jeannette in Banning CA
Free Download for Kids

Download FREE coloring
book pages to color at
home or school.
View Pages »