I have been able to find exactly what I was looking for and at very reasonable prices, especially with the VIP membership.
Patricia
O Fallon, MO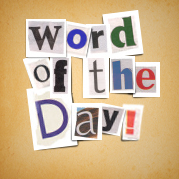 hazardous
Describes materials or actions which can be dangerous. In the United States, OSHA (the Occupational Safety and Health Administration, a federal agency) requires that manufacturers of most materials publish "material safety data sheets" that describe how those materials must be handled and disposed of. When in doubt, ask the manufacturer or supplier to send you a copy.
zenga
Paintings which are a part of the Zen tradition of Japanese Buddhism. Zenga are often painted by priests, and are typically ink drawings and calligraphy.
Example: Hakuin Ekaku's One Hand Clapping, 1766

zinc
A bluish-white, lustrous metallic element that is brittle at room temperature but malleable with heating. Used in galvanizing iron, it is often alloyed in making brass, bronze, various solders, and nickel silver, in manufacturing many products including various household objects. Atomic symbol Zn; atomic number 30; atomic weight 65.37; melting point 419.4° C.; specific gravity 7.133 (25°C); valence 2.

zinc white
White formed from zinc oxide, giving pure cool cover. In oil it needs much medium, and has some tendency to crack. In watercolor it's known as Chinese white.



Latest Product Reviews
I use this tape to hold the Mylar on the drafting table. It's a very good tape! It releases without leaving residue, and it is thin enough to let the rule slide on top. The tape doesn't break while unrolling, unlike many others. I highly recommend it.
- Yacht Designer in Maine
I use these markers for children's illustrations, and they are wonderful. I do wish there were more color options for colors. I've found the light colors too few, especially when working with skin tones These pens last a very long time and work well with all sorts of papers. The tip options make this a great marker for precision coloring.
- Liz B. in Napa, CA
This is awesome stuff! I've used it often, especially for Graduation gifts on wooden plaques, with the grads, picture, name cards, invitations, awards etc. Makes a super yet inexpensive gift. Getting this from Misterart.com is convenient, less expensive than driving 40 miles to get it at a craft store! Thank you, Misterart.com!
- Bernie S. in Paulding County, OH
Free Download for Kids

Download FREE
coloring book
pages to color at
home or school.
View Pages »