Thank you, and I have to say I am very pleased with the products I purchased from your site and will be purchasing a lot more and will be telling my friends how good it is as well. Thanks for such great customer service, in these days that is a rare thing.
Cheryl
Tampa, FL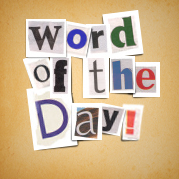 caliper (or calipers)
An instrument used to measure thickness or distance, consisting of two metal or wooden arms with curved, pointed ends, hinged together; or having a fixed and a movable arm on a graduated stock.(pr. cal'e-per)
zenga
Paintings which are a part of the Zen tradition of Japanese Buddhism. Zenga are often painted by priests, and are typically ink drawings and calligraphy.
Example: Hakuin Ekaku's One Hand Clapping, 1766

zinc
A bluish-white, lustrous metallic element that is brittle at room temperature but malleable with heating. Used in galvanizing iron, it is often alloyed in making brass, bronze, various solders, and nickel silver, in manufacturing many products including various household objects. Atomic symbol Zn; atomic number 30; atomic weight 65.37; melting point 419.4° C.; specific gravity 7.133 (25°C); valence 2.

zinc white
White formed from zinc oxide, giving pure cool cover. In oil it needs much medium, and has some tendency to crack. In watercolor it's known as Chinese white.



Latest Product Reviews
I AM FOND OF THE SIMMONS SWORD BRUSH AS IT IS VERY VERSATILE AND RESILIENT. I USUALLY WORK WITH ACRYLICS AND FOUND ALL THE SIMMONS BRUSHES TO OUTLAST OTHER TYPES.
- DARRELL J. in INMAN, S.C.
The watercolor dot cards is by and large one of the best products I've ever bought, and something I wish every watercolor company did. I bought this from Daniel Smith's official site, but it should be said here. The colors exceeded my expectations, especially for what you get which are small samples of all their colors available. They stretch a lot longer than you'd expect, and the colors themselves are beyond marvelous. I plan on buying a few full size paint tubes for my supplies.
- Jes G. in Corpus Christi, TX
After reading that this product wouldn't work on cheap magnetic brass hinges, I tried buying new ones in bronze. After a couple of failures with buying the correct size/type of hinge, I decided to try the rub n buff.For those who asked about using this over cheap hinges that are actually brass color over steel or aluminum (do magnet test), rub n buff does work. I just did it. Soak hinges in mineral spirits or thinner. Spray clean hinges with zinseer123, I used white which I had on hand. Let dry. (I sprayed both sides and let dry over night). Once dry, I applied rub n buff with a rag. Because I used white zinseer123 primer I had to used a toothbrush to apply the rub n buff in the crevices that showed still showed white. I used ebony and autumn gold to create bronze. They look amazing.
- Zita in Boston, MA
Free Download for Kids

Download FREE
coloring book
pages to color at
home or school.
View Pages »