My order arrived today and I was particularly impressed in the speed of the delivery!! Many thanks!
John
West Palm Beach, FL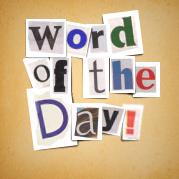 antiquing
Using a glaze, often of burnt or raw umber over a work of art to create an appearance of age. Sometimes refers to the act of shopping for antiques.
zenga
Paintings which are a part of the Zen tradition of Japanese Buddhism. Zenga are often painted by priests, and are typically ink drawings and calligraphy.
Example: Hakuin Ekaku's One Hand Clapping, 1766

zinc
A bluish-white, lustrous metallic element that is brittle at room temperature but malleable with heating. Used in galvanizing iron, it is often alloyed in making brass, bronze, various solders, and nickel silver, in manufacturing many products including various household objects. Atomic symbol Zn; atomic number 30; atomic weight 65.37; melting point 419.4° C.; specific gravity 7.133 (25°C); valence 2.

zinc white
White formed from zinc oxide, giving pure cool cover. In oil it needs much medium, and has some tendency to crack. In watercolor it's known as Chinese white.



Latest Product Reviews
I wish someone had written a review for me. So I am paying it forward! I purchased every single eraser on the market and I did extensive testing!!! I have to say, I found a review too late on You Tube by Owings Art called Eraser review. I highly recommend you watch the video! Don't just take my word for it! I could have saved myself all the hassle, time and money! The Faber-Castell DUST FREE white eraser is hands down the VERY, VERY BEST eraser I have ever used! I love that it does not produce crumbles that need to be brushed away with a drafter's brush. Instead you get neat rolls. This is the best eraser for me because I draw in graphite, colored pencil and compressed charcoal. The latter two are almost impossible to erase completely with any eraser on the market. And the Faber-Castell DUST-Free eraser will not erase them completely, but it does the best job of any eraser out there. Period! I have done my own independent tests on erasers in my sketchbook! I have not found anything that erases graphite, colored pencil or compressed charcoal better. I prefer the DUST FREE on colored pencil because it is much faster than the kneaded eraser, and gives me similar results. In addition, the Faber-Castell DUST FREE erased Prismacolor's col-erase pencils completely! It does the best on Prismacolor's Premier colored pencils too. And it does the best on compressed charcoal. Note, no eraser will get completely eraser colored pencils or compressed charcoal period!!! But this eraser does completely erase the Prismacolor col-erase pencils. (FYI I removed the pink eraser that is on the bottom of the Prismacolor col-erase pencil because it SUCKS!) If you are looking for an eraser for all four mediums graphite, Prismacolor col-erase, Prismacolor Premier colored pencil and compressed charcoal the Faber-Castell DUST FREE eraser beats the pants off the completion!!!!!!!!!!!!!!!! I tested Staedler's electric eraser, FACTIS, Pink Pearl, Prismacolor Magic Rub, Prismacolor Art Gum, General's art gum, Prismacolor Kneeded, Alvin Velvet Softie, Staedtler Mars, Pentel Hi-Polymer Clic, papermate Tuff stuff! Note: I now exclusively use only three erasers. The Faber-Castell Dust-free white, Pentel click and Papermate Tuff stuff eraser. I use the later two for fine detailed erasing with my graphite drawings, but they can not erase colored pencil or compressed charcoal as well as my Faber-Castell dust-free!
- Sun Beam in Dallas, TX
This is my first foray into pastels, and this product has exceeded my expectations. It was delivered promptly and in good condition. I'm very happy with the colors included but it has left me wanting even more colors!
- BMW in Albuquerque, NM
If you're a lefty like I am, then I don't have to explain why I'm obsessed with this/ It is the only pen I EVER use. It never smears!! No matter how fast I write. I have to sign off on checks all day long, and I feel 100% confident this pen is permanent, fancy and expressive. Only pen I use.
- Justin88 in Lake Tahoe
Free Download for Kids

Download FREE
coloring book
pages to color at
home or school.
View Pages »