Hi. I'm a member and enjoy shopping here.They have a wide variety of art products that my local art shops don't carry and I'm a member, love the cheaper prices. Much cheaper. Shellie
Shellie
OAKESDALE, WA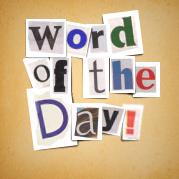 remarque
In printmaking, most often in etchings, a sketch originally made by the artist on the margin of his plate to test his tools, often to test the degree of the mordant's biting before immersing the entire plate in the acid bath. Because such remarques were originally intended to be scraped or burnished away before the final edition of the plate is printed, a print with a remarque is often called a remarque proof. In the nineteenth century such remarques came to be so valued that they were often retained as part of the finished print. The subjects of these little drawings typically relate in some way to the larger image. The practice greatly fell out of use in the twentieth century.
zenga
Paintings which are a part of the Zen tradition of Japanese Buddhism. Zenga are often painted by priests, and are typically ink drawings and calligraphy.
Example: Hakuin Ekaku's One Hand Clapping, 1766

zinc
A bluish-white, lustrous metallic element that is brittle at room temperature but malleable with heating. Used in galvanizing iron, it is often alloyed in making brass, bronze, various solders, and nickel silver, in manufacturing many products including various household objects. Atomic symbol Zn; atomic number 30; atomic weight 65.37; melting point 419.4° C.; specific gravity 7.133 (25°C); valence 2.

zinc white
White formed from zinc oxide, giving pure cool cover. In oil it needs much medium, and has some tendency to crack. In watercolor it's known as Chinese white.



Latest Product Reviews
I have had wonderful success with R&F encaustics. They melt and move just as I ask for wonderful pictures. I am working on a water picture now.
- JoAnna P. in San Diego,CA
This is an excellent product as far as price and quality. It is one of a kind; and the best deal in town!
- rick ,the artist in los angeles,cal
This is awesome stuff! I've used it often, especially for Graduation gifts on wooden plaques, with the grads, picture, name cards, invitations, awards etc. Makes a super yet inexpensive gift. Getting this from Misterart.com is convenient, less expensive than driving 40 miles to get it at a craft store! Thank you, Misterart.com!
- Bernie S. in Paulding County, OH
Free Download for Kids

Download FREE
coloring book
pages to color at
home or school.
View Pages »