Glossary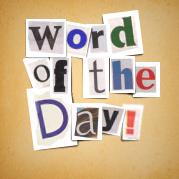 bristol board
A sturdy drawing surface used for many types of two-dimensional artwork, including lettering. It is available in several finishes, including a smooth plate finish and a medium vellum. It can be used on both of its sides.
ukiyo-e
Japanese for 'pictures of the floating world'. Ukiyo-e were popular in the seventeenth to nineteenth-centuries, and depicted kabuki actors, landscapes, and folk tales.
Example: Kitagawa Utamaro's Five Kinds of Ink from the Northern Provinces, early 1790's

ultramarine
Blue pigment originally made from ground lapis lazuli. French ultramarine is an artificial substitute.

undercut
Carving to create an overhang; a recess or awkward angle in the surface or form of a three-dimensional object which would prevent easy removal of a cast from a mold. Molds should be designed to eliminate this problem. Ways to cast objects with overhangs include using piece molds and waste molds.

underdrawing
Drawing preliminary to other work, and incorporated into it, thus deprived of independent artistic value. An example is the underdrawing in fresco and panel painting, such as sinopia and abbozzo.

underpainting
The layer or layers of color on a painting surface applied before the overpainting, or final coat. There are many types of underpainting. One type is an all-over tinting of a white ground. Another is a blocked out image in diluted oil colors that serves as a guide for the painter while developing the composition and color effects.
See Also: abbozzo, sinopia (or sinopie), grisaille

Latest Product Reviews
I am using these brushes to paint HO scale people with oil paint. With using some 75 different colors and shades I give these brushes years of abuse in a couple weeks. As I paint 2-3 pants or shirts and then wash the brush, change colors to do other parts of clothing, bags, and skin tone etc. A brush is used 10-15 times a day with thinner washes. These brushes carry the paint extremely well, stay in shape, and clean easily. I abuse my brushes by constant dipping in oil paint and then washing and rubbing them clean(with standard paint thinner). They hold up, last longer and the price at this site makes using them reasonable as I pitch them when they eventually wear out. A GREAT SMALL BRUSH!!!!
- model builder Bill in Alstead, NH 03602

MCS
Very attractive product: well designed. Backing is exact fit. Frame brightens area it is placed in. Price is GREAT!
- Ernest K. in Sacramento, CA

Copic
This nib makes fine detailed coloring so much easier! Switching from the chisel tip to this nib was simple too.
- Tammy in Illinois
Free Download for Kids

Download FREE coloring
book pages to color at
home or school.
View Pages »